Springtime is just around the corner and you're beginning to think about your deck. That's totally normal. Your deck could use a good cleaning before the warm weather arrives. Have you thought about making a cleaner from home instead of buying one at the store?
Deck maintenance requires a lot of regular attention and needs a lot of effort to keep the deck in pristine condition. Homemade deck cleaners are great to have to ensure healthy and attractive wooden structures and furniture. But did you know that you could create deck cleaners using ingredients found in your own kitchen pantry?
If you have a wood deck then chances are, you use a commercial deck cleaner to clean your deck. The problem is that those cleaners are not eco-friendly and they are simply too costly to use.
In this article, we have put together a couple of homemade deck cleaner recipes that you can make without robbing the bank.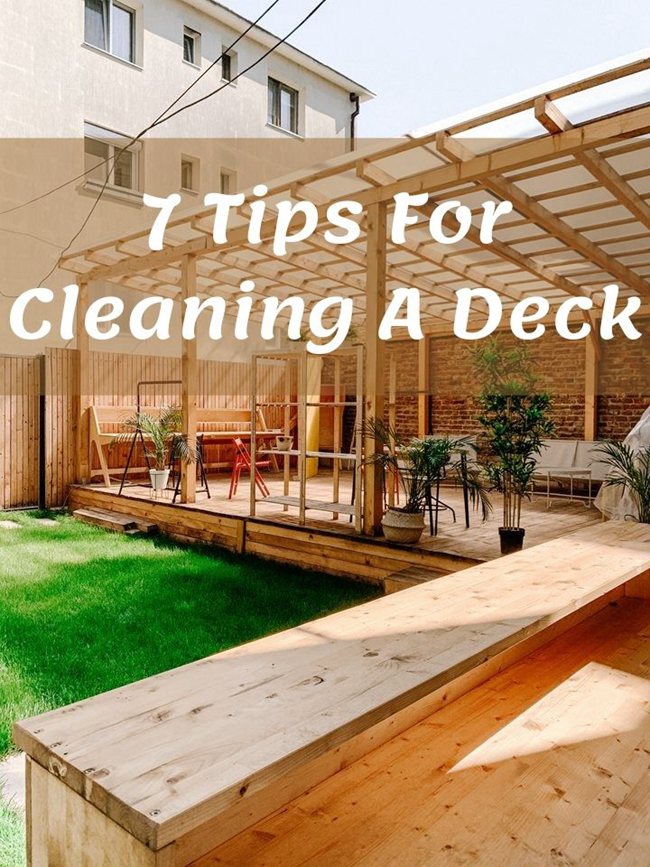 Will bleach damage wood deck?
Yes! Just because bleach makes your white shirt sparkly doesn't mean you should use it to clean your deck. Most contain calcium hypochlorite or sodium hypochlorite, too much use of these on your deck can damage the wood.
My cousin "Kimberly" was literally obsessed with cleaning her deck with bleach and it left her with a deck with unnatural wood color. Using bleach once in a year might not be a bad option, however, using it regularly will definitely mess with the natural appearance of your wooden deck.
Important Tips To Note Before Making A Deck Cleaner
The idea of making a deck cleaner from home is great. However, you should proceed with caution. Below are some tips you might want to consider;
Mix Outdoors: The combination of some chemicals might be unsafe if inhaled consistently in a closed room. There's a high chance that gases will escape when you mix some of the ingredients and chemicals together. So, it will be safer if done outside with proper ventilation.
Check For Warnings: Be sure to check for warnings, some chemicals might react with others if mixed together and thus release gases that may be harmful to your health. You can easily spot warnings on the bottle of any product you want to use.
Keep Away From Kids: After mixing and containing your homemade deck cleaner, you should keep it out of reach. Make sure the solution is tightly sealed in a bottle and kept far away from kids.
Sweep The Deck: Sweep your deck with a broom before applying the cleaner. Clearing the deck with a broom while it is dry will give more room for the cleaning recipe to do its trick when applied.
Cover Plants: Some of the ingredients used in making these homemade deck cleaner recipes will ruin your plants, for protection, you can cover your plants with plastic sheets.
Remove Furniture & Decor Items: Throw pillows, chairs and other moveable furniture should be removed from the area you are about to clean. The ones you can remove can be covered up with plastic sheets.
7 Homemade Deck Cleaner Recipes
1. Once A Year Recipe
This recipe isn't ideal for regular cleaning, this is because it contains chemicals that might mess with the quality of your deck. However, it is perfect for getting those stubborn greases and stains off your deck. Here's what you need to make this;
Supplies
Powdered Oxygen Bleach
Water
Liquid Dish Detergent
Instructions
Add 2-4 cups of bleach to three gallons of water.
Pour in ¼ cup of dish detergent soap.
Mix thoroughly until it froths.
Using a broom, apply the mixture to an already swept deck.
Allow for 2-5 minutes
Scrub all around the deck with a brush.
Rinse the deck with fresh water.
2. Mildew And Algae Deck Cleaner Recipe
Here's the perfect cleaner to make for your deck if you have noticed mildew and algae on your deck. The recipe is a combination of special ingredients that effectively gets rid of molds, algae, dirt, and other stubborn stains on your deck.
Supplies
Water
1 Cup of household bleach
1 Cup of trisodium phosphate
Instructions
Mix all the ingredients in a safe container
Use a water hose to wet the deck
Apply the solution to one area at a time
Scrub each area with a brush and move to the next area
Rinse off each area where you applied the solution after 10-15 minutes
Allow the deck to dry
Place back furniture
3. Murphy's Oil Mildew Cleaner
For this recipe, you would need Murphy's oil soap, however, if you can't lay your hands on this particular soap, feel free to use another brand. Here are the supplies for this homemade deck cleaner;
Supplies
2 cups rubbing alcohol
2 tablespoons of Murphy's oil soap
1 gallon of water
1-quart household bleach
Instructions
In a safe bowl, mix all the ingredients mentioned above.
Apply to areas where you have stubborn stains
Scrub until you notice the stains coming off
Rinse with warm water
4. Algae Eliminator Recipe
Algae can be referred to as the development of bacteria. If you live in an area with a high level of moisture in the weather, you are probably going to be seeing algae on your deck from time to time. Cases are worse when the deck is in an area with little or no sunlight. With this recipe, you can quickly get rid of algae on your deck for good.
Supplies
Powdered Oxygen Bleach
Warm water
Trisodium Phosphate
Instructions
In every two gallons of warm water, be sure to use 1.5 cups of Trisodium phosphate.
Add powdered oxygen bleach to the mix.
Start cleaning the deck with a hose. (It makes using the algae eliminator easier)
Apply the solution and use a long brush to scrub your deck thoroughly.
Rinse the deck when completed.
You can repeat the process if not satisfied with the results.
5. Homemade Powdered Bleach Scrub
This solution is great for decks that are in good condition without serious stains. The bleach used for making this is not as concentrated as liquid bleach. Also, you need to use this also immediately after making it. Saving it for later might not be a good idea. So, if you are planning on making much for future use, think again.
Supplies
2 cups of powdered oxygen laundry cleaner
¼ cup liquid dish soap
Hot water
Instructions
In a container, add hot water.
Add the powdered oxygen laundry cleaner
Mix until the powder is completely dissolved in the water
Add dish soap to the mix and stir
Apply the solution to your deck and allow to sit for 20 minutes
Scrub as desired and then use a pressure washer to rinse off the solution from your deck.
6. Using A Pressure Washer
One of the best options when it comes to homemade deck cleaners is pressure washers. These machines emit a significantly high blast of water that would most definitely blow dirt away from your deck. The best part about using these machines is that some versions have soap tanks where you can add a little soap for the cleaning process. However, I won't advise adding bleach to this machine.
7. Using Borax
The use of borax has also proven to be quite effective in removing stubborn mildew from decks. If you have a serious mildew or algae problem and none of the solutions above are doing justice to your deck, you should try this option.
You might need to make a new solution, don't worry, simply pick any of the recipes above and simply add a cup or two of borax to your homemade deck cleaner, make sure you add the borax at the same time you are adding the oxygen bleach.
Deck Maintenance Tips
How do you take care of a wooden deck? We have put together some tips you can follow that'll keep your deck clean at all times.
Sweep away dirt from the deck as soon as possible.
Avoid using mats that consist of natural fibers.
Change the location of flower pots and furniture on the deck from time to time.
Conclusion
There you have it guys, there are 7 amazing tips and tricks at your disposal for cleaning your deck. The truth is not all stains will go away, some stains will fix a bit but your deck won't return to its original state, this is why we advise that you sweep away dirt from your deck as soon as possible. Leaving the stain for later might be a terrible idea.
Also, try not to kneel or squat while brushing the deck, some of the chemicals used are not good for your health. I hope this article has been helpful, feel free to share this content with your friends or family members interested in cleaning their deck.
If you have any questions or contributions related to this article, use the comments section below to leave your thoughts and we will get back to you shortly. Thanks for stopping by!