There are some days when you just want to cuddle, you know? Whether the victim is your annoyed dog or significant other, you always feel safe when you're in their arms. For those late-night movie seshs or the calm early-morning teas, a cuddler recliner is the best choice for your living room! It's ideal if you want a recliner that can hold two people and allows for snuggling or cuddling.
Cuddler recliners are perfect for those who need somewhere soft and comfortable to rest their back and shoulders. They can be the ideal addition to your living room, as they allow you to relax while watching TV or reading a book.
However, it is difficult to choose the right product for you. There are too many cuddler recliner types, so it would be wise to read up on all of them before making a decision. But what if you do not have time? How can you narrow down the choices to find a rocking chair recliner according to your needs? Below are a few features that will enable you to choose the right cuddler recliner for your home.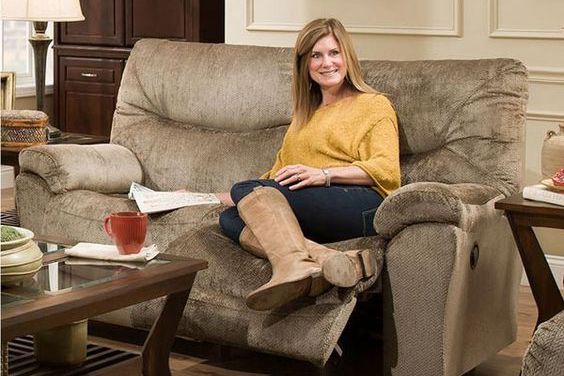 Level of Comfort- 100x
Comfort is one of the most important things that you should consider when shopping for a cuddler recliner. The recliner's back and seat must be able to offer the needed support for your body, and its arms need to have adequate padding. In addition, the back should have high enough lumbar support so that it is in a natural position, providing muscle relief for your back. As for the reclining control, it should be easily accessible for you to lean on and use it. Don't skimp out on these factors!
Size- Not too Big, Not too Small
In a nutshell, the size of the recliner that you choose should fit your body structure and the physical space available in your living room. On the other hand, it's of no use if the recliner takes up so much space that you have to squeeze between chairs to go from room to room or so tiny that your living room looks bare. So, measure and get a clear idea about how much space you can allot. This helps you in making comparisons correctly and helps you buy the right-sized recliner.
Build quality and Materials
A handful of materials are often used for making the best cuddler recliners, with the most common ones being bonded leather, faux leather, and microfiber. While they all sound like similar materials, they actually have some pretty substantial differences, which is why you should realize that they will affect the way that your particular cuddler recliner feels, how long it lasts, and how well it will be able to serve your needs.
Decide The Appropriate Shape and Orientation
Before we start talking about furniture layouts, it's essential to understand your lifestyle. A living room layout will be different for everyone based on how you'll be using the space. Who's going to be visiting? What activities need to happen in that space? If it's for relaxing after work or winding down at the end of the day, a couch facing toward your TV is probably a good idea. And if you're hosting a game night or entertaining guests, you may want seating arranged around a central table.
So, you need to make sure you get a cuddler recliner chair that is shaped in an appropriate manner and can fit in exactly the place you need it to. Don't decide this later! It's an essential factor in the attractiveness and practicality of the product.
Price- Remember, Most Expensive≠The Best
When it comes to cuddler recliners, many reputable brands offer economically priced options. So, you don't have to pay for an arm and a leg to be comfortable! However, the price depends on your needs- including the preferred features, size, materials, etc. With proper research, you'll find your new Netflix Partner in no time!
Unique Style and Practical Features!
Thanks to technological breakthroughs, you can now find in the cuddler recliner chairs with additional features from massaging capabilities to integrating USB charging ports. They may also include speakers, small pouches to keep accessories in, cupholders, heating systems, etc. These are some of the most innovative pieces of furniture, which is why your options evolve daily. So, create a checklist with your preferred features and research according to that!
Final Verdict:
Before buying a cuddler recliner, it is crucial to decide which one will best suit your needs. These products come in many different styles and variations, so you need to choose according to the kind of features that you are looking for. However, this can be a hard decision to make when faced with a wide variety of different products. To make things easier for you, we hope this article will help.