Are you in dire need of a DIY center console for your minivan or truck? Here is a DIY that will introduce you to a list of the best center consoles that you can make with ease. Some vehicles don't have center consoles, and with this guide's idea, you can build, and install one effortlessly. A center console is a super important part of a vehicle for comfort and beauty.
In addition, some guides on this list below will focus on the more expensive materials and tools that you'll use, but you will also get the cheap stuff available to you. None of these center consoles will work on new model cars or trucks, only the old models or decommissioned cars that have the console area empty.
Without further ado, let's begin!
You May Also Like:Best Garage Cabinets of 2021 - Reviews & Buyer Guides
1. Minivan Center Console DIY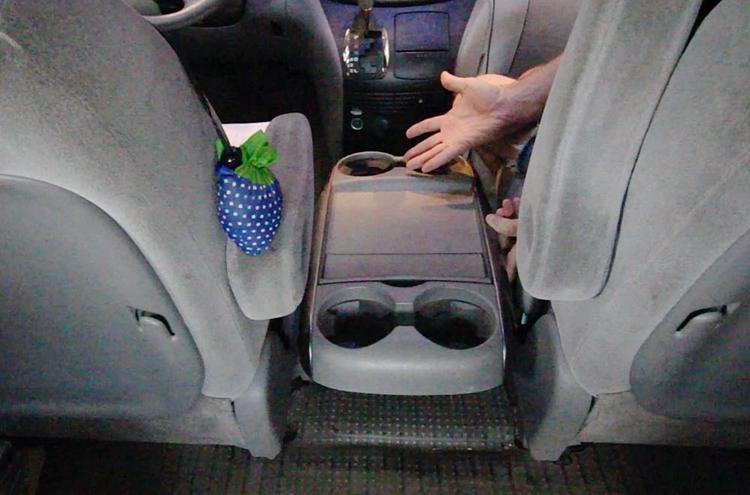 This guide will work for you depending on the space you have available, so for this particular guide, you'll be focused on making a box-shaped center console. This box is 11 inches wide x 10-½ inches long, and the height of this box's console should be equally appropriate to the seat's height.
There are several openings at the top and a few others by the side, but one is crucial. The opening is made for car tissue papers if you need to wipe your hands clean or wipe off your nose dry. The making process takes five easy-going steps, and the box was made from wood. Although the creator's tool was a CNC router that made him efficient, it is optional for you.
2. How To Make A Center Console Out Of Wood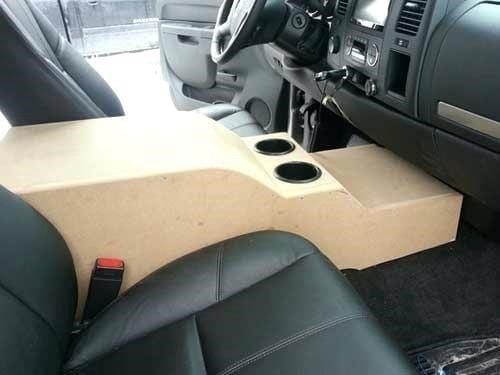 Here is another center console that can be made for a van with a large space to work with. This design is more extensive and more sturdy because there is room to make the necessary adjustments in the constructing process that rhymes with the space available.
First, and most importantly, you need to take measurements of that empty space, before you begin gathering your materials and tools for the project. You'll need some cardboard boxes, wood, a thick foam, a black canvas fabric, oscillating cutting tools, tape, a rocker switch mount, staple gun, a hole saw kit, and a few other supplies.
3. How To Make A Custom Center Console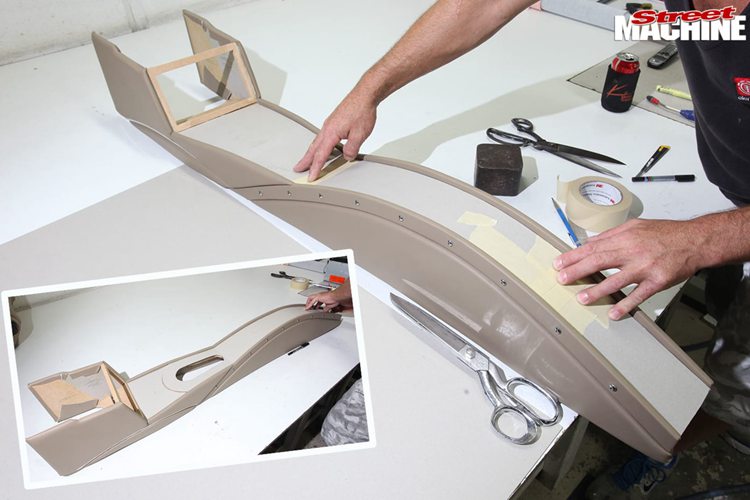 This guide can work for only certain kinds of muscle cars with low or no center consoles giving you room to make and install it without any hassle. The creator used lots of cardboard boxes, MDF boards, pieces of wood, a staple gun, a pair of scissors, tape, a marker, and lots more. The installation process will require removing the seats to have enough space to install the center console effortlessly.
4. DIY Center Console
This fantastic center console was designed for a Chevrolet van that has no center console at all. The creator started the building process by cutting some wood board to his preferred dimensions, using pretty simple tools at his disposal. This task is quick and easy if you have little or no experience in woodworking projects. Follow the time-lapse video guide till the end, and you'll understand how it was made.
5. How To Build Center Console For Truck
Have you got a truck that needs modifying? Here is a sweet guide that will assist you in making a center console for an OVERLANDING FZJ80 rig truck. This truck came with its center console, but the creator needed something different and unique, so he built this custom center console from start to finish.
The creator also had in mind to install a REDARC power management system, hence the modifications. He recreated the old model of the original center console of this truck using cardboard boxes, wood boards, and other materials.
6. How To Build Center Console For Car
When the creator of this guide got a decommissioned car, it was missing a center console, and after checking online and at stockyards for any simple console he could find, they were pretty expensive. So, he decided to make one for himself that is good-looking and super comfortable.
This center console will be made out of wood, cardboard, thick foam, black canvas fabric, black BS plastics, and other materials. The tools you'll need are a staple gun, tape, a hole saw, and lots more.
7. DIY Center Console - HJ75 Troopy Build
You're looking at a guide with a center console made for an HJ75 trooper truck. If you don't have this truck or anything similar, don't bother opening this guide, this won't work for you.
The creator of this guide is a beginner and is giving this build the first try, so check the video tutorial guide, follow his instructions to the latter and give it your best shot. This project is also quite expensive, so if you like cheap stuff, move along to the following guide.
8. How To Build A Custom Center Console
You'll need to check out the car the creator intends to modify via the link to learn more about this guide. After that, you'll need cardboard to make a template that will give you an idea of how the console will look like in the interior of the car.
Once you get your template ready, gather your materials and begin. The making process is quick and easy to perform, and you might need an extra hand for this task, seeing that it's a large center console that will be made.
9. DIY Low Budget Center Console
To begin, you'll need a sheet of plywood, cup holders, a yard of white vinyl, cigarette lighter socket, cardboard, USB socket, radio, recycled foam, and a few other tools. This project cost under $40, and it's super easy to build from scratch. It's indeed a low-budget center console for your comfort.
10. DIY Center Console Build
This is simple, straightforward, and easy-going; no template is needed. All you need is an MDF board, synthetic leather, matt black paint, and a few other supplies to make an armrest storage box. This project will work for those that require an armrest storage box for their center console because every other part of the interior console is intact.
11. Car Console Box DIY
If you have a center console that doesn't fit most of your personal effects perfectly in the car and with an uneven armrest, you can use this video guide to make one now with ease. All you need are a few wood boards and some woodworking tools to recreate the center console with a more comfortable armrest and fitted features. You'll have to take out the old console to make your improvements.
12. DIY Aluminum Center Console
Do you have a GTJ truck parked in your garage, and do you need a center console to store your essential items? Here is a guide that will show you how to make one effortlessly. First, you'll need cardboard to make the template of the console's look, then use your aluminum sheets to construct the console you want. This project cost about $150 with no special tools used.
13. DIY Center Console For Landrover
Now you can improve on your land rover's center console with the help of this video guide. You can be sure to make a simple wooden center console that is wide, sturdy, and neat. The making process is super easy to follow, and the project is quite expensive.
14. Custom Center Console
Here is another custom center console that is made for super-sophisticated cars like a Tesla. The creator recreated the entire interior of the vehicle, not just the center console anymore. This project is done for more experienced electricians and mechanical engineers, which is also pretty expensive.
15. How To Make A Center Console Out Of Wood
Take a look at this fascinating wooden center console. Like all other wooden consoles made in the guides on this DIY list, you'll need a template design, and the creator made a simple drawing of how the center console will look in the 2D format before cutting out his wood boards for construction.
This video guide is in Spanish, so your focus will be on observing the making process and following the creator's steps accordingly. This project is pretty expensive, no expert woodworking skills are required, and a few woodworking tools are used.
Conclusion
That's all it takes to make a center console for your van, minivan, truck, and simple cars. It isn't expensive as seen in most of the guides, and it's a task that you can do yourself without any external assistance, so take your pick today and get to work. Thanks for checking out this DIY guide; I hope you got what you were looking for; bye for now.