So, you're looking to do some powder coating at home, but you have no idea what you need or what it might cost? Well, good news! We're going to break the topic of Powder Coating at home down for you!
In this article, we'll discuss what powder coating is, the different types of powder, what you need, how much it costs, the pros and cons, and more! So without further ado, let's get started.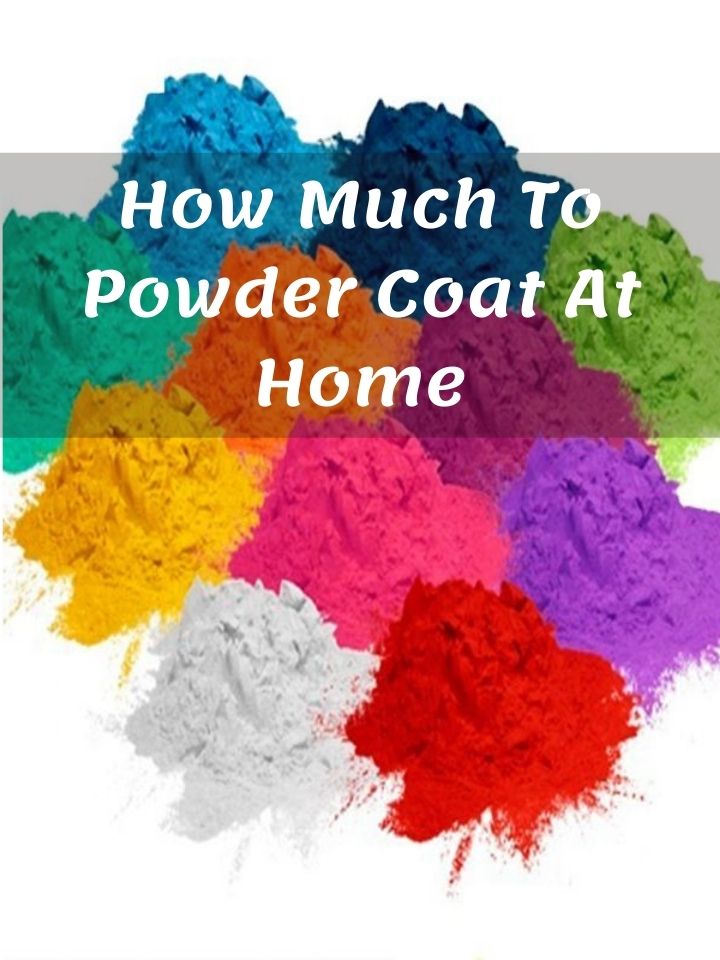 What is Powder Coating
Powder coating is the process of applying powdered paint to materials to provide better protection, durability and prevent corrosion.
Applying powder coating is usually applied electrostatically, but this depends on what you're powder coating. However you apply it, though, the process of curing the powder coat remains the same, heat. The heat can come from an oven or ultraviolet lights.
The Different Types of Powder Coating
There are many different types of powder available to use on your DIY powder coating project. Each has its own characteristics, advantages, and disadvantages.
Epoxies
Known as one of the first widely used powders, Epoxies is a durable powder that offers hardness, excellent corrosion, and chemical resistance. Another benefit of epoxies is their easy-to-use nature and wide range of cure schedules, making them adhere to metals incredibly well.
Epoxies aren't perfect. Their biggest drawback is that they don't weather well. Exposure to the elements can cause them to fade and chalk, especially in the sun. Due to the fact that epoxies don't weather well and degrade after a few months, we recommend they be used primarily indoors.
Polyesters
Polyester is one of the most commonly used powders and is an excellent value for money powder. There are two types of polyester powders; TGIC (Tri Glycidyl Isocyanurate) and Non-TGIC. Both offer flexibility, impact resistance, and chemical resistance.
Polyester is great for sensitive items because of the low-temperature cure requirements. In addition, it offers 1-3 years of UV resistance, which can be used on some outdoor applications.
Finally, they have an incredible amount of color options, making it a great powder if you're looking to be adventurous with colors.
Super Durable Polyesters
One of the most popular polyester powders is the Super Durable Polyester. They're specifically designed to hold their color and glass for up to ten years more than regular polyester. Super Durable Polyester also provides humidity and corrosion resistance and is a great value for money powder. Use it on interior applications for fade resistance and on all types of outdoor applications.
Epoxy-Polyester Hybrids
When we mix epoxies and polyesters together, we get this hybrid of Epoxy-Polyester. The hybrid is closer in relation to pure epoxies while offering superior weather degradation properties thanks to the polyester. The mixture can become more closely aligned with either epoxy or polyester with different mixing methods, but it's usually closer to epoxy.
Epoxy-Polyester hybrids are great for domestic applications like shelving, lighting, power tools, washers, stoves, dryers, and other common appliances.
Fluoropolymers
Fluoropolymers have distinctive weathering properties making them perfect for exterior architectural applications. This is primarily due to their color options, gloss retention, and corrosion resistance. As a result, fluoropolymers are usually applied to windows, walls, doors, and so much more.
Urethanes
Urethanes are pretty similar to polyesters. The biggest difference between the two is the curing agents. Urethanes have smooth finishes with brilliant exterior durability and chemical and corrosion resistance. This makes them ideal for car rims, air conditioners, doorknobs, farm equipment, and so much more.
A drawback of Urethanes is their high price due to resin costs and the smoke that they create during the curing process.
Pros and Cons of Powder Coating
Here are some of the pros and cons of powder coating;
Pros
Smother textures
Only one necessary application
Durable
Longer-lasting than paint
Easier to use and safer to store
Excess powder can be reused
Eco-friendly
Cons
Smaller range of colors in comparison to paint.
It can be challenging for amateurs to achieve good results.
More expensive than paint.
Texture Provided By Powder Coating
Powder coating can produce a much smoother and more consistent texture than liquid paint can. This is due to the application process, which uses no brushes and doesn't have drips or uneven areas.
Colors Provided By Powdered Paint Vs. Liquid/Wet Paint
Paint has an easy advantage in this category as it offers a wider array of color options. Powder paint does have a wide selection of colors but is nowhere near as expansive as liquid paint's options.
What Do I Need to Powder Coat at Home?
Like with many things, powder coating is a process that requires some tools and equipment to pull off properly.
Here are some of the things you're going to need in order to powder coat at home;
Powder Coat Gun
Powder coating guns are among the more expensive things on the list of items needed to be purchased for this process, but you can find some great second-hand ones here and there or 3rd party sellers offering cheaper alternatives.
Powder Paint
Powder paint is easy to find both in-store and online and is incredibly cheap as well. You'll be able to find ones in different colors and packaging depending on where you look but shop around for the perfect color for you.
An Oven
For the process of powder coating, you'll need an oven to bake your powder coating. You can get any type of oven. For example, a toaster oven is perfect.
The only thing to note is that it needs to be able to get to relatively high temperatures, and beyond that, you need to understand that the oven can never be used for cooking with food once you've used it for powder coating.
Various Additional Items
There are a few items that you'll need that will have to constantly be bought depending on how often you powder coat items. Some of the things you'll need are as follows;
aluminum foil
Clothes
acid etchant (in some cases)
Micro-fiber cloths
Baking trays (which should come with the oven).
We also recommend you make a barrier out of cardboard to avoid powder paint going everywhere.
Safety Gear
You need to buy specific items to provide a safe working environment, like gloves that can handle intense heat and goggles if you feel you might need them.
What Does It Cost to Powder Coat at Home?
Powder coating at home can cost either a ton of money or a relatively small amount, and it just depends on what you end up getting.
If you're doing small-scale projects, then some of your items won't be expensive. Another determinant of how much it could cost is the item which you are powder coating. It can be challenging to truly identify what the accurate figure might be off the cuff, but here are what you will be paying for some of the items;
Powder paint = $15 (½ lbs) - $25 (1 lbs)
Powder Coat Gun = $50+ (depends on quality)
Oven = $40 (depends on type)
Air compressor and regulator (If needed) = $100-200+
There are also DIY powder kits that cost between $100 and $200, but these are specifically for smaller projects.
FAQ
Here are some of the questions we find are frequently asked about powder coating aluminum and powder coating in general.
Is Powder Coating Safe?
Powder coating is incredibly safe because it doesn't contain harmful chemicals like volatile organic compounds (VOCs) in the same way liquid paint does. The Environmental Protection Agency noted that VOCs cause irritations in your eyes, nose, and throat, as well as headaches and so much more.
Is Powder Coating Cheaper than Liquid Paint?
The short answer, and looking only in an immediate sense, the answer is no. However, the long-term answer is that the benefits of powder coating over time make it more worth it than paint.
What Kinds Of Things Can I Powder Coat?
Most powder coating projects industrial machinery parts, but countless things can be powder coated, such as cars, appliances, stainless steel mugs, etc.
This is a lot to digest, and we understand that. If you're still a little confused about the powder coating process, be sure to check out this helpful explainer;
Final Thoughts
Congratulations, you're on your way to living in a powder-coated wonderland! So take this knowledge and be prepared to powder coat every metal surface you come across.
If you know anyone who's interested in powder coating but doesn't know much about the process, what you need, or how much any of it costs, then send them this article! Let us know in the comments how it goes and what you get. And finally, good luck!