There are many types and styles of punching bags available that each has its own designs, shapes, weights, and materials used.
In this article, we're going to be looking at the different types of punching bags, and consider the weight of punching bags in general, and how to accurately determine what is suitable for you and your training needs.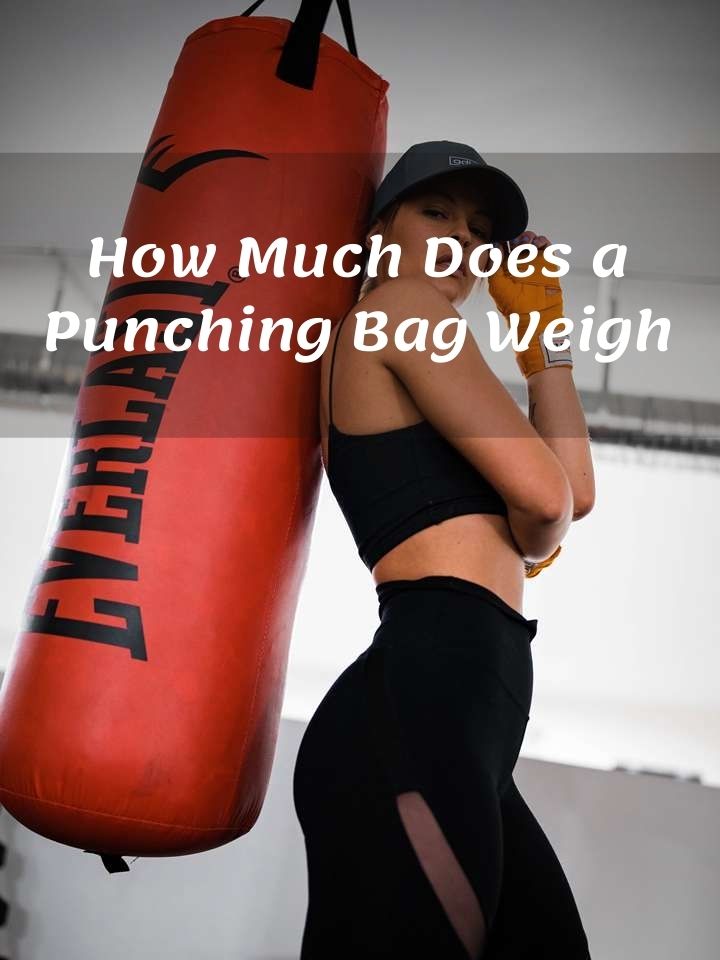 What is a Punching Bag?
Punching bags are usually leather (real or fake) bags filled with a type of filling that is used for striking at as a means of training. The punching bags resistance is dependent on the bag's weight and fillings density.
There are many different types of punching bags in terms of shape, size, and weight. So we're going to look at them to understand the difference between the various options.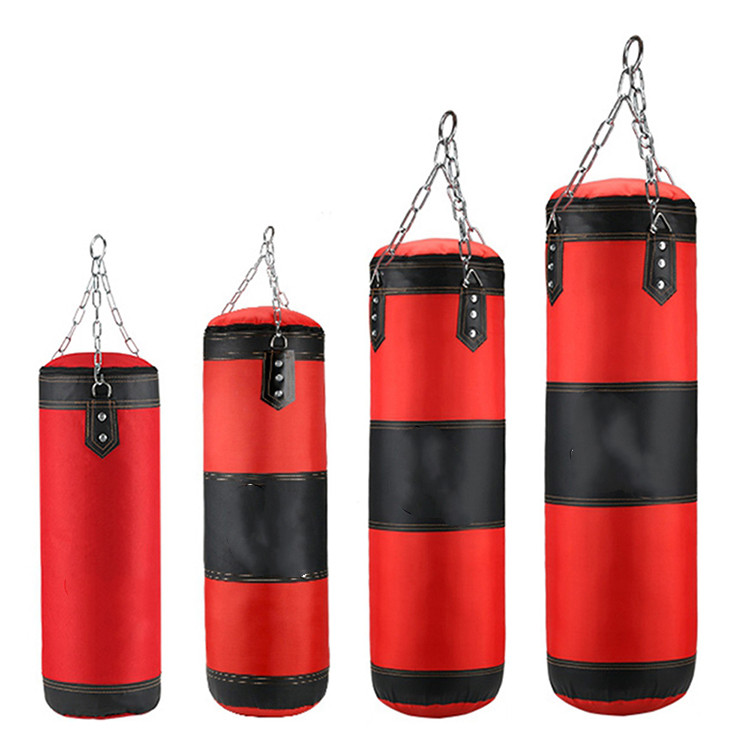 Standard
Standard bags are usually between 28 and 32cm wide, considered a punching bag's average size. They're generally relatively light due to their filling, which is typically material.
Heavy
Heavyweight bags are the most common and have many variations. Heavyweight punching bags have a filling of either sand or sawdust filling. They can range from 38 and 40cm in diameter.
Does Size Matter?
The size needs to be taken into account but considered in two areas; weight and length. These two elements of the punching bag's orientation will determine your best option based on your weight and training needs.
The bag should be approximately half your height to be the right fit for you.
Some of the standard weights of punching bags are
| | |
| --- | --- |
| Beginners and Younger Boxers | 40 pounds |
| Beginners and Teenage Boxers | 70 pounds |
| Intermediate Boxers | 100 pounds |
| Heavyweight Boxers | 200 pounds |
When you compare this to how it should be when you're adjusting for weight vs. personally recommended bag weight, you get this;
| | |
| --- | --- |
| Body Weight (LBS) | Bag Weight (LBS) |
| 140 | 40 - 70 |
| 160 | 70 - 80 |
| 180 | 90 |
If you're looking to precision train, you need to look for something lighter in the 25 - 40 pounds range.
If you're looking to resistance train, you need to use the standard of your weight divided by two, which will show you which weight of punching bag is required for your training needs.
Why Does Weight Matter?
If you ignore the weight of the bag you're purchasing or already using, you might not be aware of what effect your workout has on you. On the other hand, when you choose and use the wrong weight, it will provide you with a training session that doesn't result in much technique building.
Even worse than the fact that you're not training right, you're also allowing for accidents to happen. If you're using a bag less than half of your body weight, it can move easier when you punch it. This opens up the possibility of it going rogue and hitting things it's not supposed to.
Conversely, suppose the bag is too heavy. In that case, you're not going to be able to face off against the bag and, over time, risk hurting yourself by damaging your hands and muscles.
Why Does Length Matter?
A longer bag is not essential. However, a punching bag with a greater length provides a more prominent area for movements and combination attacks, which some people prefer.
Types of Punching Bags
There are many types of punching bags that exist. While they all go back to a primary classification of heavyweight or lightweight, they look different in shape and size and how they're presented.
Freestanding punching bag
Freestanding punching bags have stands, which they're weighted to permanently as opposed to hanging. In addition, the base of a freestanding punching bag is commonly filled with sand or water to ensure it is held down sufficiently.
Outside of a gym setting, freestanding bags are great for homes with limited space as they can be used and moved to the corner when out of use. The one common issue with freestanding punching bags is that because of their orientation, they're not very heavyweight and can be easy to knock to the ground while not providing a swinging movement like hanging bags will provide.
---
Pole bags
Pole bags are some of the most intense bags available. The most common pole bag, for example, weighs 300 pounds and is 23 inches wide. An unfortunate aspect about pole punching bags is that they are known to settle over time, meaning that the filling sinks to the bottom, leaving it slightly thicker and heavier at the base than it is throughout.
Pole punching bags are so heavy that you are actually not supposed to hang them up whatsoever. Instead, a pole boxing bag must be mounted to vertical poles from the top, which makes sure it doesn't slide and lose its shape through use.
If you're looking to practice low kicks, powerful level-changing combos, hard kicks, and punches, then this might be the bag for you. However, one downside that the pole has attached to it is the fact that once it's mounted, you aren't able to move it out of place without considerable effort.
---
Heavy Bag
Heavy bags are the most common punching bags available. They are used primarily for kickboxing, boxing, Muay Thai, and other martial arts. In general, a heavy bag is 4 - 5ft tall and weighs a fair amount in order to gain the name 'heavy bags.'
Heavy bags are versatile and great for technique training such as elbows, kicks, hooks, straight punches, etc.
---
Banana Bag
The creatively named 'banana' is a long punching bag that is thin and isn't usually very heavy. When banana punching bags are hung, they often touch or hover ever so slightly over the floor. This makes them great for low kicks.
If you're looking to practice and refine some level-changing combos and are looking for a bag that imitates an opponent, then a banana punching bag is the choice for you. On the other hand, if you're looking to primarily box, the banana might not be a suitable choice due to its limited swing.
---
Angled
Angled punching bags are wider on the top than they are on the bottom. The angle is often unnoticeable, but some versions of an angled boxing bag make this angle very apparent.
The top of an angled bag is great for straight punches, uppercuts, hooks, while the bottom works best for kicks and body hooks. Angled bags overall are great for boxing-based combos as you're able to train with more basic punches than you'd be able to on a normal heavy bag.
---
Teardrop heavy punching bag
No products found.
Teardrop punching bags are thin at the very top and widen out as they go down before rounding out at the bottom and forming the shape of a tear. A wider bag means a heavier bag, so if you are using a slim teardrop, you'll find it swings better for training and working on head movement and dodges.
Thanks to its many angles, a teardrop can cover a lot of bases. Moves like uppercuts, overhand strikes, using elbows, etc., are all possible with teardrop boxing bags. You can kick wider teardrop, but it depends on if the punching bag is the right height and size.
---
Wrecking Ball Bag
Wrecking ball punching bags are the more popular version of what is known as an uppercut bag. They look similar to teardrop boxing bags, except they're more rounded, like a wrecking ball. Another big difference between the two is that a wrecking ball punching bag is heavier, thicker, and doesn't swing as much.
If you're looking to do a lot of kicking, you should probably look away from the wrecking ball as your choice of punching bags.
---
Uppercut Bag
An uppercut bag is a punching bag either held in place by someone as they punch it or is mounted to a wall. These angular bags are great for learning and practicing fast combos, hooks, uppercuts, straight punches, and body punches.
A big downside to uppercut bags is that when they are mounted in place on a wall, they don't provide much in the form of opportunities. Also, if you miss, it's going to hurt like hell.
---
Double End
A double end bag is also known as a floor-to-ceiling bag, just to paint a picture of how long these bags are in reality. While tall, they're relatively light and small, and with adjustable ropes, the way it swings can either be small or big swings.
A double-ended bag is suitable for rhythm and speed training and allows the user to move around and deliver good strikes to the bag. Thanks to the speed at which the double-ended bag comes back at you, it can be handy to practice blocking and dodging before counter striking.
---
Final Thoughts
Now you're more than ready to start thinking long and hard about the right punching bag for you and your workout, and hopefully, you understand why this decision matters.
If you know someone who's considering starting boxing and is looking to understand the importance of punching bag weight and the different kinds of punching bags, then share this article with them. Let us know in the comments what punching bag you have and if you think you've made the right decision.