Your witch Halloween costume is not complete without using a witch broom. There are also other uses of a witches broom, it can be used for decor and much more. The good news is, you landed on the right page.
I have put together a compiled list of the best DIY witch broom projects I could find. There are 25 in number, from wicked witch broom to decorative witch brooms, you'll surely find what you are looking for.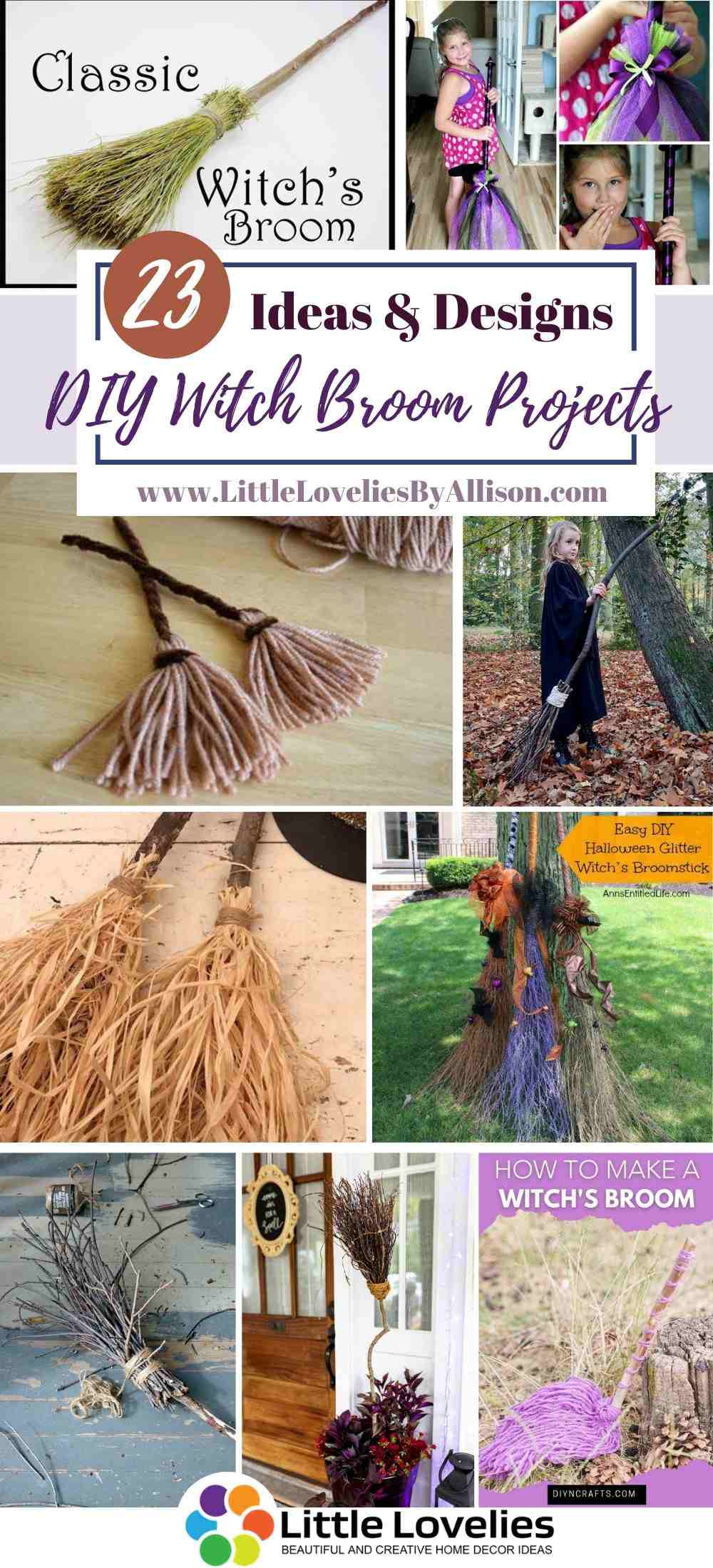 1. DIY Witch Broom
Here's the first on our list of DIY witch brooms. This one is made of twigs. You will need a long branch and lots of twigs for this. Begin by stripping the branch off the bark, cut off bumps and knots then wrap a thick elastic band around the bottom where you can comfortably insert your twigs till it is tight enough.
2. DIY Classic Witch Broom
You will need a straight stick and the cheapest broom you can find. Disassemble the broom then set the stick on the bristles. Wrap with twine and soak the knots with several drops of super glue. Finally, fasten the bristle bunch to the stick.
3. DIY Wicked Witch Broom
There is a pretty cool way to fasten your witch broom to the stick such that it will last for a longer time. Divide your twigs into sections and bind each section together. Keep repeating the binding process then bind the whole bunch to the stem. The name "wicked witch broom" is probably because of how weird it looks.
4. How To Make A Witch Broom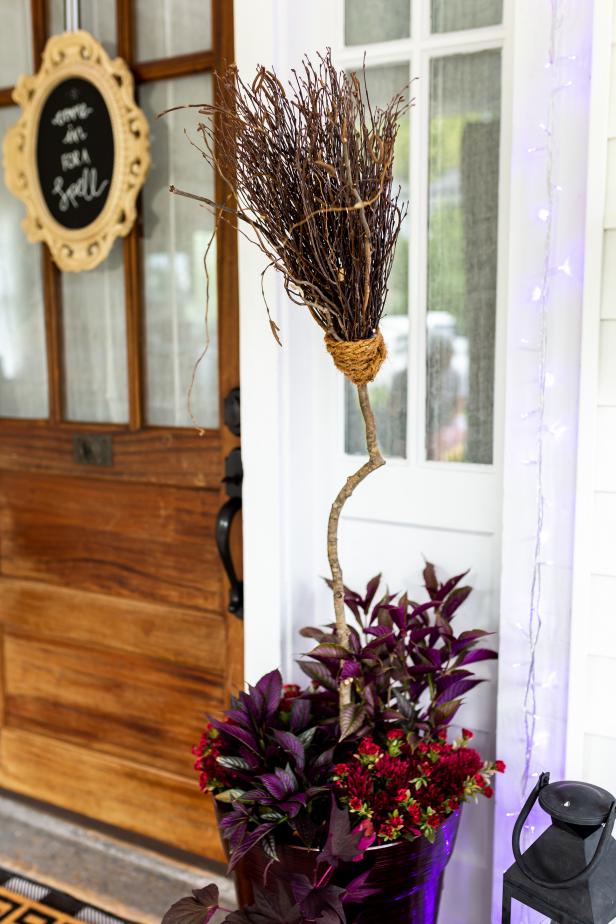 Have you ever noticed that you can use a witch broom for decorations too? To make this, gather together a dozen birch twigs, cut into a smaller length, and bundle with knotted jute twine. Attach the bundles to a branch then add curly willows and secure them with floral wire. Use a natural rope to finish off.
5. DIY Witch Broom For Decoration
There are other colorful witch brooms that you can afford to use instead of the conventional ones made of twigs. Wrap yarn around a surface to create a large pom pom base for your yarn head. Cut the end and feed it through the loop. Cut the bottom and lay the end of the stick at the top. Wrap the yarn on the stick.
6. DIY Witches Broom
This DIY witch broom can be made easy to carry because of the texture of the raffia material used to make it. Since this is a pretty fragile material, you will need to glue it to the end of the stick before you eventually tie it off. I think this witch broom would be great for cosplay.
7. DIY Witch Broom Dollar Store
To make this colored broom, remove the embellishments from the scarecrow pick and leave the broom base. Use a fitting stick and paint it black and whatever color you may like. Once dry, insert the stick to the top of the broom.
8. DIY Witch Broom With Tulle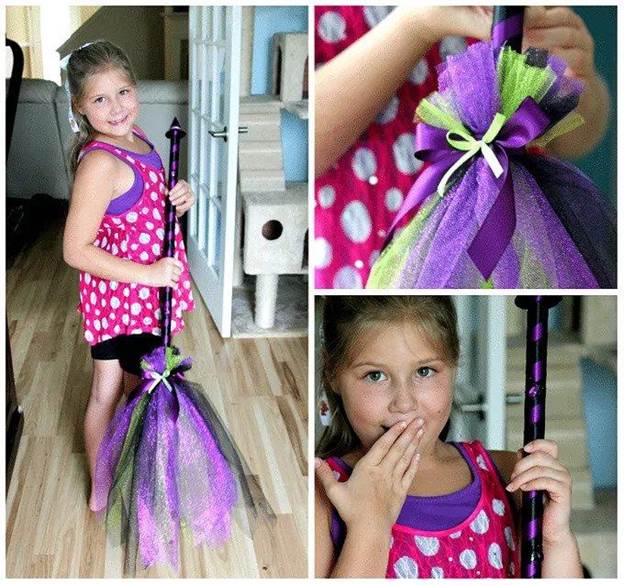 Get yourself a really adorable witch broom made of different colors of tulle. The first step is to wrap your dowel with a satin ribbon. Use a glue gun so it will fit well. Create your tulle pieces before you attach them to the dowel in alternating colors. Finish off with a bow. If you have a girl child, she will completely love this DIY witch broom.
9. DIY Witches Brooms
If you are thinking of how to turn something junk into something beautiful, you can always take on this project. To make this DIY witch broom, you will need to get some broom handles. Pair it with the dead weeds and tall grass. Assemble and wrap with twine.
10. DIY Glitter Witch Broom
As the name implies, this DIY glitter witch broom is made with glitters. This would not take so much of your time. After opening up the box of cobweb brooms, insert the handle. Do the painting outside so that you can monitor what over sprays.
11. How To Make A Child's Witch Broom
Your costume can go well with a really easy DIY witch broom. Tape down one end of your ribbon and roll it onto the stick. Do the same thing with another color for alternation. Fold your tulle and use zip ties to pin it down. Cut it and to shape and fit to the stick.
12. How To Make A Mini Witch Broom
With help from this guide, you can make a miniature witch broom and a magic wand. For the broom, get a manicure stick and sand it well. Cut equal strips of jute string and attach for the bristles of the broom. For the wand, tie the string on the top of a toothpick leaving one sharp end.
13. DIY Sparkly Witch Broom
This can be easily made by tying your grass with pieces of string onto the stem. Add a few embellishments like flowers and ribbons to give it the sparkly look that you desire.
14. DIY Witches Broom
This is pretty easy if you have some dry pieces of raffia and sticks. String your broom together with the sticks in the middle. Fold up one part of the raffia leaving the stick then secure with another string.
15. How To Make A Witch Broom From Old Newspaper
Cut newspaper into strips to make newspaper sticks. Make a cross-cut with a disposable cup at the bottom and fit the big stem into it. Attach your newspaper sticks to the stem one by one.
16. 6 Foot Long Witch Broom DIY
This witch broom has a zigzag shape and a curved edge on the stem. To make this, craft your wood and carve to get the desired shape. Begin attaching your grass to the base and secure firmly.
17. DIY Origami Witch Broom
Here's one for all the origami lovers. This is pretty much easy after you have cut your paper to the edge of the base. Attach it to another roll-up paper stick.
18. Dollar Tree Witch Broom
The stem of the witch broom may end up being rough, you can just shape it a little but make it a bit creepy as you can. You can get your branches from a dollar tree. The making process of this witch broom is quite easy to follow.
19. DIY Witch Broomstick
To build this broom for witches, you will need a sturdy stick and some twigs. The first step is to prepare the material and assemble the broom. Place a first cordage with a simple knot. Make another layer and add glue. Add a final layer then test.
20. How To Decorate A Witches Broom
If you don't want to use a plain DIY witch broom, you can decorate the one you have using some artificial flowers, ribbons, roses and petals. Glue them carefully to the base of the broom through the stick.
21. DIY Mini Witch Broom
This miniature DIY witch broom has some inconsistencies with its bristles base. This is because it was pruned. When you glue your yarn to the stick, make sure they are not in order.
22. DIY Dollhouse Witch Broom
If you need a decorative witch broom for your witchcraft dollhouse then this can be of use. Get your stick and sand the edge. Cut strips on your fabric that are still held together on the edge. Attach to the stick with glue.
23. DIY Miniature Witch Broom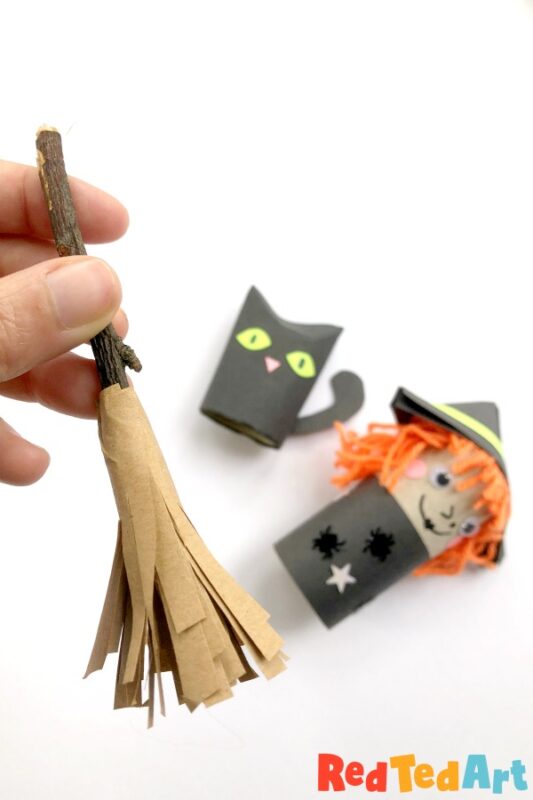 If you want a miniature DIY witch broom for decoration purposes then try out this step. This is made from brown paper. Cut two strips of brown paper and fringe it. Add glue to the end of the paper and attach to a stick.
24. DIY Mini Yarn Witches Broom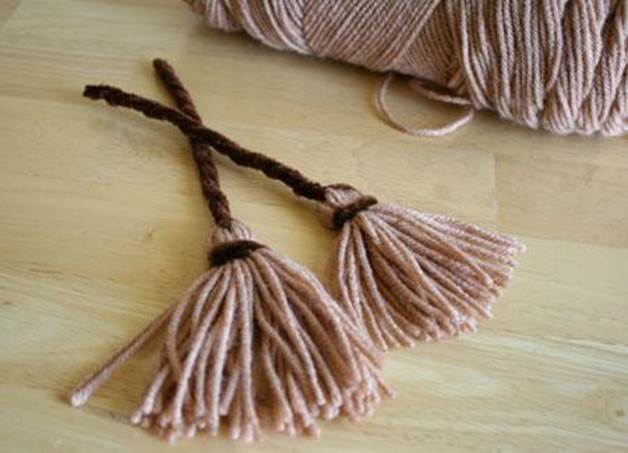 This DIY witch broom is made of two different colors of yarn.  This should show the simplicity. Fold the first piece into half and twist. Make a loop at the end where you will fit the other into. Tie the base of the other.
25. How To Make A Witchy Broom
This really looks natural. The materials are easy to find. You will use a fairly thick branch for this. For the brush part, you will need twigs and branches. Assemble and tie off with a ribbon.