You are moving to a new house and feel excited at the thought of welcoming your guests. You want a welcoming sign but don't want to spend much on it because you have other priorities for that money.
Here are 25 DIY welcome sign ideas that you can make yourself with a few simple items you can find around your house or with things you buy for under $10.
1. DIY Large Welcome Sign
You can create beautiful signs like this by using reclaimed wood and putting it together on a board. Such signs will be an outstanding decoration for your home. Just use pallet slats or other recycled wood and paint the letters on it.
2. DIY Welcome Sign
If you have a front porch with enough space to keep this then why not! This tutorial will teach you how to make this beautiful DIY front porch welcome sign. I love the fact that it has space for planters, you can display your favorite flowers or plants to your guests. More details can be found by clicking on the link below.
3. Front Porch Welcome Sign DIY
If you have a beautiful front porch, it's nice to have a beautiful welcome sign as well. Making a stand-alone wooden post is a statement piece in itself, and with some wood accents, you can create a classy yet rustic welcome sign for your front porch.
4. DIY Floral Welcome Sign
For this DIY welcome sign tutorial, the creator uses scrap fabric to make an amazing DIY welcome sign. The sign has knobs for hanging coats, hats, and even keys. The making process of this DIY welcome sign is as simple as the sign looks.
5. DIY Front Porch Welcome Sign
Here's another quick guide for people who do not want to spend too much on a front porch welcome sign. The creators were able to make this DIY welcome sign at as low as $5. For this project, you will need a Cricut maker, transfer tape, vinyl, white chalk paint, and fence pickets.
6. Dollar Tree Light Up Welcome Sign DIY
This DIY welcome sign has an amazing effect that will leave your visitors literally glued to it. The most loved trait about this welcome sign is the lighting effect around it, also, it has a lovely flower just at the top, you can use a different floral design for yours.
7. DIY Welcome Sign
For this DIY welcome sign, you will need a 12"  X 6' X 1" - Pine board and a couple of other things like a ¼" X2.5" X 12" small wooden piece, chalk paint, hot glue, liquid nails, ribbon, and more. The entire making process can be seen in the video tutorial above.
8. DIY Welcome Sign Using Popsicle Sticks
We promised to bring you some of the best DIY welcome sign projects, here's another amazing one on our list. This one was made using popsicle sticks but it looks like it was made with actual wood. For the making, you will need popsicle sticks, acrylic paint and brush, and other supplies that will be mentioned in the video.
9. DIY Simple Welcome Sign
Some people like their welcome signs' simple and straight to the point. Just like this creator here who made a simple one masking tape, spray paint, and a few other supplies. The making process starts making the words, doing some marking, and then painting it. Check out the link below for the full tutorial.
10. DIY Warming Welcome Sign
Here's one of my favorites. It's called a warming welcome sign. The making process starts with gathering specific materials, you will need white paper, cutting pliers, gold spray paint, 10 x 20 inches of wood, and more. Click on the link below for the complete tutorial on how you can DIY this warming welcome sign.
11. DIY Walkway Welcome Sign
Meet the walkaway welcome sign, it is basically a lovely bird that tells your guest "hi" when they come visiting and "bye" when they are about to leave. This is a great creation that you can make for your home. Complete details on how to make this can be seen in the tutorial below.
12. DIY Pallet Welcome Sign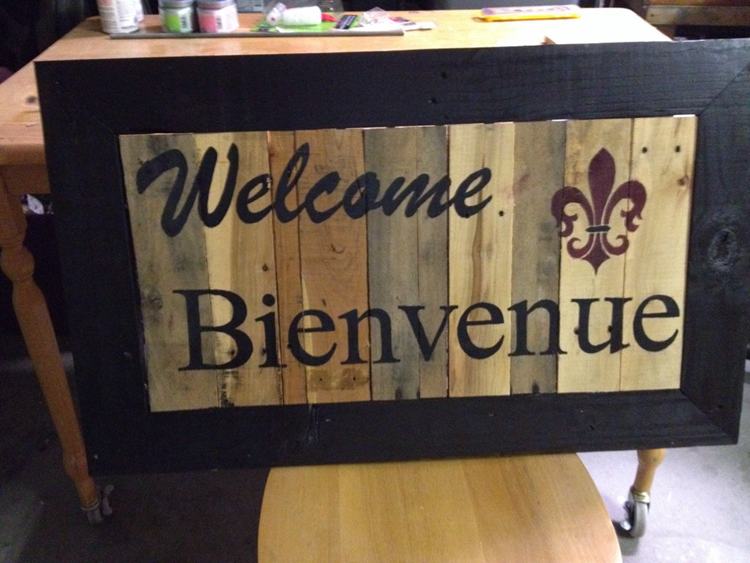 Have you got some pallet wood laying around? If yes, then it's time to put that scrap wood to good use. This tutorial will teach you how to make a welcome sign using pallet wood, however, you will need some extra supplies for the build like paint and nails. It is very easy to make.
13. How To Make A Welcome Sign For Weddings
You don't have to spend too much money on a wedding sign when you can make a very beautiful one without spending excess. In this tutorial, the creator will teach you how to make a welcome sign for weddings using wood and paint. It is affordable and no Cricut is needed for this DIY project.
14. DIY Welcome Sign For Front Porch
Here's another tutorial on how to make a welcome sign for the front porch. For the build, the creator got a 4-foot board from home depot and sanded it down, making sure that all the sides are even, next up, she stained it with wood stain and then started carving out the letters for the welcome sign.
15. DIY Welcome Sign For Kitchen
If you fancy the idea of having a welcome sign for your kitchen, here is a tutorial that will teach you how to make an amazingly outstanding one. For this tutorial, you will need a tray, you will also need to crave up letters for the text. The chef toy is an amazing touch that you should consider adding to yours.
16. Acrylic Welcome Sign DIY
Here's a one-of-a-kind guide where the creator shows you how to make an acrylic welcome sign without having access to a vinyl printing machine. However, you will need a couple of supplies like masking tape, acetone. Using Canva, the creator was able to create an amazing welcome sign. You should check it out.
17. Easy Welcome Sign DIY
If you enjoy gardening and beautiful things, this is a simple project that will make an attractive addition to your porch. The tutorial tells you how to make the sign and attach the flowerpot easily. You will need to get a 5-foot board, craft paint, black acrylic paint, and exterior or white chalky paint. You'll also need to bring Mason jars and some hardware supplies.
18. Large Welcome Sign DIY
If you're looking for a sign that your neighbors can read, then this one's for you. In fact, it's large enough that it's great for porches, long driveways, highly decorative yards, and wide entryways. You will need giant wood letters, exterior paint, a giant wood board, glue sticks, and a hot glue gun. Through this simple tutorial, you'll have the sign ready for use in no time.
19. DIY Welcome Porch Sign
This tutorial is easy to follow and will result in a beautiful board, with letters, five inches high, of acrylic. It is painted, sealed, and then sanded for a farmhouse-style welcome sign that is perfect for any porch.
20. DIY Welcome Sign With A Twist
For those who love upcycling, this is a design to love. It uses up old pieces like woven lattice bits that you've just not been able to bring yourself to throw away but didn't know how to use. You'll need a piece of lattice, an L-shaped piece of wood or metal, beads or something else to decorate the piece of lattice.
21. Easy DIY Welcome Sign
I think it would be a perfect fit for a female's house. The making process involves the use of cardboard and other easy-to-get tools. This welcome sign is actually one of the easiest to make on our list of DIY welcome sign ideas.
22. DIY Welcome To Our Wedding Sign
Here's a beautiful way to make a "welcome to our wedding sign." For this build you will need a - 20 X 30 ½ X ½ Thick foam board, White adhesive vinyl for the cutting machine, Flowers of your choice, and a hot glue gun.
23. DIY Welcome Door Hanger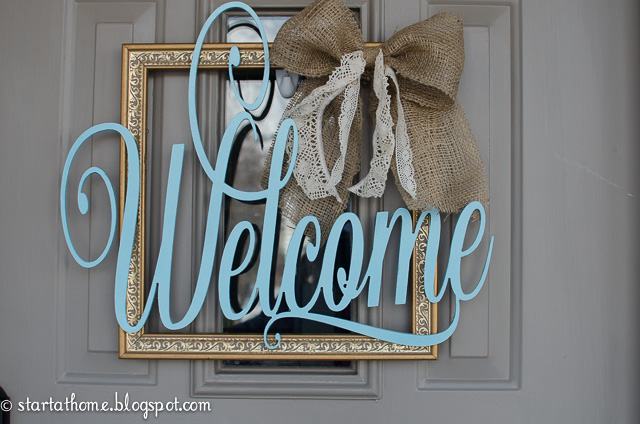 This lovely welcome sign door hanger is beautiful and simple to make. These supplies can be found at the dollar store, craft shop, or in your own home. This takes next to no time and supplies – you just need an old frame (you can find one at a secondhand store), some spray paint, lace, burlap, and a hot glue gun. Just a few steps, but the end result
24. DIY Welcome Sign
Fall is a great time for a DIY project. Others may feel the same way, so consider how you can capitalize on that. To make this beautiful, textured sign, you will need a lovely piece of hardwood. You will also need some burlap leaves, some wood stain, craft faux acorns – or pinecones if you like – and a hot glue gun
25. DIY Porch Welcome Sign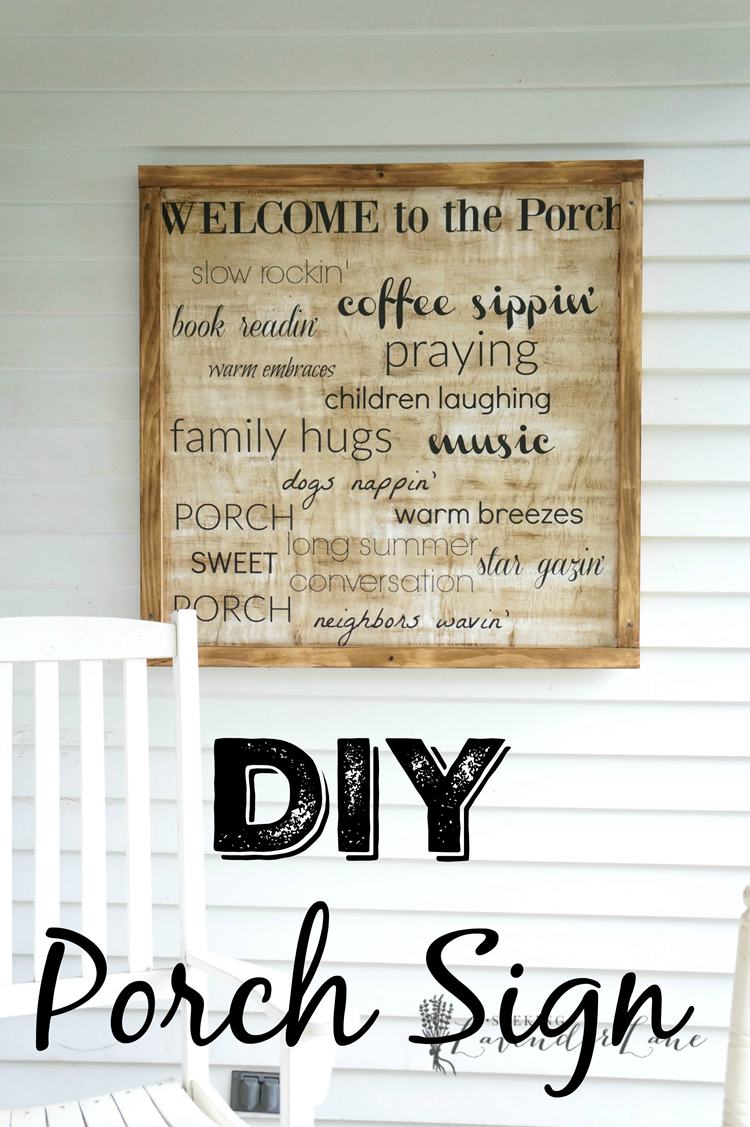 This customizable sign lets you document your family's favorite outdoor activities. You can either print out the lettering for your welcome sign or make a stencil, stamp, or other lettering option. For whatever message you want to use, you'll need some plywood, wood for the frame, Mod Podge.
Conclusion
Thanks for stopping by to view this compilation of 25 DIY welcome sign ideas. I hope you enjoyed reading it as much as I enjoyed writing for you. Feel free to drop a comment below if you have any questions or contributions related to this article.