What's the one thing we always carry along when we are stepping out? It is our wallets. Wallets contain cash and important cards that can make our day worthwhile. You do not need to spend a lot of bucks on buying a new wallet when you can make one with less money.
In this article, I have compiled a list of DIY wallet projects that you can try out. The making process of most of the DIY wallets listed is quite easy to follow.
You May Also Like: 25 DIY Business Card Holder - How To Make A Business Card Holder
1. DIY Wallet Sewing Pattern
Here's an amazing wallet for the ladies, for this DIY project, the creator used a floral material to make this DIY wallet. It has a handle that makes it easy to be carried around. The making process of this DIY wallet is quite easy to follow.
2. DIY Zipper Card Pouch
Are you looking for a pouch to store your cards? Here's one I would recommend especially for the ladies. This is a simple zipper card pouch that can be made in less than 24 hours. Feel free to use whichever fabric you like. Another trait about this pouch is that it can hold up to 32 cards. Isn't that amazing?
3. How To Make A Leather Wallet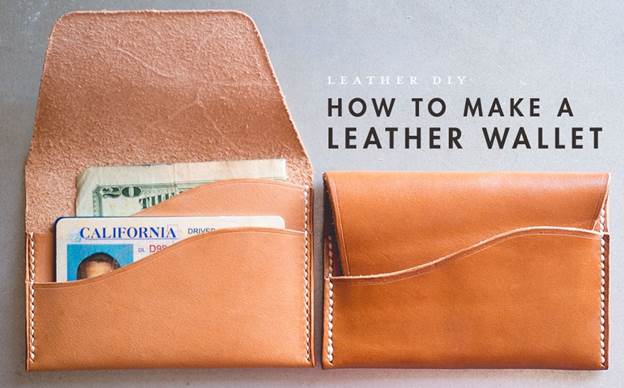 I love leather wallets, they look more mature than any other kind of wallet. Why spend a lot of money purchasing a leather wallet when you can make one for yourself. This DIY guide will show how to make your very own leather wallet with 2 slots for cards and cash.
4. DIY Map Wallet
I found yet another amazing DIY wallet that you can make. This DIY wallet is made out of a map. It could serve as the perfect gift for a friend. The making process is quite easy to follow. You will need a sewing machine, pencil, ruler and a bunch of other materials.
5. DIY Cork Fabric Wallet
Have you ever seen a cork fabric wallet? Here's one. You can make these lovely wallets for your cards. The making process would require some sewing skills and that means you will also need a sewing machine. In summary, this is a simple wallet that can be made in a jiffy.
6. DIY Business Card Wallet
If you are the kind who has a lot of business cards, I have good news for you. This wallet has the capacity to store up to 38 cards, yes, it actually has up to 38 pockets. The making process requires the use of a sewing machine, some fabric, and a bunch of other materials.
7. DIY Mini Card Wallet
Using two fabric pieces, a snap button, sewing clips, and a bunch of other materials, this cute mini card wallet was born. This isn't one of those wallets that are difficult to carry about. The small nature of this mini wallet makes it comfortable to carry.
8. Bi-Folded Wallet Tutorial
This DIY wallet is called a bi-folded wallet due to the folding pattern. It has six pockets that can be used to store your cards. That's not all, it also has a place to store cash. Most of the materials used to make this wallet can be found in your home.
9. DIY Hybrid Leather Wallet
While doing my research, I found this beautiful leather wallet. Although it looks really beautiful, the making process won't be like a walk in the park, it will take time to finish. The wallet can hold your cash and cards. I would recommend this for a beginner who is looking at making his or her first leatherworking project.
10. Simple Leather Wallet DIY
As simple as this leather wallet might look, the making process might not be easy. The creator used a lot of materials for the making process and it might take you some time to get all these. Unfortunately, this wallet is made for cards only, there's no place to store cash.
11. DIY Jeans Wallet
Repurpose those old jeans of yours with this cute DIY wallet idea. Instead of throwing your old jeans away, you can take a piece out of it and create a wallet as seen in the image above. The wallet has compartments to store cards and also cash. I think this is a fantastic build that you ought to try out.
12. DIY iPhone 4 Wallet
The joy that comes with having your phone, cash, and cards all in one place is one to experience. This wallet is built to accommodate your cards, cash, and also your phone. The making process is quite easy to follow. If you have the right tools handy, you should be done making this in no time.
13. How To Make A Leather Wallet
If a text tutorial doesn't seem to cut it for you, perhaps you can try watching a tutorial that shows you how to make a leather wallet.  This tutorial will show you all the processes, from cutting the leather to putting it together and more. In the end, you'll have an amazing leather wallet for use.
14. Cute Purse Bag No-Sew
Here's one for ladies who do not like to sew, I came across this no-sew purse bag that has shades of amazing. It is crucial that you follow the making process thoroughly, the slightest mistake might ruin the purse.
15. How To Sew A Fabric Wallet
So, let's say you have some leftover fabric and you are looking at making something cool out of it. This guide is for you. In this DIY guide, you will learn how to sew a simple wallet using any fabric of your choice.
16. DIY Bandanna Wallet
Here's one of those great hacks that will most definitely make your friends go "wow". This DIY bandanna wallet is quite easy to make, it takes about half an hour to complete the making process. For the materials, you will need scissors, a sewing machine, pins, duct tape, and of course, a bandanna.
If you are like me who is always looking for the perfect place to keep your keys, you can check out this keychain wallet. It is a pretty simple wallet that takes less than 2 hours to complete. The speed is actually dependent on how fast you can sew.
18. DIY Kids Wallet
If you are making a wallet for yourself, you might want to consider making one for your kid, we wouldn't want our little angel to get jealous now, would we? This is a simple wallet that can be made in a snap. If you are looking at making this, I would suggest you use a kiddies fabric.
19. DIY Fabric Wallet
Here's another tutorial that shows you how to make a wallet using your favorite fabric, the making process is easy to follow. The inside of the wallet has a lot of storage compartments for cards and money.
20. How To Make A Simple Leather Wallet
This isn't one of those easy projects, get ready to spend a couple of hours trying to put this together. You will need to get some special tools to put this wallet together. This wallet however only has compartments for cards.
21. DIY Basic Boys Wallet
In this tutorial, you will learn how to build a wallet for your boy. With this wallet, he will be able to store his stuff. The making requires pieces of fabric and some other hardware. This wallet is specifically made for boys, but I think men can also have this behind their pockets.
22. DIY Trifold Wallet
23. How To Make A Bi-Fold Wallet
I fell in love with this leather wallet at first sight. It looks like what you would purchase from an online store. It has a couple of compartments for your I.D cards, ATM cards, and more.
24. Men's Wallet
If you think making a wallet is pretty complicated and you won't be able to make one, you can consider this quick fix. I found this amazing front pocket wallet that can be used to store your cards with class.
25. Women's Wallet
The ladies also have a quick fix option for their wallet needs. With this wallet, you can store a lot of stuff. Do you think the body looks beautiful? Wait till you see the inside of this wallet. I highly recommend this wallet for ladies looking for a quick fix to their wallet needs.