Do you have large food products to store and you're looking for the perfect cooler for that purpose, a walk-in cooler might just be what you need. It's not only super big and convenient it's also, as the name implies a walk-in cooler, simply walk in and deposit your food item for storage.
A DIY walk-in cooler could be better than most standard coolers out there and it's pretty easy to build. To buy one might cost a fortune, so give this DIY a try, scan through this list of walk-in coolers and see which one suits your needs and budget.
So, without wasting much of your time any further, let's begin!
1. DIY Walk-in Cooler For Small Farms
This video guide is amazing, and it's perfect for beginners, why? Well, it first talks about what a walk-in cooler is and why you need to build one, how difficult it is to build, how to control the temperature changes inside the walk-in cooler, the benefits of literally having a walk-in cooler, and what recommended size might suit your needs for starters.
It's an 8x8 inch room, and the creator used a 12K BTU window A/C unit that he had at home. It's not so expensive, and the materials are easy to find. The making process is also pretty simple to follow.
2. DIY Walk In Cooler Build
Here is an amazing walk-in cooler that will take about 4 days to finish, if you're going about the steps right. You'll need to insulate the wall, after cutting your way through to make room for the cooler space.
The cooler the creator of this video guide made is 8 feet by 7 feet, and that's quite big enough to fit into your home space. The creator used a lot of wood beams, drilled a wooden floor in, and added insulation. This is a simple woodworking project that isn't too hard to understand unlike most advanced woodworking projects out there with a few woodworking tools as well.
3. DIY Walk-In Cooler
The creator of this video guide made this walk-in cooler at a super cheap rate, it seemed impossible but it's not. The outside of the cooler is made up of some old tin, and lumber wood the creator had laying around.
This cooler room is pretty small, and that's one of the reasons why it's so cheap. The creator didn't really have to buy wood or much of the materials he used so, check the description link to learn more about the stuff he used so that you could know if you won't have to spend much like him.
4. Mobile DIY Walk-In Cooler
This is the coolest idea ever, it's not just enough that you could build a large walk-in cooler at home, now you can build a mobile walk-in cooler. This simply means you get to carry it wherever you go.
The creator used a utility trailer with wheels, and he started off the build by mounting some wooden boards on it to build the floor panel before moving on to the walls and eventually installing an A/C unit for the cooler room. It's a super easy DIY project with woodworking materials and tools that are easy to come by.
5. Homemade Walk-In Cooler
This is a pretty easy project, the making process was simple to follow. The creator used a 12,000 BTU/h LG brand air conditioner which is pretty high due to the size of the walk-in cooler. It's a small walk-in cooler, the inside measures about 4ft x 5ft x 8ft tall. The creator complained that 8 feet was too much for him due to the size of his house, you can always adjust it to suit your needs.
The creator also added a cool-bot controller to enable it to work effectively. There is also a link in the guide where you can get the cool-bot at a fair rate. In all, it's a pretty great walk-in cooler.
6. How To Build A Walk In Freezer
Now, before you decide to use it to make your walk-in cooler. This cooler consumes about 8,000 kWh of electricity each year which will be equal to $1,200 in energy cost, and if you think this is too much for you to cope with, then try out some other guide that suits your needs. The cost of this walk-in cooler is $15,000.
The creator started with laying the cooler floor, the freezer wall, and you'll need to add a walk-in freezer compressor. This guide will also give you the opportunity to convert the walk-in cooler into a walk-in freezer as well.
7. DIY Walk-In Freezer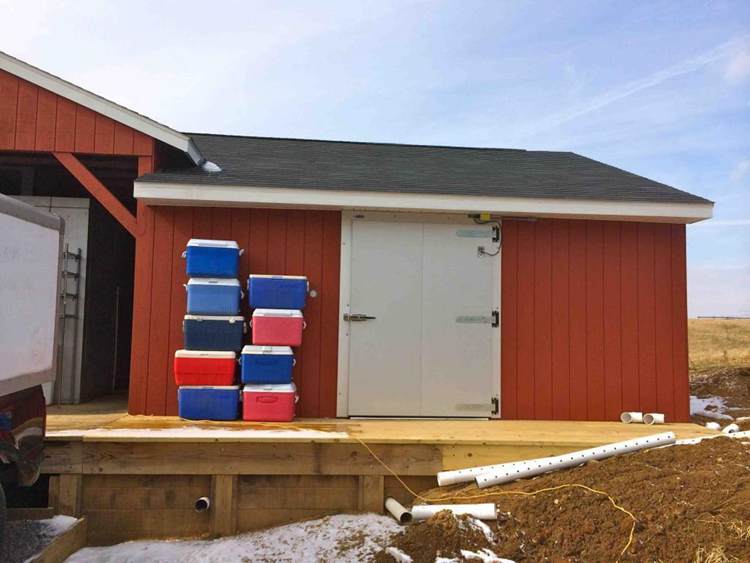 This is a pretty large walk-in cooler, it's built like a house, and it's also quite expensive. You'll need a more hands-on deck for this project because it is quite tasking and requires a lot of hours if you decide to use this guide.
The build started by laying concrete on the designated area of the cooler, after that, you can start adding the wood frame for the body of the cooler and then the roofing and door. The making process is easy to follow.
8. DIY Walk In Cooler Build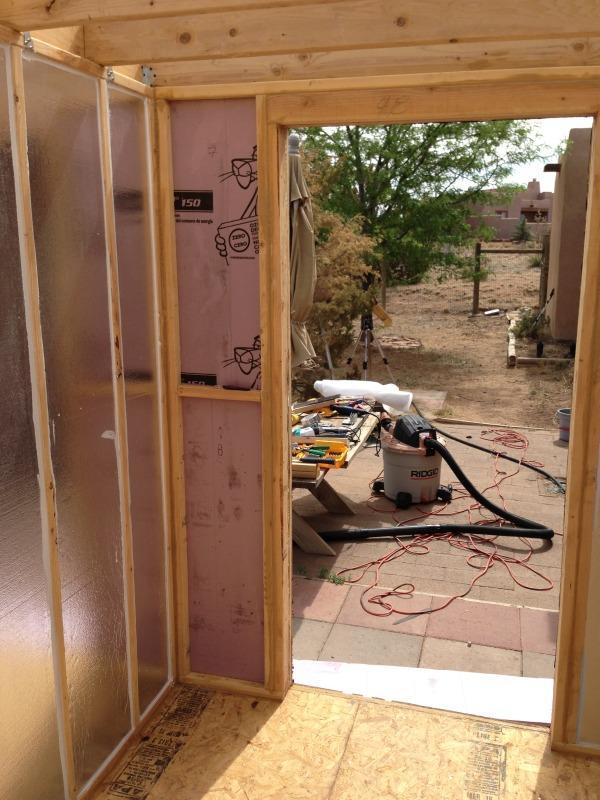 This walk-in cooler is pretty small, but also pretty easy to build, the cooler was sheathed, painted and a roof was added. This is a 144'' x 80'' walk-in cooler for the outer dimension. You can add the structure to the back of your garage, or the back of your house, or anywhere that suits you.
The floors were insulated and OBS flooring was added for efficiency and comfortability. This is a walk-in cooler that can serve you perfectly if you follow the making process properly.
9. How To Build A Walk-In Game Cooler
This is a walk-in game cooler, everything was properly insulated, and the creator used a cool-bot controller system for effectiveness and durability. This guide also gives you a $20 discount for the cool bot.
The creator of this guide didn't give a step-by-step instruction of how the making process should be, but he did a lot of explaining that can be understood if you follow it properly.
10. How To Turn Any Room Into A Walk-in Cooler
This video tutorial guide can turn any room into a walk-in cooler in hours. That's pretty cool because you might not have extra space around your house or a garage that can accommodate a walk-in cooler of this size, so you can easily convert a free room in your house into a super effective walk-in cooler.
The creator used a cool-bot and an LG window air conditioner. A cool-bot might be expensive in your area, so check this video description to see the link where you can get it at a discounted rate.
11. Building A Walk-in Cooler
Here is another video guide that will teach you how to build a walk-in cooler with ease using commercial refrigeration. The floors are insulated, and it's a 13 x 9-inch cooler with windows.
I think this is the first walk-in cooler on this list that was built with windows. I mean, it's cooler, the idea is to keep the air in and not create a portion for it to leave, but I guess the creator had a pretty good reason for that so, check the guide and learn more.
12. Walk-in Cooler Build DIY
This is the last walk-in cooler in this guide and it's pretty easy to build although it took 2 days to finish. There is a link in the video description that will direct you to where you'll get a cool bot at a cheap rate.
This is a simple woodworking project, you don't need to have so much knowledge or experience so it's easy and simple to build from scratch. The creator didn't build an external ceiling, he just set wood beams on the insulated floor, set some other lumber vertically on the beams, and attached it to the roof of the room he built the walk-in cooler in.
The walk-in cooler is wide, and a bit narrow, but super-efficient and serves the purpose perfectly.
Conclusion
That's all for now, I hope you have gotten the knowledge you need to make a walk-in cooler for your house to store your food products, and other perishable stuff you have. Most of the walk-in coolers in this DIY guide are made of wood, so you need to get the appropriate woodworking tools to be able to build anyone you want from the list above. Thanks for stopping by, I wish you all the best, bye!