There's nothing like a good vanity mirror to spice up your dressing table or walk-in closet. A DIY vanity mirror is a cheaper yet practical alternative to their store-bought counterparts. It also allows you to customize them according to your quirks and can be a good skill to use in making extra cash.
I have 19 DIY vanity mirror tutorials on this list that would knock your socks off with their beauty and sheer brilliance. You'll be saving a ton of money, acquiring a skill, and having fun with these DIYs; a triple treat no one should miss. You should check this carefully curated resource on how to make a DIY Makeup Vanity Table.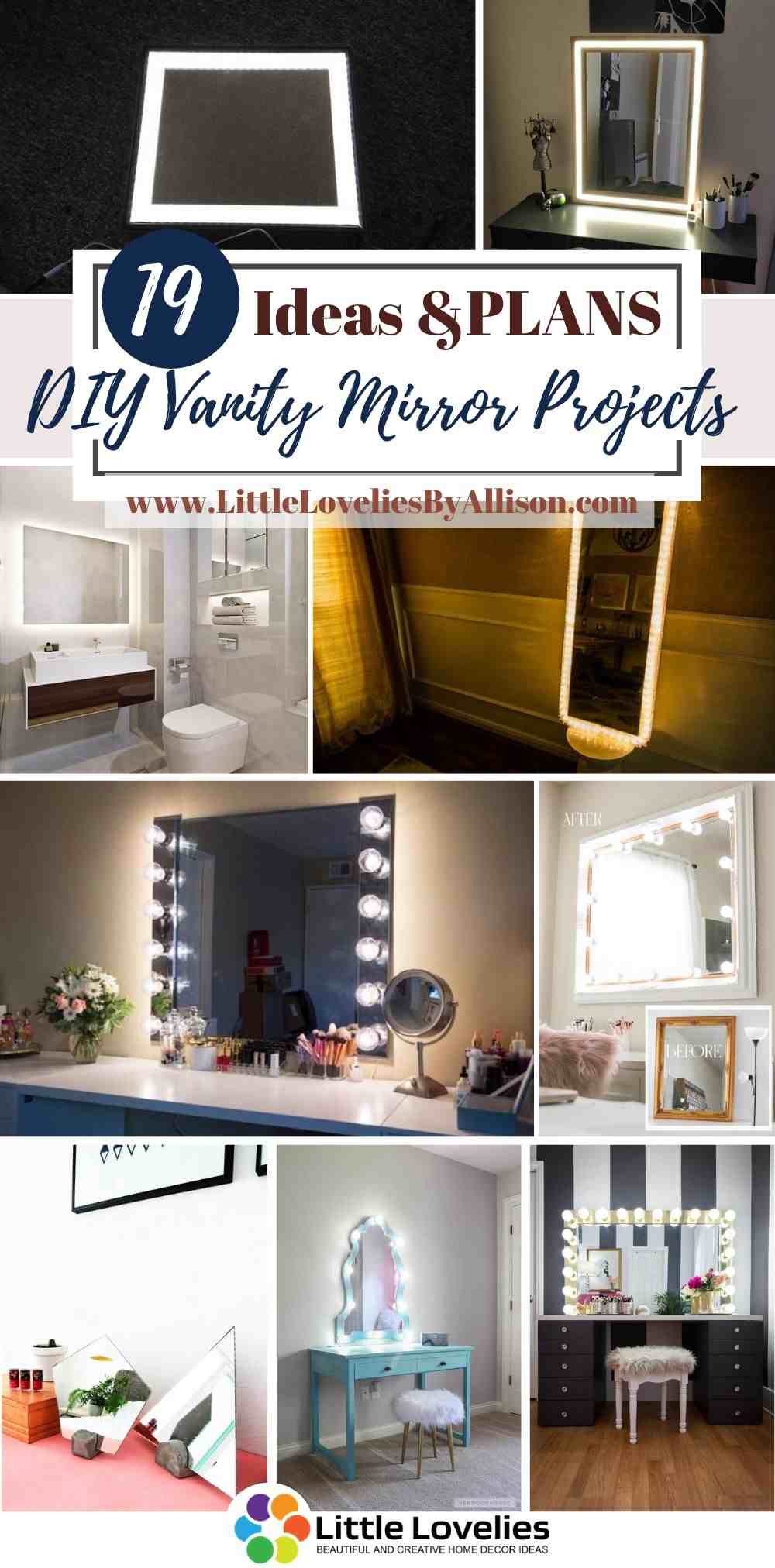 1. DIY Vanity Mirror with Lights
For our very first DIY vanity mirror table with lights, you need light bulbs (LEDs are not as good), a mirror, vanity table/dressing table. The mirror used in this tutorial is a frameless 24" W x 30" H mirror but you can use any mirror of your choice, just adjust the number of bulbs you'll need accordingly. The best part of this is that it costs less than $40 to make.
2. $20 Vanity Mirror
A $5 dollar mirror is transformed into a beautiful vanity mirror in this tutorial and the whole project cost the tutor about $20 dollars. It might cost a bit more if you have to buy some of the materials needed, but still way cheaper than a ready-made vanity mirror. Revamp an old mirror into this $20 vanity mirror and spice up your dressing table.
3. DIY Light Up Vanity Mirror
This is a bit more pricey than the previous two at $150, it is totally worth it however as you'll be making a DIY light up vanity mirror that is fit for a Hollywood star's dressing room. The mirror is made from scratch i.e. the frames, so there is woodworking and electrical work involved that requires a bit of skill (3 on a skill level of 1-5, 5 being expert).
4. DIY LED And Wood Vanity Mirror
This is a DIY LED and wood vanity mirror that gives us an insight on how to pick the perfect LEDs for a vanity mirror that won't give terrible lighting. It requires woodwork for the frames unless you already have a mirror with wooden frames. Tools you'll need include a router, circular saw, handsaw, and clamps.
5. DIY LED Vanity Mirror
This is not for beginners or the faint-hearted. This DIY LED vanity mirror requires sanding and frosting the mirror, making a wooden frame, and running LED light connections. The finished product is beautiful and worth every hassle.
6. DIY LED Strips For Mirror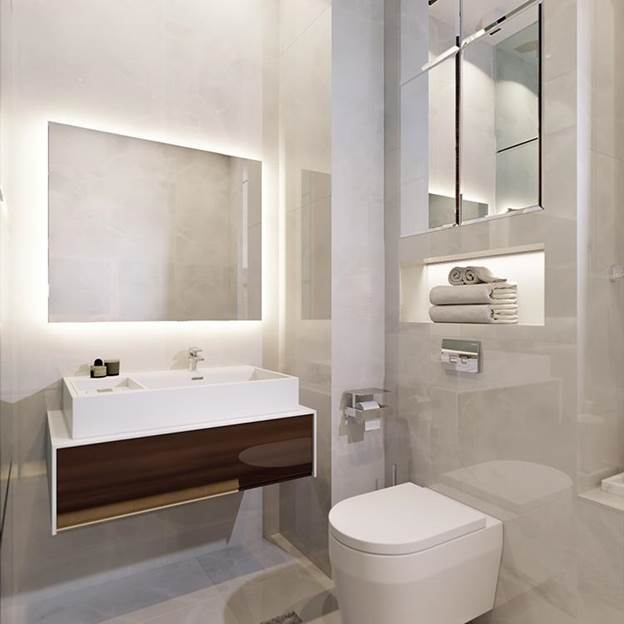 This tutorial is all about DIY LED light strips for mirrors. It's perfect if you already have your mirror hanging up but want to add lighting to it. It's one of the cheapest ways to engage in DIY vanity mirror crafting and is perfect even for full-length mirrors. Just be sure to pick the right LED strips for perfect lighting and waterproof ones if you'll be installing them in your bathroom mirror.
7. DIY Vanity Mirror WIth Lighting
You'll need a frameless mirror, vanity light strips, light bulbs, plywood, a 3 prong replacement plug, woodwork tools, and paint. Everything is assembled in 6 easy steps but the wiring of the lights requires some technical know-how of electrical wiring and it's advised that you seek a professional electrician for this part.
8. How To Build A Vanity Mirror With LED light
Learn how to build a vanity mirror with LED lights using a mirror, plywood, rope light/clips, glue, shower curtain rings, and paint. All you need to do is measure your mirror and the length of purse handles, cut the plywood to fit the length of mirror and purse handles combined. After that, you'll paint the plywood and attach it to the mirror with glue, then set up the lighting. It's best to take your measurements before buying your wood so you can just pre-cut the wood while buying.
9. DIY Vanity Mirror With Lights And Dimmer
For this DIY vanity mirror with lights and dimmer, 20 bulbs are involved which makes the dimmer really important. It's a really huge mirror (imagine a full-length dressing mirror but sideways), perfect for the one who wants something above the regular.
10. How To Build A Vanity Mirror Step By Step
This is a classic vanity mirror that comes with electric socket-outlets for your hairdryer, hot combs, and any other electrical beauty tools you need to use before a mirror. You're shown in this tutorial, how to build a vanity mirror step by step for about $150. The material list includes PVC trim, a mirror, electrical supplies, and tools. Customize the dimensions to fit your needs if you desire a different size of vanity mirror from what is available.
11. How To Make A LED Vanity Mirror Under $20
If your vanity mirror budget is under $50, stress no more! Find out here how to make a LED vanity mirror under $20 and in no time at all. This however only applies to those who already have the required materials lying around somewhere and have some knowledge in the field. A wooden frame is first made, painted and electrical connections done before the mirror is attached.
12. DIY Vanity Mirror And Desk
The best part about this DIY vanity mirror and desk is that there is no drilling or woodwork involved, still, you'll be saving a lot of cash. Everything used is read-made, although you do have to wire the light bulbs yourself, it's a simple process. Store-bought drawers are assembled and a shelf board glued on top using E6000 glue. The mirror is then hung up and the lights fixed in place.
13. DIY Makeup Vanity With Lights
This DIY makeup vanity with lights made from a plain wooden framed mirror which is sanded and painted to your desire. The mirror is separate from the table and hangs just above it, with LED bulbs attached round for lighting. Be creative in your choice of mirror style as well as the color (s) used.
14. DIY Vanity Mirror With Light Step By Step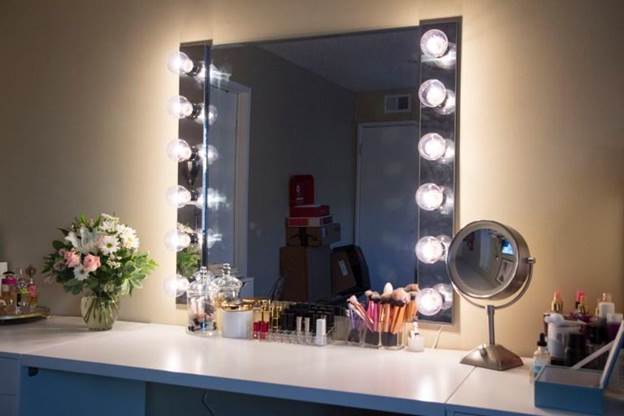 The supplies you'll need for this are a mirror, vanity light bars, light bulbs, scissors and screwdrivers, extension cords, etc. After fixing your mirror to the wall, the next step is to wire the light bars, fix in the bulbs and attach them to your mirror using screws or another form of adhesive support.
15. DIY Vanity Mirror
The entire process costs under $50 to assemble this DIY vanity mirror in very simple laid down steps. Materials used include a mirror, LED vanity lights, paint supplies, etc. It requires a bit of work if you're going to be following the exact process outlined here, otherwise, it's really simple to adapt to your taste by just picking a few pointers here and there.
16. DIY Concrete Vanity Mirror
Perfect for a vanity with space constraints. With this DIY concrete vanity mirror, you'll be able to enjoy the benefits of a vanity mirror to dress up with, as well as the aesthetic benefits without having to use so much space. A geometric or round mirror is best for this DIY and other materials you'll need to include concrete, a container to use as a mold, scissor, and cutter, etc. You'll also be making the mold as the very first step.
17. DIY Vanity Mirror With Dimmable Light
For just $70 or less, build a DIY vanity mirror with dimmable lights that'll brighten up your space to your specifications. It's basically just setting up your mirror, drilling holes on the frame based on how you want your light bulbs positioned, setting up the lighting, and putting up the finished work.
18. Cheap DIY Vanity Mirror
A cheap DIY vanity mirror requiring just a mirror, light bulbs, bulb sockets, phlox, plywood, and extension wire stock. Although the tutorial is not in English, the steps are all shown in the video and are easy to follow.
19. Vanity Mirror Tutorial
This vanity mirror tutorial is also not in English but is very detailed; from the listing of materials needed to the step-by-step procedure of how to assemble the whole thing. If you like the finished product you see, do try it out and consider it a challenge worth taking on. You'll be needing plywood, sandpaper, light bulbs, wood lumber, tape measure, glossy wood paint and other paint supplies, nails, a hammer, and a saw. Happy building!
Conclusion
Most of the projects listed in this article require that you have some skill in woodworking and electrical stuff. If you do not know how to put the wiring together, you should seek help from a pro.
Thanks for stopping by, if this content has been helpful, please share with your friends and family members who might need a Vanity mirror.