A treehouse is a wooden structure that is built on the branch or branches of a tree for kids to play in. If you live near a forest area with sturdy, mighty trees, and you have kids, you should probably get a guide from this DIY and build an amazing treehouse for kids now.
If you don't live in an area with trees, you can always improvise and still. have the opportunity to make a treehouse for your kids with this DIY project. So, without further ado, let's check out the list of 20 DIY Treehouse for kids.
1. DIY Treehouse Build
Here is a simple treehouse that you can build with several wooden boards. The creator made a sturdy base before raising the sides and supporting it in a spider web support format. This project just requires 4 simple steps and you'll be on your way to an amazing and easily accessible treehouse for your kids.
2. DIY Cheap Tree House Build
You can call this a poor man's treehouse, but it's a simple way to make it cheap and easy-going.  For this project, you'll need a thin eucalyptus tree trunk, bamboo plywood, palm leaves, coconut coir rope, and lots more. The making process is quick and easy to follow.
3. How To Build A Treehouse For Kids
To be able to use this guide to make this treehouse, you'll need to first choose the right tree with the right positioning of its branches that is similar to that of the guide. Next, you need to sketch how the treehouse frame will look like.
4. Pirate Hideout Treehouse DIY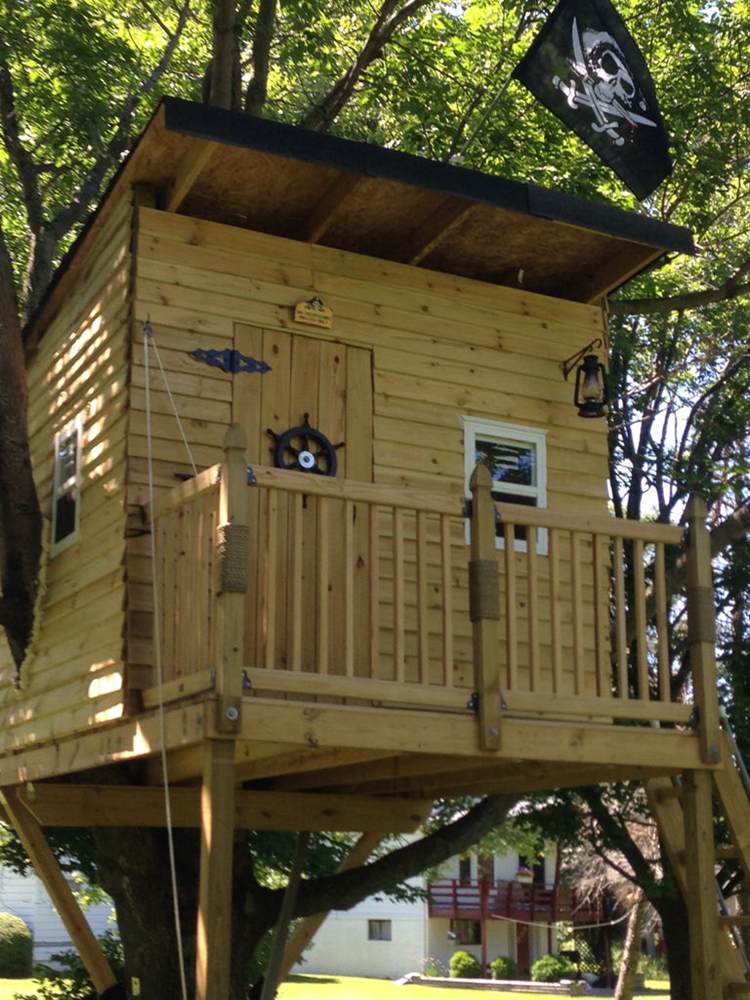 This is another simple treehouse that you can build with this guide. This is a pirate hideout treehouse, it's super sturdy, and is quite large. You'll need to start by laying a few wood boards across two trees facing each other. So it's important to have two trees facing each other in the manner to be able to make this treehouse with this guide.
5. How To Build A Modern Kids Treehouse
When we say a Modern treehouse, we are talking about the style of the structure, it's simple, Modern, and unique. The creator of this video guide built it in-between two tall, sturdy trees, and it has a ladder that gives way access to the treehouse.
6. DIY Tree House
Here is another guide with a wonderful treehouse build. The creator made a small lower platform under the designated tree and a higher platf6on top of the tree. This is more of a treehouse playhouse for kids.
7. Making A Treehouse For Kids
Check out this video guide to make a sweet treehouse, made indoors, it's a small indoor treehouse that is meant for your younger kids to play in. It's easy to build with simple wood boards and other woodworking materials and tools at your disposal. The making process is quick and easy to perform.
8. How To Build A Basic Treehouse
This is a basic treehouse built straightforwardly. It's also large and was built on a large strong tree. If you don't have a tree like this, here's what you can do; make something similar with a wooden post and raise the structure higher. The creator also made a wooden ladder for easy access to the treehouse. The making process is quick and easy to follow. Check the video guide to learn more about the cut list for the wood boards.
9. DIY Free Tree House Wood Plans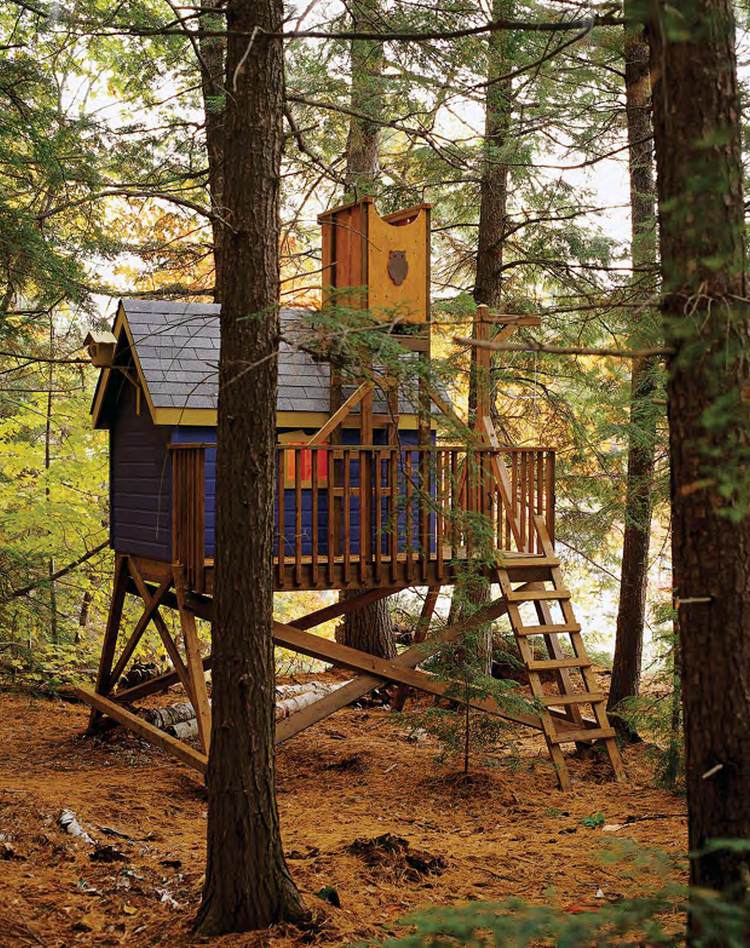 Here is an amazing deluxe treehouse with good wood plans. You'll need pressure-treated spruce, spruce strapping, untreated spruce, pine tongue, and groove. The making process is quick and simple to follow, as long as you follow the steps carefully.
10. DIY Treehouse For Kids
This is one of the guides that I talked about in the introduction. If you don't live close to a forest area with strong tall trees, you can check out this guide and make a treehouse with a Wisden base on land. With this structure on the land, it's way easier to build from start to finish.
11. DIY Treehouse Playhouse
This is a simple treehouse playhouse that is made of high-quality lumber wood, wooden post, and other wood parts. This project is also on land, so not on top of a tree. So, the creator just built some sturdy wooden legs to hold the entire treehouse structure.
12. How To Build A Treehouse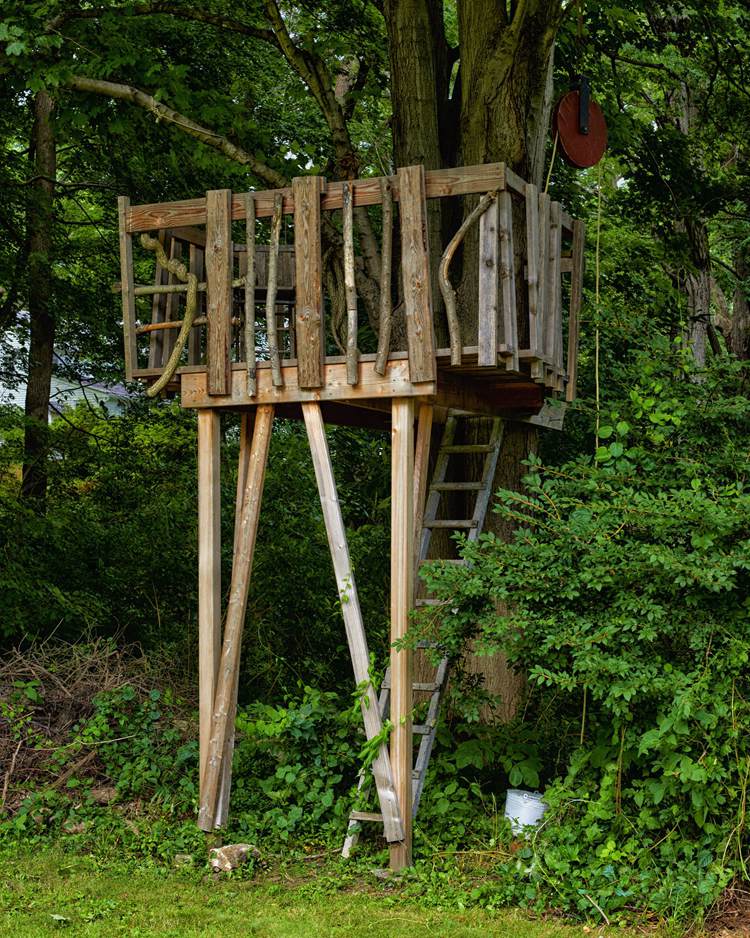 The creator of this guide was smart enough to make a strong and durable treehouse with simple pieces of wood. The creator made one end of the treehouse to be held up by a sturdy base of wooden legs, while the other part of the treehouse is attached firmly to the tree. Although, this treehouse doesn't have any covering or roof, so if it rains, your kids will be exposed to the weather. Regardless, it's a great playhouse for your kids.
13. DIY Miniature Treehouse
Here is a miniature treehouse, it's not a treehouse that your kids can play in, but it's great for house decor, maybe somewhere around your floating deck or tabletop.
To make this miniature treehouse is super easy, the making process is quick and easy to follow. You just need the wood sticks, a good glue, and a template. With a paper template, you will construct the treehouse on it and peel off the template for the miniature to stand.
14. DIY Tree Cabin Build
I don't think I have seen a treehouse this big before. This is a super large tree cabin, unfortunately, it's not attached to any tree, I guess it's too heavy for a tree to comfortably carry the structure. The creator made the treehouse on land with a strong wooden post to raise the structure to a height perfect for a treehouse. This can be used by your older kids.
15. DIY Treehouse Miniature
Here is another miniature treehouse in which the creator used an artificial tree with a cardboard house structure. This is fun to make if you're building it with your kids. Check the video guide to learn more.
16. How To Build A Treehouse For Kids
Take a look at this treehouse building plan. There is something unique about this one, and that is the concept the creator applied to turn it into a fun treehouse playground for kids. The creator didn't build it on a tree. This is meant for the younger kids, the older ones can't play here. Check the link to learn more, and gather more information on the materials and tools used.
17. DIY Reclaimed Treehouse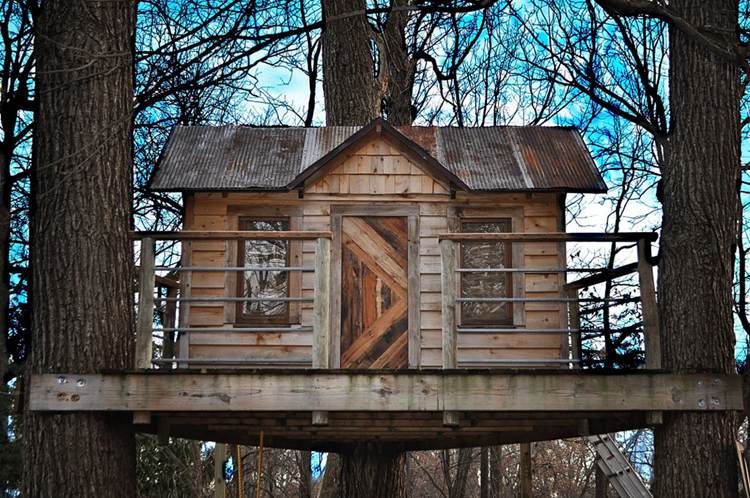 Here is another amazing treehouse built in between two sturdy trees. The creator used reclaimed wood to make this reclaimed treehouse from scratch. In addition, the creator also used some 2x10s, 2x8s, and 2x6s wood boards. The making process is quick and easy to follow.
18. DIY Treehouse For Kids
Check out this small treehouse made for kids only, it looks small but pretty spacious inside. This treehouse can only be made with two string trees facing each other, giving space for the small treehouse to come in the middle to have balance. This treehouse Hass roof makes it safer for your kids to stay there with shelter.
19. DIY Treehouse For Older Kids
This is a treehouse that you'll make for your older kids, it's not the usual treehouse playhouse, this is more like a hideout or stakeout spot. You just need some strong high-quality wood boards, and beams, a camouflage tarp of any kind, and some nails or screws. You'll need a tree with spread-out branches to be able to set up this treehouse.
20. DIY Pirate Ship Treehouse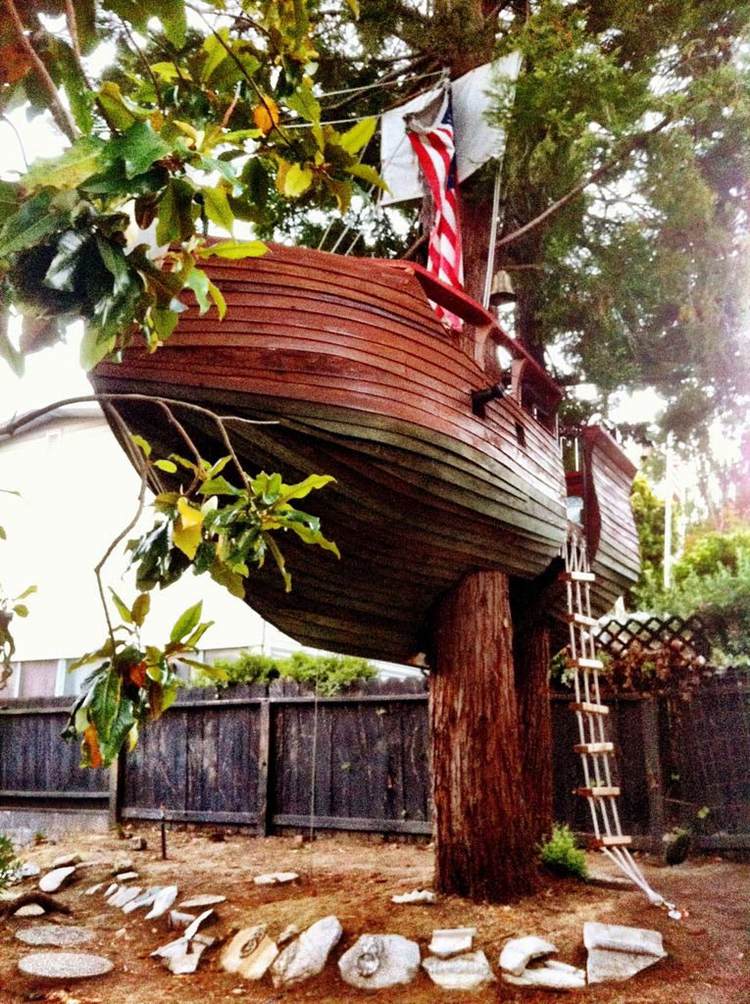 This is an amazing, beautiful treehouse that you can make that looks like a pirate ship. This treehouse is pretty simple to make, it's not your regular treehouse playhouse, it's quite expensive to make. Before you start setting up the wood boards, you need to insert some lag screws, and bolts for the floating brackets that'll be used.
Conclusion
Now we have come to the end of this DIY project, it's been wonderful all through with 20 amazing guides on how to make a treehouse for kids.
All you need is a guide with the right materials and tools that fits your budget and suits your needs. Once you find that guide, get to work and build a fun treehouse playhouse for your kids and let them quit playing around the house for a while. Thanks for stopping by, till next time, cheers.