Your body needs to exercise regularly to stay in shape and remove excess fats that bring complications. Most of us are willing to do these exercises but lack the funds to purchase the right tools.
Fitness tools, including the treadmill, are costly. Today, you will learn how to DIY Treadmill. Use the following guidelines to help you through this journey.
1. Run Homemade DIY Treadmill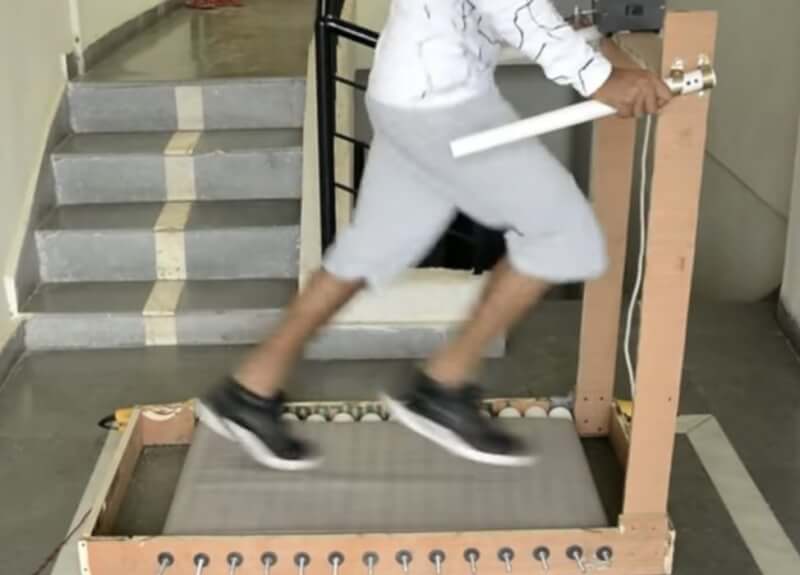 This process requires a clear workspace and the following tools; wood, glue gun, roller bearings, PVC pipes, and screws.
Next is to get a piece of plywood that is the required treadmill's size and use it to build a frame. Use the PVC pipes to act like rollers and then place them at either end of your frame. Use copper tubing as bearings and secure the structure using nails.
After that, cut out a carpet the size of your treadmill and sew the ends together. It is that simple.
2. Easy To Build DIY Treadmill
You can try your design to make this treadmill. You need rollers that can be pipes or tubes, a wooden frame, carpet, and two handles.
You are to cut the pipes and make holes on both ends of the wooden frame. You can make a simple connection of four wood pieces for the base. After fitting the rollers, cover them all through using the carpet. Secure it by sewing to keep it intact.
Next, attach the vertical frame and add your handles. Note that this treadmill is noisier compared to the ones at the gym.
3. Board DIY Treadmill Desk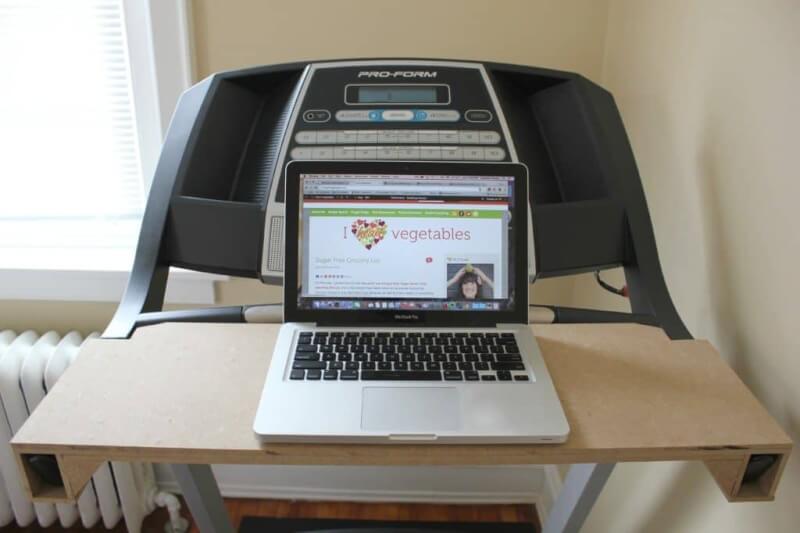 One way to customize your treadmill at home is to make a desk using particleboard, sheets, table saw, measuring tape, screws, and nails.
To start the process, measure the width of your treadmill arms and cut out two board pieces. Also, cut two arm bottoms and four arm sides.
Next is to assemble all the pieces, then using your table saw and a nail gun. Before you complete the setup, you can sand the desk and apply coats to make it better.
4. Less Than $5 DIY Treadmill
This process requires you to measure the treadmill and note the dimensions. After that, measure the height of the handlebars.
Next is to get a cheap tabletop from any store. Then cut the PVC pipe legs to the length of the height of the handlebars.
Finally, attach the table leg through a piece of PVC pipe and install your desk.
5. Wooden DIY Treadmill Desk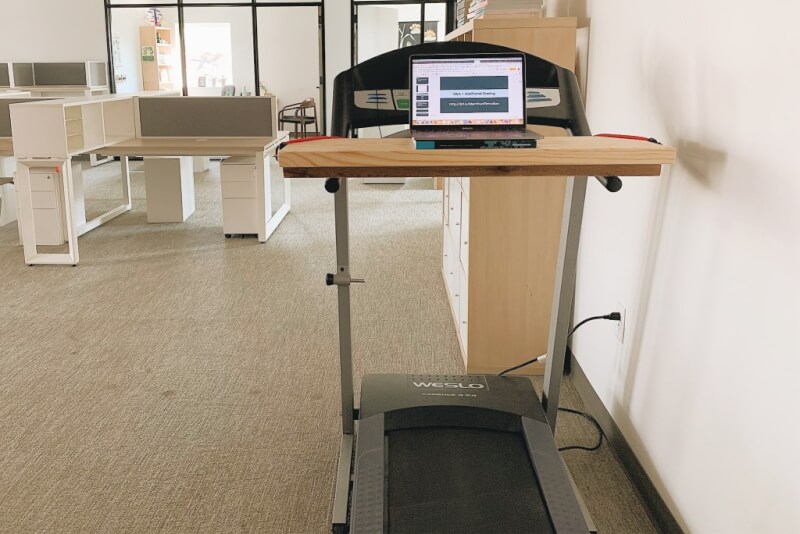 If you love reading or working when exercising, then you can customize your treadmill and make a desk using a piece of wood.
First, you need to own a treadmill. Next is to get a sturdy and thick piece of wood. Place the wood on top of your treadmill and customize it to match the pattern. Next is to screw in the eyelets.
With the wood on top of the treadmill, use a chord to attach them for a tight fit firmly. You can now comfortably place your laptop or books and read while exercising.
6. Wooden Straps Homemade DIY Treadmill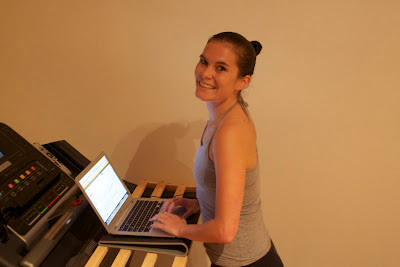 Turn your treadmill into a workspace using strands of wood, a hand saw, hammer, screws, and nails.
First off, take measurements of the handles of the mill and cut out longer wood strands. Then assemble the pieces of wood to create a standing frame. Use the hammer, nails, and screws to join them together.
Next is to take a sander and make the surfaces smooth. Place the desk on the treadmill, and you are complete.
The advantage of this desk is that you can easily remove it when you do not need it.
7. Manual DIY Treadmill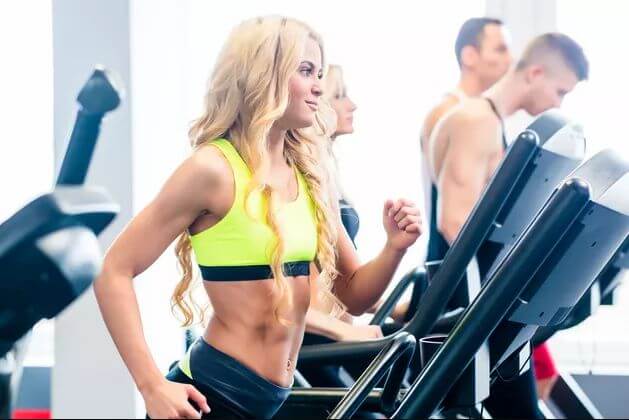 Build this treadmill using a steel channel, miter saw, welding equipment, metal corner, electric drill, drill bit, machine bolts, nuts, hack saw, rigid conduit, and a hex wrench.
The basic overview of this process is that you are to support a running deck onto a deck attached to a steel frame. Use the belt to turn the rollers. Attach flywheels at the ends of the rollers to create resistance.
Lay the steel frame on the ground and connect a handrail vertically. Use a rail of the right measurements so that you do not strain when working out.
8. Simple DIY Treadmill Desk
To make this customization, first, get a treadmill and take the top measurements. Choose the type of design you opt for and collect all the materials you need.
It is essential to set it up in a way that you do not strain when working out. A necessary desk of this type requires you to drill holes on pieces of wood and hold them using screws.
Ensure the dimensions are correct to prevent exerting any pressure on the treadmill. An advantage of the desk is you can customize it by adding shelves and applying paint to it.
9. Fancy Ikea DIY Treadmill Desk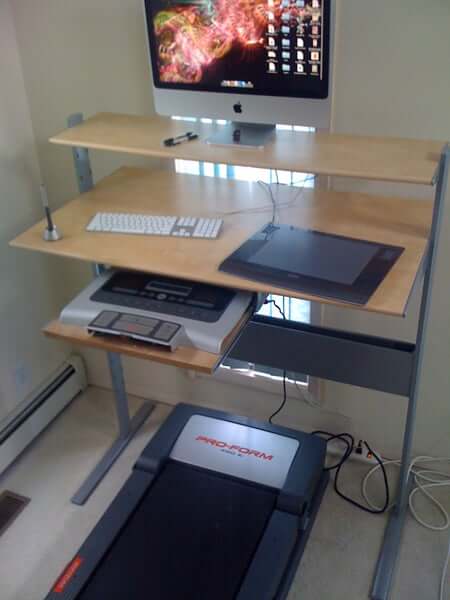 To make the fancy Ikea DIY treadmill desk, you need to have a clear working space where you can easily access all sides of the machine.
After that, gather all the supplies you need, and it's time to start. Begin by removing the control panel from your treadmill. You can ask for help when doing this.
Next, you mount your control panel onto the MDF. Put the desk in place and place it at a height that you are comfortable with.
After that, mount your control panel to the center of your desk. Make other adjustments to ensure that the whole set matches perfectly.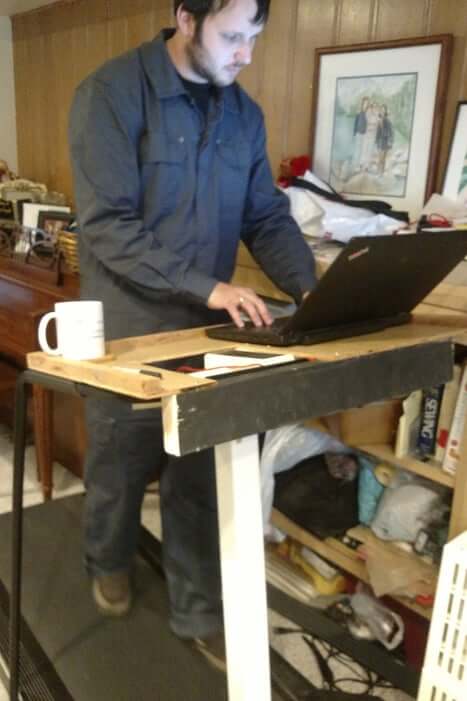 Ensure that you have a miter saw, table saw, oscillating tool, tape measure, pen, square, drill, clamps, and sheets of wood, trim wood, and screws.
Then, begin the construction by cutting out pieces of wood and then smoothening them using a sander. After that, use the miter saw and cut out the excess parts.
Put support beams to make a strong base, then clamp and screw them. You can now use the walking treadmill desk comfortably.
11. Woodworking DIY Treadmill Desk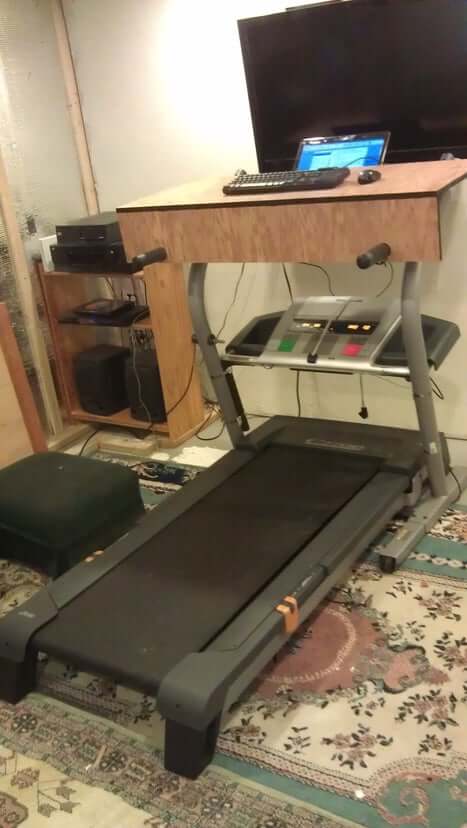 There are only three steps to follow when making this; gather all the materials, remove then remount the controls, and install your desk.
The first part requires you to have a treadmill, plywood, wood screws, scrap, PVC elbows, PVC pipes, hose clamps, stain, and paint.
Your second stage is removing the control panel by unscrewing the screws holding it to the treadmill. Make further adjustments to create space for your desk. You can reroute wires and other connections.
Finally, build a shelf using sheets of plywood. You can customize it in various ways but ensure it fits in the available space. Use the stain and paint to give it a decorative coat.
12. Home Built Curved DIY Treadmill
You need two thick pieces of pine, 25 pipes, nuts, bearing, and bolts.
The first step is to cut two side panels for the treadmill. Make a rectangular base using the cedar. Next is to use a drilling machine to create a curved pattern of holes. Also, make holes in the adjacent piece of wood in the same design.
Next is to fit your pipes into the holes and secure those using bolts and also bearings. You can make further customizations, but the treadmill is ready.
One trick to remember is to first start with large steps to get the pipes rotating. The advantage of the curve is to use gravity to push you back as you gain momentum forward.
13. Easy Homemade DIY Treadmill
First, you need to get a long pole and cut it into equal pieces. Lay the rods out and put screws and nuts at each end.
Take out another metal frame and cut it out to get pieces to make the base. Next is to drill holes on the sides of the steel frames. Attach the poles to the brackets by using the nuts and screws that we placed at the ends.
Join the base using a welding machine. Your machine is almost done. Add frame to the bottom vertically to act as the handle. Choose a frame of your desired color.
Conclusion
Sometimes you wish to have a treadmill where you can efficiently work out in the comfort of your home. It is even harder to purchase one for yourself because of the high prices. The above tips will help you turn your dreams into reality and create one according to your preferences.
If you already have your treadmill, why not customize it to accommodate other activities such as working and reading. Above there are also guides to help you with that. These ideas are less expensive and, therefore, good ways of saving some cash.