It is easy to forget some lines while trying to record a video, especially at home. This can make the work tedious and take more than the expected time. But with a teleprompter, you're in the right direction. Your video recording will never go wrong again.
This guide provides 25 awesome DIY teleprompter ideas that you can make at home at a cheap cost and with less time and energy.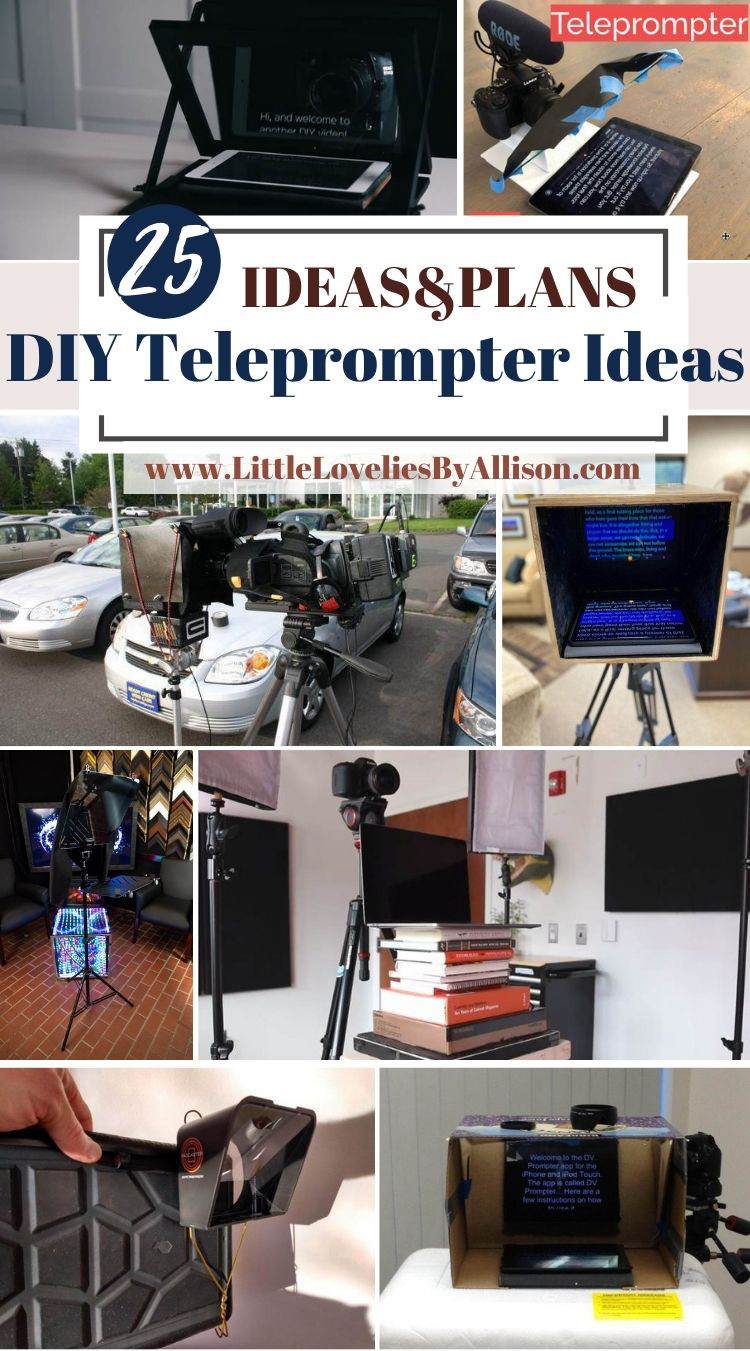 1. Teleprompter DIY
One thing that is very unique to every teleprompter is the direction of the glass. The glass must be 45° away from the camera. For this particular teleprompter, you will need some tools and materials which include a pen, scissors, large board, plywood, saw, black paper, tape, nail, glue, and clear glass.
2. DIY Cheap Teleprompter
This is how you can make a teleprompter using free software for iPhone or iPad. First, get a picture frame of your choice, remove the glass, and cut plywood that will size the back of the frame. Use hinges to attach the plywood to the picture frame. Click this link below to learn further.
3. $10 DIY Teleprompter
You don't need any experience in woodworking before you can make this cheap and portable teleprompter. All you need is your iPhone, iPad, or computer monitor. And in about 20 minutes you will be done with the project.
4. DIY Padcaster Parrot Teleprompter
Do you know you can repurpose your wire hanger as an adorable iPad adapter? In this video, you will learn how to fit the wire hanger to adapt the iPad to the podcaster parrot. It is very easy and straightforward.
5. DIY $4 Teleprompter
$4! That is pretty cheap and amazing. This is how to make your teleprompter with little cost using a few materials. The materials include a black binder, binder clips, a glass picture frame, a wire hanger, and black electrical tape.
6. How To Make A DIY Teleprompter
The magic of a teleprompter lies in the beam splitter glass. That is where the focus of the person recording will be. The instructor in this video shares some pro tips that can make your teleprompter extraordinary.
7. $35 DIY Teleprompter For LCD or iPad
The basic principle of this teleprompter is a monitor lying flat and a single piece of glass attached to it at 45° degree. A camera shooting behind the glass and reflecting the monitor on the glass. This whole principle was built on $35. Very affordable right!
8. Cheap DIY Teleprompter
You don't need to freeze whenever you forget your lines while recording. One thing you need to learn is how to build a portable and cheap teleprompter for yourself. This video tutorial will guide you through the project.
9. How To Make A Teleprompter
Do you need step-by-step instructions on how to build a pro-level teleprompter? If yes, then this is the right medium for you. The first thing to do is to prepare the beam splitter mirror. The next thing is to assemble the light stand. Click the link below to learn more.
10. DIY Laptop Teleprompter
Within 5 minutes you can set up this manual teleprompter. All you need to do is to get your laptop, light stand, chairs, and some things to raise the height of the laptop. Set up the light stand and the camera above the chair. Then, use some stack of books to raise the laptop to get closer to the camera but not very close to the eye line of the lens.
11. DIY Teleprompter In 5 Minutes
Do you know how a teleprompter works? It works like magic and it's a very important piece of equipment for speakers and video recorders. In this guide, the creator analyses how to effectively talk using a teleprompter.
12. DIY Teleprompter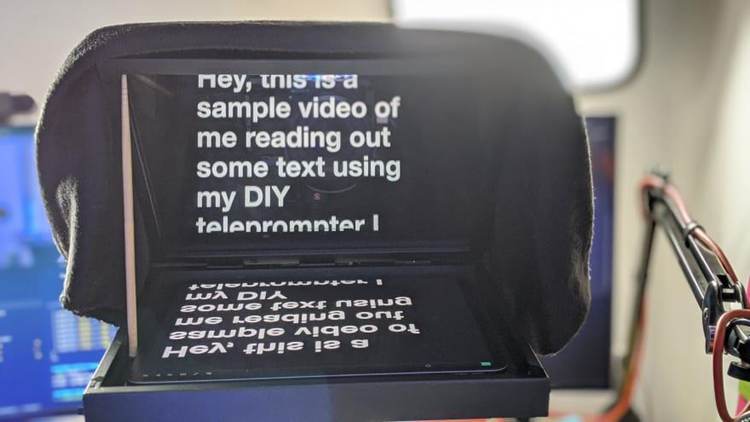 For this mini teleprompter, you need the following supplies; a wooden picture frame with clear glass, 3 pairs of solid brass butt hinges, a teleprompter app, black aerosol spray paint can, and a device with a monitor.
13. How To Build A Teleprompter For Smartphone
In this video tutorial, the instructor made the drone for the teleprompter out of ½" MDF, a clear acrylic glass, and some screws. After building the drone, he spray-painted the drone in black to avoid any light reflecting into them.
14. DIY Teleprompter On A Budget
If you're on a budget, this is exactly the teleprompter that is good for you. It's very amazing and the cost is about $3. Watch the video to learn more.
15. How To Make A Teleprompter For Youtube
The steps involved in the making of this teleprompter are very simple and straightforward. The materials needed include a glass picture frame,  paper folder, knife, electric tape, and ruler. The first step is to rip the frame and take out the glass. Then, cut the folder into two.
16. How To Make A DIY Teleprompter
In this video, the creator used two glass picture frames. One thing I liked about these picture frames is that it is only the picture that was not useful. The creator used the cardboard backing of each picture frame as the base of the drone and the angular hinges between the two frames.
17. How To Build A Prompter
In this guide, you learn the different types of prompters available and how to do them yourself. The first type of design used in prompters is the traditional set-up using a box, a screen (laptop or smartphone screen) facing up, and a 45° piece of glass attached to the monitor to reflect the image displayed on it.
For the second type of design, the prompter is not enclosed such as in the first one. This is much to carry about.
18. DIY Tablet Teleprompter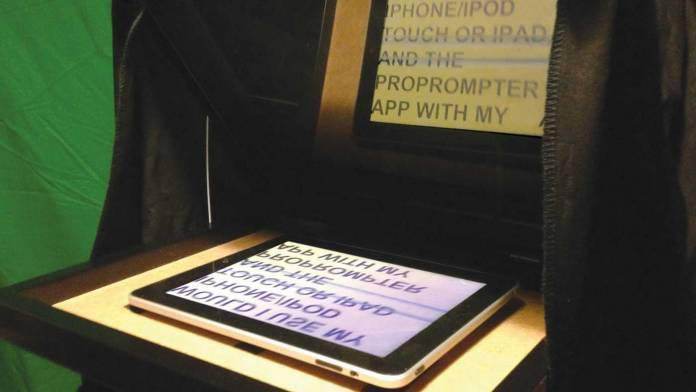 One look at this teleprompter, and you will agree with me on its simplicity. Here is what you need for the teleprompter; Get some cheap wooden or plastic picture frames, velcro, plywood, black fabric, done wire coat hangers, a large elastic band, two small hinges with screws, glue, staples, and a screwdriver.
19. DIY Teleprompter
To get a professional teleprompter, you need to work your butt off! Because it's very expensive. But with DIY, you're a champion. All you need to be the champion are some tools and materials that cost less than $40.
20. DIY Teleprompter Plans
There are different plans for a DIY teleprompter. In this amazing plan, you need only 5 materials and you'd be good to go. Unlike other teleprompters that use clear acrylic glass or see-through glass, this particular plan uses plexiglass. That's unique, you know!
21. Teleprompter DIY
This is what you need for this DIY teleprompter project, a solid wood picture frame with glass, and felt- to blacken the backside of the glass so no reflection goes through. The teleprompter has a wooden base.
22. DIY Teleprompter For Smartphone
One thing I like about video tutorials is that you've got to listen and at the same time see illustrations of what the instructor is talking about. Here, the instructor started by drawing an illustration of the concept of the teleprompter and how it works. It is built for smartphones and it is very exceptional.
23. How To Make An iPad Teleprompter For $20
Do you have $20 and 10 minutes of your time? Then, let's watch this video together and build an extraordinary teleprompter from it. The instructor has helped us analyze the process and principle of the teleprompter, every other thing in our hands.
24. DIY Teleprompter For iPad
If you need to make an exceptional video and presentation, I think it is very important for you to have a teleprompter. To make this teleprompter, you need a picture frame with glass, wood, some screws, and a pencil.
25. DIY Teleprompter Tutorial
In this video tutorial, you will learn how to make a cheap and portable teleprompter. The video is very straightforward and detailed, even beginners can find their way around the project just by viewing it.
Conclusion
There you have it! You don't have to freeze in front of the camera again, just pick one of the guides and start building a teleprompter for your own ease.