Building a swimming pool might seem like a very hard task, but the truth is, it can be done without too much stress or spending too much. The building process is actually fun to make.
After researching for days we have finally compiled a list containing 19 DIY swimming pool projects that you can DIY. Some projects will teach you how to build a pool and others will give you tips on building one.
1. How To Build A Swimming Pool
You can follow the entire process of building the plunge, a small or tiny swimming pool, spool, or cocktail pool. But there are many other types of swimming pools, you can choose a pool with a concrete floor and concrete wall. Whatever suits you best, you can give that a try and enjoy your pool all the way.
z2. How To Build A Swimming Pool Under $3000
This guide is intended to provide a good foundation for building a pool but is not a comprehensive list of relevant building codes. If for any section you do not fully understand the relevant building code, you should hire a subcontractor for that section. But with the Step by step instructions along with the material cost, you can enjoy the water!
3. DIY Swimming Pool Build
For this project, you will want some basic tools that you most likely already have, some tools you didn't know you wanted, and at least a few tools you'll rent. Oh, you will also want to have money and a lot of courage! The money side is dependent on how big and how crazy you go with the project, the courage is required if you continue on to at least the first step. Be sure to get more helping hands too.
4. DIY Easy And Cheap Swimming Pool
Alright amazing fellows, it's time to swim, right? Follow this easy above-ground DIY swimming pool guide. You'll have most of your money ventured into the foam lining and the rubber vinyl lining for the actual pool. Still, on the good side, the pool is fairly easy to build and doesn't require too many carpentry concepts, and can be adapted for any pool size you want.
5. DIY Concrete Swimming Pool
This pool was built on flat ground,  but it could also be built in a hole and backfilled. The result was a pool that could stay solid on the 3 ft. of rock backfill behind the retaining wall. Block pools can have problems because they lack horizontal steel and they can leak where walls meet the floor. This pool had to be very strong because it sits on a backfill in an earthquake area.  The backfill was all rock, not dirt, which settles.
6. DIY Lego Swimming Pool
Here are step-by-step instructions to build a swimming pool and diving board out of basic lego pieces. Pictures are also available for your convenience. Build the perimeter of the pool using a green platform, add blue Legos inside the white Legos to depict water. Construct a diving board, build the stairs, and then finish the project.
7. Build An In-Ground Swimming Pool
Here's something you thought you would never do: build and install your own in-ground concrete swimming pool! We aren't talking about a silly above-ground pool you bury, we are talking about a custom 15,000+ gallon dream pool! Follow this tutorial along as you learn to build a pool in just 8 easy steps. If you are so inclined you can now rent an excavator and start digging.
8. How To Make A Stock Tank Pool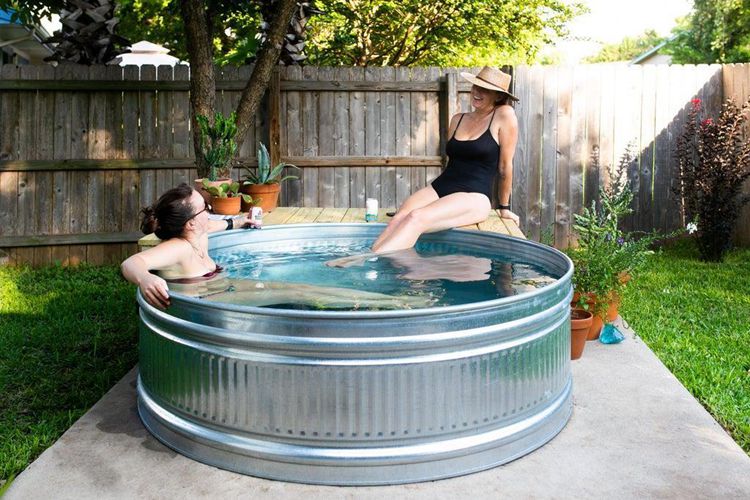 This fun backyard pool is made from a Stock Tank and it is an incredible backyard game changer! This tutorial will give you the supplies and a tutorial on how to DIY your own Stock Tank Pool for your backyard.
Once you have your ground leveled and ready, you can knock out this project in an afternoon. Due to popularity, the supplies can be hard to find. So it's recommended that you start to find all the supplies ahead of time so you are ready for the next pool season.
9. DIY Concrete Block Swimming Pool
Honestly, this is one of the simplest concrete block swimming pools I've come across. The pool is built in the backyard with Concrete and is intended to provide an idea for you to be creative while making your own project.
10. How To Build A Pallet Swimming Pool
For the hot summer days, it's important to cool off in a nice chilly pool. And the good thing is you don't need to go far, you can set this pool right up in your backyard at a really low cost, you don't need to break the bank. You can build this pool using wooden pallets.
11. DIY Backyard Wood Swimming Pool
Gather your family, it's time for a reunion 😅 because working together as a family creates a special kind of bond and that collective effort is needed to make the hours of work worth it. When it's complete everyone gets to enjoy it wholeheartedly.
12. DIY Swimming Pool
So in this video, you'll learn how to make a backyard swimming pool that is inexpensive and affordable. With these materials you're just good to go and proceed with the steps outlined: cement  (10 bags), S1 gravel and sand, acrylic thinner, 12kg Gl wire, CHB (100 pcs), roller, brush, Thallo blue latex tinting color, 10mm & 9mm corrugated bar, gloss latex, epoxy primer white/gray.
13. DIY Pallet Swimming Pool
Now everyone can have a poolside at his outdoor, garden, or backyard places and no higher amounts are required here, you will get all at a friendly budget! Get inspired by this DIY pallet swimming pool made of old and reclaimed material wholly! Get some pallets (at least 12 ), plastic cloth, tape, nails, a blue spread, nuts and bolts, and clone this pool inspiration to have a summer-friendly outdoor or backyard!
14. DIY Swimming Pool
Just as this pool is represented here, you can decide to build your own swimming pool from the ground up to create an entire entertainment area in your back garden. The installation includes a gorgeous swimming pool with a rock waterfall, and a splash pool, a braai area.
Here's a piece of honest advice for anyone wanting to build their own swimming pool, you don't have to know all the details for the entire process - you just need to know where to get the information necessary. It requires plenty of motivation to get started and assistance from people who understand what is involved in the various phases of building a swimming pool.
15. DIY Natural Swimming Pool
How does the idea of a natural swimming pool sound? Is there enough room in your backyard to create one?
Natural swimming pools are the hottest green living trend, and they definitely deserve a second thought. In choosing a natural swimming pool, you won't have to worry about chemicals, but just enjoy clear water circulating through soil, rocks, and plants.
Such a little relaxing haven! Here are basic items you'll need; cement, Gravel, Sand, Formwork, bars, and boards, Liquid glass, Clay, Fittings.
16. DIY Pool Construction Time Lapse
Want a swimming pool outside? This is really a luxurious thought and one should own a lot of money to think about such an outdoor improvement and fun plans but building your own pool is not as difficult as one might think.
17. How To Build A Swimming Pool In The Forest
The best news here is you don't have to be an experienced contractor to make this dream come true or to have this super awesome pool everyone will admire! Here's how to get it done in the wild.
18. How To Make A Pool From A Trampoline
Since you can't buy pools anywhere why not make or build one for your home just in your backyard. You can set up this trampoline pool with a fourteen-foot trampoline frame and other requirements.
19. DIY Natural Organic Swimming Pool
Just in case you like the sense of wildlife or nature, check this video out on how to make a natural pool around your home. You'd be glad you did this because this is just beautiful and sweet for anyone who comes across it.
Conclusion
Right about now, your decision must have been made or probably you're still deliberating on which design or idea to go with. They're all super duper great for summer days, giving you the chills and fun time you deserve. Good luck with your building and have fun.