Storage shelves come in handy when you have a lot of stuff to put away or keep safe from either your pets or kids or just looking for a safe place to keep your clothes and other stuff. Storage shelves can go as big as you want, depending on what you have in mind to store in them.
This list contains guides that will assist you to build a great storage shelf for your space. So, without further ado let's see the DIY storage shelves you can do yourself.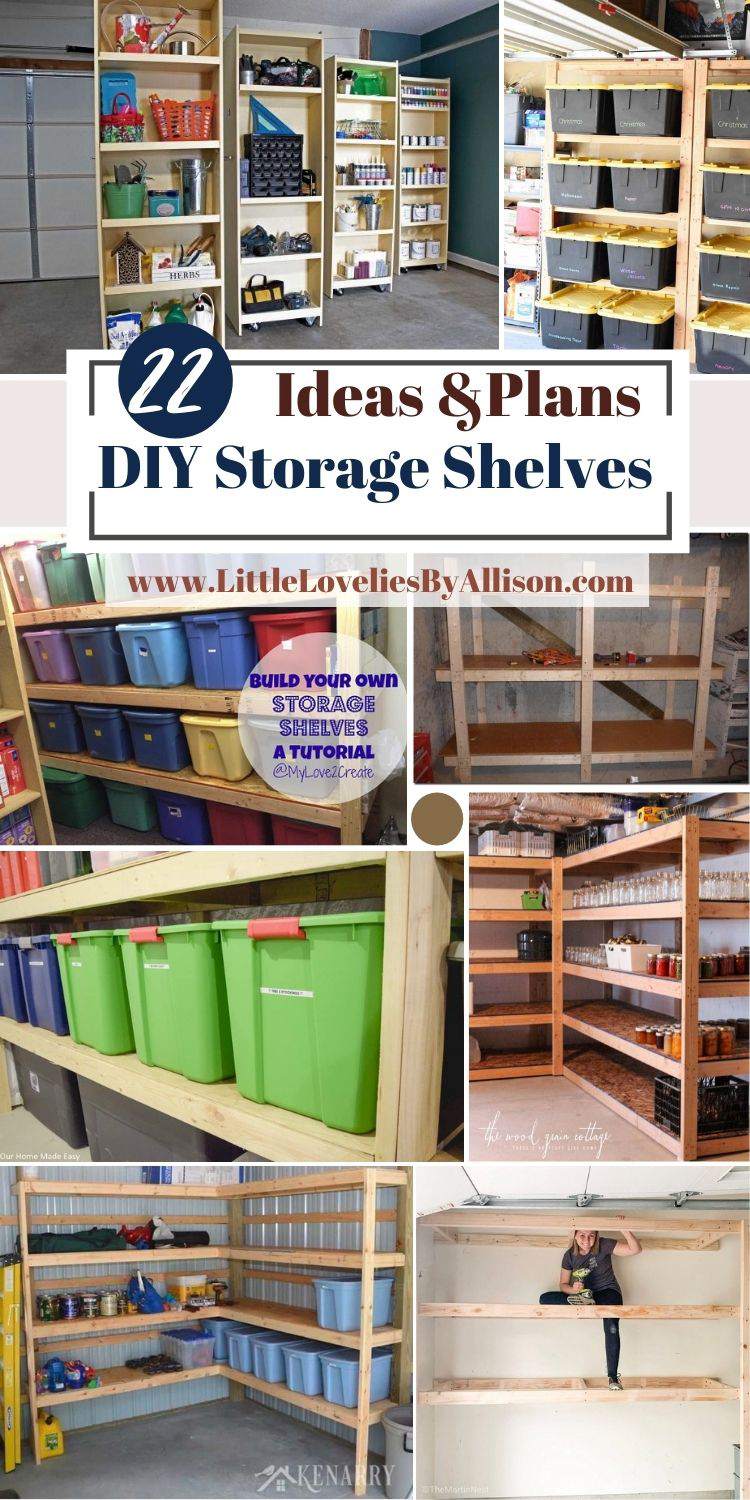 1. DIY Easy Storage Shelving
Here is a guide on how to build an easy storage shelving system for storing clothes and other wear. The creator made the shelf wood frame, not the big plastic boxes that you can see in the image. This project cost about $70, and just a few power tools were used.
2. DIY Rolling Storage Shelves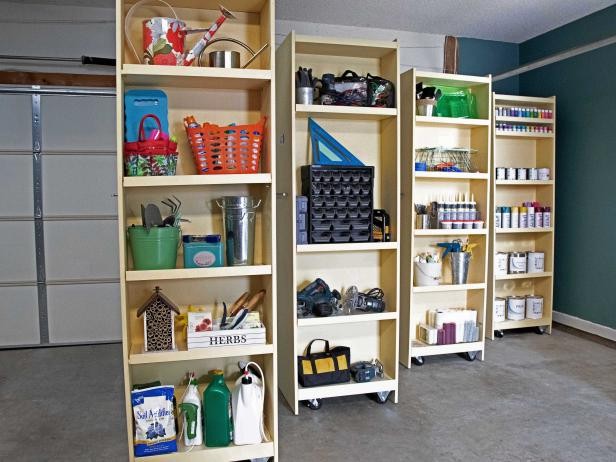 So, here's a large storage shelf for storing virtually anything you have in mind. It's quite simple to build, provided you follow the building plan and steps correctly. These storage shelves were made with swivel casters, it's easy to roll from one point to the other which makes the storage shelf a great idea for you. It's narrow but pretty long, so it won't take up much space.
3. How To Build Storage Shelves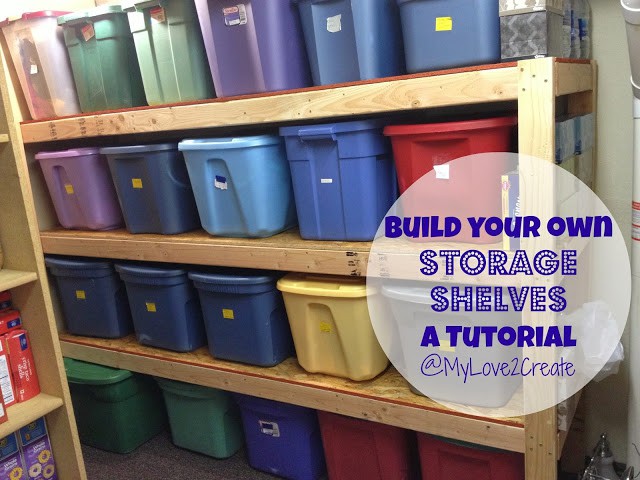 It should be a thing of joy to create and build things by yourself that's why these storage shelves are easy to make. You just need a few essential materials like wood boards, 3-inch self-tapping screws, square, circular saw, and much more. Use the cut list to accurately cut the wood boards to their desired dimensions. These shelves are big, so they will need a large space to fit into.
4. DIY Storage Shelving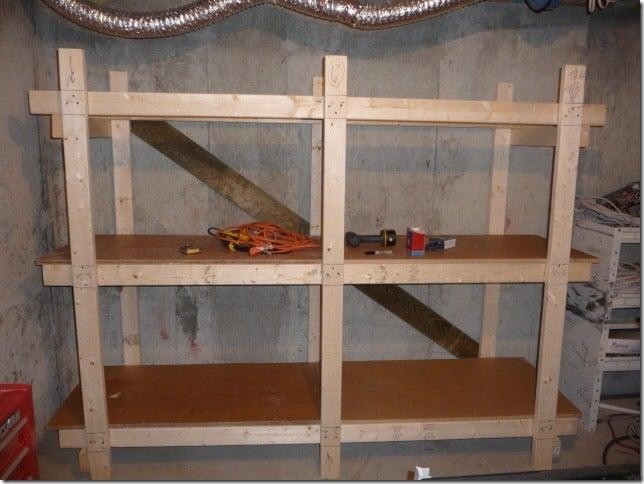 This guide has a short description of how to build a storage shelf, it's quite simple to follow, but if you are not a skilled woodworker without a video guide or step-by-step instruction, you might have a lot of difficulties building this shelf.
5. Simple DIY Storage Shelves
This is probably going to be the simplest storage shelf you have ever seen in your life, it's super easy to build, fast, and just costs about $30. The shelf is 8ft long and 2ft deep. The creator started cutting the OSB and other wood he got for a cheap price. The OSB is pretty convenient, consider using it more often.
6. DIY Garage Shelves For Storage
In this guide, you're going to be building a sturdy garage storage shelf that is more durable and stronger than what you might buy at an online store. You just need 12 2x4 and a sheet of OSB. This project should cost you about $60 depending on your location and where you get your materials from. The shelf is going to be 6fr long and 16 inches deep.
7. How To Build Storage Shelves
If you need a huge storage shelf for your needs at home, you might want to consider making this 8ft long, 8ft wide, and 2ft deep shelf. It's super strong and it was done under $100. That's quite high, but that's what you get for a massive strong storage shelf like this. So, after you got your materials set and ready, the steps are just to screw everything in place.
8. How To Build Garage Shelving
In this video, the creator is going to show you the cheapest, fastest, and easiest way to build garage storage shelving. Start the making process by marking the studs in the wall to lay your wood frames, then screw a 2x4 shelving to the desired length of your shelf to the wall.
9. How To Build Easy DIY Storage Shelves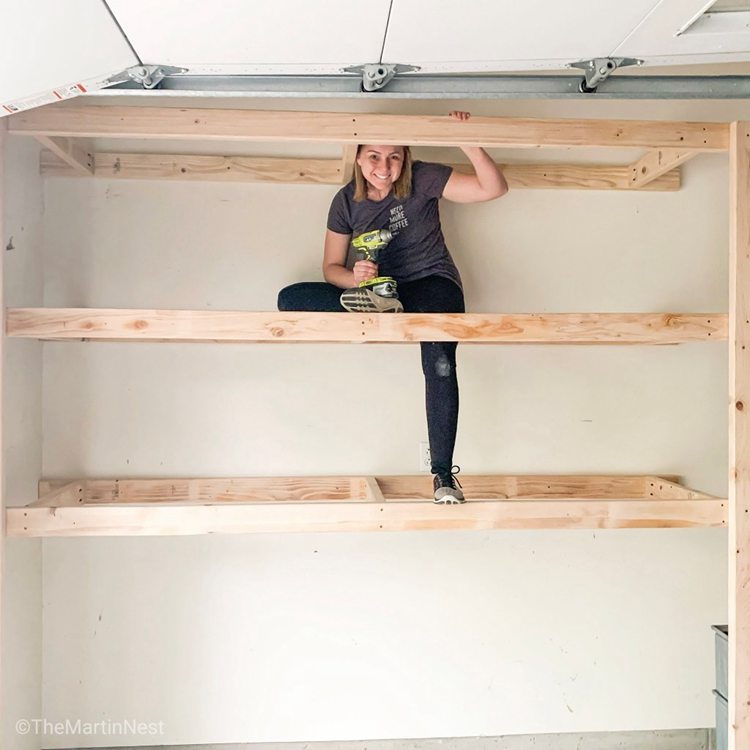 Here are a few materials and tools that you need to work with to build this amazing storage shelf, you need a stud finder, 2x4 framing lumber, speed square, miter saw, level, self-tapping screw, power drill, and a few more. With these supplies and the instructional guide the creator gave in the guide, you're good to go.
10. How To Make Wood Storage Shelves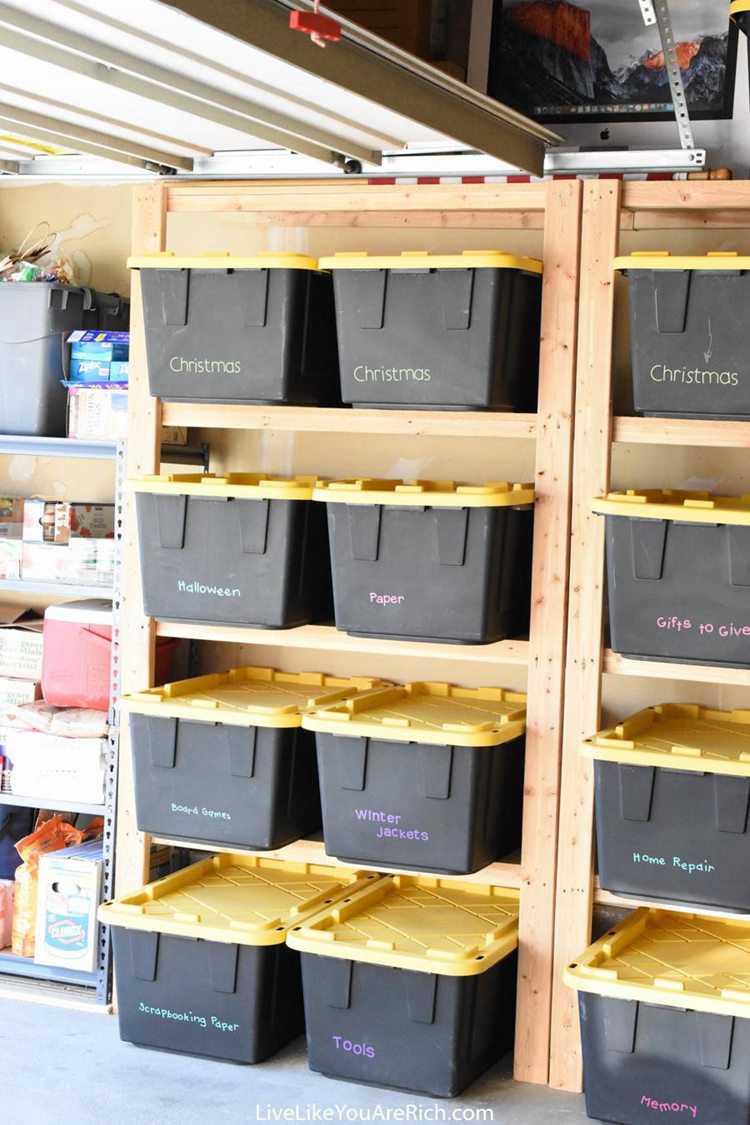 Take a look at an amazing wooden storage shelf that you can make with a few power tools, the shelf is mounted on the wall with no base but it's quite a simple and functional storage shelf. It's perfect for garage use because of the style in which it was made.
11. DIY Corner Storage Shed Shelves Garage
Here is another simple corner storage shelf for garage use. Two shelves were not placed in a corner separately, they were joined together to give that edge or corner look, and the storage shelf does not have a base, just all frames like the previous one above. Corner storage is great because it saves space and gives your garage an organized look. This storage shelf is simple to build and everything is made from plywood sheets.
12. DIY Basement Storage Shelves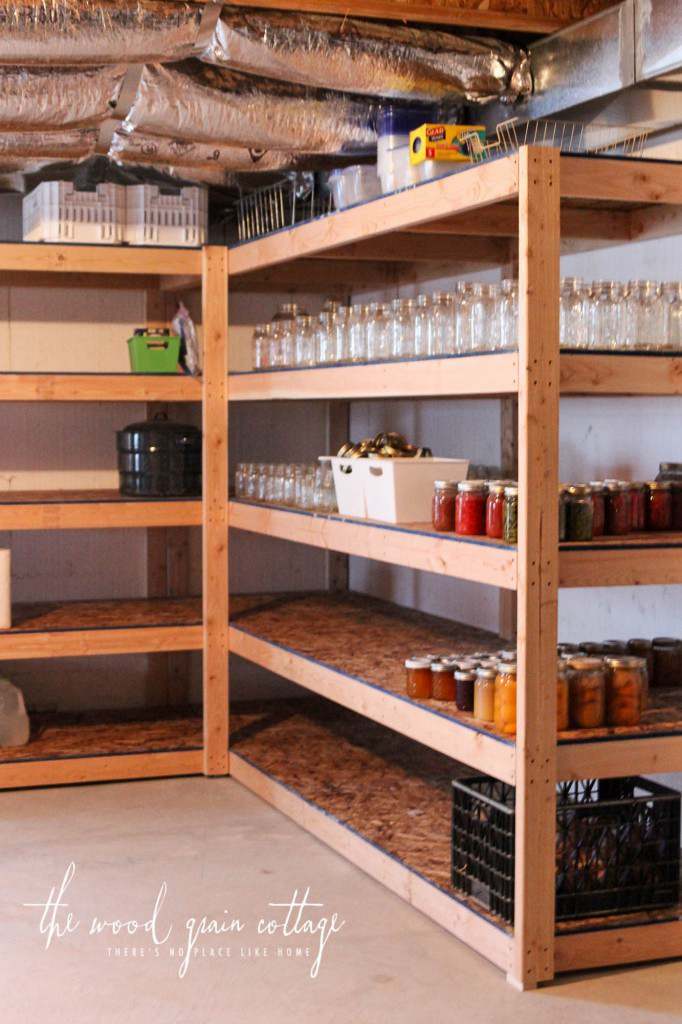 This is another corner storage shelf but this is cooler and more modern. It has a wooden base and it's pretty big. This storage shelf is unique to here and a few things you'll need to get started: OSB, wooden boards (cut to their desired length), countersink, Torx deck screws, screwdriver, drill, medium grit sandpaper, and a few other supplies.
13, DIY Storage Shelves For Garage
This is a video tutorial guide that helps you build a heavy-duty and durable storage shelf that can last even longer than the ones you could buy online. To build this requires 2 tools and 2 hours.
14. DIY Shed Shelves
Here the creator used some wood boards to build, he used some plywood and OSB. These shelves can also be called shed shelves because the shelf has a door that protects and keeps your stuff away from prying eyes. It's simple to make, and there is a link to the cut list the creator used.
15. DIY Storage Shelves
This is pretty simple and affordable to build. It requires a few materials from plywood to particle board and some wood screws. The major work is screwing the wood pieces to form the frame that makes up the storage shelf.
16. DIY Strong Storage Shelves
The creator started by marking the wall he intended to put the storage shelves on, then he started cutting his 2x4 wood planks to form the frame. This shelf has no base and no door, just a frame attached to the wall.
17. DIY Storage Shelves From PVC
So, this is a unique guide that doesn't talk about wood, but PVC pipe fitting and elbow joints and connectors. This shelf cant take much weight or else it might break. Flatwood boards were placed on the PVC pipe frame, to enable you to place your stuff for safekeeping.
18. DIY Cheap Storage Shelves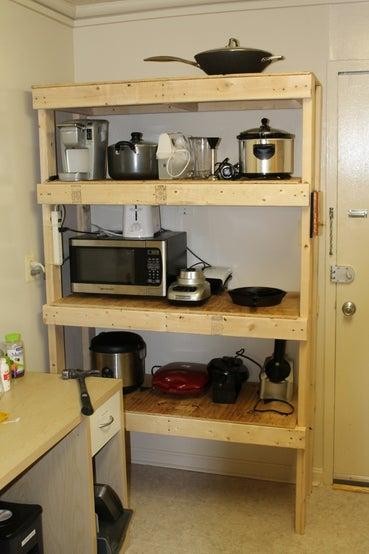 This is a fast, cheap, and amazing storage shelf to build. The creative made the cost at $55, including the tools used. You need a power trip, level, clamps, pen, set of drill bits, measuring tape, and hammer. If you have some of these tools on standby at home, then you have succeeded in making your jobs a lot easier. This storage shelf is great for the kitchen area; it's big and straightforward.
19. DIY Baby Change Table With Storage Shelves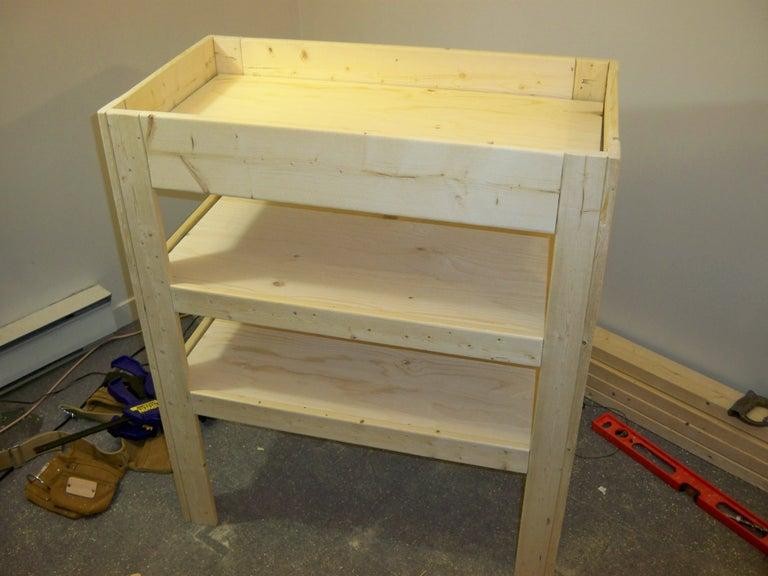 Here is a small but effective storage shelf. It's meant to be a baby change table, but then it has shelves under which makes the storage shelf even cooler. Although this storage shelf is small and portable and can be moved from one place to another. The power tools used in this guide to make the shelf should not be taken lightly.
20. DIY Simple Storage
To make things easier, this video tutorial guide has a project building plan in the link below the video description that will assist you in making the right cuts and measurements to your wood. Apart from that the rest of the steps are super easy.
21. How To Make A Tall Storage Cabinet
So, if you're looking for a storage shelf that is tall, thin, and deep, then this storage cabinet is perfect for you. The creator explained the making process perfectly and he used an oil or wax finish for the wood to make it stand out and look unique.
22. DIY Storage Shelves
Here is another budget-friendly storage shelf. The shelf may look wide and not sturdy enough, but it can hold up to 246 Ibs, that's a good amount, which indicates it's strong enough. The creator used hurting strips, drywall screws, brand nails, OSB, and a few tools.
Conclusion
That's what it's all about, instead of throwing away those things that seem to take up much space in your room or garage, you can easily organize your stuff with a simple storage shelf built by you. Hope you found the DIY article informative enough, thanks for stopping by, bye.