Who is this article for? It is people who want to build a railing for their staircase, and it is also for people who wish to transform their current staircase railing into something prettier. After doing some in-depth research, we found some of the best projects.
In this article, you will find 23 DIY stair railing projects that you can DIY from your home or workshop. Most of the projects are easy to do, while others aren't so easy.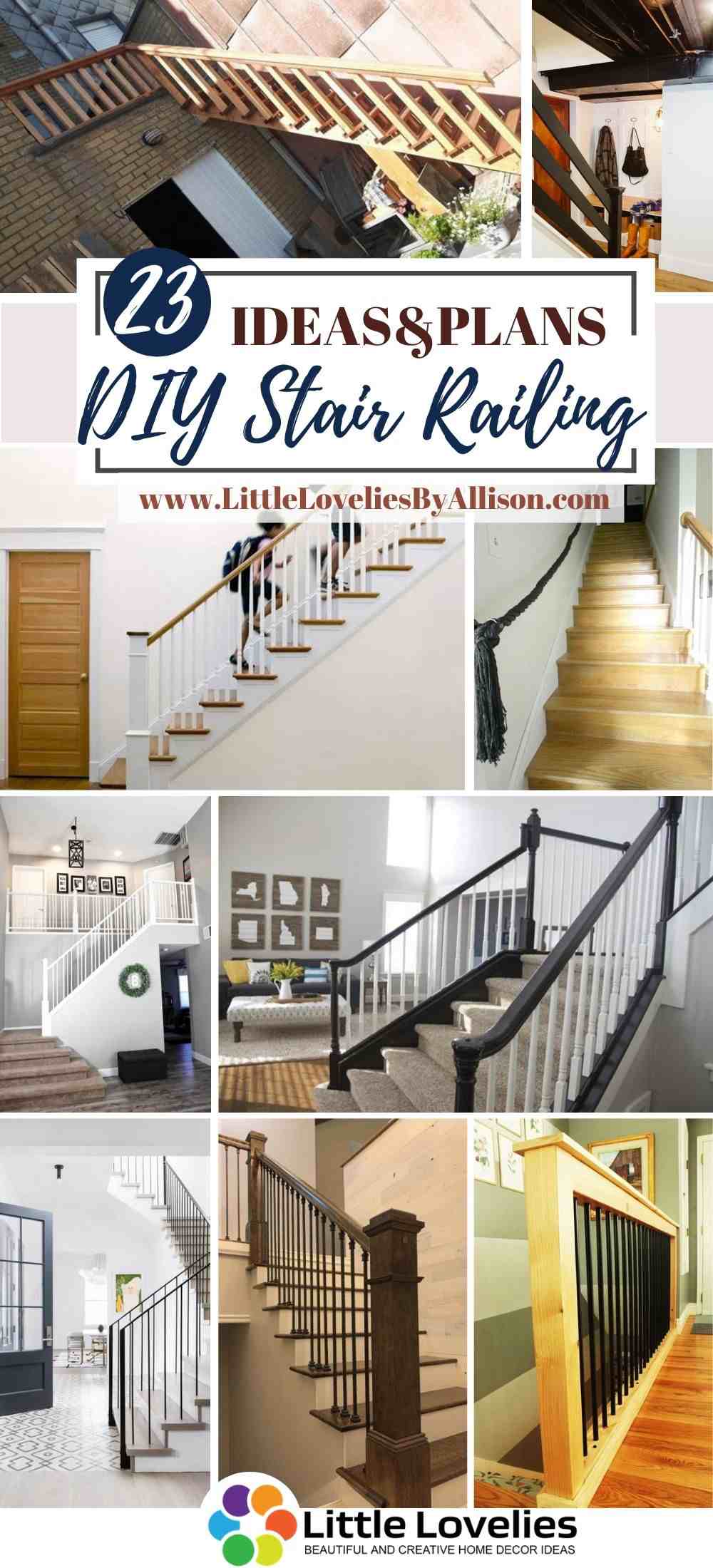 1. How To Install DIY Stair Railing
You can use an existing railing in your house to make this stair railing. The number one material for this is a 3mm cable that you can buy at Amazon for just $9 but depending on the size of your stairs, you might need more, and it might cost you about $90 plus other materials. You can find every other material like the cable buckle, and the frames can be found at a hardware store.
2. How To Build A Railing For Staircase
If you're a good woodworker, you can make a handrail from scratch with quality pine wood that will go well with paint. If you don't have a clue about woodworking, you don't have to worry. The step-by-step guide is easy and can be done by anyone with the right tools at your disposal.
3. DIY Stair Rail Installation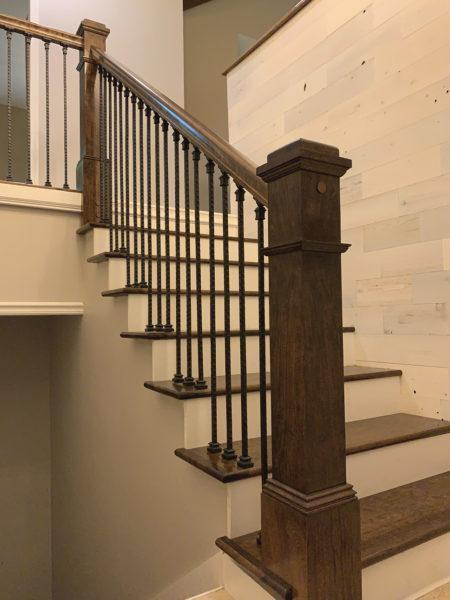 Here's a big project to take on. This DIY Stair installing would take a long time to complete. You'll need to plan out all aspects carefully. The first step involves removing the old railing; afterward, you'll need to determine newel placement before installing the newel. This DIY stair rail installing project would require a couple of tools. The making process is easy to follow; however, it would require a lot of time to complete.
4. How To Install A New Stair HandRail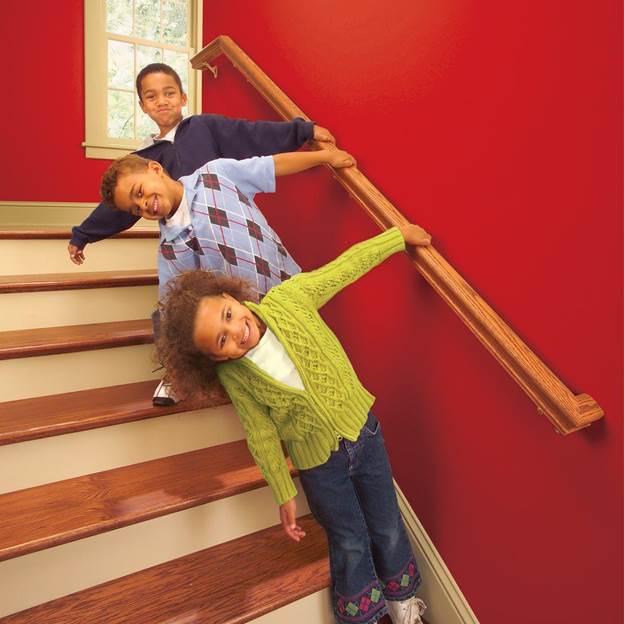 Here is a beautiful new stair handrail that can be made by anyone with intermediate skills. The making process will take about a full day to finish and cost you above $51. Building this yourself is cheaper than getting an artisan or carpenter to fix a new one for you.
You need a 90-second epoxy, 4d finish nails, 150-grit sandpaper, railing brackets, wood glue, and a few other things. There are 17 simple steps to follow to get to the finishing.
5. DIY Stair Handrail With Industrial Pipe And Wood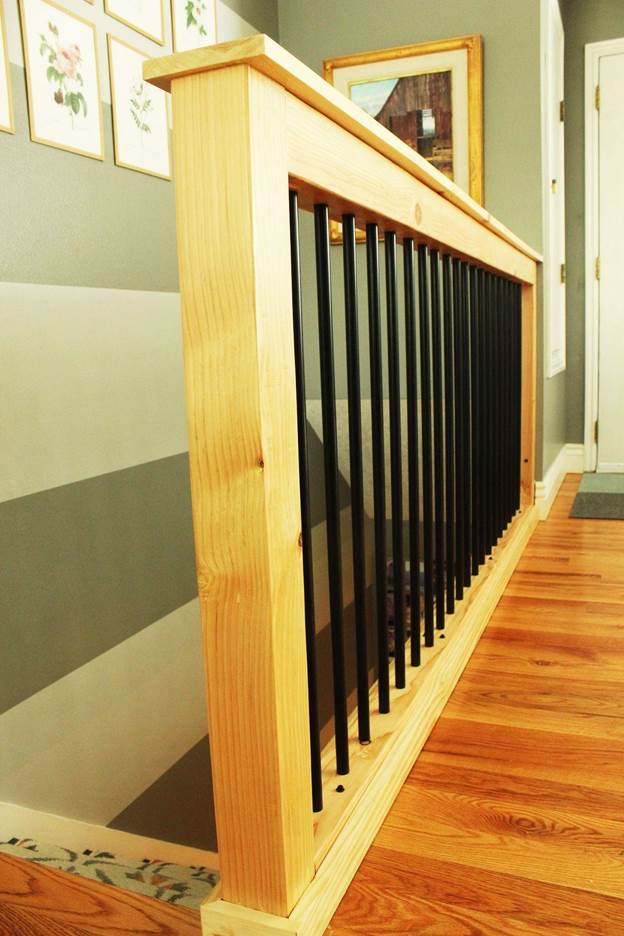 With the right tools and materials to do a good finishing, this handrail will look like something you bought or done by a professional. The steps are straightforward and can be done by anyone with or without any experience in woodwork.
For this guide, you need some pipes and wood. The wood's size depends on how your stairs are at home, although you need strong pipes for the job. You can decide to paint the tubes with any color you want to make them stylish and beautiful.
6. DIY Stair Railing Makeover
You can completely transform your old stairs railing into a unique, stylish railing that will blow everyone's mind. You need a galvanized iron square pipe, lots of them, a welding machine, and a table saw. The process is easy and straightforward to learn if you don't have any welding experience.
7. How to Build a Simple Wood Rail for Stairs
After spending hours searching for a simple stairs railing that wasn't complicated to build and didn't take up much time and money, I found this guide. You will be using a 2 x 3piece of wood, a hand grill, a carpenter's pencil, and some wood brackets.
8. DIY Rustic Staircase Pipe Install
Are you a fan of rustic DIY's? Here's a fun one you would love. This article will show you how to install a rustic staircase pipe. The steps are easy. You'll need some pipes, horizontal balusters, pipe fitting, and other essential items. You also need spray paint for the pipe after installation.
9. DIY Stair Railing Makeover
Are you looking for a fantastic stair railing makeover project? Here's one. For this makeover project, you'll start by picking the style; it can be iron, wood cable, or a combination of all three. Afterward, you'll need to choose the newel posts and then choose the balusters. The making process will require the use of a few tools that you probably have already. I would highly recommend this project for anyone looking at having a DIY stair railing makeover.
10. DIY Metal Stair Railing Idea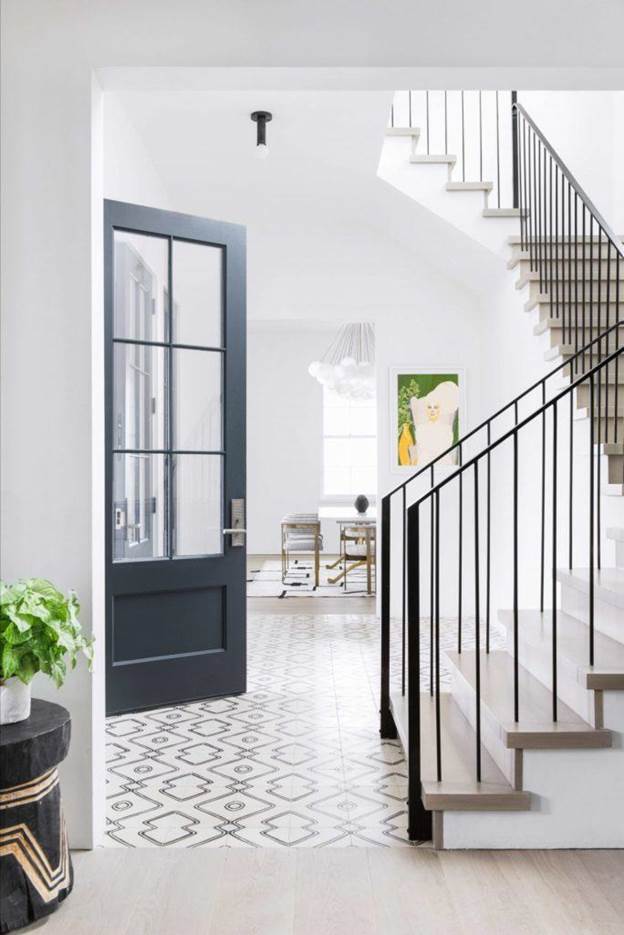 Even though you previously had a wooden stair railing, this amazing metal stair railing will completely change your house's style and elegance. It is not so easy to build, and you might spend extra cash to get a metal designer if you can't design the metal yourself.
11. DIY Stair Railing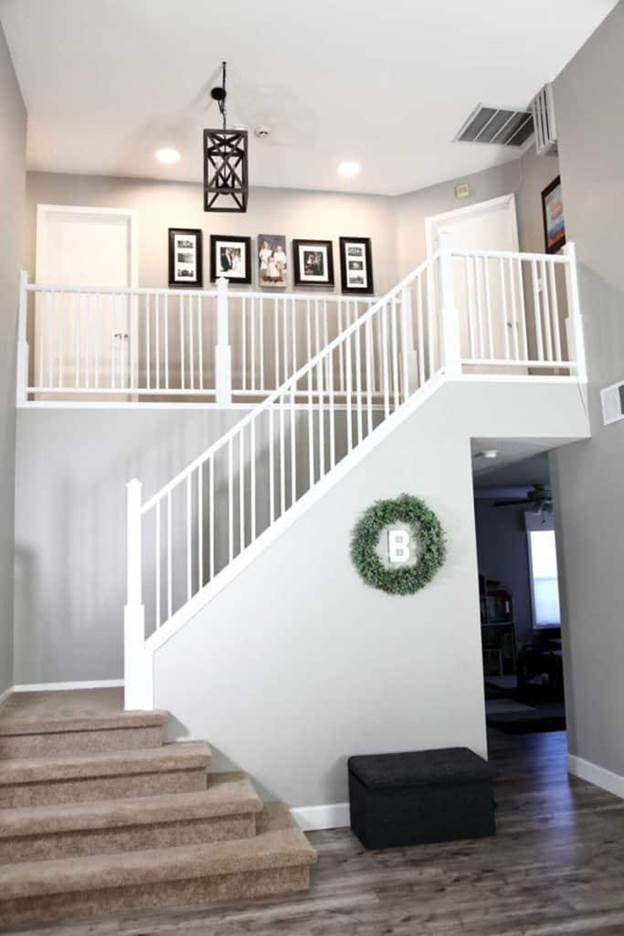 Take a visit to a hardware store near you and buy a drill, miter saw, table saw, nail gun, Kreg jig, wood route, sander, and a tape measure. Here are the materials you need to buy as well, pocket hole screws, wood screws, wood glue, brad nails, and lumber wood. You might have some of these materials at home, even better to ease the financial stress off you.
12. DIY Rustic Stair Railing
13. How To Stain Wood Stair Railings
I found a DIY stair railing project that is seamlessly easy to make, and you won't have to spend a lot on this project. The creator will show you how to stain oak railings. This guide is perfect for people who have oak railings and are looking at giving it a better look. The making process would require a few materials that shouldn't cost much.
14. How To Add Railing For Staircase
Ready for a long but exciting project? Here's one where the creator shows the complete process of adding railing for a staircase. This is a woodworking project and would need a lot of tools and materials related to woodworking. Based on how your staircase is, feel free to make adjustments to the measurements.
15. DIY Outdoor Stair Railing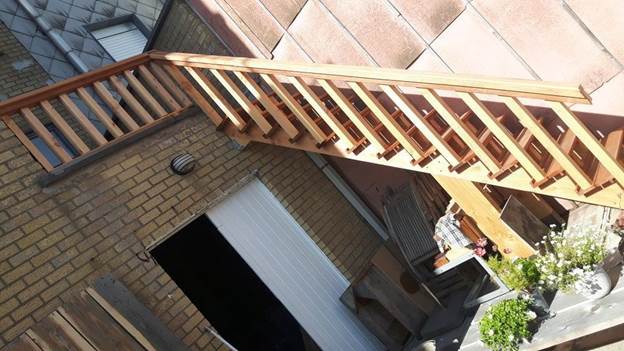 You need a lot of materials for this project. A lot of wood and a lot of time spent trying to finish it. Over 16 hours or more will be spent trying to complete this project; keep that in mind. Now, you need hardwood boards, iron brackets, inox screws, 3000mm, 5400mm, 27500mm Oregon beams, and a couple of other materials for the making process. Don't improvise or substitute any materials for something similar that you might have. It might cost you a little, but it will be worth it in the long run.
16. Simple DIY Stair Railing
You just need three main things to build this gorgeous simple DIY stair railing; a drill, some hooks, and a long rope. You might already have a wooden handle or a stud finder. I recommend this project for people who do not have the time for an intense woodworking project.
17. How To Install Stair Rails
Are you planning on installing a whole new set of rails for your staircase? Here's the guide to check out. The creators did a great job explaining all the steps to installing stair rails. This should take you a while to complete, and you might also need help from someone in the installation process. The good thing is, in the end, you will have professionally installed stair rails.
18. How To Build Porch Railing
Porch railings are mostly short; although they are long ones, the one you will be making today is short. If you don't already have a baluster at the front and rear, you can build one with ease. The major work is the measuring and cutting of the wood. Once that is done, installation is a walk in the park.
19. How To Build A Simple Handrail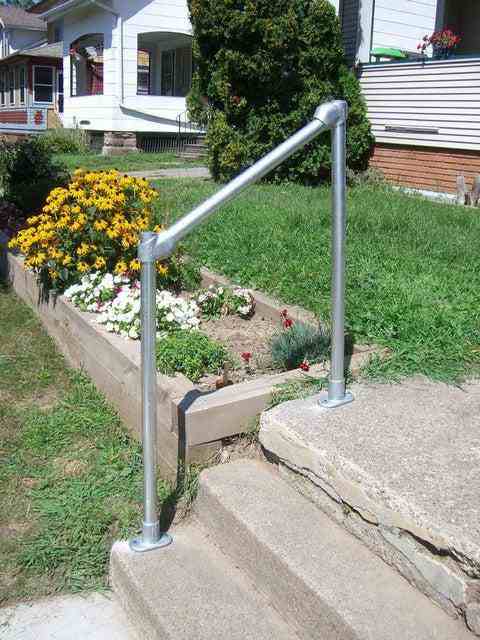 Do you have small stairs outside the house? Here's a project that will show you how to build a simple handrail. The making process starts with measuring the area. The most complicated part is the calculations part; however, the tutorial makes it look pretty easy.
20. DIY Rope Stair Railing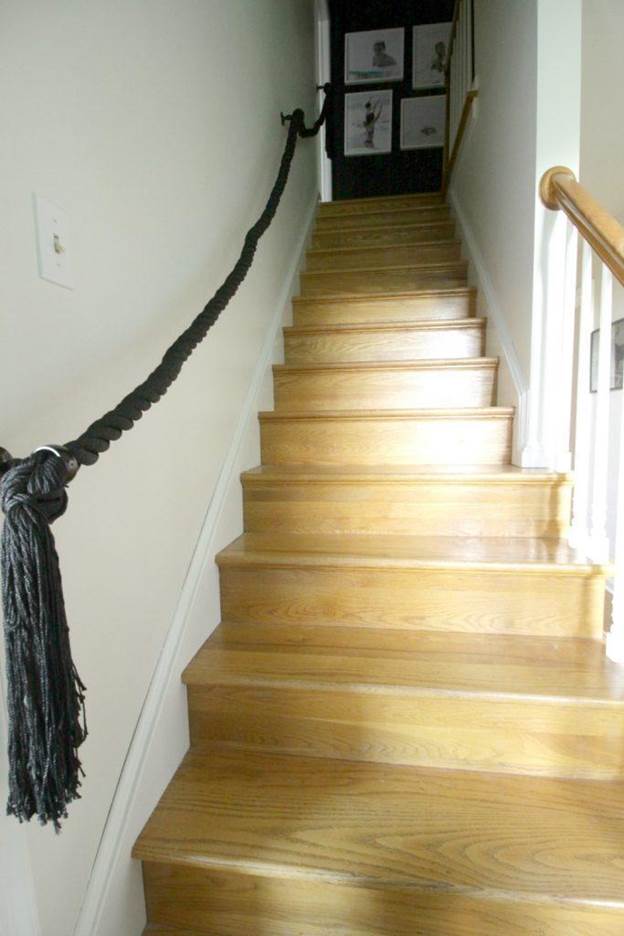 Here you won't be using wood but a rope to make a stylish stair railing. Since this is made of rope, it needs to be reinforced. You'll need three classic 1.5-inch rope brackets. You can use the ones with an unknotted end.
You also need a stud-finder, butcher's knife, scissors, cutting board, and a tape measure which you probably have already. You might think that the rope might not be an adequate stair railing, thinking that it might cut or give in to your weight if you lean on it. I can assure you to clear your doubts, as long as you follow this guide step-by-step, you will come to realize a strong and durable rope stair railing.
21. DIY Modern Horizontal Railing
This is a very simple modern horizontal stair railing that you can make without any woodworking or craftsman experience at all. You need some construction screws, lumber wood, pine, or red/white oak will do just fine, wood glue, and wood filler. You also need to paint or stain the wood when done; choose wisely.
22. How To Install Stair Railing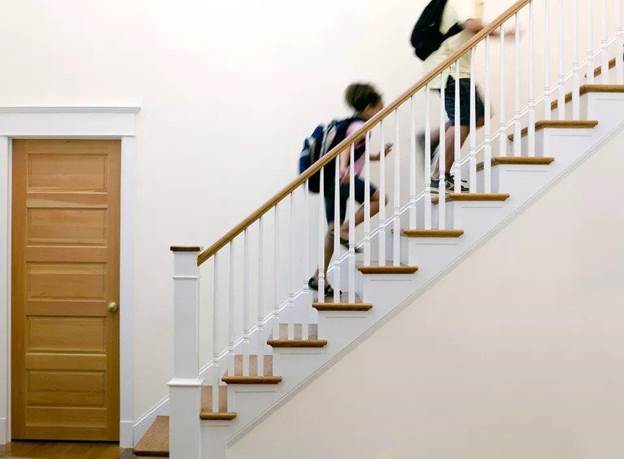 This can be done by anyone, even a beginner, for just 3 hours; it's that quick and easy. Here you are not actually building a stair rail from scratch, but if you wish to do so, this guide can still teach you that. You will install a premade railing made of wood and need a few tools to get that done. You need a cordless drill, stud finder, laser level, and other important tools that you may already have at home.
23. How to Build Industrial Stair Railings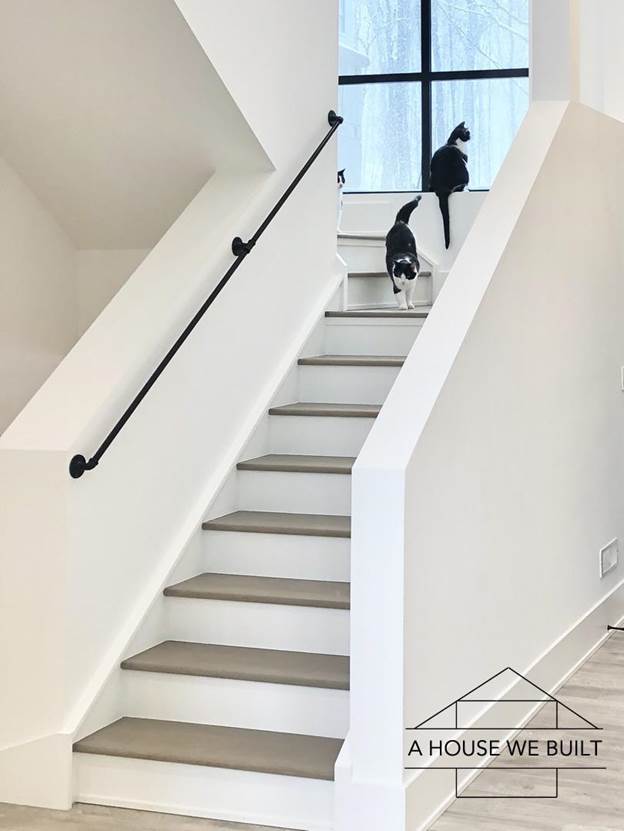 Within a few hours, you can be done with this project. All you need are some iron pipes from a hardware store. Other items required are flanges, elbow joints, T-join, connector, hex-head lag bolts, matte black spray, stud finder, and a drill. You are advised to read the building code in your area to know if you need more support pieces.