That you are reading this tells me that you are humane enough to feed squirrels instead of causing harm to them. If you have ever tried to feed a squirrel with little or no success, you might be doing it all wrong.
In this article, we have put together 25 DIY squirrel feeder plans that you can DIY from the comfort of your home. Most of the plans are beginner-woodworking projects while others do not require wood. Go through our list and pick your preferred squirrel feeder.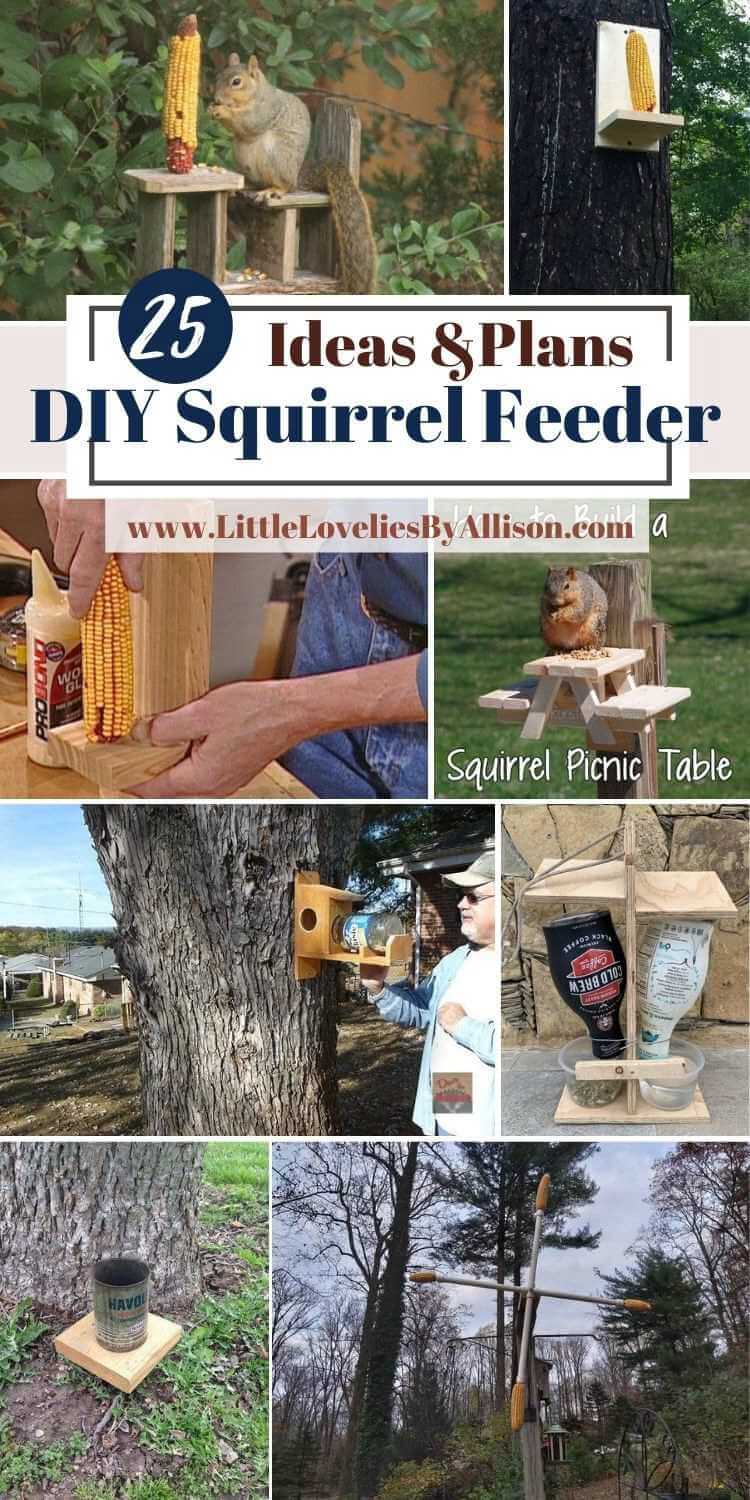 1. Homemade Squirrel Feeder
Making this squirrel feeder doesn't require much, just gather your materials and get to work. Cut cedar to the right sizes and dimensions, assemble the parts, and paint as desired. Place on a tree and pour food.
2. How To Build A Squirrel Feeder
A 6ft long & 6" wide wooden board, 1" screw, ½ gallon pickle jar are what you'll be needing to get this feeder done. Make your cuts and move onto assembling, pre-drill, attach the jar in front of your frame then place on a tree and that's it.
3. Easy DIY Squirrel Feeder
This is an easy and basic feeder that can be moved around to different spots rather than confined to a particular spot. Get a mason jar, 5"x1" piece of the wood strip, and duct tape. Tape jar to wood strip and then place horizontally on a tree with nuts or cereal inside. It's that simple!
4. DIY Squirrel Feeder
A beautiful unique feeder design where the lid opens as the squirrel stands on the platform to access the food inside. Get a one-piece 5" cedar, hinge, pixel glass, and 1" & 2" outdoor screws. Get your dimensions right as you cut them out and assemble, then bail to the tree.
5. 5 Ways To Make A Squirrel Feeder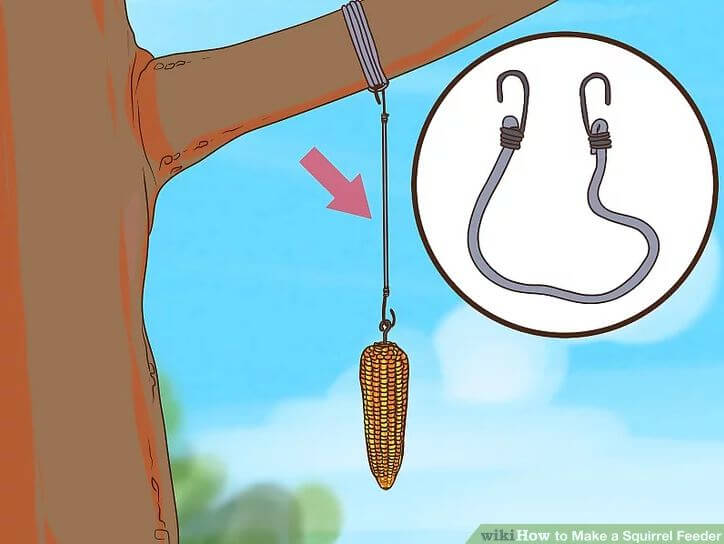 Simple DIY corn feeders for your squirrel. You can make a hanging corn feeder with a rope and hook so it hangs on a branch. It can also be in the form of a box also that holds grains or nuts for the squirrel to feed on. Finally, making a seed cake holder and letting it hang downwards from a tree branch is another method of having your feeder.
6. How To Make A Squirrel Feeder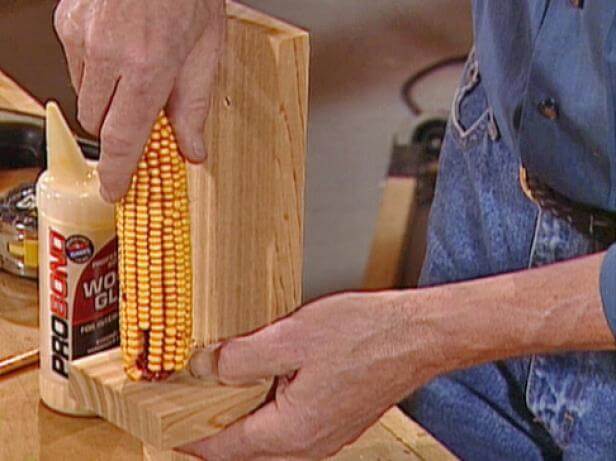 These are some of the items you'll be needing; Scrap lumber, Radial-arm or table saw, or hand-saw and chisel, Cordless drill, Galvanized screws. The woods should be perpendicular with a screw on the base for the corn to fit in.
7. DIY Squirrel Feeder Plans
Gather the following items, wood stain, wood filler, wood glue, 1¼" & 2½" screws hammer, tape measure, framing square, level, miter saw, sander, drill machinery, screwdriver, lumber, and plexiglass. Install frames and assemble accordingly. Paint to give a finishing touch and you're done.
8. DIY Squirrel Feeder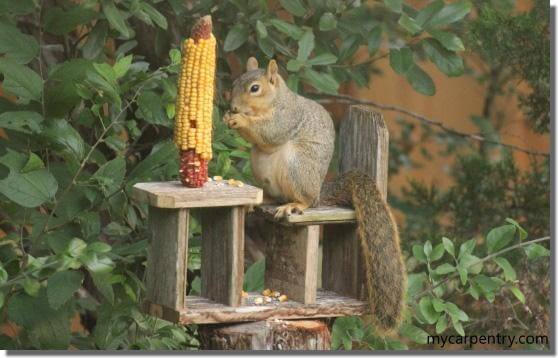 Get your carpentry skills intact because you'll be making a chair and table for your squirrel to feed comfortably. Base - 11 x 4, Back - 8.5 x 4, Chair Supports - 3¾ x 4, Table Supports - 4½ x 4, Chair Top - 4 ½ x 4, Table Top - 5 ¼ x 4, Galvanized Nail. Having your right dimensions, assemble and you're done.
9. DIY Cedar Squirrel Feeder
A backyard feeder made with cedar and needed tools such as tape measure, band saw, hole saw, glue, drill press. Take out your constructed work and paint, attach to the tree with food and watch squirrels' endless enjoyment as they dine on their nuts.
10. Easy Squirrel Feeder Setup
There's nothing much required of you to get this, just get your wood placed perpendicular and nailed against each other. Nail jar to the wood to keep in place then add corn
11. Easy DIY Squirrel Feeder
Ensure to get a saw, board, screws, glue, and drill close by. Cut 10" wood, 5" wood and give them curved edges, pre-drill and install parts. Stain wood. Fix screws to be pointed out so the corn sits on top of it, then attached to a tree.
12. DIY Squirrel Table Feeder
In a stylish way, build a mini picnic table as your squirrel feeder. With your cedar or lumber cut to their right dimensions, get brad nail, staple gun, glue, and assemble your parts together correctly and you're done.
13. Easy Squirrel Feeder DIY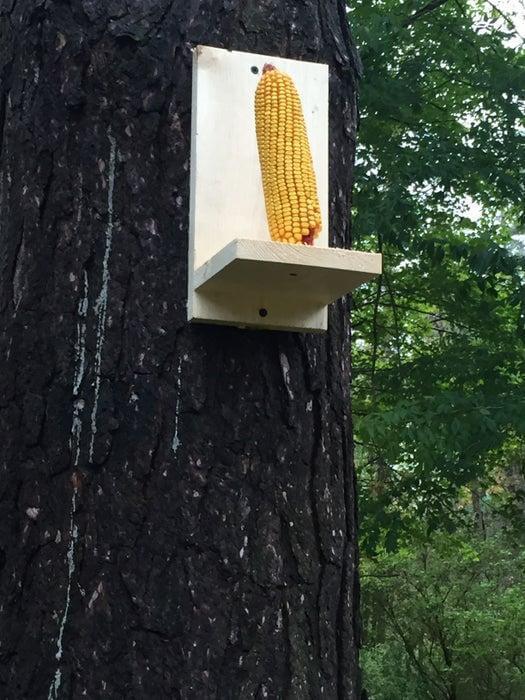 You'll be needing 1 board 1x6x4, Some wood screws, Some corn, saw drill. Go ahead and cut your wood parts, pre-drill holes, attach the base to long wood, drive-in screws and just skew an ear of corn to the screw and your feeder is set.
14. PVC Squirrel Feeder Windmill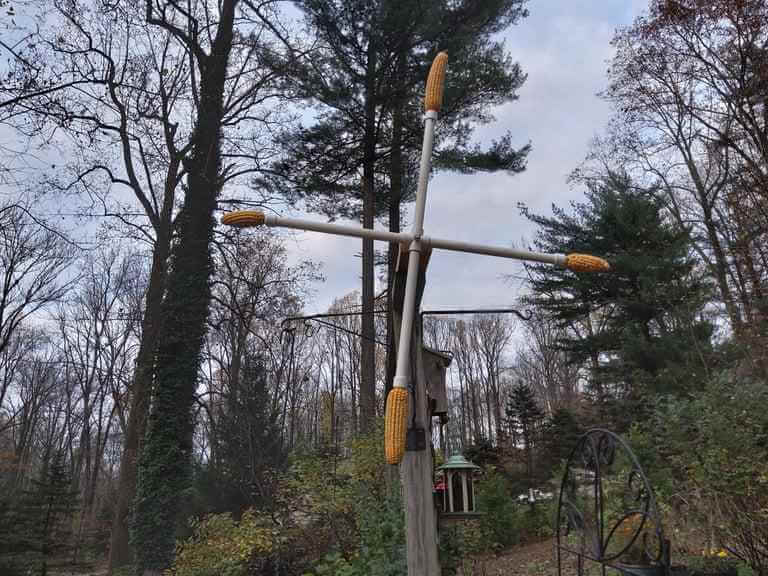 This windmill feeder is made out of PVC pipe assembled together to resemble a windmill that rotates freely with four ears of corn attached at the ends. The following supplies will help you achieve this, 60in. piece of ¾in. PVC pipe cut into 4 15in. pieces, One 4 way PVC connector (¾in.), Four ¾in. end caps, Four exterior grade wood screws at least 2in. long, One ¼in. by 2in. brass nipple threaded on both ends, One galvanized lag bolt (3in.) and two washers, A piece of Pressure Treated lumber to mount the feeder too.
15. DIY Squirrel Feeder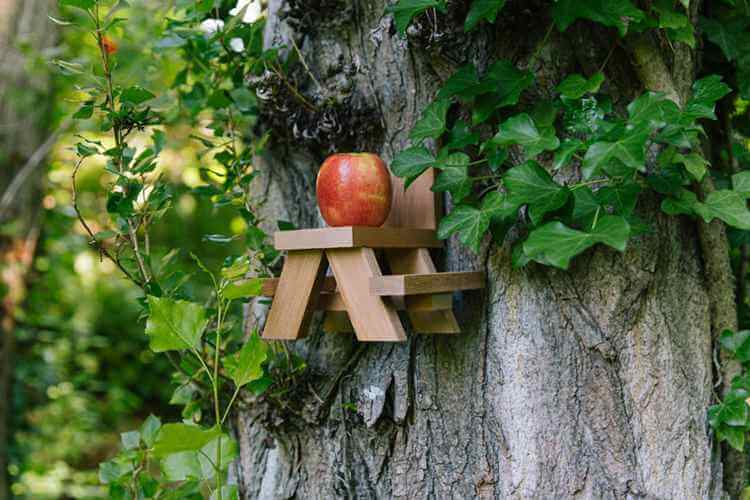 Get 1 x 4 (10" length), 1 x 2 (3' length), 1 ½" Screws (4),  Long Screw or Nail, hammer, miter saw, tape measure, clamps, hand saw drill, driver bit, and glue. Cut your wood, glue legs to tabletop and bench to crossbars, add spike and glue down benches, glue legs in place, hang and add a snack or nut.
16. How To Make A Squirrel Feeder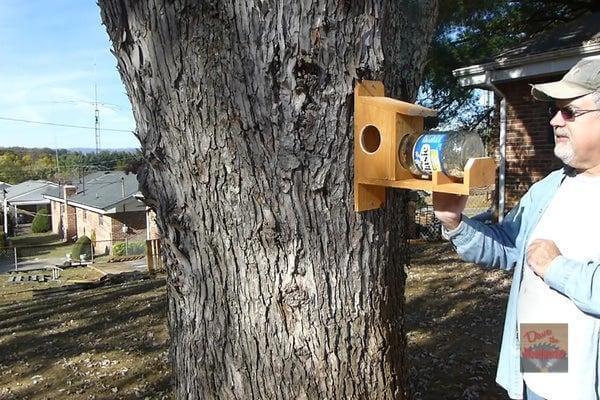 Gather the following materials, Empty Pickle Jar, 1 Picket fence board, Circular or hand Saw, Drill and ⅛" drill bit, Tape Measure, Pencil, Speed Square, 1 ⅝" long Screws for Outdoor use, Clamps, Hole Saw or Jigsaw, Center Punch or you can use a nail and Hammer. Cut your parts, pre-drill, and assemble. Put food in a jar and put hair in place.
17. DIY Picnic Table Squirrel Feeder
For table tops & seats get 7-1"x2"x8", legs are 4-1"x1½" x5" 22.3⁰ angle, set support is 2- 1"x1½"x12", table support is 2-1"x1½"x5". Also, tools such as tape measure, sander, pencil, jigsaw, router, drill & drill bit, screws, z clamps, miter saw are required. Move on to assembling and voila!
18. Squirrel Feeders DIY
This is quite a creative spinning feeder that holds the corn at the sides. Lumber, plywood, drill, miter saw, screws, and glue should be handy. Use lumber for the main parts. Then attach to the tree.
19. Homemade Squirrel Feeder
With a 2 ltr plastic bottle, screw the bottle to wood, fill the bottle with corn or peanuts or whatever food you are giving them and place on a tree or make a bowl shape on a plastic bottle and screw directly to the tree.
20. How To Build A Squirrel Feeder
A really deep box squirrel feeder unique in its own way and clearly made out of cedar or lumber. Use what's best. Ensure your dimensions are right, cut out parts and assemble properly, then paint to add beauty.
21. DIY Espresso Squirrel Feeder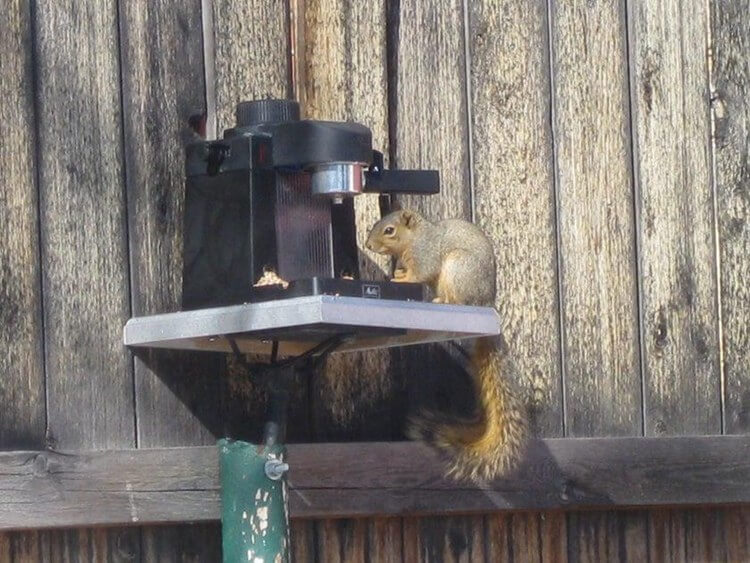 In case you may not want the regular wooden feeder, this is one made out of an old espresso and it just suits the use properly. Ensure to get the following; Old coffee machine or espresso maker, Solar yard light, Scrap wood, Bicycle seat, Spray paint, black and metallic, Drill, Screwdrivers, Hot glue gun, Welder for the bicycle seat.
22. DIY Oil Can Squirrel Feeder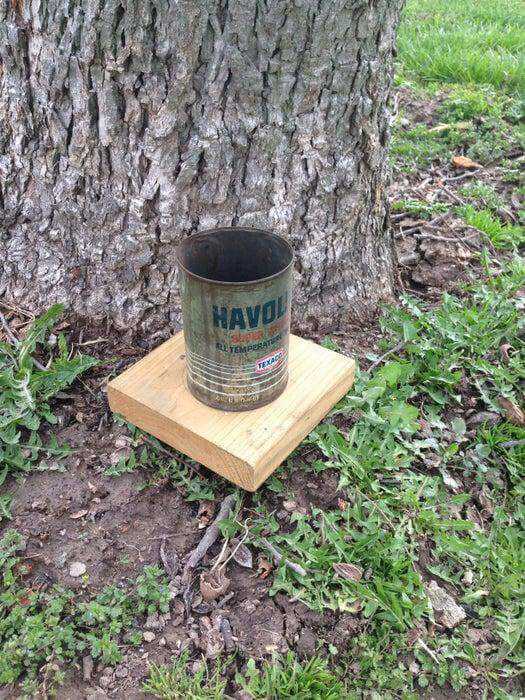 This is a simple and basic oil can feeder for squirrels using the following items, Wood, Oil can, 2 nuts and bolts, Drill and bit, 2 wrenches that fit your bolts. Trace the oil can on the wood and drill 2 holes, do the same on the can. Thread your bolts through, and put your nuts on. That's it!
23. DIY Bird And Squirrel Feeder
This is a two in one feeder for birds and squirrels to feed simultaneously. Firstly gather the following materials; 4 pieces of wood plus 2 optional ones or 1 big one to be cut into pieces, 2 plastic bottles, 1 with, and 1 without cap (I chose 1.5-liter bottles), 2 plastic open containers (I chose 12 cm of diameter, 7 cm of height cylindrical plastic containers), 1 rope, 1 wire, 6 screws or nails, Hot glue. Measure and cut out wood then assemble and install.
24. How To Build A Squirrel Picnic Table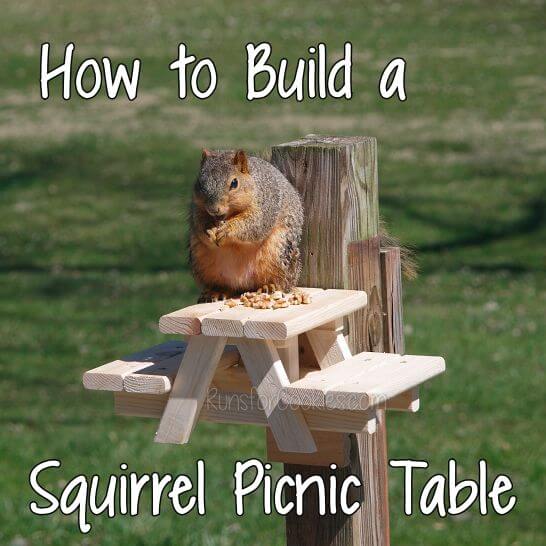 To achieve this mini picnic table design you can choose a good wood of your choice but warped wood is used here. Cut your warped board to the right dimensions, assemble the parts together. Attach to the tree so it suspends. Pour the food (nuts or grains). You can place an umbrella or a covering on the tree to prevent it from getting all wet and that's it.
25. DIY Squirrel Feeder
Get wood, saw, sander, nails, screws, drill bits, and screwdriver. Cut parts appropriately and assemble. Lay upon the fence for your squirrel to go at it for its food.
Conclusion
That's a wrap on DIY squirrel feeder plans. All the plans listed above are cheap to make and easy to build. The steps are also very easy to follow. If you have any questions or contributions regarding this article, please use the comments section below. Thanks for stopping by.