Lighting and angles are very important when it comes to photography or videos and nothing beats a good softbox in adaptability, as they have vital roles in infill, edge, and separation lighting. Getting rid of harsh shadows is also a top specialty for a softbox; little wonder they are those who would refer to it as the world's favorite lighting accessory.
Photography and videography equipment are typically expensive, which is why I have this list of DIY softbox for you to fashion out your own softbox and take your work to the next level; all on a budget. If you aren't happy with the lighting in your videos or your picture quality, these DIY softbox tutorials are for you.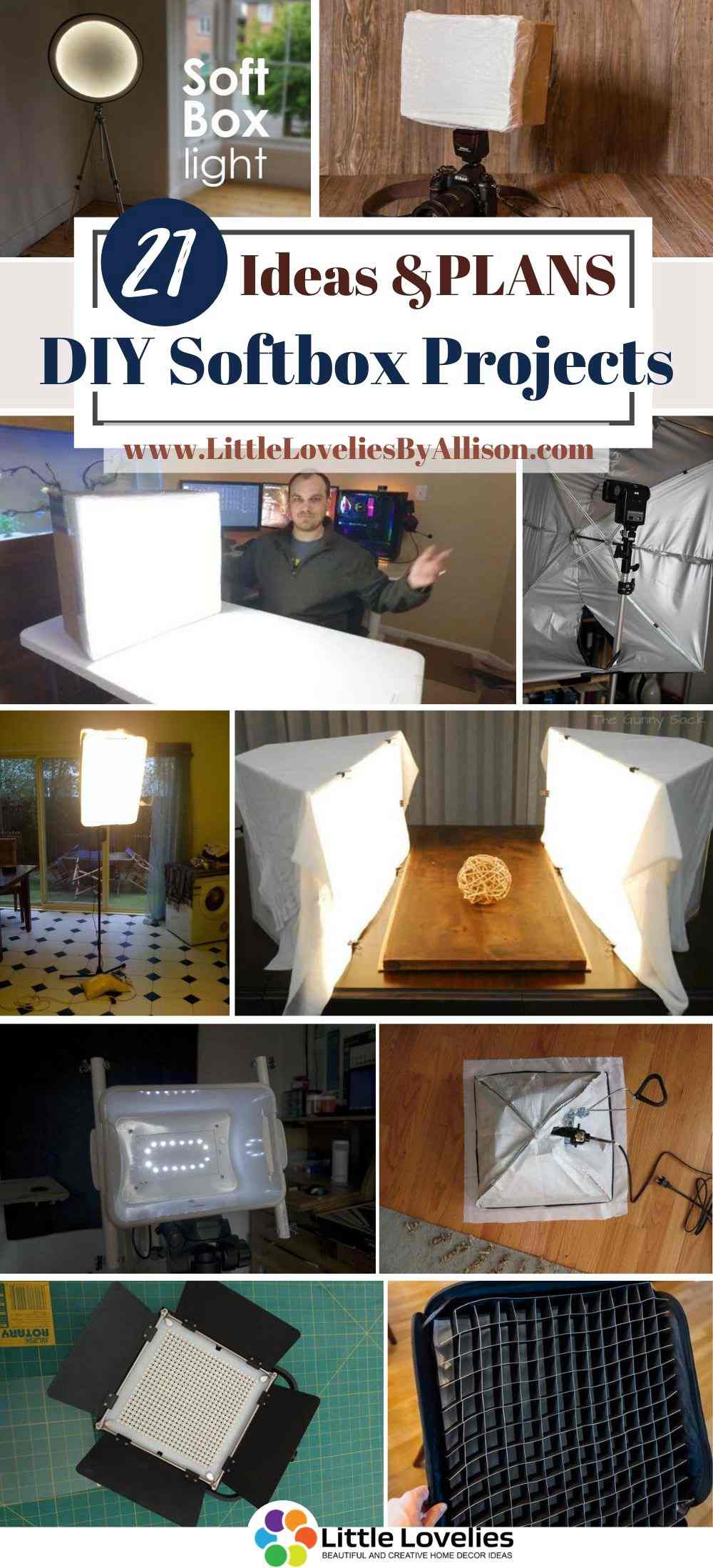 1. DIY Softbox Under $10
Make this photography softbox for under $10 with this DIY softbox tutorial. The materials you're going to need are a measuring tape, scissors, knife, pen or marker, duct tape, glue stick, glue gun, glue, cardboard, Velcro tape, binder clips, shower curtain, and tin foil. You can design your softbox based on this DIY to fit any kind of lighting that you have.
2. DIY Softbox For $7
This DIY softbox fits on top of an existing light panel, so you need to already have a light you're using to make this work. It's a perfect tutorial if you already have lights but they tend to be harsh on your subjects and you want to soften it up. Modify the design measurement to fit any light that you have. The major materials required are cardboard, paint, and diffusion (a.k.a frost gel).
3. DIY Softbox Light
DIYs are meant to be cheap and this definitely is at $16-$18 to craft, a nice bonus is that you get to learn how to make a tripod stand for your DIY softbox light. You don't need electrical work skills to master this DIY and the end results give you a softbox that is perfect for hiding imperfections in your videos and photography. The materials you're going to need are back cardboard, paint, duct tape, scissors, aluminum foil, ruler, socket or bulb holder, wire with plug, PVC pipe, etc.
4. DIY Softbox
This circular DIY softbox is not just aesthetically pleasing to the eye, it's simple and easy to make for anyone interested. You will need an old 26" road bike wheel plus tire, white cotton thread, elasticated cord, spray mount glue, white lycra material, LED light strip, etc. the entire softbox is based on lights fixed around the old bike wheel and mounting card used to form the backing to the light, with the tire acting as an outer edge cover to soften the edge of the light unit.
5. LCD Softbox DIY
If you have an old LCD–monitor wasting away, this could prove very helpful for you. You need a history with electrical work to not botch this job as there is a lot of tinkering with electronics required, from disassembling boards to modifying power supply and prototyping circuit boards. This LCD softbox DIY requires you to first open the monitor, remove the LCD panel, and replace it with Plexiglas before all the electric work begins.
6. How To Build A Simple Softbox
The tutorial is for a DIY softbox for a hot-shoe flash but you can adjust accordingly to fit a bigger light source. To assemble this, you'll need a box (the larger your box, the softer your light), duct tape, hot shoe flash, diffusion material (a white material that allows light to pass through; an old t-shirt or a garbage bag or sheet, etc.), box cutters, scissors, and a marker.
7. DIY Softbox Cardboard
Most of what you need for this DIY softbox made from cardboard is all stuff you should find easily around your house or in the nearest store. The box required for this should be 10" high and if you can't find one, you'll have to cut a larger one so it's exactly 10" high. In this tutorial video, an 18" x 18" x 16" box had to be cut down for use.
8. DIY Softbox Umbrella
The first DIY softbox umbrella on our list! This costs approximately $23 and requires a few steps and materials to craft. The umbrella used must have 8 internal ribs and must be a single fold design, not a compact umbrella; silvered on the inside and black on the outside.
9. How To Make A Softbox For Photography
Why make one when you can have two? With this tutorial on how to make a softbox for photography, you'll be making two softboxes instead of one in just 8 steps. It's perfect for bloggers, content creators, and anyone who needs to take pictures of products or even for regular family use.
10. DIY Softbox And Softbox Stand
This DIY softbox and softbox stand tutorial is not in English but is pretty easy to follow. The videography shows each process step by step and the dimensions of everything used are displayed against the material. Materials and supplies needed include trace paper, LED bulb, aluminum foil, wire, etc.
11. Cheap Softbox DIY
This tutor doesn't just show you a cheap softbox DIY, he does it in a way that makes you want to follow through to the end – big thumbs up for this one. You'll need a basic industrial light, lampshade, white duct tape, scissors, hammer, aluminum foil, small paper clips, white cloth, and a stand.
12. How To Make LED Softbox
Learn how to make an LED softbox – umbrella style. Get together an umbrella, glue of any kind, LED light bulb, socket or bulb holder, wire with plug, aluminum foil, LED light strip, etc. A black umbrella (both inside and out) is used in this DIY and the aluminum foil is used to cover the entire inner part of the umbrella, using the glue to hold it in place.
13. How To Make Photography Lighting Softbox
This photography lighting softbox is really pleasant to look at and even better to use with its adjustable design. Fashioned from a carton/cardboard block, you'll need a glue gun to assemble most of it together; especially the stand. The process is very easy to follow and you don't need much to get it done just the aforementioned materials, glue, light socket connected to a plug, light bulb, and 10cm pencil pieces.
14. DIY Rechargeable LED Softbox
The best thing this DIY rechargeable LED softbox has going for it is that it allows you to carry it freely around since it isn't tethered to one place because of the power supply to the light. A plastic container is used as the base of this softbox using wood and PVC pipe to reinforce areas based on the needs.
15. DIY Softbox
An insulated food tent is turned inside-out to serve as the box in this DIY softbox tutorial. The first things to do are to undo the attachment between the tent's ribs and the cover of the tent, remove the ribs, turn the tent inside-out and reattach the ribs. With the shiny part now on the inside, most of your work is already done.
16. How To Make A Collapsible Softbox
How to make a collapsible softbox is a must-know if you're constantly on the move and need a softbox that is easy to store and doesn't take up much space. This collapsible softbox grid gets rid of angular light which is useful in taking care of spills from a light source.
17. DIY Cheap Softbox
Modern compact fluorescent light (CFL) bulbs are used for this DIY cheap softbox tutorial; this is important as any other type of light bulb could overheat and cause the entire set up to burn. Other supplies you'll need a microphone boom stand, plastic PAR 38 lamp holder, 10 long cable ties, baking paper, aluminum foil, etc.
18. No-Cost DIY Softbox
Don't let the math scare you, it doesn't get used… The more supplies you have at home that can be used, the better your chances of actually achieving a no-cost DIY softbox. You need LED light, aluminum foil, packing tape, black cardboard, duct tape, Gaffer tape, and a few others. This no-cost DIY softbox is foldable which makes it a real gem.
19. How To Make A Professional Softbox With Cardboard
Materials used include cardboard, cutter/scissors, masking tape, holder with switch, LED bulb, softbox stand, etc. The dimensions for the crafting are all given with illustrations over the course of this tutorial on how to make a professional softbox with cardboard.
20. DIY Softbox For Desk Lamp
For this DIY softbox, you'll need to adjust the size of cardboard used to fit that of your desk lamp. It's pretty easy to follow and the best part is there's no electrical work for you to do. The making process is quite easy to follow.
21. How To Make A DIY Softbox From LED Light Panels
The silver automotive sunshade is used in learning how to make a DIY softbox from LED light panels via this tutorial, but you can use aluminum foil in its stead. Other materials required are Gaffer tape/duct tape/fabric tape, diffuser material, and a package of small binder clips.