Are you having issues walking in the snow? You came to the right place. I have compiled a list of DIY snowshoes that you can easily make for yourself.
It doesn't matter if you are in the wilderness with little or no materials, you can as well make a pair of DIY snowshoes in the wilderness. Keep on reading to find out how to make one for yourself.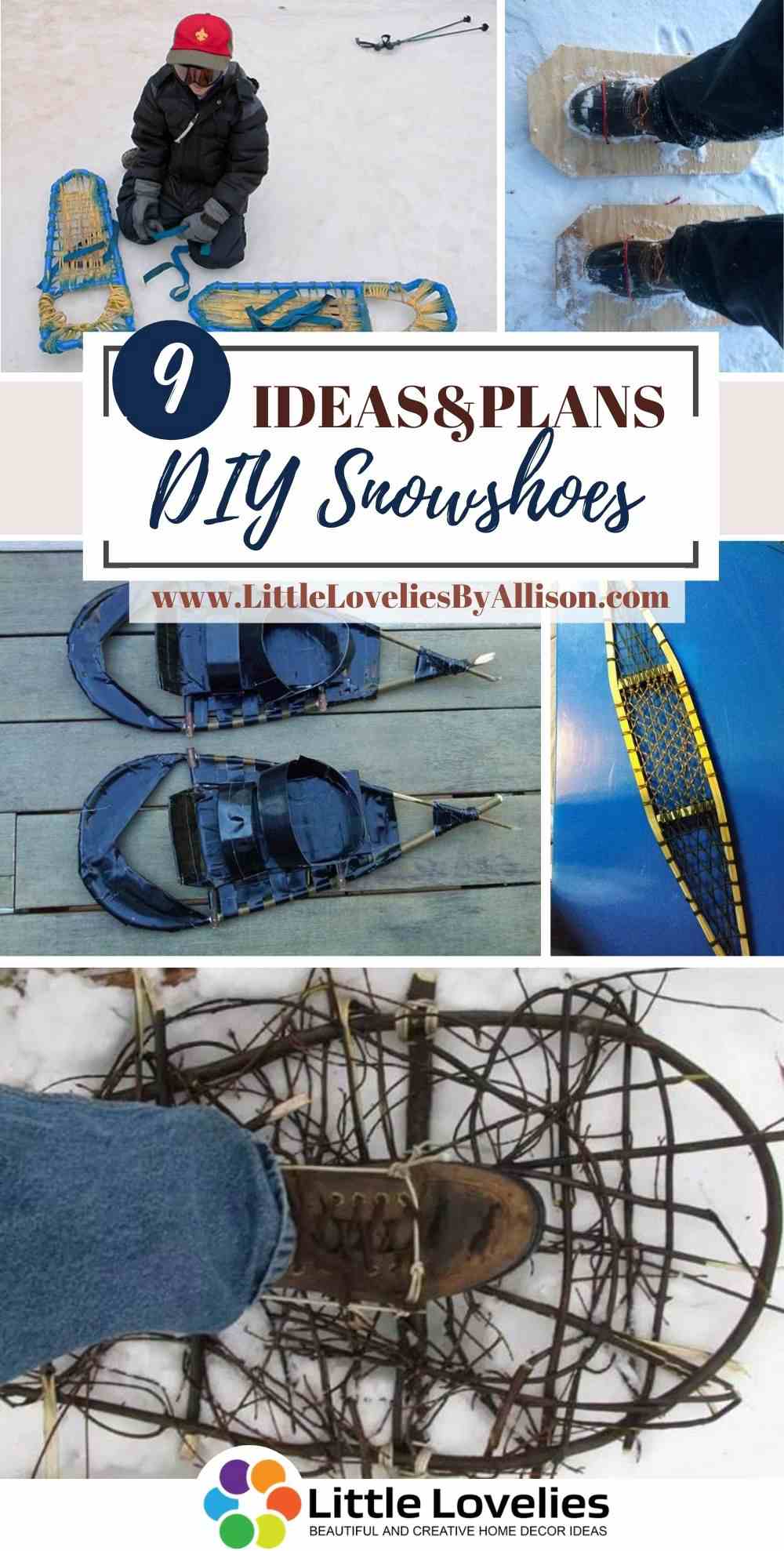 1. Homemade PVC Snowshoes
Some scouts in North Dakota are known to make homemade snowshoes from CPVC pipe, in this tutorial, you will learn all the steps to making these amazing DIY snowshoes for yourself. The making process starts with gathering specific materials and a bunch of tools.
You will need 4 ¾-inch CPVC pipe tees, 200 feet of ¼-inch hollow braid poly rope, 1 six-ounce can of CPVC clear cement, 2 pieces of ¾-inch hot/cold CPVC pipe, each 10 feet long, and a couple of other materials, you will also need these tools; a measuring tape, file, clamp vise, and a hand saw.
After cutting the pipes, then comes the challenging phase that will require you to connect the pipes together. You will need to build the front half of the snowshoe before moving on to making the back half. Lacing the shoe is pretty easy to accomplish too.
2. Duct Tape Snowshoes
In this DIY tutorial, the creator used duct tape and sticks to create an amazingly outstanding pair of snowshoes, making this would take a while to complete, however, it is overly cheap to make. You might not even need to purchase things if you have duct tape handy.
Some tools needed for this project are; Hot glue, a Knife for cutting, tree boughs, scissors hammer, a large bowl, and a few other tools. The first thing to do would be to heat up the bough so that you can give them your desired shape.
After giving the boughs the right shape, next up, you need to make braces and attach them to the body of the shoe. The final steps of making these snowshoes have to do with using duct tape. In the full tutorial, you'll get to see how it is done.
3. How To Make Snowshoes
This is a time-lapse tutorial that quickly shows you all the processes in making snowshoes, the making process is quite easy to follow if you know your way around woodworking materials and tools.
The making process begins with gathering wood for these snowshoes, cutting your own wood saves cost, however, to ease the job, you can simply purchase wood from a wood store. If you are using unprocessed wood, you will need to process it, the guide will show you how to cut and process. However, I would recommend that you use processed wood to save time and stress.
These snowshoes are made of thick leather and wood, the making process is easy if you have experience with woodworking.
4. PVC Snowshoes Under $20
Using less than $20, the creator was able to make PVC snowshoes that work great in snow. Trust me, you won't regret making this for yourself. You will need; Zip ties, 1x10' ½" SCH 40 PVC, Rubber or mat, A drill, paracord, and a bunch of other tools.
Here are the cut sizes; 2 X 28" PVC, 2 x 18" PVC, 4 X 6" PVC, 4 X 1" PVC, Floor Mat approx. 25"x10", 4 pieces of paracord approx. 36" long.
I would recommend this if you are looking at building something classy and durable.
5. How To Make Snowshoes In The Wilderness
What do you do while in the wilderness with no tools and no materials to make a pair of snowshoes? In this tutorial, you will learn how to make snowshoes in the wilderness. The steps are quite easy to follow.
You will have to make use of things around for the DIY snowshoes. It might not be the prettiest pair of DIY snowshoes, but it will surely do the trick, and the best part is, you do not need to spend a dime to make them.
6. DIY Snowshoes
Here's another quick tutorial that will teach you how to make a pair of snowshoes using a few tools. These snowshoes might not be perfect and might have some cons, however, I think they are great and can be improved on. You can try these DIY snowshoes with the leftover wood you have.
7. DIY Quick Snowshoes
Here's another video that shows you how to make DIY snowshoes in a situation where there are no materials or supplies. The making process of these pair of DIY snowshoes is quite quick, you would be done in no time.
It's not going to be a pretty pair of snowshoes being that it is made of things that can be easily found in the wilderness. Be sure to have a knife handy, it will make your cutting way easier. You will also need shoelaces to tie the wood together.
8. How To Weave Snowshoes
Having issues weaving a pair of DIY snowshoes that you made? Here's a guide that will teach you an ideal method that can be used to weave snowshoes. I decided to include this guide as a bonus for people who want to make top-notch snowshoes.
9. DIY Paracord Snowshoes
This tutorial is divided into two segments, the first will teach you how to build the frame of the snowshoes, the second will show you how to weave the net, the hard part might be the second segment but I am sure you'll get the hang of it.
If you are looking for a durable pair of snowshoes to make for winter? Here's one to consider. Its durability is top-notch.
You May Also Like:20 Homemade Snow Plow - How To Build A Snow Plow
Conclusion
We've come to the end of this concise guide on how to make snowshoes. Based on your budget or skill, feel free to pick any DIY tutorial of your choice. But, you have my word, all the DIY snowshoes in this guide will help you navigate in snow.