Do you love snakes? Getting a home for your pet snake shouldn't be a stressful task. It is really easy, there are many tutorials out there that show you how to build the perfect snake enclosure in your home, however, in this article, I'll be sharing some of the best snake rack projects.
With a few tools and materials and a perfect guide, you can be on your way to creating the perfect DIY snake rack for your reptile. You can build as many as you want based on the number of snakes you have.
1. Bookcase Upcycled To Snake Rack DIY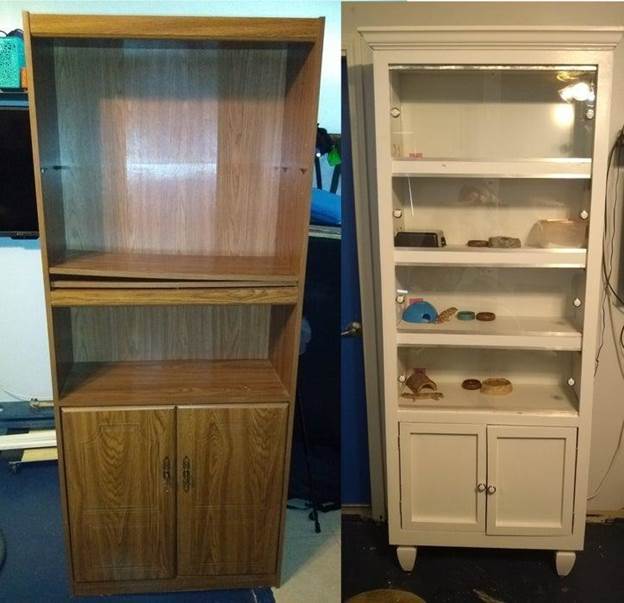 This tutorial of upcycling to a snake rack is super cool and you could try this as well. In the making process, you have to first remove the doors and replace them with new ones. The creator drilled holes for ventilation and also added more shelves by creating pilot holes and attached them with 2" deck screws, the creator also lined inside with contact paper and attached legs. This DIY is super easy. The guide is basically for people who want to turn their old bookcase into a snake rack.
2. Building A Snake Rack
In building a snake rack you have to determine certain things which include what type of reptile you would love to put in the rack? When this is determined you will know the size you intend to build and the key in building this is measure twice and cut once. Determine how many tops you want to make that is the length, etc. First, you cut the length of each shelf and cover every exposed end. This video explains a step-by-step process on how to build this.
3. DIY PVC Snake Rack
This tutorial shows you how to build an Fb40 rack for a ball python. The creator created a five-level rack out of ½ inches PVC and you will need a drywall sheet, circular saw, ½ PVC sheet, straight boards, etc. First thing in making these you need to get your dimensions and cut your shelf according to your desired size. Place your shelve and clamp it to the table and you mark and cut. The build process is basic and easy to follow.
4. How To Build A Cheap Snake Rack
Here is another tutorial that shows you how to build a super -fast and cheap snake rack. This video saves as a guide in building a rack. In building these, you need to create ventilation for your reptile by drilling holes on your rank. It's advisable to use the right temperature of heat, you could create a heat panel. Don't want to spend much on a snake rack? Then check out this DIY guide.
5. DIY Snake Rack
Here's another DIY snake rack you can build. For the making process, you need some materials like ½ inches of PVC sheet which is not flammable and durable. You have to decide on the spacing of the rack. The creator used 7 pieces of 13.5 x 16 and 2pieces of 13.5x 32 for the dimension of the PVC. After cutting the pieces, you have to screw them together accordingly. Flip the rank upside down and place the things inside and screw. The complete tools needed for this process are contained in the above link.
6. DIY Combo Snake Rack
This is a six-level combination rack. In making this you will need two pieces of 4x8x¾ melamine. In making this you could also use a PVC which lasts significantly longer. You will need a heat tape of 15feet. Simply cut the pieces down and then assemble each of them. The guide will give you a detailed procedure.
7. DIY Snake Cage
In making a snake cage, you first need to get your wood or PVC but if you don't have carpentry skills you could pick up an old cabinet which could be a solid foundational structure. The creator converted the cabinet into a boa constrictor enclosure. He basically removed parts of the rack that he didn't want and then did some construction. The creator made use of a hard board. I would recommend this DIY snake rack for beginners.
8. Cheap DIY Snake Rack
This cheap DIY snake rack isn't much of a deal. It's very inexpensive and will cost you 90 dollars. It's 36 inches long and it takes two hours to build. The creator used an 8inches board and also a white marker board, Sterilite, heat tape, screwdriver, etc. The build might take some time to finish but it will be worth it in the end.
9. How To Build A Cheap Snake Rack
This tutorial shows you how to build a super cheap snake rack. Very easy to make. You will need some materials which include two plastic racks, two sheets of ⅛ whiteboard, saw, drill, tape measure, etc. The first thing you need to do is cut down your sheets according to your dimensions. The creator used 2x3 feet PVC. Afterward, you lay it on by yourself and screw.
10. DIY Ball Python Rack
Making a DIY python rack is so simple and this video gives a proper description of the process of making this but you will need some material to actualize this. You need some sheets which have to be cut into proper dimensions. The creator has laid down diagrams on 41qt tubs out of 0.5 inch PVC.
Conclusion
While building a DIY Snake rack make sure you make it sturdy and place it in a safe place that will prevent the rack from breaking and setting the snake free, you do not want a deadly snake roaming around your house.
The tutorials in this guide are quite easy to follow. Feel free to make adjustments to the DIY snake rack projects listed.