I don't know if you have ever smoked meat before, but it is a rewarding, yet time consuming task. Since your meat will be preserved, and therefore good for a long time, it makes the most sense to be able to smoke a lot at once.
So we're here to take you through the process of building your smokehouse. We listed 25 DIY smokehouse plans for you to choose from. The making process isn't as hard as it seems, I'm sure you will get the hang of it.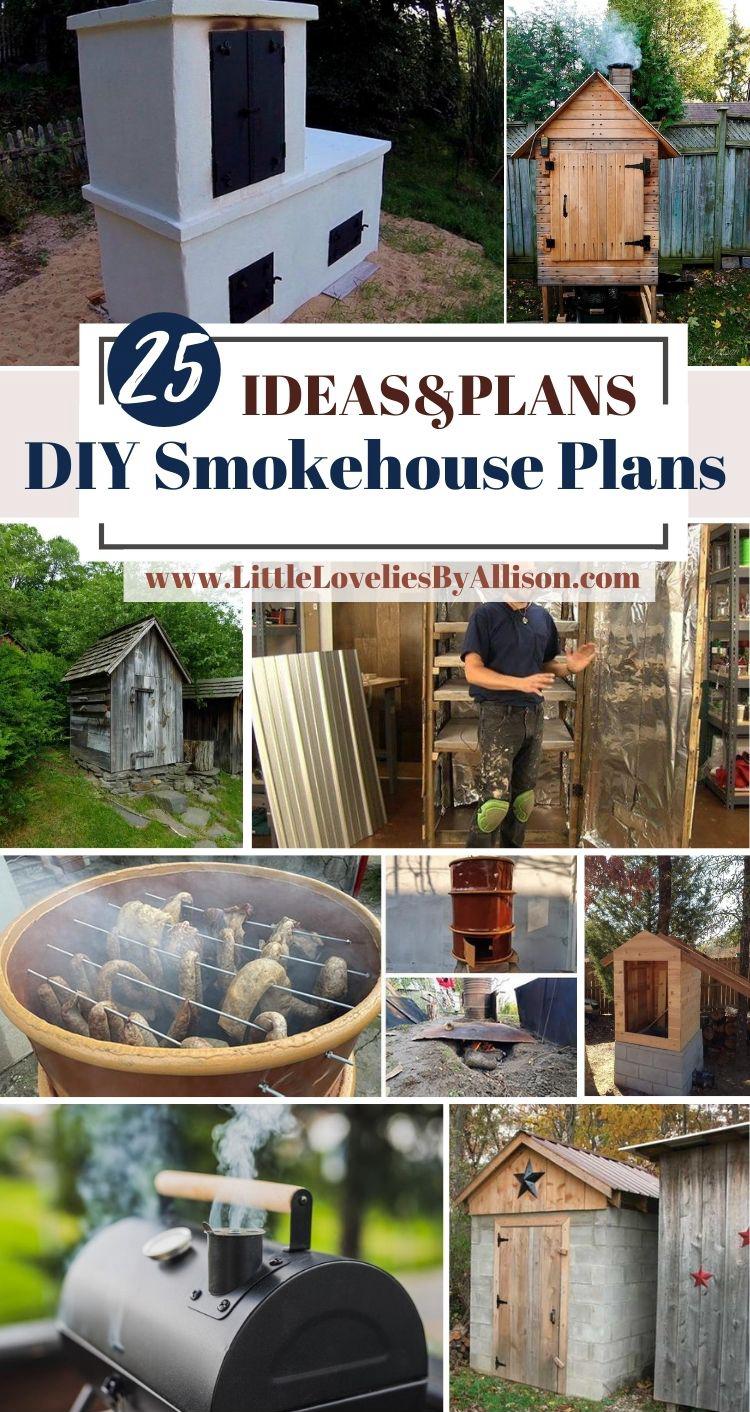 1. How To Build A Smokehouse
If building a backyard smokehouse has always been on your to-do list, now's the right time to get that list checked. Primarily for smoking sausage, but also for smoking bacon, ham, cheese, poultry, and venison.
2. DIY Smokehouse Plans Under $100
I love this project. It still amazes me what you can build with repurposed wood and how great it looks. Most of the plans only show you how to build a small smokehouse and they called for using quite a bit of expensive materials. You may never find plans that really meet your requirements, so you may end up making yours.
3. DIY Smokehouse
Smokers are made in lots of different ways, and this was built out of recycled materials. Building a smokehouse from pallet wood may seem sort of a challenge but that can be overcome. Let's dive into how he built this smokehouse.
4. How To Make A Smoker - DIY Smokehouse
Making a homemade smokehouse has never been easier, allow this video to run through the steps on how to make a smokehouse and all that's next is to light a fire and smoke some meat.
5. DIY Smokehouse
Build this project with repurposed pallets using these supplies: 20-30 pallets, 2 ½ inch screws, aluminum flashing, corrugated tin for the roof (4'x3') (this must be raw metal, not galvanized), heavy-duty tin foil, a roll of aluminum screen, handle (for the door), hinges (3).
6. DIY Smokehouse Tutorial
Smokehouse allows creating healthy great meat, fishes, and cheeses which are great, without preservatives, and with wonderful taste. In this tutorial, the creator created a smokehouse with two hearts: one for cold smoke (less than 24 Celsius degrees) and the other one for hot smoke (up to 80 Celsius degrees). Follow the seven simple steps and get started.
7. Do It Yourself Smokehouse
So, here it is, a modest urban smokehouse that uses a MiniMax as a fire pit. For the materials,  use primarily 2x2s and 'tongue and groove' boards, with 2x4s to support the roof.  The wood is all pine, as that's what was readily available at the store.
The ducting on the roof consists of three 4″ aluminum 90-degree elbows. Inside the top elbow, add a 4″ cast iron damper and other items indicated here.
8. How To Build A Smokehouse Out Of Cement Blocks
The main goal was to construct a smokehouse with a lot more room than the smaller ones you can buy from big-box stores. In that regard, for any building to take place, you need to take stock of these Materials: 200 – 6-by-8-by-16-inch cement blocks, 1-ton sand, 1-ton gravel, 5 bags (94 pounds each) Portland cement, Hydrated lime, and others featured in this article.
9. DIY Outdoor Smokehouse
This setup is exactly what you're looking for. It's tidy and requires little tending. It's portable. It uses little fuel. You can use charcoal to generate heat and wood chunks to produce clean, pleasant-smelling smoke.
10. How To Build A Smokehouse
This is a more modernized form, it is built using blocks and bricks. All in all, you'll love how it turned out, and you can use every excuse to fire it up and smoke something.
11. DIY Smokehouse Construction Plan
A beautiful wooden smokehouse with a stone furnace can be made over the weekend with this video guide and material list. Build your own DIY smokehouse now.
12. DIY Mini Smokehouse From Gas Cylinder
Learn how to make this mini smokehouse with your own hands using a gas cylinder with refrigerant. This is a cheaper method for this project to be done.
13. DIY Smokehouse
In keeping with the DIY spirit and your propensity to recycle building materials, salvage everything but the screws, hinges, and a handful of nails. This small smokehouse is built around a frame of 2x2s.
The fastest stage of this project was ripping 2x4s on a table saw and cross cutting to length with a miter saw to provide the materials for the frame. A butt joint isn't a robust joint, but it's strong enough for this light-duty frame. Use wood glue and deck screws to fasten the frame together.
14. DIY Backyard Smokehouse Plan
Nothing beats hanging out in the backyard, throwing some hamburgers and hot dogs on the grill, and enjoying a delicious outdoor summer meal with friends and family. Learn with this amazing barbecue DIY project on how to build a smokehouse.
15. DIY Cedar Smokehouse
If you want to smoke your own meat,  why not build yourself a smokehouse. The smokehouse featured here is made from very simple materials, using basic tools and it's been built by a self-professed amateur!  By following the instructions in the link below this gallery, you'll be able to make your own regardless of your skill levels.
16. DIY Smokehouse In A Barrell
There are two ways of making a smokehouse in this tutorial. The first one is easier to make and will need very little of your precious time to complete. However, you need a specific location for it and extra space for digging.
The second one is more refined and "better looking". It is made with higher attention to detail. This model is great for any small backyard spaces, it doesn't require digging, and you can move it around.
17. DIY Smokehouse Plans
The best part of building it on your own is that you can customize the size of the smokehouse, allowing you to fit it in your yard. You can also minimize the cost by using local materials that are abundant and cheap. And you don't need to pay extra for the services of a contractor building it for you.
18. How To Build A Smokehouse
After you build a smokehouse, it's time to experiment. Different woods impart their own unique flavors. Check the many online resource guides to pairing wood species to the fish or game of your choice.
19. DIY Southern Style Smokehouse
This is a southern-style smokehouse perfect for smoking and cooking meat. This can be built using a small furnace or pot-bellied stove. You can cover the outside with old rusted tin to give it a good rustic look.
20. How To Build A Wooden Smokehouse
Try building this smokehouse that is built like a closet. It's an intended smokehouse that's why it is built with racks and hangs, otherwise it can be used for outdoor purposes to keep your rakes or shovels.
21. How To Build A Smokehouse - Tips
To build your smokehouse, you'll need to create a foundation and an enclosed house. One of the easiest DIY smokehouse tutorials is right here and it provides all the details on how to create your own cedar smokehouse.
22. Build A Backyard Smokehouse
We are going to take you through the building process for a wood smokehouse. We list the materials in this article and you will need to figure amounts based on how large your firebox is and how large of a capacity you want for smoking your meat, fish, or cheese.
23. How To Build A Smokehouse
This video is a detailed explanation of everything that is required of you to build this smokehouse.  By the way, have you tried smoking cheeses or mushrooms? Yum!
24. DIY Pallet Wood Smokehouse
If you want to build a smokehouse then we've got you covered. Allow this video to walk through the explicit guides towards building your own. For this tutorial, pallet wood is used.
25. Hot & Cold Smoker Build
To add to this, you can do more research to give you many ideas. But then see this through on how to make a smoker box to smoke meat and other foods. Sure you love it.
Conclusion
Building a backyard smokehouse is a great family DIY project this time of year. We want to expand your horizons on what you can smoke in your backyard smokehouse to include not only meat but fish and cheese also.
There is nothing more delicious than cheese that has been smoked. Consider both gouda, cheddar, and mozzarella as good beginning projects for trying your skills at smoking cheese. You will be the hit of any holiday gathering with homemade smoked cheese, it is so delicious!