You love reptiles as much as other people who love cats and dogs? Well, why not. Reptiles are interesting and have unique good-natured personalities. For companionship and more that reptiles give, you are doing the right thing to find DIY reptile enclosure plans.
When getting an enclosure for your reptile, I understand that factors like comfort, health, safety, growth capacity, and natural environment are a great concern. That's why I have carefully selected these 10 DIY reptile enclosure plans with the factors in mind.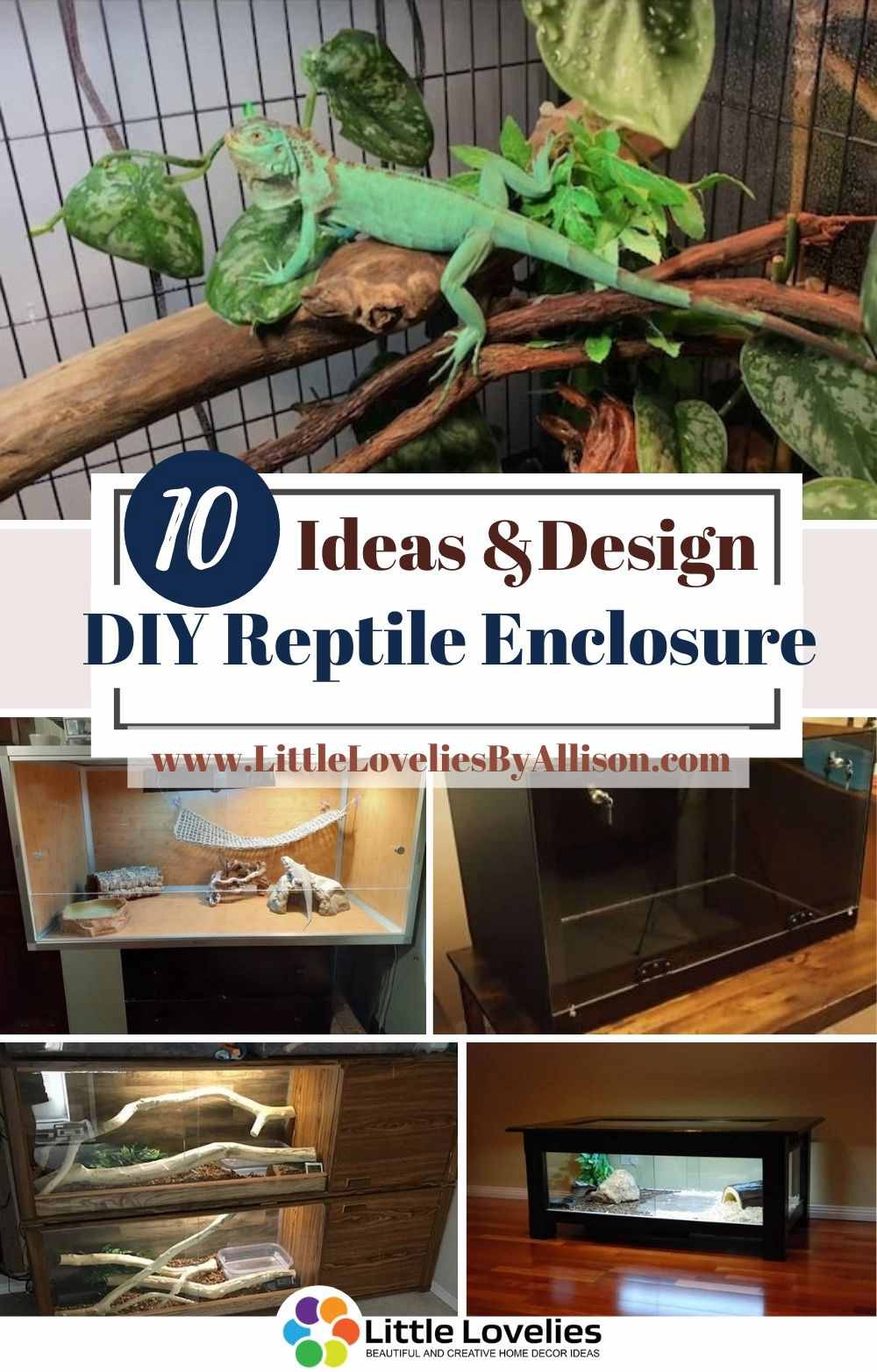 What do you need to consider before choosing a DIY reptile enclosure Plan?
When you put their comfort and safety first, reptiles grow healthily. Besides, you want to make the transition of your pet from the store it was purchased to a permanent abode easy. So, before you go ahead to take your favorite reptile from the store, make sure you put its habitat in place and in the right condition.
So, you need to consider the following factors:
Body type
Reptiles have their bodies covered with scales, so they need a space that's comfortable. And good enough for their skin. Beyond that, you also need to consider tail length. Your reptile may not have a big body, but what about its tail? Since reptiles love to move across large distance, be generous to provide the right amount of space within the enclosure you choose.
Lighting and heat
Reptiles are cold-blooded; can't control their body temperature nor can they produce needed heat. It's important that you make plan for appropriate heat and lighting in your enclosure plan.
For example, most frogs and lizards require about 75 – 90% dampness. On the other hand, reptiles like corn snakes prefer 30 – 50%. And most reptiles need heat between 70 – 85%.
At the same time, you plan your lighting with regards to when your pet is usually active – day or night?
Size
When choosing enclosure materials, you need to put the size of your pet first. If you are starting with a young reptile, remember that it'd grow and you don't want to be stressing over another enclosure as it grows.
Location
Where will you be placing your reptile enclosure? If it's going to be at some spot where visitors can see when they enter your space, then the type of enclosure you choose must consider those who have allergies or phobia.
Better still, have an enclosure with wheel. That way, you can easily move it about.
Goal
Are you keeping reptiles as a pet or mere showpiece to add aesthetic to your space? The goal will determine the design of your enclosure.
However, whatever your reason, I advise that you put the comfort of your pet first.
Natural environment of your pet
Depending on the nature of your pet and the goal, you have to pick an enclosure that gives room to essentials like logs, trees, rocks, plants, substrate, and relative theme.
For example, to make the cleaning of your pet home easy, you must choose proper covering for the bottom of your enclosure. Seek expert advise from the seller of your reptile.
Although there's never a place like a reptile's natural habitat, you have to be close to providing nothing but the best.
Secure lid
Don't we all agree that there's no place like home? The same is true for animals, especially reptiles who are good at making subtle escape. So, you need to choose enclosure cover that beat your pet's teeth and claws.
10 DIY Reptile Enclosure
1. Repurposed DIY Reptile Enclosure Plan
DIY reptile enclosure plan could seem a task if you lack carpentry skill. But you need not worry. You can simply repurpose old cabinets as long as it's spacious enough to house your pet like this creator in the tutorial below..
A cabinet with 72" high, 20" wide and 18" deep specs will do. Since it's a cabinet, the sheet at the back will more likely be thin. So you have to replace. Depending on the former use of the cabinet, you may have to fix a glass.
2. Upcycled DIY Reptile Enclosure Plan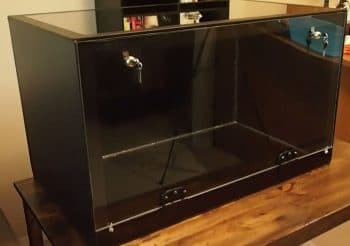 This DIY is so easy and you won't miss it if you pay attention to the video attached. Some of the materials which you need for this work are GE silicone I, acrylic sheet for door, painters tape, mineral oil, 3" door hinges x 2, polyurethane stain, door panel clips, class cutter, sandpaper or fine steel wool, among others.
Guess the amazing thing about this work? You don't need nails.
3. Easy DIY Reptile Enclosure Plan
If you want to make 4ft x 2ft x 2ft dimensions, this is for you. This is yet another simple money-saving DIY reptile enclosure. Some of the materials you need are Plexiglas, spray paint, cabinet screws, 2 by 1 boards, project board to support by the sides, among others.
You will also need a fat and smooth table to work on. There is a tutorial below to guide you but note that it's not a step-by-step video. I hope that it inspires you to create the most comfortable enclosure for your pet.
4. Iguana DIY Reptile Enclosure Plan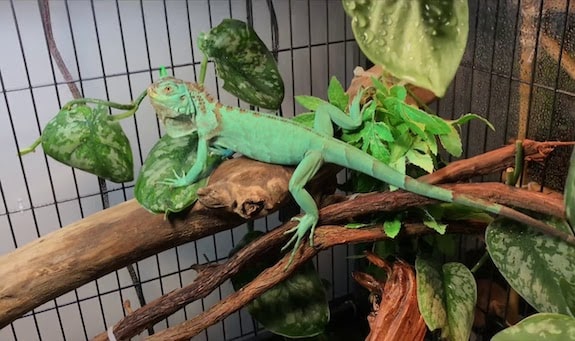 Even when you have the money, you may not find the enclosure that meets the spec of your iguana. Iguana reptiles usually outgrow their space in less than a year So, you have to do-it-yourself.
As you will learn in this tutorial, your enclosure needs to be 6 ft. high, 3-6 feet wide, and 10-12 feet long. Because of the natural habitat of iguanas, the enclosure need to accommodate trees with perches and branches for climbing, hence the height.
5. Aussie & Python DIY Reptile Enclosure Plan
Do you love to keep pythons or its species? This is another low-cost DIY reptile enclosure plan that you can follow using old glass and windows.
Some of the tools you need are 2400 x 1200 x 16 mm melamine sheet, 1200 long glass track, drill, jigsaw, hacksaw, handsaw, and screwdriver, among others. And you need nails of 20 mm x 1.25 mm.
6. Plywood DIY Reptile Enclosure Plan
This DIY reptile enclosure plan is suitable for any specie. And can be modelled for various need of your pet. You can have it for a desert or tropical theme, so it's versatile.
With basic carpentry skill and patience, some of the materials you need are plywood, circular saw, glue, and construction screws, among others.
This enclosure works for you if you are yet to make up your mind about the specie of reptile you want to keep.
7. Bearded Dragon DIY Reptile Enclosure Plan
This enclosure is 4' wide x 2' deep x 2' tall and is ideal for any adult bearded dragon. Some of the materials you need are 1 sheet ½" Baltic birch plywood, ¾" x 1 x 8' poplar, 2 -⅛"-¼" Plexiglas, 1-¼' screws, poultry fabric, cordless drill and screw-gun, among others.
Have a good surface to work on and you won't have a problem putting amazing finishing touch to your enclosure.
8. Modern DIY Reptile Enclosures
Are you looking for a movable DIY reptile enclosure plan? Then this is the tutorial you should see. It's nothing hard, all you have to do is get your measurements right depending on your pet and its potential growth.
Some of the materials your need are form ply, screw, wheels, sliding doors, gloss, tracks, and silicone, among others. Also, you need a smooth surface table to work on.
9. Hardwood DIY Reptile Enclosure Plan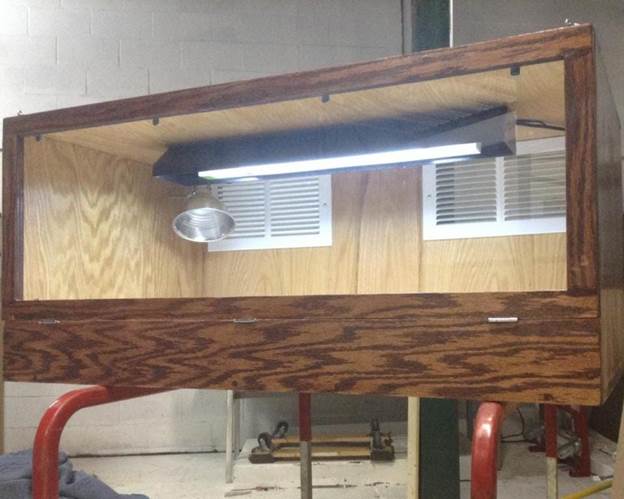 DIY for the first time is usually tasking without any carpentry skill. But what I've noticed is that it's easier to wrap one's head around if someone who had only tried it for the first time is at the teacher's seat. You know what I mean?
Some of the materials you need are plywood, circular saw, glue, screws, heating vents, and glass.
The creator has made it detailed. If you follow through patiently, you will soon have your enclosure to boast of.
10. PVC Snake DIY Reptile Enclosure Plan
This is a DIY reptile enclosure tutorial that helps you build like a professional.
Materials needed are pvc sheets, pvc trim, jigsaw, pvc glue, screws, holes drill, hinges, window locks, cap nuts with bolts, and Plexiglas among others. Make sure you have a smooth flat surface to work with.
As you work and make hole into the glass, be patient and careful.
Conclusion
Following proper management specifications is important for the comfort, safety, and health of your pet. Be inspired to build the best DIY reptile enclosure plan.
Consider the factors listed in the second part of this article before you pick a DIY plan to use.
Put comfort first.
Endeavor to recreate something close to your pet's natural environment.
Consider size and potential growth.
Should you have any questions, you can send us a message anytime.