Rave fashion has undergone a lot of changes over time and even as dance and music have. The fashion was influenced by LA's roots in hip hop culture towards 2000.
Making a rave bra has to do with how creative you are. Basically, you need to purchase gems and pearls and then creatively stick them on your bra. In this article, I have put together 15 DIY rave bra projects that will inspire you to create the perfect rave bra.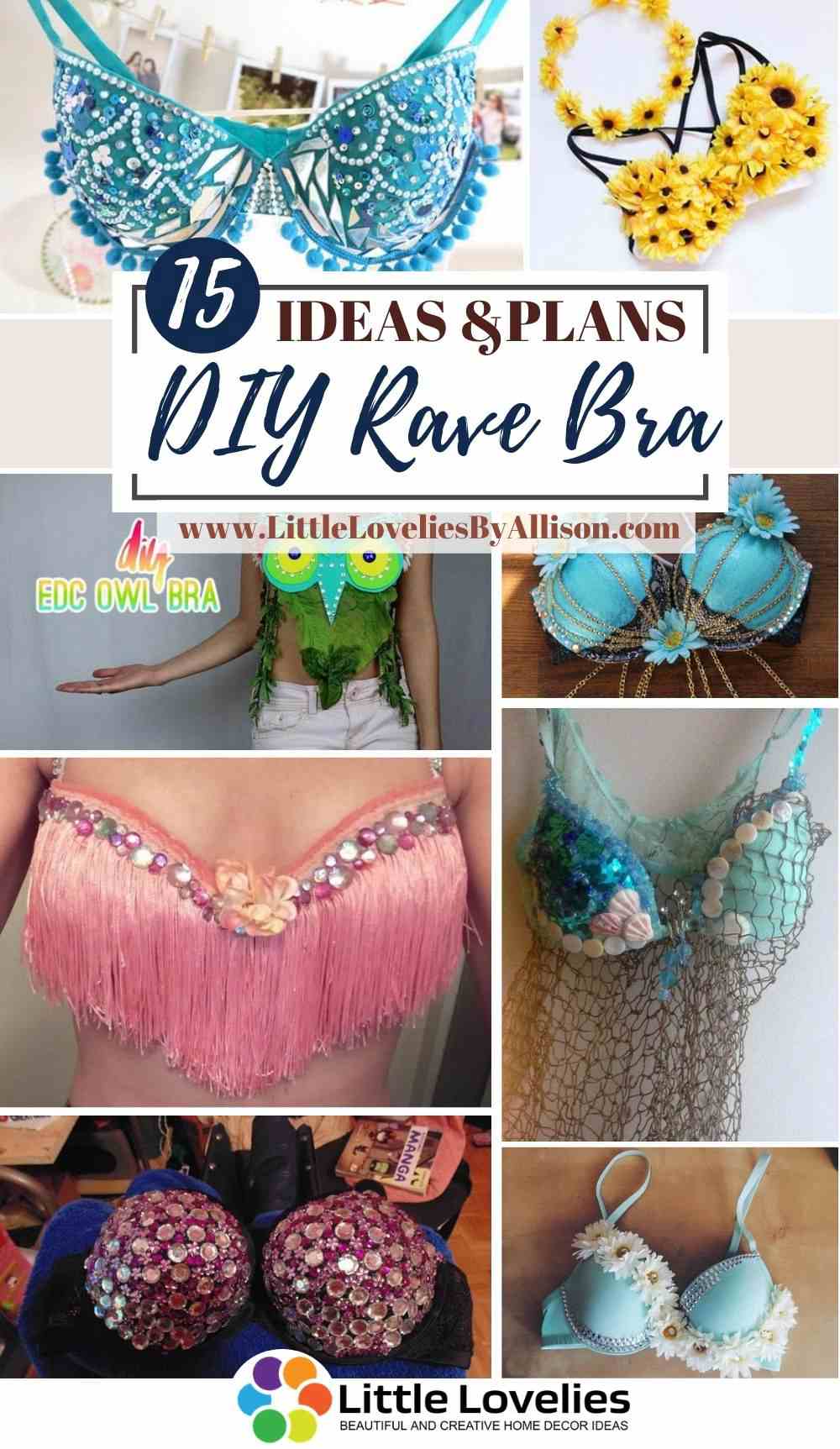 1. Mermaid Rave Bra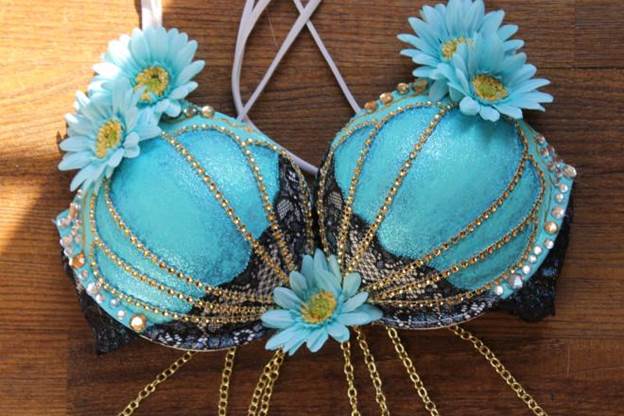 This bra does not really take so much time to make, it also will require the use of affordable materials. You may need to get a new bra if the old one you have is not in good condition. Other supplies are; fake gems, diamond ribbon, glitter paint, acrylic paint, gold chains, fake flowers, glue gun, and glitter glue.
If you are making the DIY rave bra and the color of the bra you want is the one you have then you will not need to paint anything. Trace some lines on the bra where you will love some fixtures to be done then finally add your embellishments.
2. DIY Rave Bra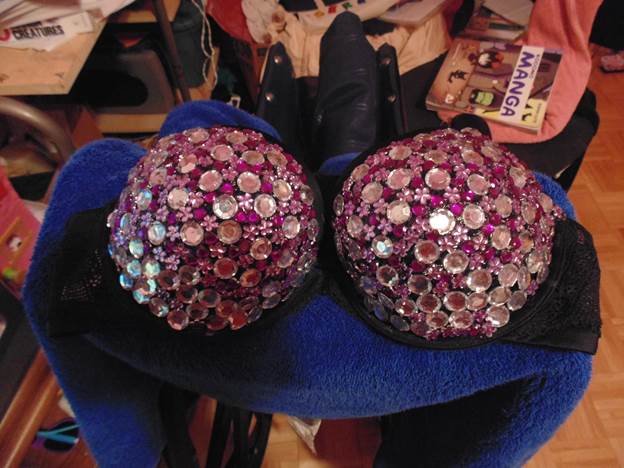 For your rave party, there are amazing patterns you can use to make your signature and you can always do it by yourself. The materials are very easy to afford and get.
For starters, you will need to get a bra, I would suggest using black because black goes with a whole of other colors. After getting a bra ready, the next step would be to add the jewels to the left and right side of the bra. You can do this by using glue. Making this rave bra is pretty straight forward. You can do it with any jewel of your choice. As an add-on, you can use feathers.
3. Festival Mermaid Rave Bra DIY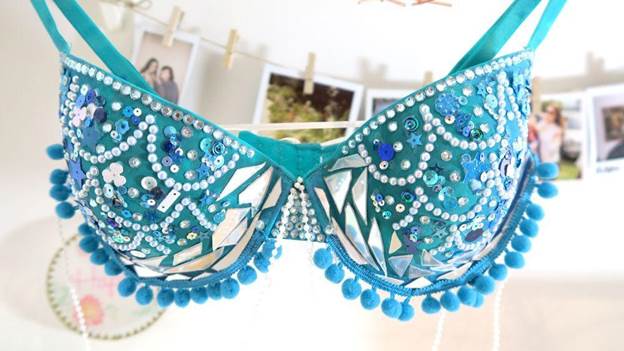 This rave bra is adorned with bright colors and it is really adorable. While you are bent on using this color, be ready to use other costumes that match perfectly. This can be easily done and you will not need to break a leg for your party.
This is made of sequins to make it look sharp and bright. Just get a bra in the desired color then go-ahead to fix up the sequins. Try to arrange them in an orderly manner so it will be easy and look more adorable.
4. DIY Daisy Rave Bra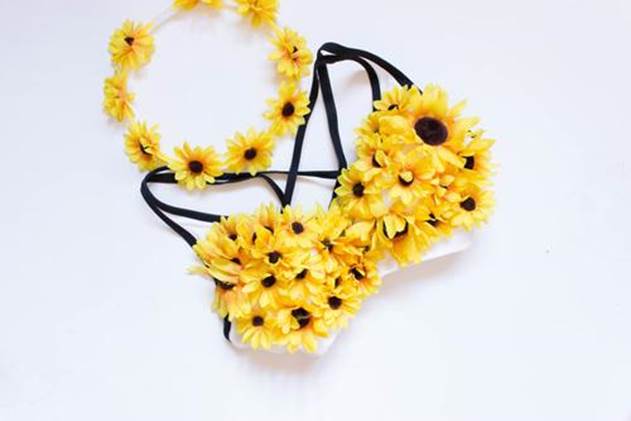 This is a rave bra made from sunflowers imitation. They are bright and yellow and they are classic enough for the event.  This is made of pure fake flowers and some glue. Attach the flowers to the bra carefully. For the strap, attach the flowers to a glow stick but make sure they are evenly spaced out. Then fix properly.
5. DIY EDC Insomniac Owl Rave Bra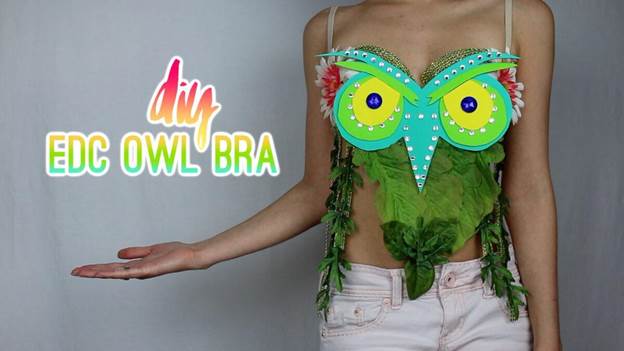 This is pretty much fun to do and will need some level of concentration. It's a depiction of an owl in a bra. The base of the bra has an attachment with green leaves making it like a crop top. It makes you look like mother nature.
You will need decorative ribbons, fake flowers, foam sheets, sticky gems, hot glue, glue sticks, and a cutout owl. For the owl, you can either make one or get a pattern online. To make one, you will need to cut the eyes in three layers, the eyebrows, and some glitters to do the outlining. Then attach the lower layer.
6. DIY Golden Goddess Festival Bra Top
This rave bra is really shiny and it begs for a lot of attention. If you have a dark or bright color bra then it's fine. This is more like a top than just a bra. It is a no glue DIY rave bra. First cover the bra cup with lace. You don't need to use glue for this because you can always use a needle and thread to tack along. Attach all the extras carefully.
7. Festival DIY Sparkly Red Rave Bra
This is a comfortable half glitter and half-bow bra. The first half will need you to spread glitters all round then the other half
Attach the glue on one side of the bra and spread out evenly. Pour on your glitters on the glue. And take off the excess. Make another layer of that. The other side will use a bow at the base of the cup. On the white plain part, you can add some stones.
8. DIY Fringe Rave Bra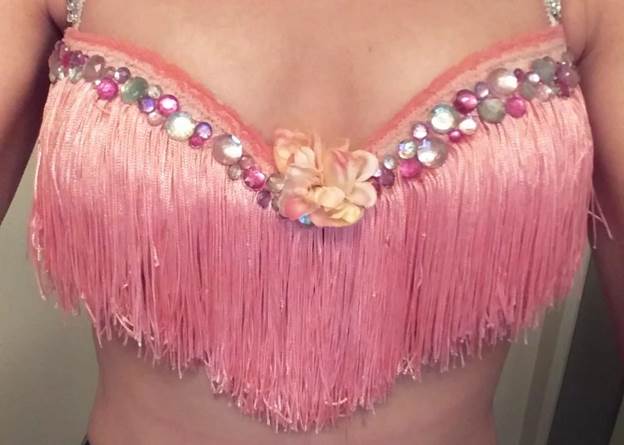 This peach fringe DIY rave bra is really exceptional. While wearing it, it can often sway from side to side and will definitely keep people staring at you.
You can either choose to repurpose an old bra or you get to purchase a new one from the store. The first step is to pin the fringe in shape with two layers and sew it on the bra. Add the jewels, flower accents, and trim. In a few minutes, you will be ready to put this on.
9. DIY Rave Bra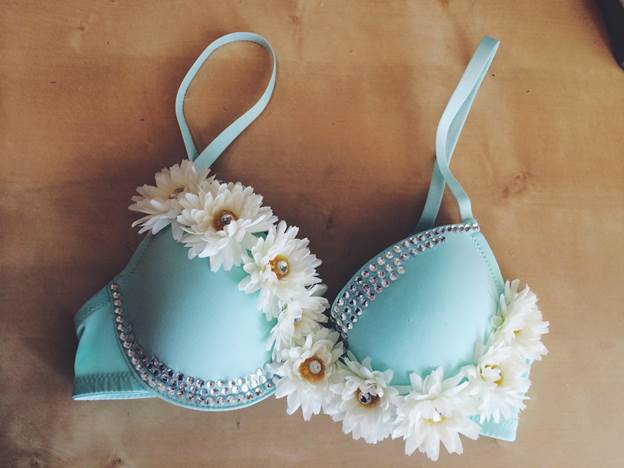 This half flowery DIY rave bra is extraordinary. There are white petal flowers and stones that cut across the top edge of one cup and cross over to the bottom of the next cup.
Fixing the materials on the bra should not take so much of your time but you need to fix it with a lot of care. Attach the petals one by one and do the same for the stones.
10. DIY Mermaid Rave Bra
This DIY mermaid rave bra has a couple of attachments and it resembles the Disney cartoon, the little mermaid. Start with painting the bra. The idea is to be creative. The next thing is to attach cut out pieces of a CD to the sides. You need to be extra careful with the sequins and stones.
11. DIY Butterfly Rave Bra
This is a no-sew DIY rave bra that uses a lot of flowers to brighten it up. The flowers are poured all around to give that drip and glow. You can easily pattern it the way you want. When the flowers spill over below, it will easily look like a top.
12. DIY Mermaid Costume Under $50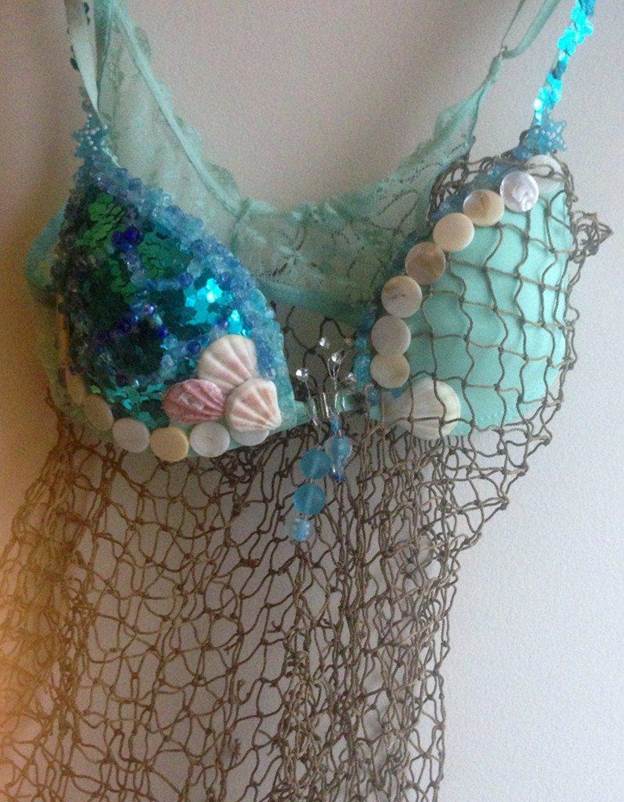 Guess the most amazing part of the whole gig, you can get this done for less than $50. The blue part of the bra can be customized then there is a brown net that drops. This mermaid costume can be made using strands of various beads and small gemstones. Nets, shells, and sequins are also used to make it more glamorous.
13. DIY Festival Bra
This has some strings of beads that fall over on the downsides and make it even more attractive. You can start by attaching some trim over the top of the bra. You can attach a contrasting color below the first one. You can leave some strands of beads between the layers. The soft feather will even give it a great feel.
14. DIY Electric Forest Inspired Festival Outfit
This forest-inspired bra typifies a forest in actuality as it takes various shades of green plants.
For the bottom, you can attach the leaves to an elastic. Fit in as many as you need in layers. In the end, you can detach the elastic when you want to. You can easily get the green artificial roses from a store.
15. DIY Rhinestone Bra
If you love to play with stones then this DIY rave bra is for you to recreate. This bra has variants of stones and they glitter to make an even exciting event.
You can choose to get an old bra or purchase the one that will be the best color for you and the perfect size. The different materials you will use for this project, you can get it all online. Begin by forming a curve on the underwire of the cup.