Gardening can become easier when you switch it to a raised bed. Think about it, you do not have to till or weed, and it even looks nicer with more benefits.
Plus, you get to give your backyard an aesthetic ambiance with a beautiful raised bed design. A raised bed doesn't have to be expensive. You can create something beautiful by yourself with just a little effort and creativity. You don't have to spend over $100 to get an already made raised bed.
You'll also have to agree that food is the most important aspect of life. You have to ask yourself why you try so hard to make money if not for the purpose of providing food on the table. Oh, yes! I know you use the money for other things aside from food, but if you don't eat, how can you achieve your NEEDs and WANTs? Thus, to keep fit, you have to eat healthily.
One of the ways to embark on this HEALTHY journey with me is to grow your own vegetables.
Don't fret!
Raised bed gardening is really easy to manage and great for beginners. No stress at all, and anybody (no matter how busy you're) can handle it.
In this article, I have 85 DIY raised garden bed ideas for your subsistence gardening. You can try any one of them for your backyard. In no time, you will start collecting fresh and safe food for your household.

The Different DIY Raised Garden Bed Ideas
Simpler Wood Bed Designs
1. Double Tier Raised Bed
This unique raised bed comprises two steps, and you can plant on both steps. The taller plants should go to the bottom tier, while the shorter ones should be planted on the top tier. See the plan involved in making this raised bed.
2. Wooden Bed By Thrifty Fun
This garden bed is pretty easy to make and doesnt require much. Follow the process in this tutorial to know how it's done. Measure your space to get the size you want for your garden bed and cut the wood to that size. You can have your wood cut at a wood store if you're not comfortable doing it yourself.
3. Simple Raised Bed with 4 X 4 Posts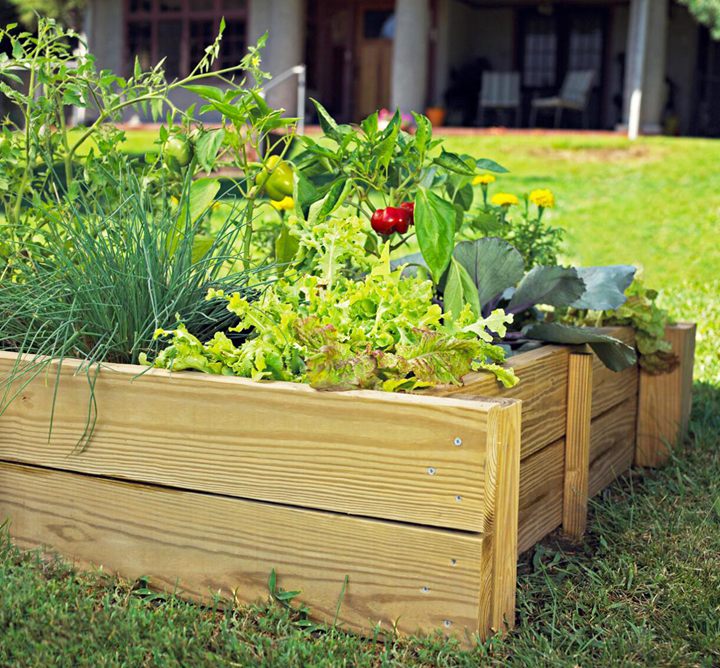 This easy-to-build raised bed still follows the same basic steps involved in making a square or rectangular raised bed. The type of wood used here is cedar wood, sine it is durable since it's rot-resistant. The board size here is 2 X 6 board accompanied with 4 X 4 posts.
4. Raised Bed with Metal Fence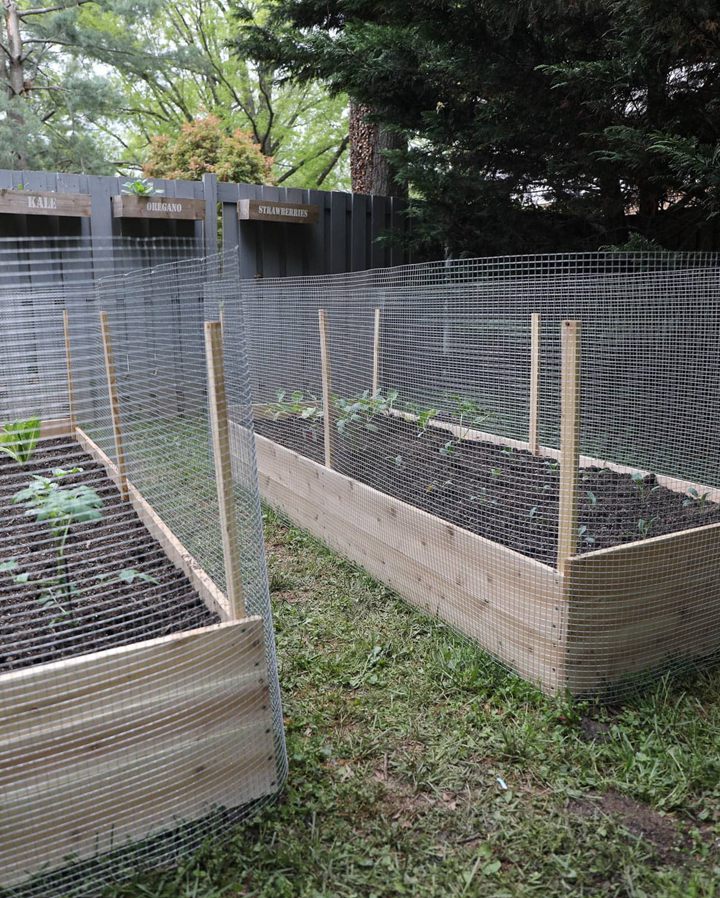 If you have pets, you should consider adding a metal fence to your raised bed to protect your crops. Also, you can protect your crops from any other wildlife aside from your pets. Here is the plan on how to build this raised bed and install the metal fence.
5. Stacked Wood 6X6s Raised Bed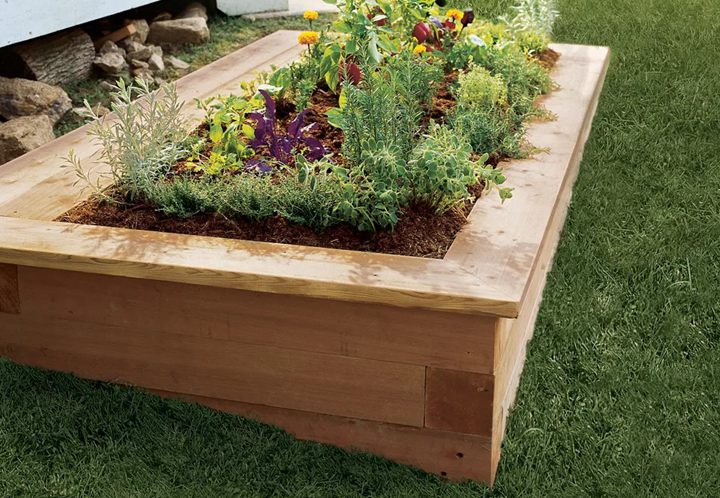 You know, some people love to go all out for the things they love. If you're one of them, then you should try this beautiful and carefully constructed raised bed. It involves assembling/stacking your wood and then the final layer is the cap railing. Here is a how-to tutorial.
6. Summertime Raised Bed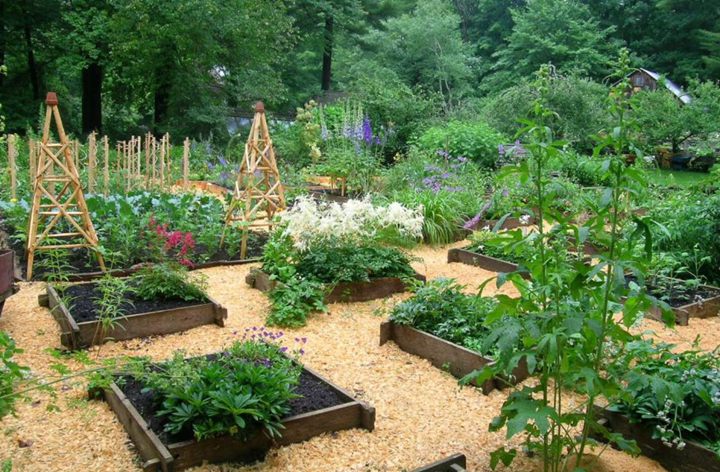 This raised bed is built in such a way that the sides have interlocking corners. No tutorial source is available.
7. Raised Bed that Keeps Animals Out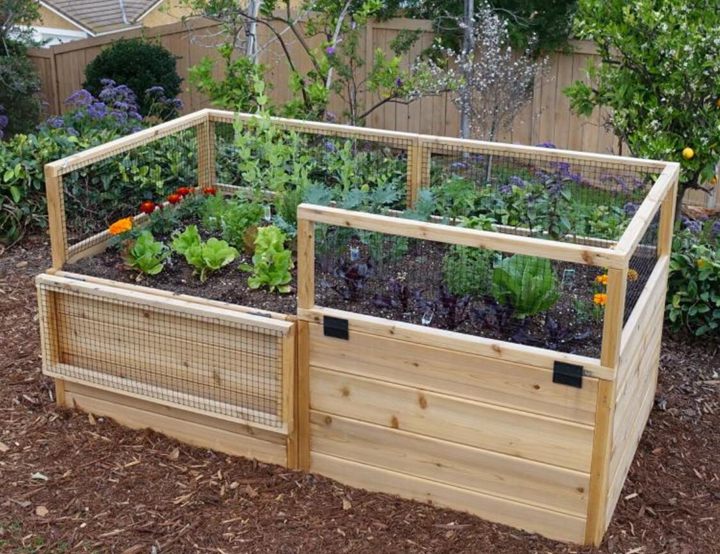 This is another perfect raised bed if you have these unwanted visitors lurking around (squirrels and rabbits). No tutorial source is available.
8. High Raised Bed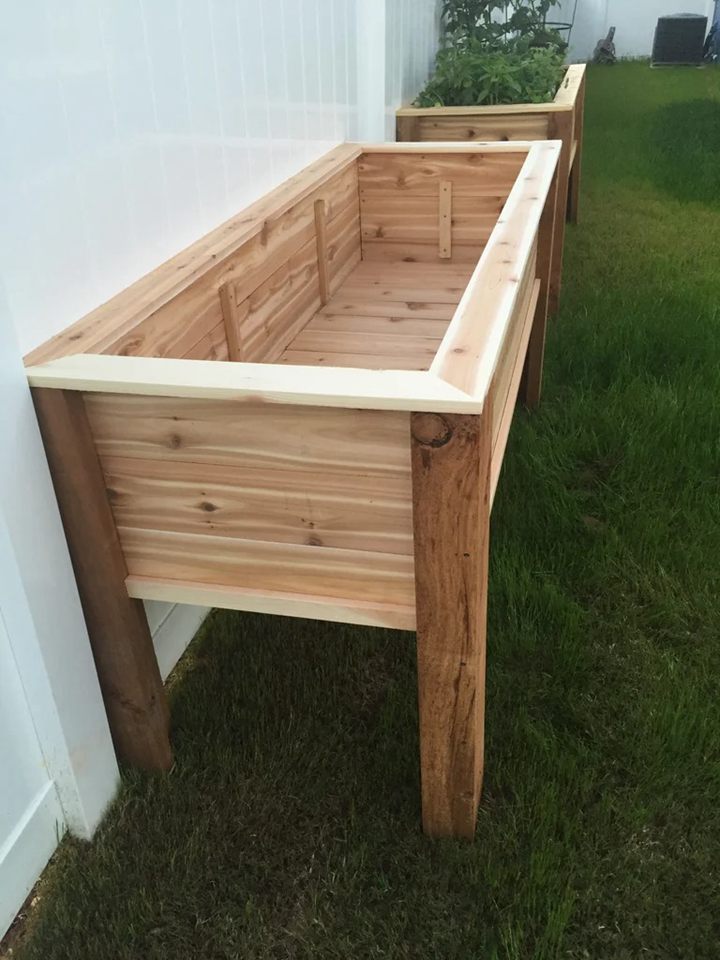 Follow this tutorial to recreate this, but this time without the legs.
9. Mick Telkamp's Cheap Raised Bed
Want to learn how to make this? Follow this process to build any size of raised bed for your backyard.
10. Cedar Raised Bed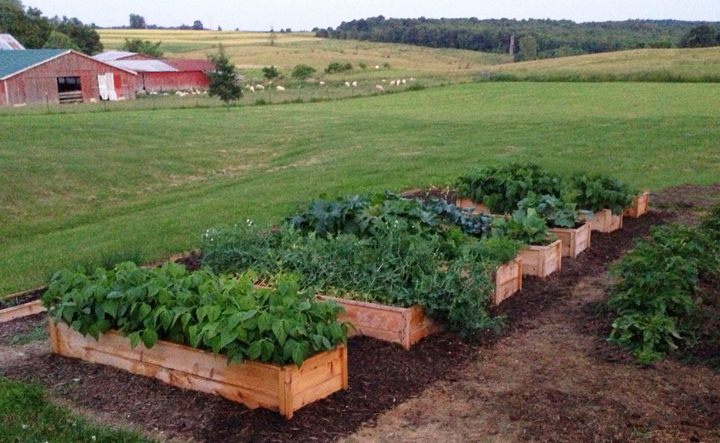 Even when you are not an experienced builder, you can take up this DIY project with no issues. Here is how to build this.
11. Raised Bed with Trellis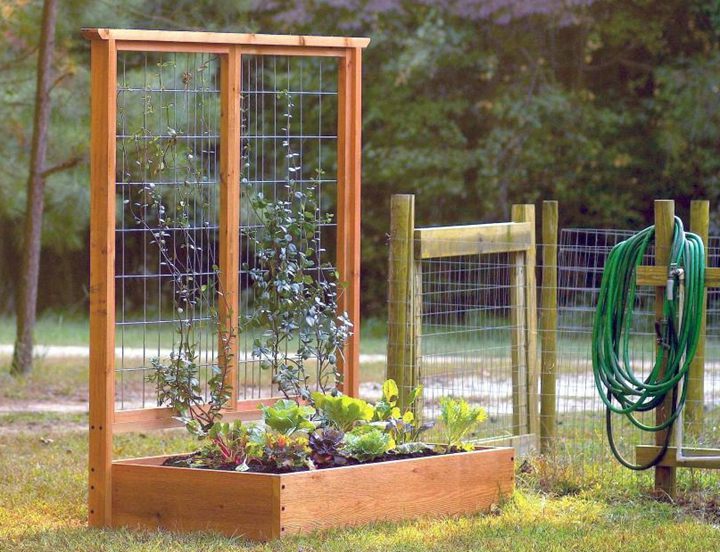 If you want to grow crawling crops also like cucumber and the rest, you can try this. Here is how to embark on this project.
12. Square Raised Bed with Seats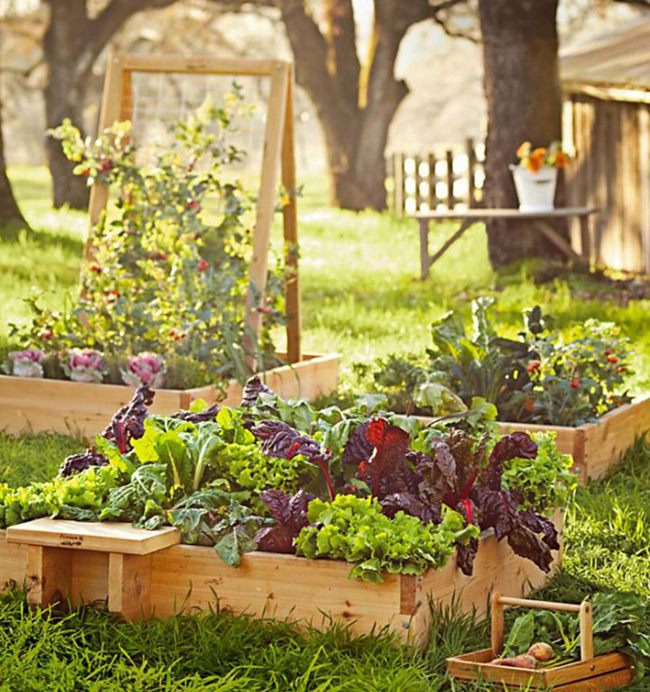 Follow the same step here to build this square raised bed, also cut out pieces of wood for the seats, and then join them together.
13. Higher Raised Bed with Benches
I bet you want to have this too! And you know what, you too can own one. All you have to do is follow this DIY tutorial to create yours, and everyone won't be able to take their eyes off your garden.
14. Box Design Wood Raised Bed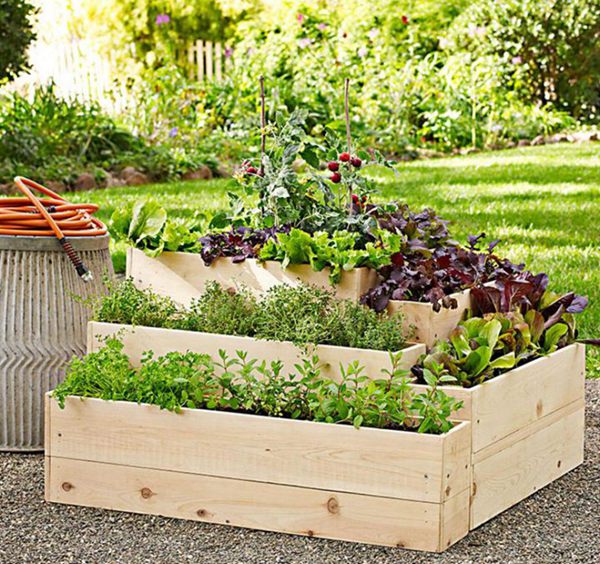 To make this, make narrow boxes of varying heights, stack them together then fill them up with rich soil. Now, your boxes should be sturdy. You can plant any veggies on them. You can place this on your patio or porch (no tutorial available).
15. Tiered Raised Bed Planters for Patio or Porch
You can decide to try something different by building this ladder-shaped planter for your vegetables. Another advantage is your garden will also be mobile. You can always change the position if need be. Get the processes involved here.
16. Step Wood Design Raised Bed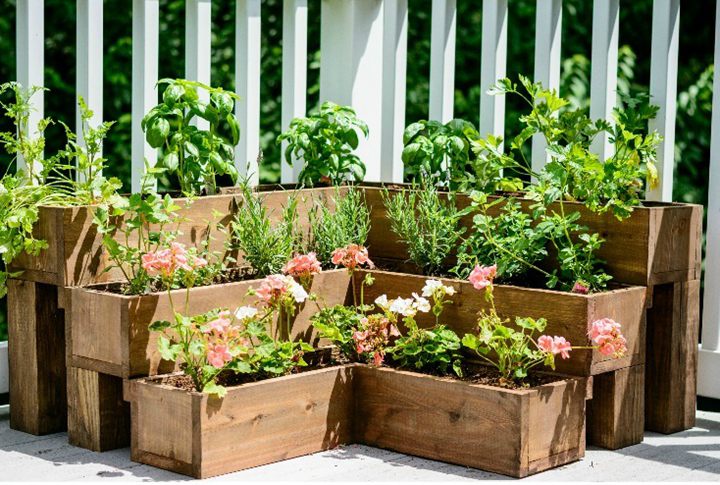 Follow this process to recreate this and come off as a professional in the eyes of your neighbors. You will leave them wondering how you were able to pull this off on your own.
17. Wooden Bucket Raised Bed
With this oversized wooden bucket, you can also grow your crops in them. This raised bed is simple and easy. No tools are required! No digging required! How easy can it get :)? Source.
18. Striped Garden Bed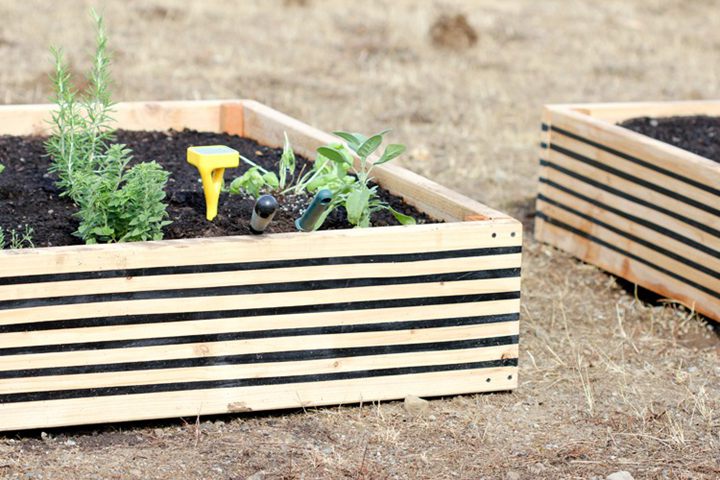 Add a bit of style to the traditional basic raised bed. This will help add aesthetics to your environment. Here is how to build this bed.
19. Square Foot Garden Bed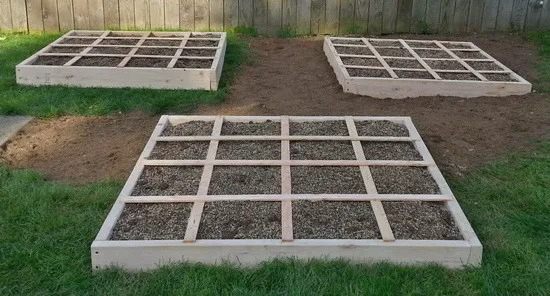 If you also want to divide your garden into different subsections because you want to plant certain vegetables in each section. This is for you then. Hence, after building your square garden, use a wood frame to place on top of your raised bed.
20. Hoop Garden Bed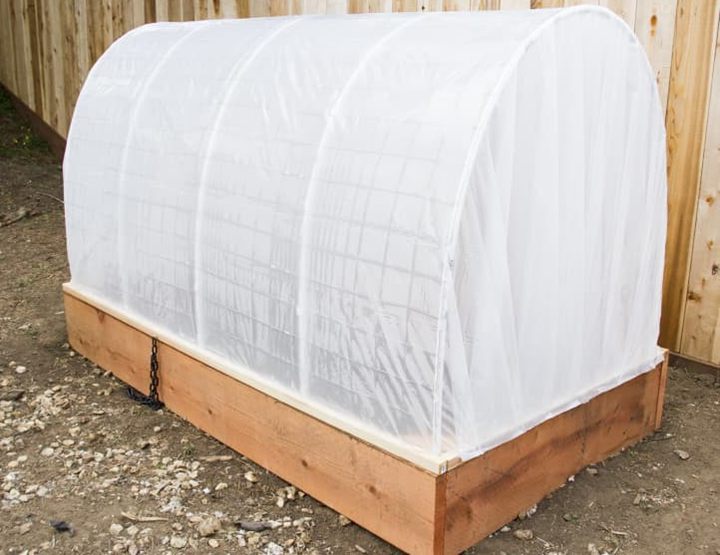 This is an all-weather raised garden bed. To create this, see the tutorial here.
21. Reclaimed Wood Bed
I love when we let nothing go to waste. This old wood was repurposed, and it's giving this garden a rustic charm. See the plan on how to build this raised bed.
22. Subdivided Bed with Trellis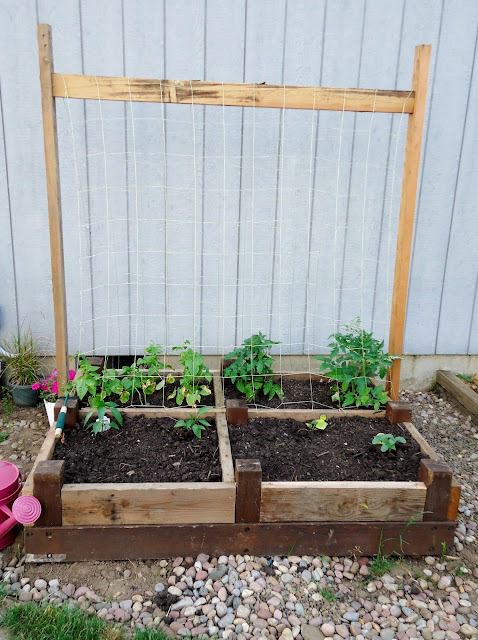 This subdivided raised bed is a good way to keep your bed organized. You can divide it into any number of sections. The trellis there is to help cover crops thrive. Source.
23. Wooden Planter
If where you are living is confined by HOA regulations, you should follow this tutorial to build this simple raised garden.
24. Fence Line Bed
You can build this by the side of your fence too. See the plan here.
Waist-High Beds
25. Table Bed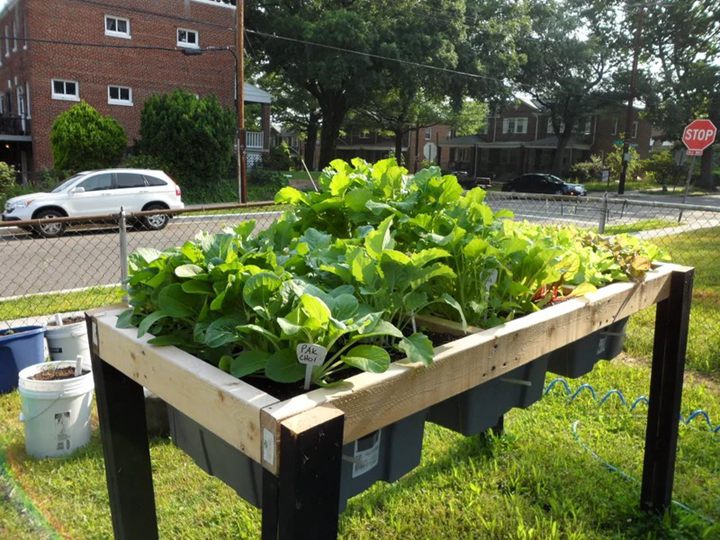 If bending hurts your back a lot, here is a tall, raised bed that will not require any bending. Check this tutorial to learn how to create this raised bed for growing lettuce and other crops. Not only does it seem easy to make, but you will always have fresh veggies at all times.
26. Raised Bed From Upcycled Table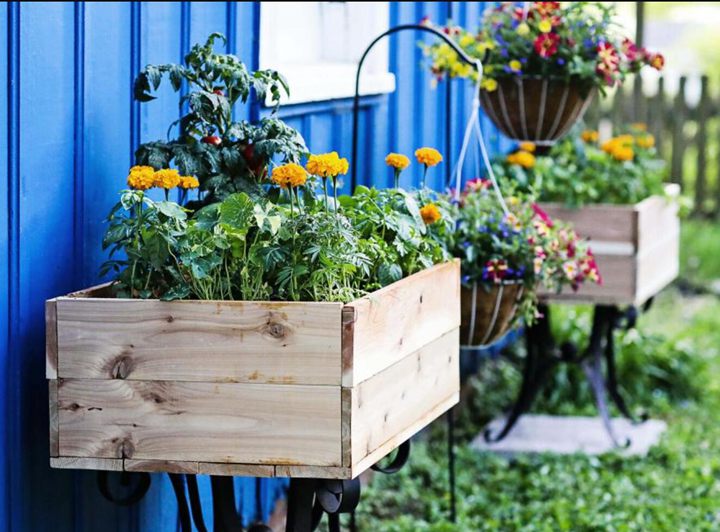 This was made from an old table. No tutorial source is available.
27. High Bed With Tub Inserts
You can build this to your waist-high level depending on your height if bending hurts your body. Check this tutorial to see how this raised bed was made.
28. High Moveable Bed
This is a good solution if you do not want to bend too much when gardening. To build this, you can follow the steps listed in this tutorial.
29. Simple Bed with Legs
This is another variation of an elevated planter with legs. If you would like to try this out, you can find the tutorial here.
30. Elevated Wood Planter
This beautiful planter was achieved using wood pallets. If you would like to recreate this too, here is a how-to tutorial from Instructables. If you want to play around a bit with yours, try coloring it. Guess what! Anyone who sees this raised garden in your backyard will instantly fall in love with them.
31. Wall Hugger Planter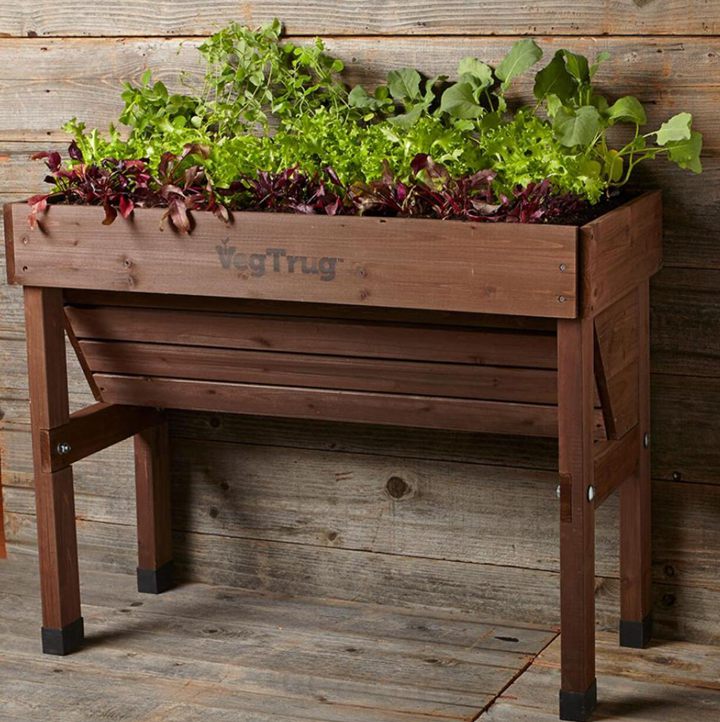 This is a different variation from the elevated wood planter. You can follow the same process to create this, or better yet, you make your own changes to customize yours.
32. Wood Bed with Trellis By Anika's DIY Life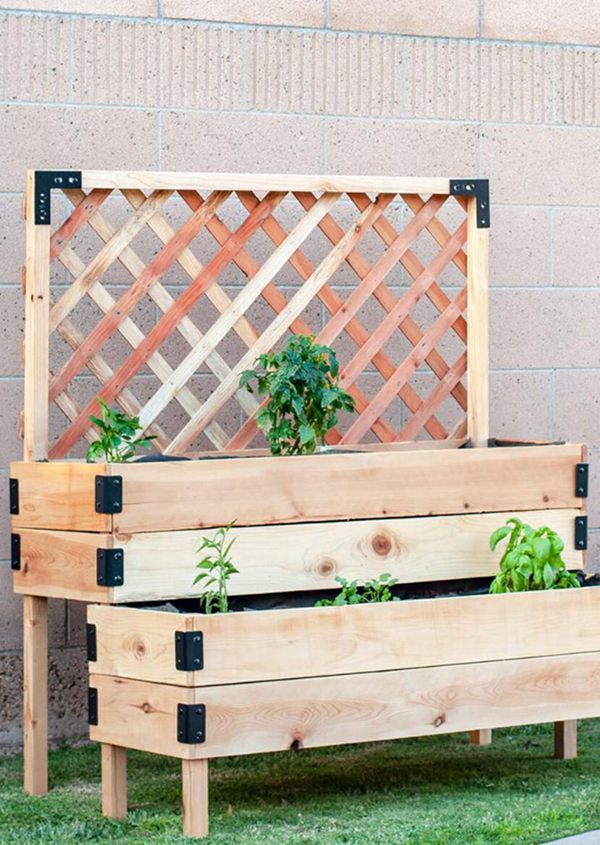 This is a nice way to manage your space if you have limited space. With this design, crawling plants will grow properly. If you want to try this out, here is the tutorial on building this raised garden bed.
33. Raised Bed Combined with a Chicken Coop
If you have chickens, then you could put one stone to kill two birds with this amazing design. This design features the garden on top and the chicken coop below. Build this project with the tutorial.
34. Upcycle Table as Raised Bed
This old table was turned into a raised garden bed. To do the same for your old table, check this tutorial for guides on how to begin the process.
35. Tall Rectangular Garden Bed
Here is another tutorial on how to build this beautiful waist-high level raised bed which will be easy to plant and weed for everyone.
36. Space Saving Raised Garden Bed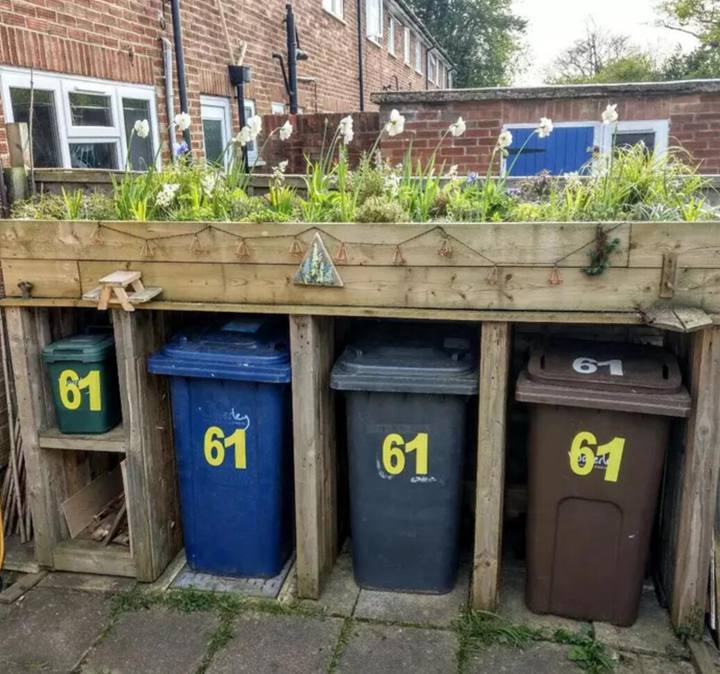 If you have limited space, you can build your raised garden in such a creative way, so it serves another purpose for you. This creative design is made using reclaimed wood that features the garden on top, while below is a storage area for trash bins. Source.
Fabric Beds
37. Round-shape Fabric Planter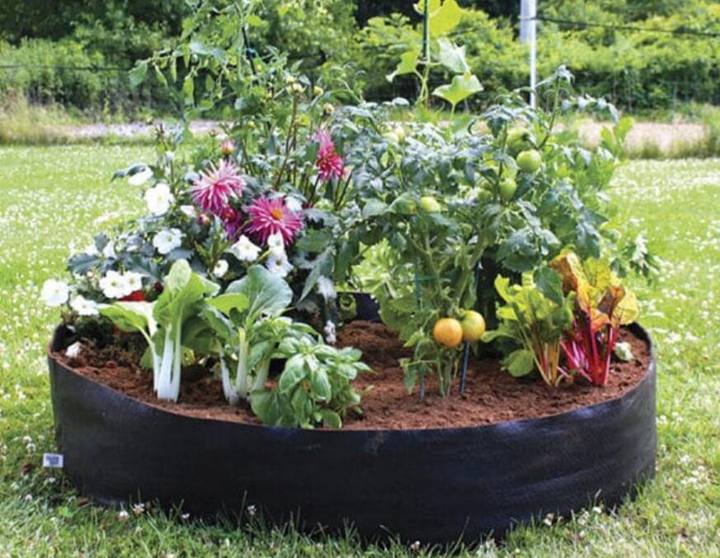 Don't you just love this! This garden does not even require any building skills. This big bag fabric planter costs $35. The fabric planter comes in different sizes, so you can get any size you need. Here is a video on how to use this fabric planter. Another option is to purchase a mulch cloth instead of buying the fabric planter. Therefore you can make your choice by finding out which is cheaper for you.
38. A Bag Raised Bed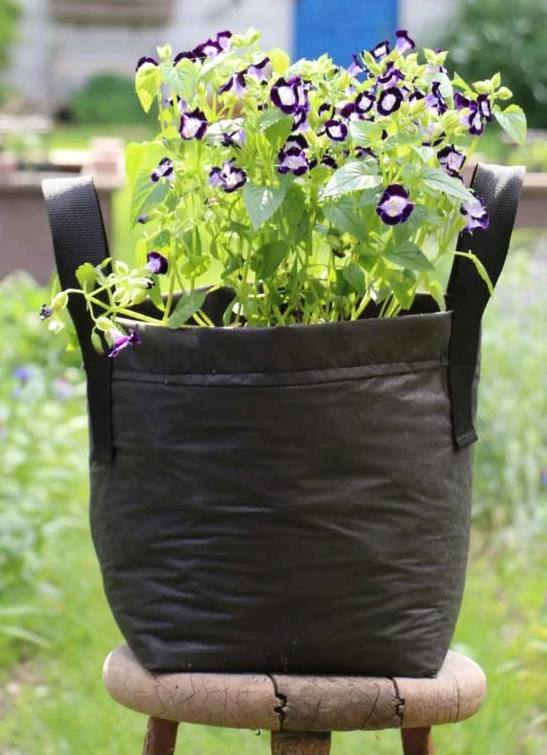 If you love sewing, you shouldn't be looking for wood to construct a raised bed if you dont want to. Simply sew a bag for your raised bed garden. You can achieve this by following these steps to sew any size you wish.
39. Square Bed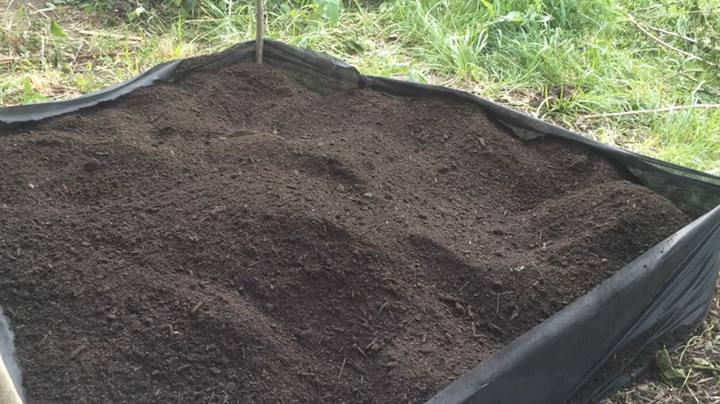 For this square fabric raised bed, a mulch cloth was used. You can purchase one from a dollar store to make this type of garden bed. Here are the steps involved in this project.
Other Decorative Raised Bed Ideas
40. Cinder Block Filled with Soil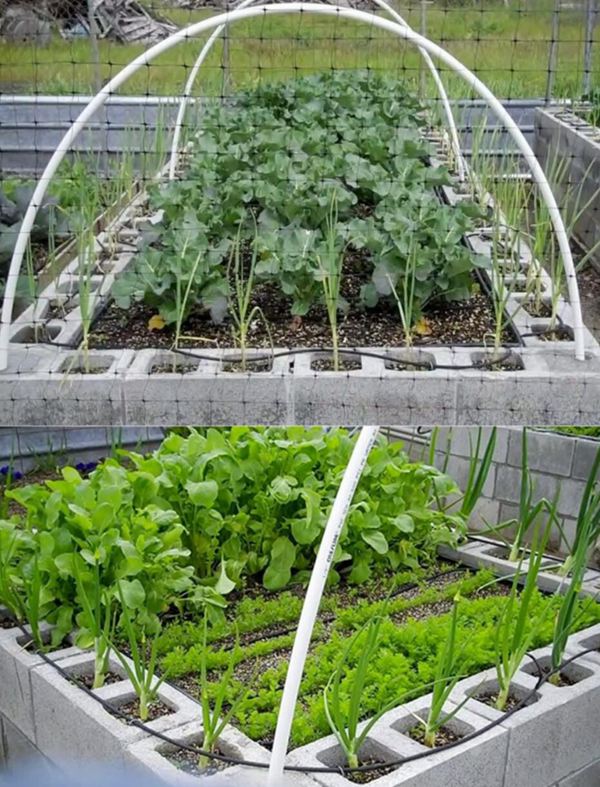 The blocks are filled up with soil to make them sturdy and also serve as an additional space to plant. You can try this out too.
41. Pallet Raised Beds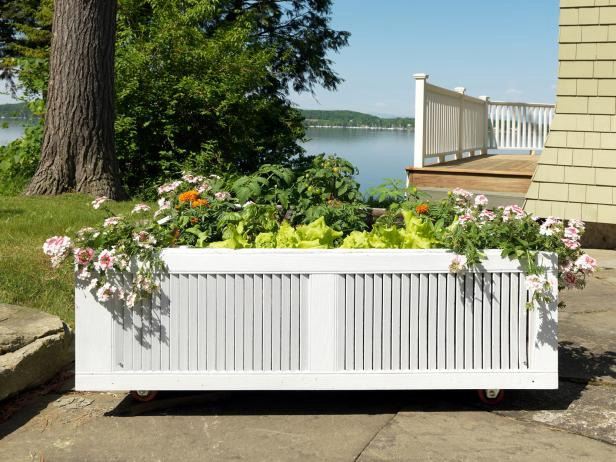 This raised bed was made with wheels, so it could be easily moved anywhere. Once you get all the materials used for this project, you too can make this by following the steps in the tutorial. After building the garden's cage, the sides were decorated further by adding shutters to them and this gave it a unique look.
42. Apartment Style Raised Bed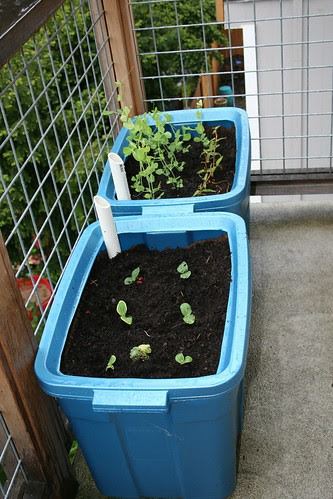 If you literally have no space at all, you could try this custom apartment-style raised bed. Source.
43. Terracotta Pot Raised Bed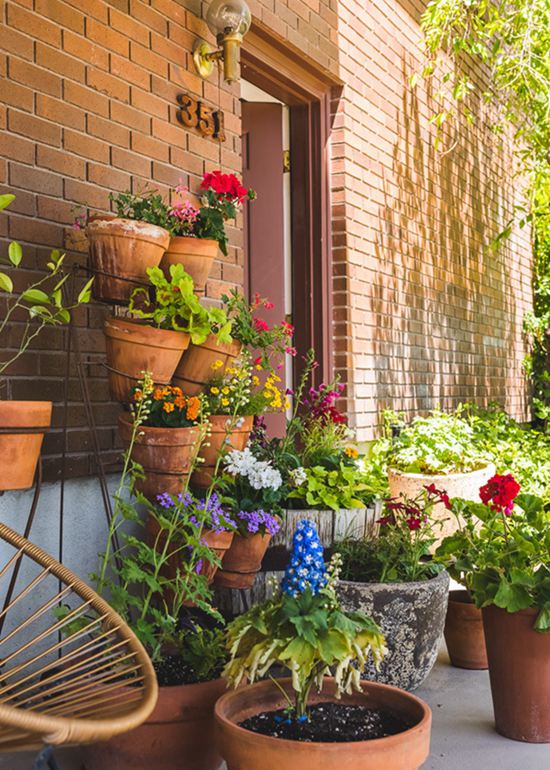 Do you only have patio space in your home? You can also make good use of it too. Use terracotta pots to make raised beds. You can have as many as you want and plant any crop you want. Source.
44. Galvanised Tub Raised Bed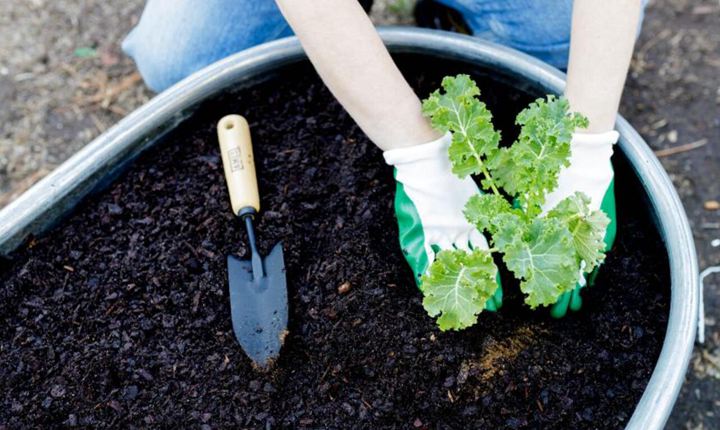 If you have any galvanized tub at home or you ever come across one in a garage sale, do not let it slide. Pay for that treasure and take it home, dear! That will be your next raised garden bed.
45. Constructed Vertical Garden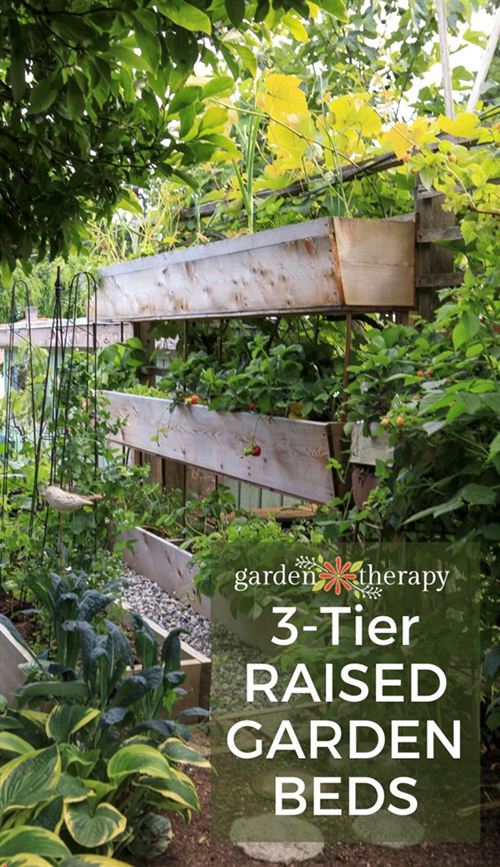 This is another perfect and creative design. If you don't have enough space in your environment, this is something you should hop on. Plus, your back and knee will thank you alot if you do feel pain whenever you bend.
46. Upcycled Tier Raised Planters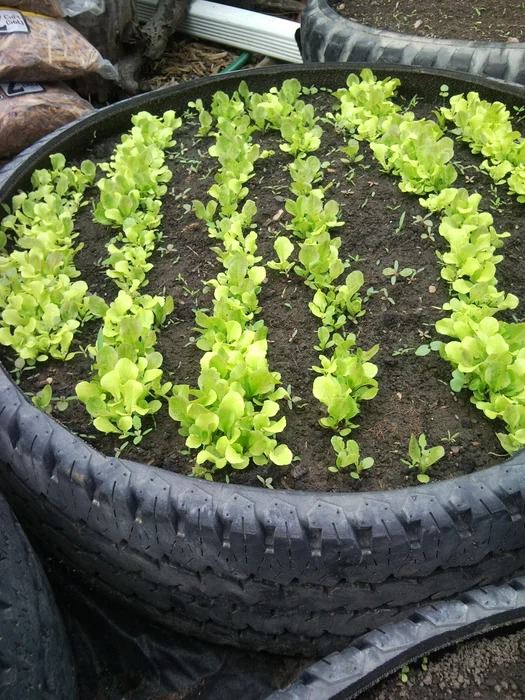 If you have those big unwanted tires from a truck lying around your house, you can use them to make a raised bed. Also, you can also use the normal car tires too. You may use only one tire to make the raised bed, but if you want to make it higher, you can double it or even triple it. Remember to add fun to it by coloring it.
47. Architectural Raised Bed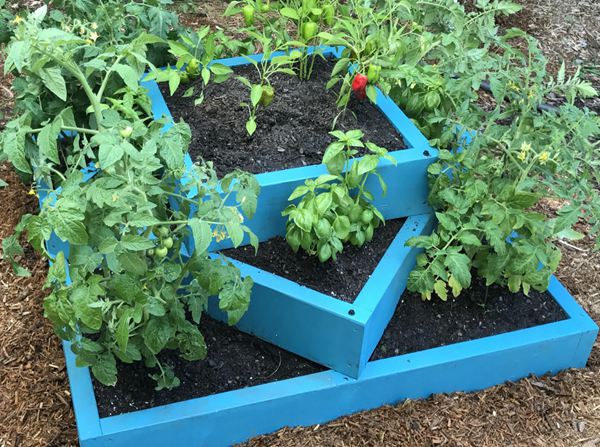 This is a  beautiful and out-of-the-ordinary raised bed. You will need three square wood boxes of different sizes, which will be stacked up like this and then pinned in place. Here is a detailed tutorial on how to make this.
48. Stone Raised Beds
If you have boulders around, you can use this as a retaining wall around where you want to create your raised bed. Easy and straightforward!
49. Raise Bed in Storage Cart
If you have an old storage cart, you can repurpose it into a planter. It's also a good way to maximize your space by placing the cart on your porch. Source.
50. Woven Raised Bed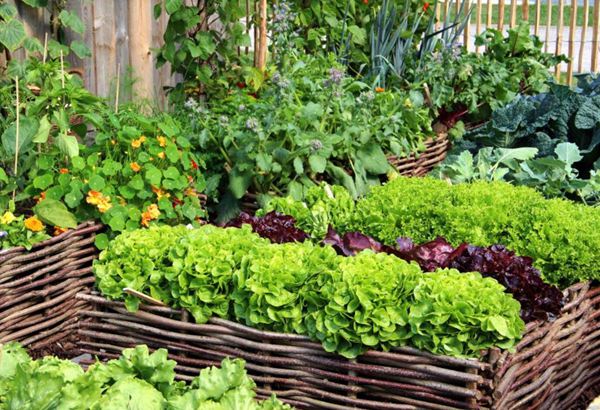 No tutorial source is available.
51. Decorated Concrete Block
You should get creative with your concrete blocks. No more simple square-style raised bed. You can also try this out. It's very easy to achieve on your own (no tutorial source).
52. A-shaped Trellis Raised Bed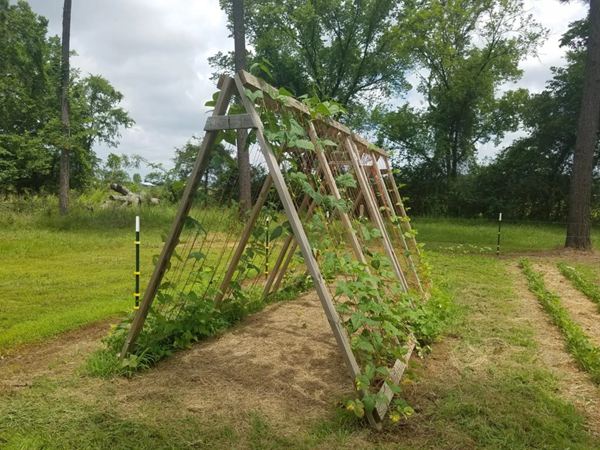 Check here to see how this A-framed garden trellis was built.
53. Glass Bottle Planter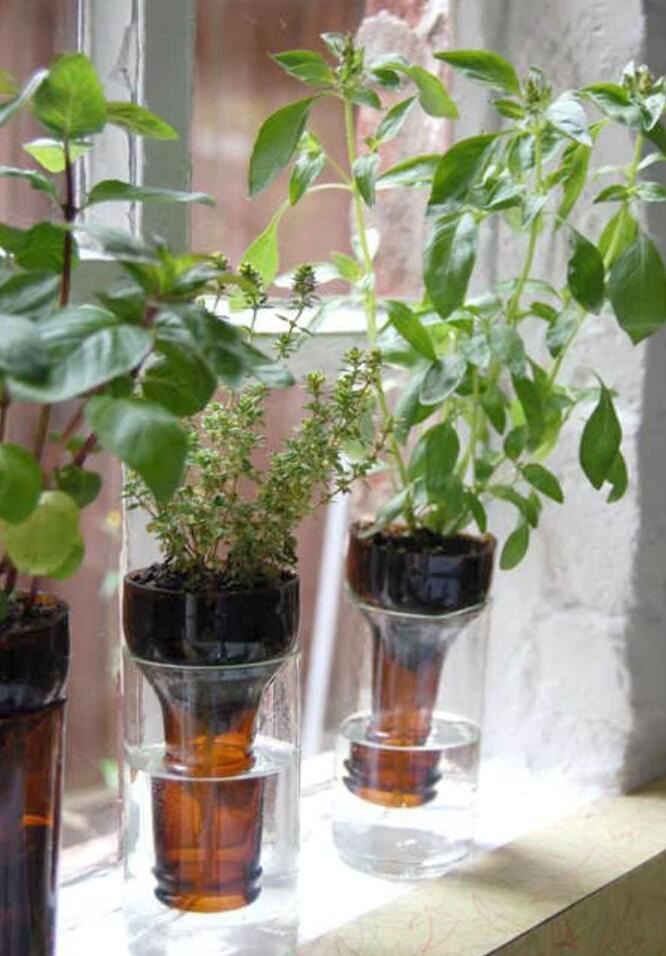 This is a self-watering planter made from a glass bottle. No tutorial source is available.
54. Galvanized Metal Raised Bed
You should hop on this project if you have this galvanized metal. While building, you should be careful with this metal because the edges are usually so sharp. To prevent future accidents, use wood to cover the sides as seen in this picture, and do the same for the top. See the tutorial here.
55. Cinder Block Raised Bed with Caps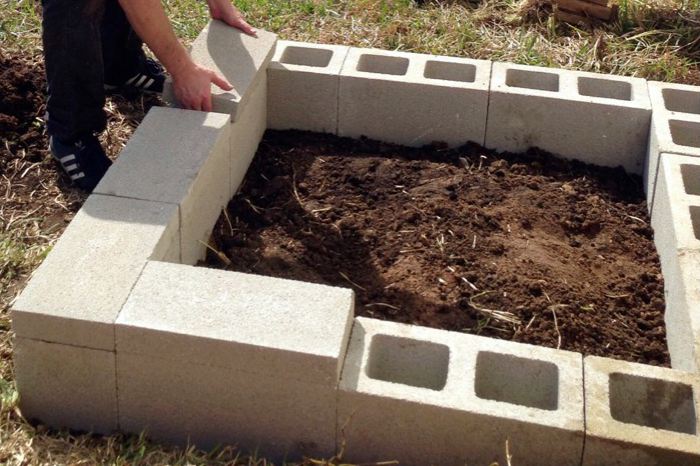 To make your cinder block raised bed more attractive, you can purchase the block caps along with the block itself. The block caps can also serve as a bench for you to sit while planting or harvesting.
56. Glass Bottle Raised Bed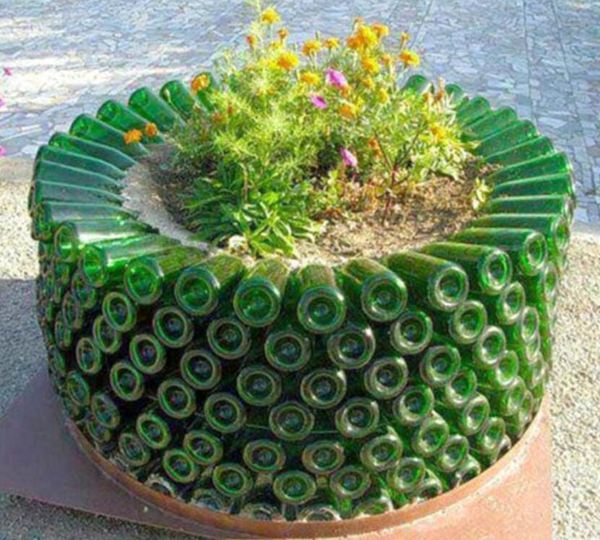 This raised bed is made with a glass bottle as the retaining wall. No tutorial source is available.
57. Wood and Metal Raised Bed
This is another variation of the corrugated metal raised bed you can try out. This time, the outside of all the possible sharp edges was covered with wood. Don't you just love this concept!
58. Wheelbarrow Raised Bed
If you have an old rusty wheelbarrow, you can turn it into a raised bed. Prepare the right soil for your plant, and then plant. This DIY is good for those who don't want to build a wood or concrete raised bed.
59. Tree Stump Planter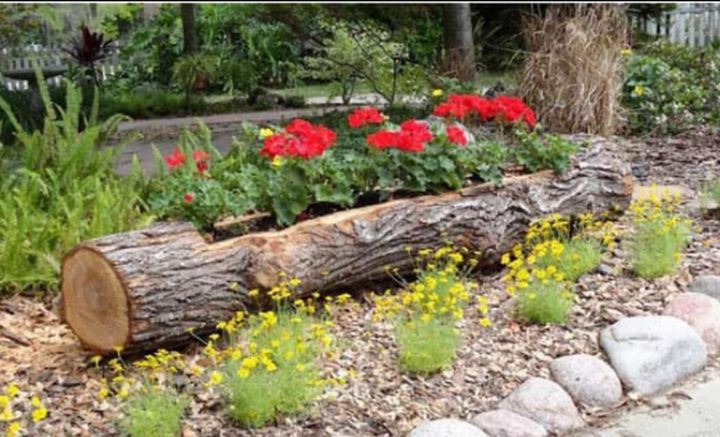 You can use a tree log to create a trough-like container that will serve as a raised bed. For this project, you don't need to spend money on any material. If you have trees around, all you have to do is cut down a tree or use an already cut down tree. No tutorial source.
60. Concrete Beds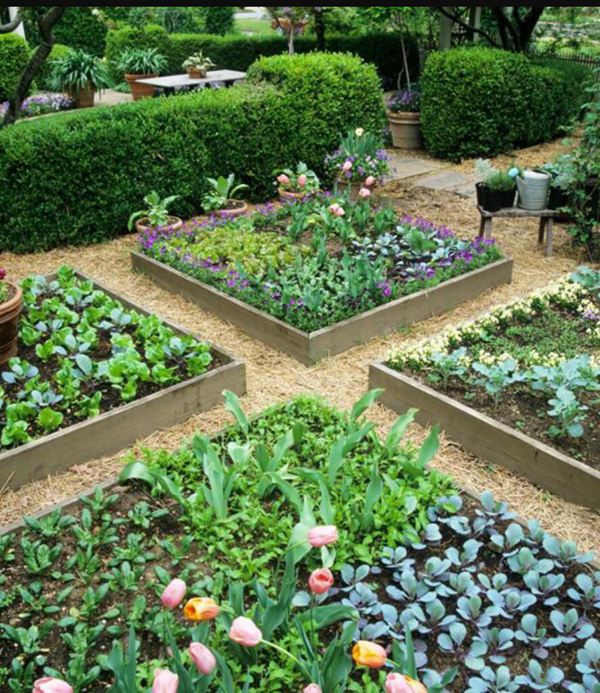 If you have enough space for gardening, you can make your garden look symmetrical like this. Take time to make sure that each bed has equal spacing and size.
61. Concrete Beds in Landscape Design
To add more designs to your gardening, you can make some of the raised beds square-shaped and some triangular-shaped.
62. Stylish Galvanized Tank Raised Bed
The beautiful benefit about this raised bed is that it's stylish and will not rust. So, if you've one of these metal water troughs, you can use it to create a raised bed.
63. Using Landscape Timbers For Raised Garden Bed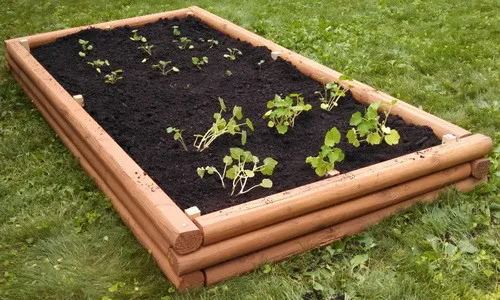 Do you have landscape timbers? You can also use them for your raised garden beds. Here is the how-to.
64. Dresser Garden Bed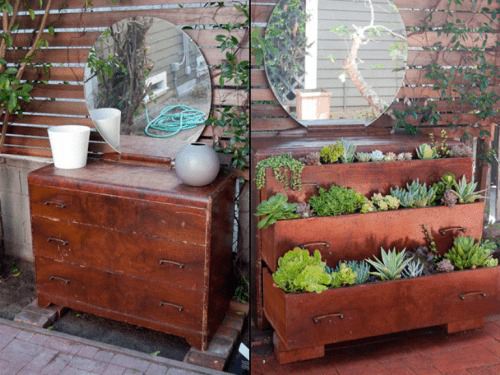 Don't we just love repurposing old things! I know, right? So, you can convert an old dresser into a beautiful garden where you plant your lettuce and other crops.
65. Galvanized Metal with Trellis
Looks like everyone is being creative with the corrugated metal. This time around, you can trellis to it if you plan on growing any crawling crop. You can decide to build the first or second design (tutorial source unknown) for your garden.
66. Curved Raised Bed Design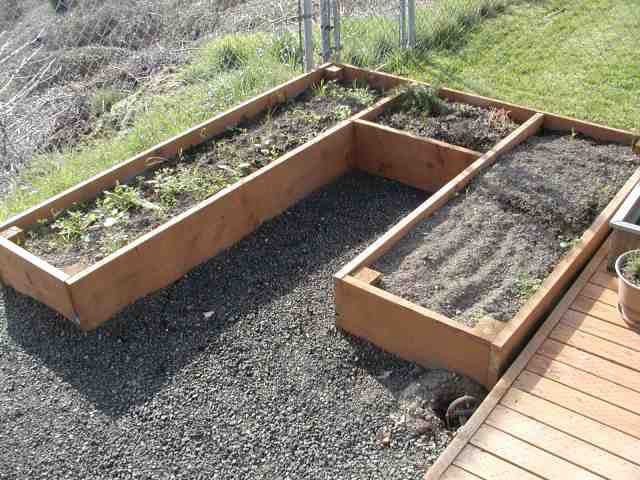 This neat and stylish design is so easy. See the plan here.
67. Cut Pipe Planters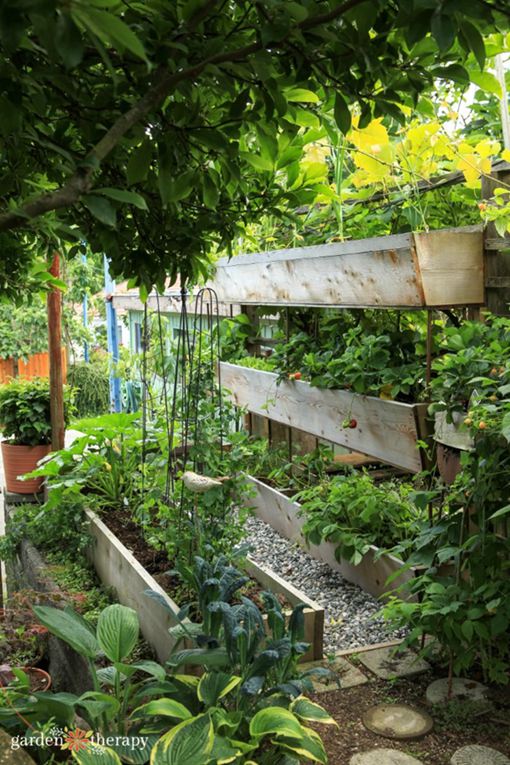 You can follow the same step in this tutorial to care for this PVC pipe planter. Cut your PVC pipe as seen in this picture, find a way to cover the sides, and use a rope to tie them in a ladder-like pattern.
68. Straw Raised Bed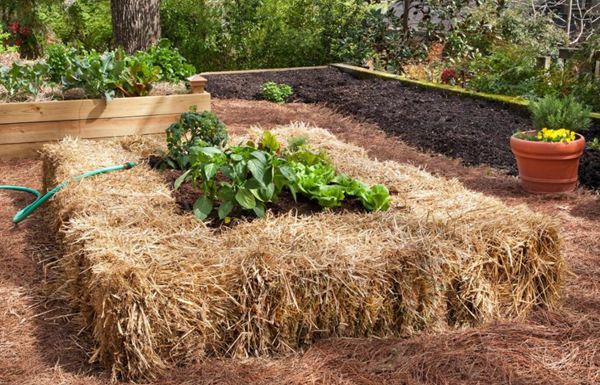 You can also use straw bales as a border for your garden. Try it out if you have access to straw bales, and here is a video on how to create such raised bed.
69. Raised Bed Made From Pavers
Surround your bed with pavers to build this raised bed. No tutorial source is available.
70. Raised Bed with Cattle Panels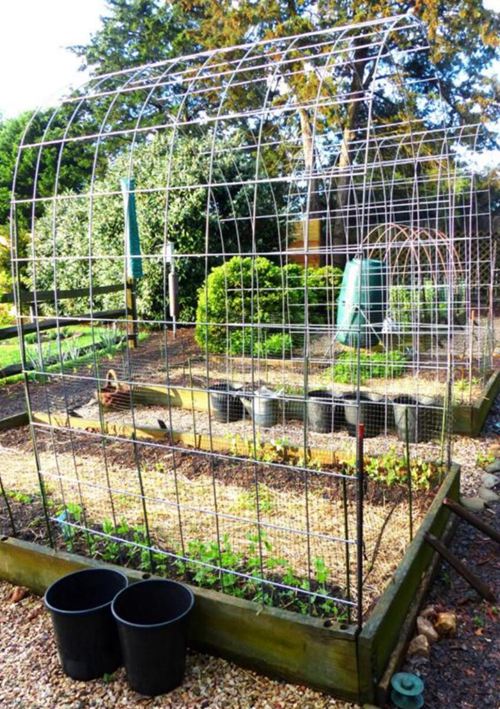 You can try building your raised bed with a hoop house over it. This will prepare you for whatever weather. For instance, you can easily handle any frost situation because, during that period, all you need to do is hang a cloth over the hoop house.
71. Keyhole Raised Bed
This keyhole raised bed is made with a concrete block. Here are the steps involved in making one.
72. Folding Hinge Raised Bed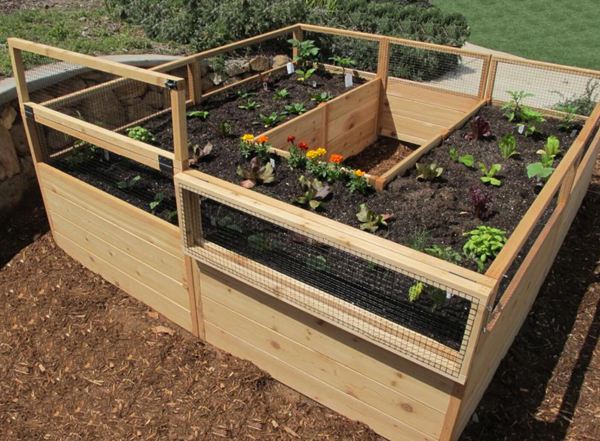 No tutorial source is available.
73. Wood Logs as a Retaining Wall For your Raised Beds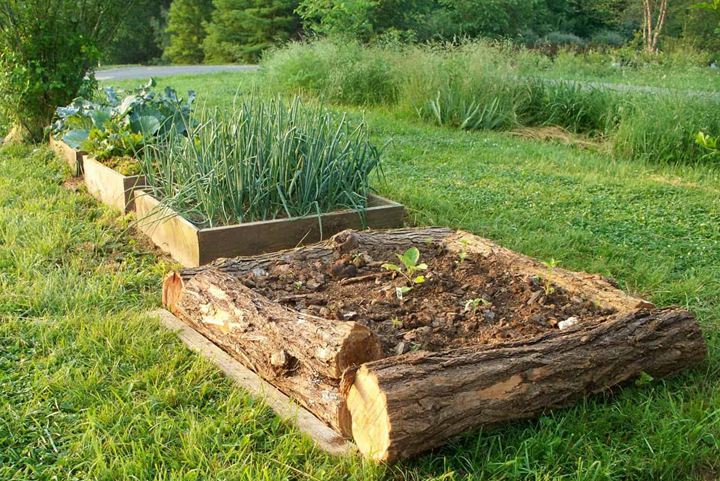 Tree logs are another perfect object to use as a retaining wall for your raised bed. The height of these kinds of logs is perfect and okay, plus this project requires no drill or cutting (okay, maybe some cutting is involved :)). You could decide to make a triangular or any shape-raised bed with your logs. Source.
74. E-shaped Concrete Block Design
This is really easy. Arrange your blocks in an E-shape and fill soil into them to get the raised bed ready for planting. Here is the tutorial involved.
75. U-shaped Concrete Raised Bed Design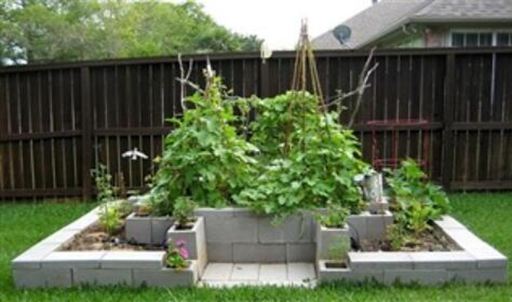 This garden bed is made so that it looks like a U, and the block is also covered with block caps while a few are left open. The open ones have soil in them, and the crop is planted in them to give the garden a stylish look. Source.
76. Hanging Planters from Plastic Bottles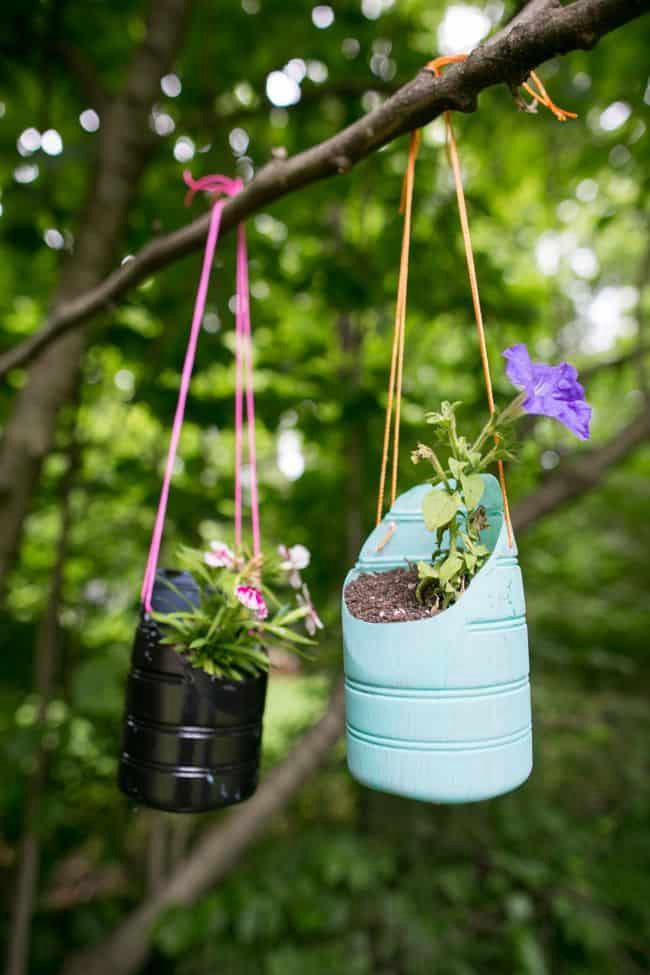 This is another decorative and handy way to grow your parsley, oregano, small peppers, curry, thyme, etc. Cut your used plastic bottles and fill them up with planting soil, then hang them on trees or any other suitable place.
77. Vibrant Raised Bed
This vibrant yellow wooden box is an eye-catcher. You can decide to make something like this to plant tomatoes, parsley, and other small plants.
78. Raised Pallet Bed
This bed is made from pallet wood which you can find easily. Once you've got your own pallet wood, check this tutorial to learn how to create this raised bed for your plants.
79. Crate Beds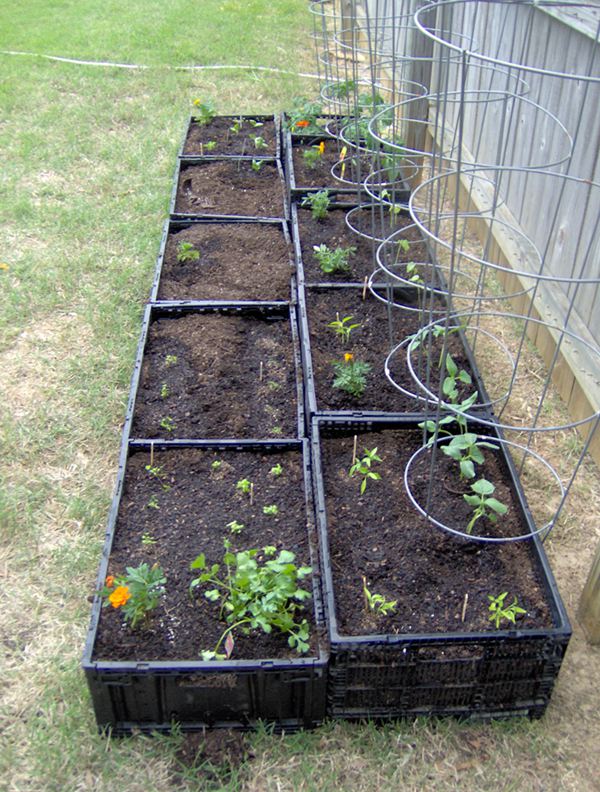 These crates have drainage holes, so there is no need to drill one. If you can find spare crates around you, you can make this raised bed with them. Source.
80. Bathtub Garden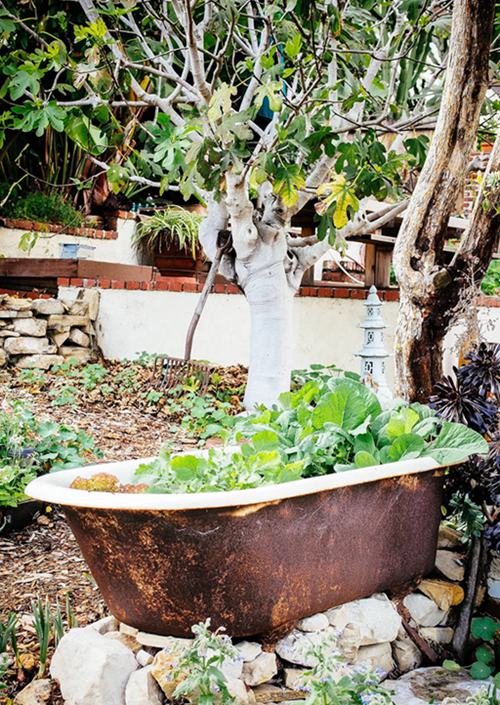 Do you have one of those unwanted tubs at home? Then turn it into a raised bed for planting. You can now grow anything you want. Tutorial source.
81. Raised Bed Pond and Garden
Yes, dear, you're seeing it right! A pond in a raised garden bed!
I bet you want to try this out too, and luckily we have the tutorial for you. See how to build this amazing raised bed and pond.
82. Curved Concrete Red Bed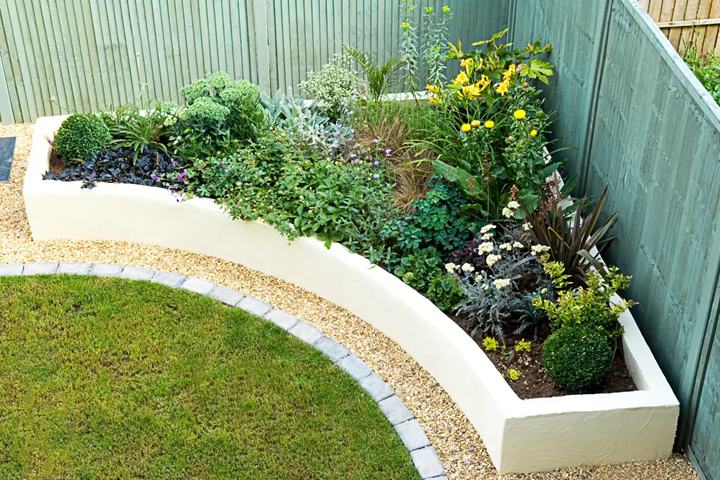 This beautiful curved bed will fit perfectly at the corner of your fence in your backyard. You should try it! See how to build it here.
83. Garden Box with Trellis
This trellis is like a hoop. Here is how to build this raised bed for your running plants. This is also a great way to maximize your space.
84. Higher Crate Bed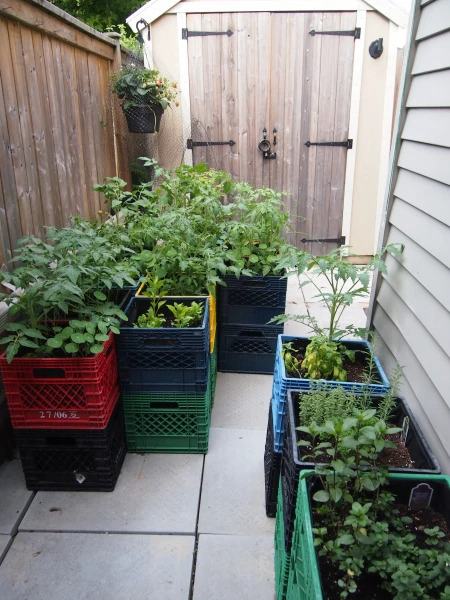 You can also stack your milk crate higher to any required height of your choice. Again, this is a good option if you dont have space or any green area to work with. If you don't have any milk crates lying around, you can get some from box stores sitting next to recycling. Here is a tutorial on how to set them up.
85. Natural Wood Garden Bed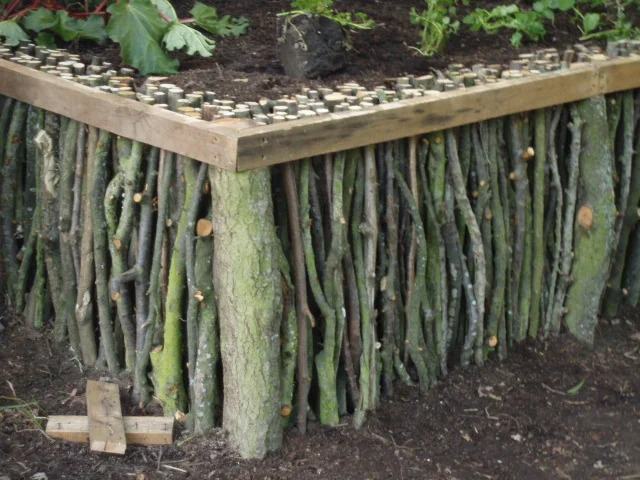 Conclusion
I am sure you'll agree that there's no need to buy a ready-to-purchase raised bed when you can make one at home.
When selecting the wood for your raised bed, go for untreated wood, and the type of wood you should go for is cedar, redwood, or Douglas fir.
I hope you were able to find something you would love to recreate.