Here are some amazing DIY ideas to make building a racing wheel stand easy for you to make on your own with little or no production cost. After going through some DIY wheel stand projects, we gathered these 15 awesome DIY wheel stands that will boost your gaming experience.
Some of the projects are easy to make and should take less than a day to build while others are a bit complicated. Choose wisely! A well-built racing stand should be able to last for years without needing a replacement.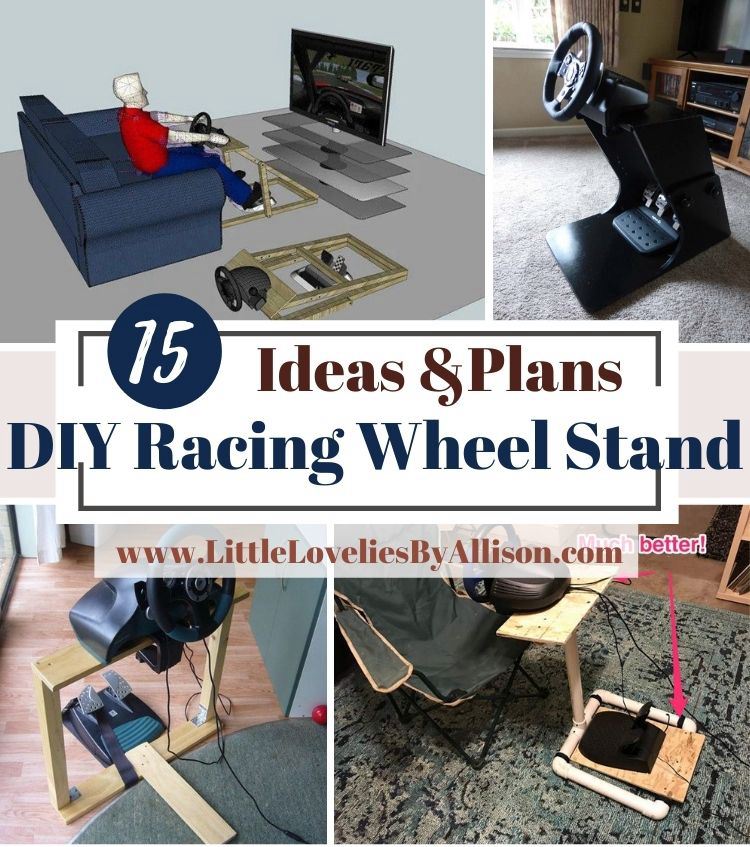 1. How To Build A Cheap Racing Wheel Stand
You can make a cheap racing wheel by following the guide in this video. The creator started by identifying the tools and materials needed for the project. He measured and secured five brackets to the base plate which will hold the legs of the table. It is quite a simple method if you have all the equipment and materials needed.
2. DIY Racing Wheel Stand
You can make this racing wheel stand with your old car seat, some scrap wood, and hardware. This guide will show how to prepare your old seat and assemble it with the wheel stand. This racing wheel is very simple to set up and the materials needed include wood, brackets, bolts, washers, nuts, screws, tape measure, and drill.
It is very simple and requires no level of expertise to build. After watching the well-detailed video tutorial, you will be able to make your own racing wheel stand with ease. The wheel stand is very unique and amazing.
3. Homemade Racing Wheel Stand
In this video the tutor talked about how he built his racing wheel, he gave all the details so you can be able to use this for your project. He made the base plate from a fine 2×2 ft board, and the arms and sides from 2×4" pieces. The bottom of the stand was made from 4 2×3" pieces which serve as the feet, and 4 pieces of rubber feet. It is strong, cheap and the height is adjustable. It can go under some PC desk, all you need to do is to adjust the height and you're good to go. The only thing that will take up space is the op, wheel, and sticks.
4. DIY Racing Wheel Stand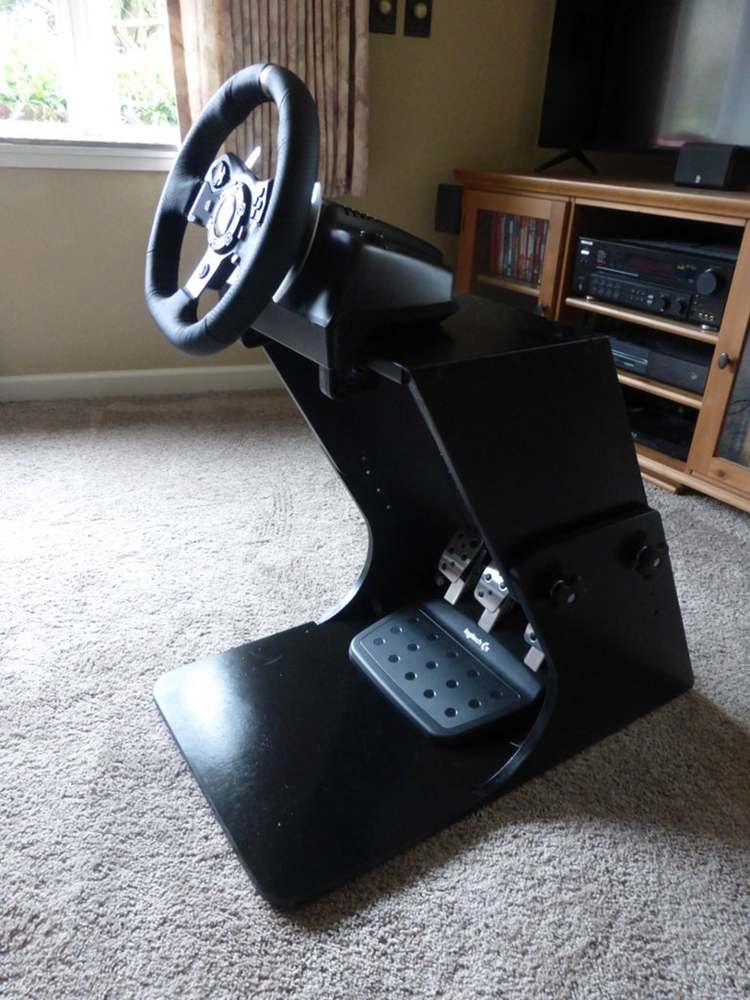 You can build this modeled racing wheel with 2×4" pieces, MDF, and plywood scraps. It is very important to know and measure the dimension of the stand to make sure the wheel is at a convenient height.
In this guide, the first step is to make a test jig to make sure the dimension is accurate. The test jig was made from MDF, plywood, and scraps of wood. Then, it went ahead to explain how to do modeling for the stand using Pro/Engineer ( an output .dxf files) to be able to print it out from the CNC router.
See also: 9 DIY Gaming Chair Projects
5. DIY Steering Wheel Stand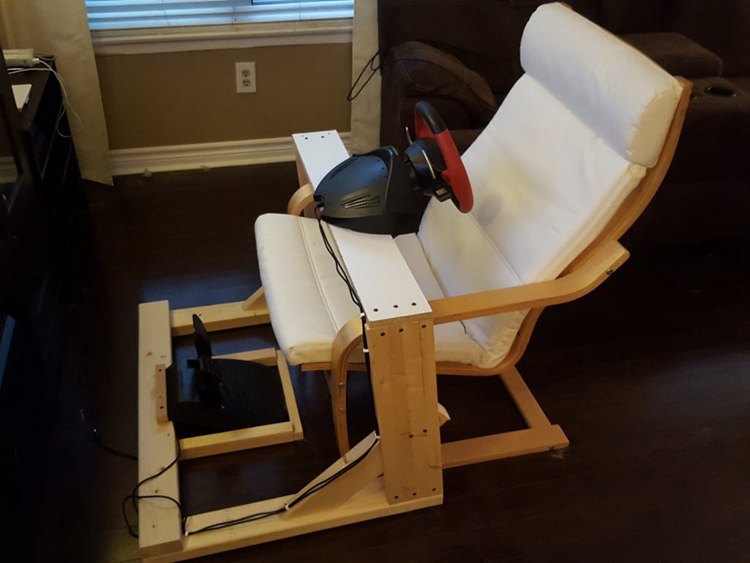 Making a cutting list while working with wood or any other materials that require cutting is very amazing and it makes the work faster and easier. In this guide, after listing the materials needed and tools, the next point of action is to make a cutting list for the wood pieces that will be used in the project. After this, the guide talked about detailed steps on how to build this wooden wheel stand from scratch. It is very easy and cheap to make. Some of the materials used include pieces of wood, won't screws, hardware, tape measure, old car seat, drill, and screwdriver.
6. DIY Adjustable Racing Wheel Stand
This instructable guide gives an outline of a wooden racing wheel stand. The stand is adjustable; it is built in a way to fit any person sitting in front of it. The total cost of making it is approximately $60, with a $20 estimate for unused materials and $40 for other materials.
The first step according to this guide is to make the base and table design. The base includes 2×2" side rails with 1×4 shims between them, then 1×2 middle rails and 1×4 bottom rails.
7. Custom DIY Steering Wheel Stand
This foldable steering wheel stand is very sleek and strong. It has been customized for a steering wheelset. It is comfortable suited for the sofa and has a custom pedal cut out. The whole foldable idea is to make sure it is not taking up so much space whenever it is being used. All you need to do is to set it up and assemble the steering and the footpad on the stand and when you're done disassemble the wheelset and fold the stand.
8. DIY Sim Racing Rig With PVC
What do you hear of a sim racing rig made from PVC? Strong, sturdy, and light? The video started by making the PVC assembly for the stand. The creator takes his time building the PVC stand making sure each piece fits every week into the elbow and tee fittings.  The cost of making this stand is approximately $25. Some of the materials used include 2inche PVC pipes, hack saw, tape measure, markers, and papers. The guide also includes links to where you can get all these materials.
9. DIY Budget Gaming Wheel Stand
This is a low-profile collapsible gaming wheel, it is made from plywood, 2×4" pieces, screws and a miter saw. In this tutorial, the tutor started by drawing the template for the stand, then moved on to building the base of the stand. The gaming stand was set up in a way that it is collapsible.
10. DIY PS2 Steering Wheel Stand
DIY Racing Wheel Stand Projects
The structure of this wheel stand is simple and straightforward; it consists of two legs, two tops, and one base plate. The structure was joined together with metal brackets and screws to make the stand firm. The guide shows how simple and amazing to be set up. It is made up of pieces of wood, wood screws, steering wheel, foot pedal, and webbing or parachute clips.
11. DIY Budget Driving Wheel Stand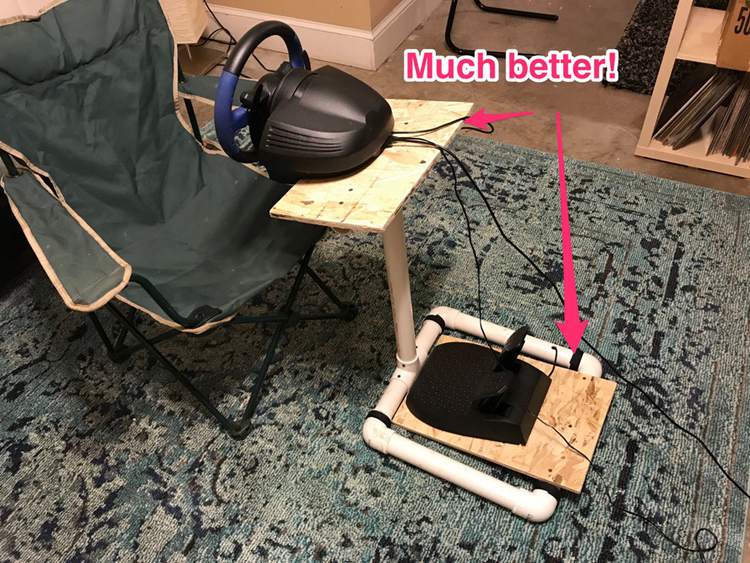 You can build this mini driving wheel stand with PVC pipes and pieces of plywood. The guide started by gathering the necessary materials required to build the stand, then cut the PVC pipe into pieces and cut the plywood as well.
The materials and tools used from 10ft length of 1.5" PVC pipe, 2 tees connection, 4 elbows, Pvc cement, 2 bolts, 2'x4' piece of ½", drywall screws, a drill and bits, stepped bit, hook and loop tape, measuring tape, a saw, clamps, paper, pencil
12. DIY Racing Wheel Stand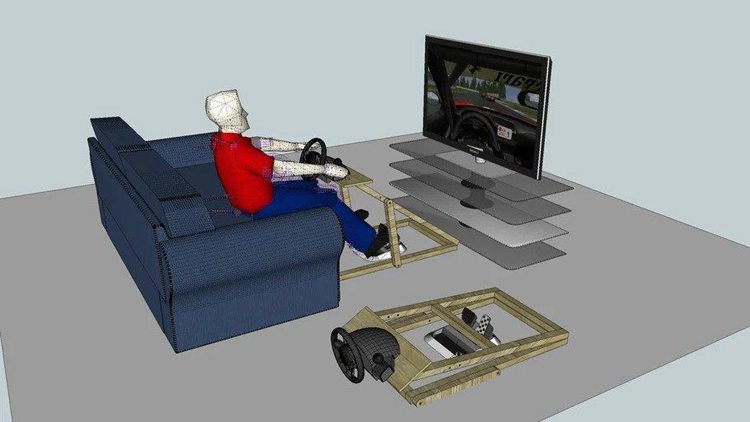 This wheel stand is designed to be used with a sofa. It is foldable, and this allows the sofa to be a game station and at some times be a sofa. Once the game is over, you have to fold the stand away and the sofa remains as a sofa, not as a Play station.
It is very simple and cheap to set up and since it is detachable and can be folded and carried away from the spots, it creates more space.
13. How To Make A Wheel Stand
Why should you spend a huge amount of money on something you can learn and make for yourself? This video tutorial is here to help you learn how to make an easy wheel stand. The guide started by picking out the best and necessary materials required for the gaming wheel stand, then he took the appropriate measurement needed for the stand and spacing before he went into the building properly. The method he used was very easy and detailed enough for beginners to understand.
14. DIY Driving Simulator Rig
Although this requires a little skill or experience in soldering and metalwork, it is a very simple rig to set up. The guide shows the careful way of cutting your metal and soldering it together. The process started by cutting small metal plates and sand, then with a metal / electrical sander. Then, the next process is to make the base assembly for the stand and solder the sides and the top to the base.
15. Homemade Budget Racing Sim
The video starts by identifying the necessary materials needed to set up the racing sim; the old seat, roll bar, hand brake, pipes, homemade pipe notcher, and LOGITECH G29. Then, the tutor went on to cutting and making notches on the tip of the metal rod where the base will be joined together. Then, he drilled home in the old seat and assembled other parts.
Conclusion
These are the best DIY wheel stands you can see out there. They are amazing and include different ideas for different types of wheels and budgets. All you have to do is choose a preferred project, gather the requirements and get to the building process. You would be glad you did!