Looking for a cute, interactive pet to add to your home. What about bunnies? These creatures make great indoor pets. But before getting the rabbits, they will need a hutch to live in. To solve this problem, there are great woodworking design ideas provided for your perusal and creative skill.
We have listed 25 DIY rabbit hutch plans that you can DIY from the comfort of your home without having to spend too much. The making process is pretty much easy! Ready to build? Let's begin!
1. DIY Handmade Rabbit Hutch
Along the line here you can decide to improvise to save yourself some cost. One thing for sure is that your rabbit is gonna love it.
A tip to get started is making these materials available; ½ inch plywood, (2 8x4 sheets), 2x2 wood, Decorative trim, scrap wood pieces, 1x1 galvanized rabbit fencing, Aluminum corner pieces, Workspace mats, Veneer trim, 2 ½ PVC pipe, Pvc pipe hanger strap, Ceramic jar, Spray adhesive, Construction adhesive, Magnets, Cabinet door Latches, Hinges, Doorknobs, Metal chain, Wood screws, Wood filler, Felt furniture glides, Stain, Polyacrylic.
2. How To Build A Small Rabbit Hutch
You can build this small wooden rabbit hutch to create a comfy space for your rabbit. By following the simple steps laid out, I can ascertain your success in achieving this build. Give it a try and be proud of the outcome.
3. DIY Rabbit Hutch
This great outdoor woodwork design will definitely make your rabbit love you more. Probably they may be tired of that small little cage you give to them. But of course, they can't talk so I'll speak for them. They're tired, Lol. This design serves to give an example for building an elevated rabbit hutch for use over a vermicomposter or by itself.
4. Indoor/Outdoor Rabbit Hutch
This indoor/outdoor rabbit hutch takes advantage of the warmth of the garage in the fall and winter and the cool breezes in Spring and Summer. You can also make this into compartments to fit the number of rabbits in your possession. Cut out some panels on the outside of the garage as well as the plywood underneath so they could move freely between the sides.
5. How To Build A Rabbit Hutch
So here's a cool DIY rabbit hutch that adds privacy for all furry creatures that inhabit it. Installation of a solid bottom would make this hutch good enough to keep your rabbits inside as well.
6. Free Rabbit Hutch Plans
If you want to build a nice hutch for your rabbit then this is the project you should follow. Most interesting, this project is good for any garden as it has a significant run for your rabbit to run free.
7. DIY 4 Bay Rabbit Hutch
Allow this video to walk you through how to build a four-bay rabbit hutch. If you choose the right plans and gather the necessary materials this can be done in a couple of hours. Simple right?
8. Easy 6 Bay Rabbit Hutch
If you have more than one or two rabbits, I'm pretty sure you don't want them in a tight little cage or just moving around. You can build this six-bay rabbit hutch which is in the form of a two-story.
9. How To Build A Rabbit Hutch For Indoor And Outdoor
Detailed plans have been made on how to build a DIY rabbit hutch that could be used indoor and outdoor. The hutch has a litter pan under the floor that could be removed for cleaning. Since the hutch is only 3 feet wide, it could easily be moved around.
10. DIY Rabbit Hutch Plans
A rabbit hutch plan is just what you need for that cute bunny. You won't need any woodwork experience. Gather your necessary materials; One 4′ x 8′ Textured Wood Composite Panel, Four 2 x 4 x 8′ Premium Studs, twelve 2 x 2 x 8′, 2-½″ Blue-Kote Pocket Screws, Wood Screws, Wood Glue, and use the right tools.
11. Free Outdoor Rabbit Hutch Plans
Your rabbit requires a basic hutch to protect them from bad weather and keep them safe from predators. Follow this step-by-step DIY project to make this outdoor rabbit hutch plan.
12. DIY Rabbit Hutch Plans
With this article, you'll have an in-depth overview of how to make a rabbit hutch plan. Featuring Various materials you may need for this project, some tools may be at your disposal or you can consider borrowing some tools to save cost.
13. Homemade Rabbit Cage
Here's an easy way to make a simple home for your rabbit for privacy. Using the following materials this project can be done; iron net, hinges, nail, wood, staple gun, wood cutting machine, and lock.
14. DIY Rabbit Hutch Under $200
Watch how your rabbit bonds and loves you in a special way when you build this simple, nice, and spacious home for your pet. This will save you some more costs than when you buy from a store.
15. How To Build A Rabbit Hutch
In this video, watch how the creator cut his boards in their right sizes to fit his dimensions. Building the frame and screwing the parts together. It's no big deal here. Get tutored and get building immediately.
16. How To Build A Cheap Rabbit Hutch
I'm pretty convinced you can build this two feet high rabbit hutch because it's simple and inexpensive. Build your frame out of 2 by 4s, a 3 by 6 frame on the top, 3 by 6 on the bottom also, Two-foot corner post, 16 gauge wire (1' by 2' wire mesh), and other building requirements are made known in this video.
17. IBC Container Rabbit Hutch
This is a one-hour project, a house for two domesticated rabbits, each in a separate room/floor. You can have two of these houses made, hosting two in each. So they could interact and entertain each other and see what's up in the yard. A see-thru but inescapable window will be necessary. The creator made one using a piece of dedicated rabbit net and connecting it by clamping the net with some pieces of wood.
18. DIY A-Frame Rabbit Hutch
I'd suggest this super A-frame rabbit hutch because It's safe, sturdy, attractive, predator-proof, tornado-proof, and hurricane-proof. Well, no one's sure how well it would stand up to a tornado or hurricane, but you get the point: it's sturdy. It's also very versatile. You can move it around rather easily(with an extra hand) given its lightweight structure. This hutch would be great for other small animals.
19. Convert End Table To Rabbit Hutch
This awesome idea turned out to work out perfectly fine. An old end table was converted into a rabbit hutch. The main objective of this project was to keep the cost low and provide the rabbit a spacious and comfortable domicile. This can also be easily done with any old dresser, cabinet, or basic wooden box.
20. DIY Two Story Indoor Rabbit Hutch
This design is unique. It is a two-story indoor rabbit hutch with a ramp for your bunny to go up and down. One really great feature of this design is, the grates are very easily removed for easy access. So prepare your wood, assemble the first and second floor. Make the ramp. Add cotton rugs and towels to make the hutch really comfy.
21. How To Build A Bunny Hutch
Here's a guide on how to build a bunny hutch, the dimensions are not so big, one could actually call this a space-saving bunny hutch. It is ideal for outdoor use and easy to build. I would highly recommend this for your bunny.
22. How To Build A Rabbit Hutch
Does your bunny need extra space or room to jump around? If you're a DIY type of person, you need to include some homemade touches for your bunny abode. This idea is worth the try.
23. Rabbit Hutch DIY
Wire and wood are the most common materials used for constructing standard rabbit hutches and may change in sizes and shapes depending on your own inclinations and the many bunnies you'll be keeping.
24. DIY PVC Rabbit Hutch
All along we've been talking woodworking but PVC can't be left out in any DIY project. Yes, and rabbit hutch is not an exemption.
25. How To Build A Simple Rabbit Hutch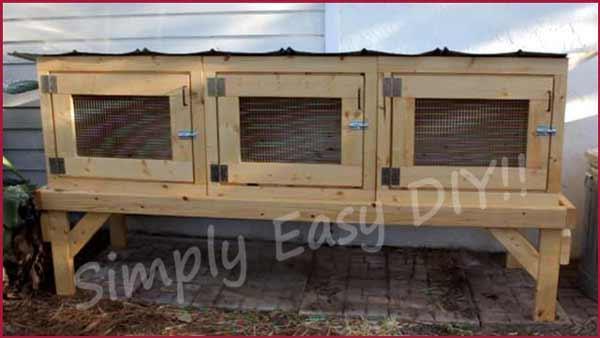 For this design, the creator has given measurements and a cut list for one single hutch unit. There are three units depicted in the photo above. Then construct the frame, face frame, and door. Build the roof and base stand too and that's it.
Conclusion
Larger hutches are pretty pricey so you can decide to take one of these as a gift. Generally, they're many designs and sizes to choose from so it is advised you check all the options before you start construction.