Here's an amazing DIY that has a list of a lot of informative guides on how to make a puzzle board. It's cheap, fun, and easy to build. Puzzle boards can be made out of almost anything,  and you'll learn a few ways and materials that you could use to make an exquisite puzzle board.
The making process for each guide is clear and concise enough for anyone, even a beginner to work with and produce an amazing and simple puzzle board. No more lost puzzle pieces and incomplete puzzle games, some of the puzzle boards made by the creators in this guide come with a storage unit that you can use to store puzzle pieces and remove them out and play anytime you want. Let's dive in and see what you need to make a puzzle board now.
1. How To Make A Puzzle Board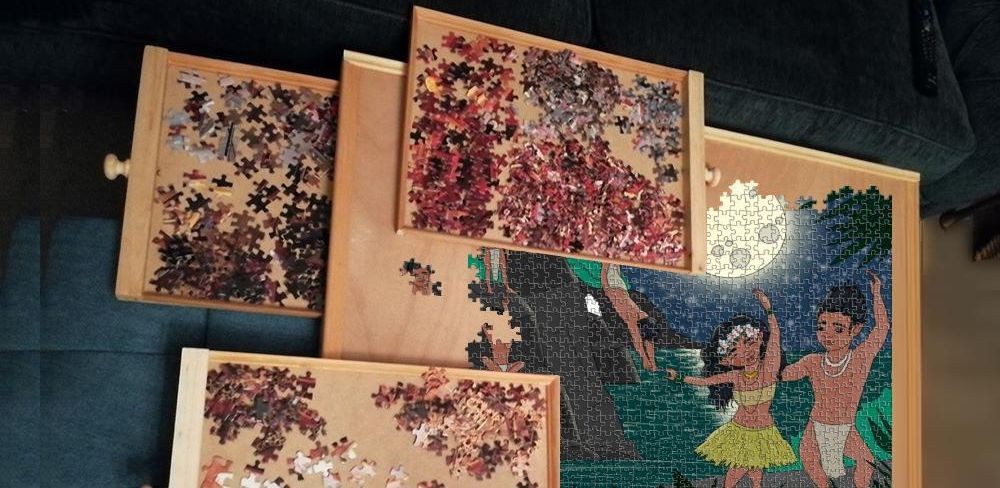 The first and most important part of this guide is to check out the building plan from the link and then start purchasing the materials you need, things like pieces of wood, drawer knobs, screws, a picture frame of the same size of the wood you'll use, wood glue and some finishing nails. The making process is seamlessly easy.
2. DIY Jigsaw Puzzle Board
The creator had some old dry erase boards around the house so he used them to make his puzzle board, he also used E6000 glue, handles, white acrylic paint, white foam sheet, a utility knife, a roll of washi tape, and a few more supplies. The creator gave step-by-step instructions on how to make this board, so sit back and relax, if you're using this guide, you'll be done in no time.
3. How To Make A Puzzle Board
This puzzle board is white big, you need pre-sanded beech plywood, wood filler, wood glue, miter saw, fine grit sander, polyurethane, paintbrush, and a few more items. The puzzle board is quite large and can take as many puzzle pieces as you want.  After 7 simple steps, the puzzle board was ready.
4. DIY Puzzle Table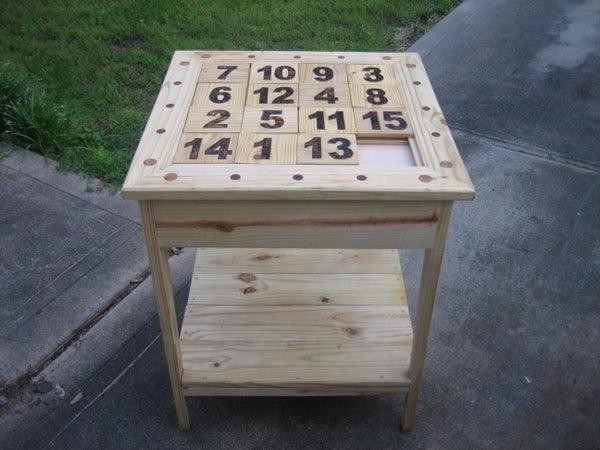 Here's a unique puzzle board that comes with a table. You don't have to build the entire table if you don't have the time to, you can use a table that matches the size of the board and mount the board on the table. If you decide to build the table with the board on top, you can do so with ease. The table built by the creator comes with a storage drawer, making it easy to grab your puzzle piece and play.
See also: 15 DIY Shuffleboard Table Plans
5. DIY Puzzle Board With Storage
This is a pretty great instructional video tutorial guide on how to make a puzzle board with small storage space inside. The storage space is inside the board, but yet the puzzle board itself is pretty slim, light, and easy to carry around.
6. How To Make A Puzzle Board
This time-lapse video guide started with the creator joining scraps of paper boards with masking tape and glue to have a bigger board. Using a spray adhesive the creator converted the paper board to poster paper. The entire puzzle board is made of paper board, which is cheaper and faster to make.
7. How To Make A Puzzle Tray With Storage
Here is a slim puzzle tray the creator made with wood, it has large storage, and you can easily store it under a low table, in a way to hide the puzzle tray if you have pets around that might knock the puzzle off if left in the table carelessly. There is a building plan in the video guide that you can use to make the puzzle tray with ease.
8. DIY Puzzle Board With Drawers
Here are a few steps you should have in mind if you choose to use this guide to make a puzzle board for yourself, first get your materials ready for work, then proceed to lay, cut, and glue the center support for the board, lay and cut the trim with a jigsaw, then lay and cut the board drawer wooden bottom. The rest of the steps are easy to make, you just need about $20 for this project.
9. DIY Puzzle Board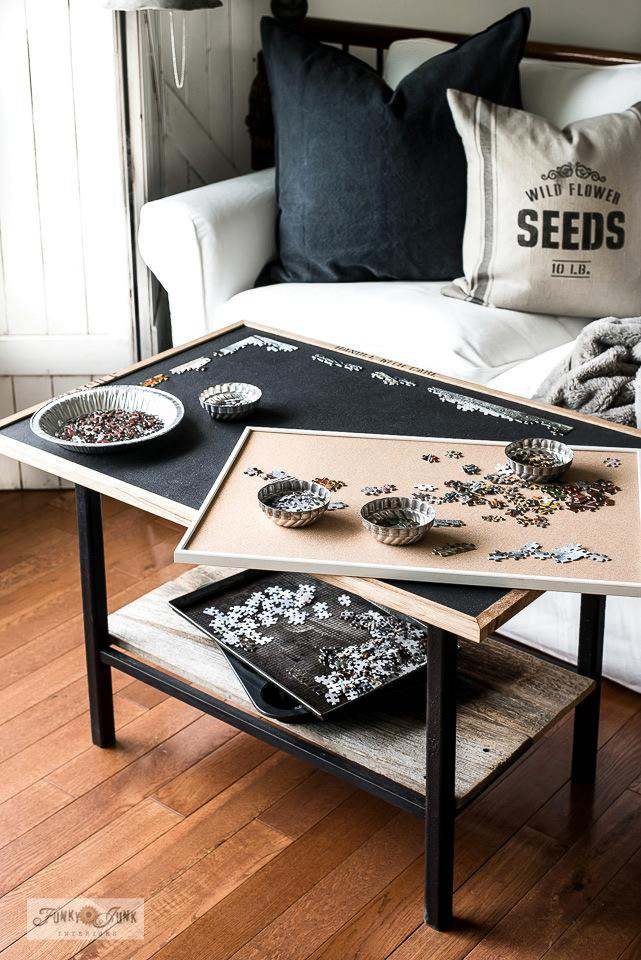 This is a great bulletin puzzle board that you can make with a few simple materials like a pre-made bulletin board with a wooden frame, wooden closet dowels, stencils, and mineral paint. The making process is quite long and complex, but simple enough to understand.
10. DIY Jigsaw Puzzle Table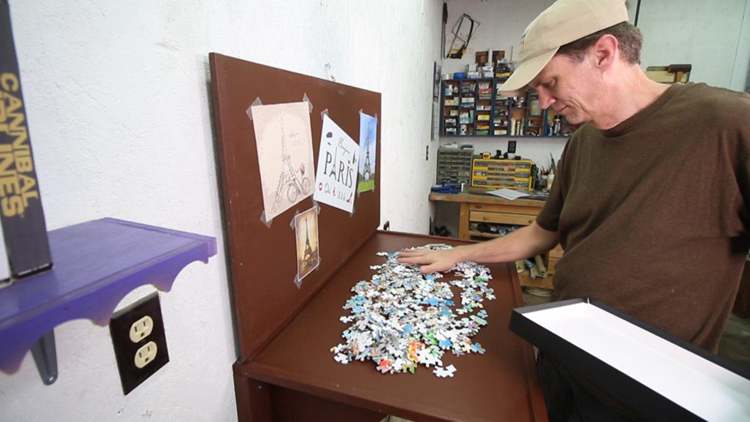 This is the coolest and most unique puzzle table ever, it's not just an ordinary puzzle table, it's a drop-down puzzle table. The creator made the table in such a way that you can attach it to the wall, and pull it out and use it while it's hanging on the wall. So, the table never touches the ground but still stands firm and everyone can have access to it. The only downside is that you can't rest your hand on the table and you can't go round it because it's attached to a wall. The upside is that it saves space and it's easy to reach.
See also: 20 DIY Puzzle Ideas
11. DIY Puzzle Game Table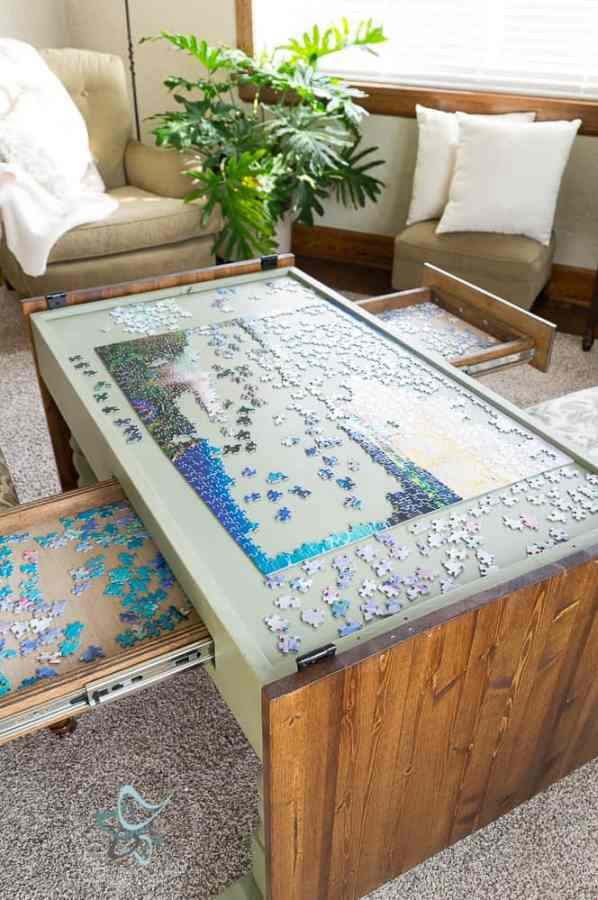 Here is another amazing puzzle table that you can build with a few materials. It's not so easy to build, because the creator didn't give clear instructions or steps on how to build, this guide will only help you if you're an expert woodworker. With that in mind, as a woodworker, you can make the puzzle table with more or less information, although there are a few images that the creator inserted in the guide to assist you through the process.
12. How To Make A 1000 Piece Puzzle Board
To make a 1000 piece puzzle board, the board has to be pretty big. The creator measured 75x52cm for the board size. He also used a 9mm MDF board, two 1 square meter pieces of short felt material, and 1 tine spray contact adhesive. The making process is super easy and fun to build.
13. DIY Puzzle Table
To get the original design building plans, check the link to the video description, and see more about the plans. You don't need all the power tools used in this video guide, just a few essential ones are okay. This puzzle table was made with legs, drawer slides, drawer pulls, and hinges. It's super easy and effortless to build. Also, check the link to see where you can get the necessary tools to work with.
14. DIY Simple Puzzle Board
Here is how you can make a simple puzzle board with cardboard and contact paper or PVC. First, you need a large cardboard box, and some light-duty PVC, these tap materials are cheap and easy to find. You'll also need a measuring tape, scissors, hot glue gun, marker pen, and masking tape. The making process is as easy as procuring the supplies needed for this guide. The creator started by cutting the large cardboard box into a large square board shape with the dimensions she had in mind. She then taped two cut-out boards together. This guide is seamlessly easy and simple to follow. The steps are clear and concise enough for even a beginner to work with.
15. How To Make A Puzzle Tray
Here is a cool puzzle tray the creator made with some scrap quarter-inch plywood and other wood boards and a few power tools. The making process was quite quick and easy to follow, with no complex designs. The creator started by cutting the 1x3 wood planks into the desired shape. He cut several wood planks for the frame, then set and cut the plywood board as the puzzle top board. The design is simple and unique, give this guide a try now.
Conclusion
That's all for today on DIY puzzle boards, with this guide you'll not only learn how to make a puzzle board but also a puzzle table and tray, this makes your job a whole lot easier and saves your puzzle pieces from getting misplaced and your board knocked over. Thanks for viewing this DIY, I hope one or two guides got your attention and will help you make a sweet puzzle board right away..