Are you in need of a punching bag stand? Well, you came to the right place. I have compiled a list of the DIY punching bag stand projects that you can DIY easily.
Some of the punching bags are made of metal and others are made of wood. The choice is completely left to you. I would, however, recommend that you pick a punching bag based on space, durability, and your skill perhaps.
1. How To Make A Punching Bag Stand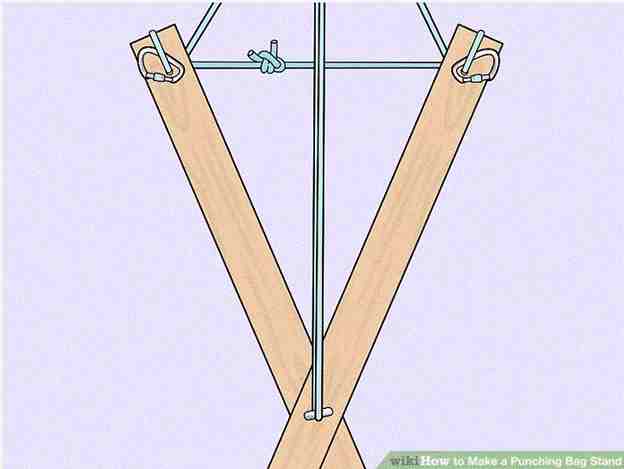 If you have a large punching bag, you will definitely need a suspension for it. In this guide, you will learn a working method of building a punching bag stand from scratch using wood and a couple of other materials.
The first step has to do with framing the bag stand. For this step, you need to purchase 2 4x4 timber beams that are roughly twice as tall as you are. You will also need to purchase 1 8mm eye bolt and nut eye that will be attached to the beam.
The making process starts off with drilling holes and connecting the beams together using the eye bolt and eye nut, this step is pretty much easy to follow. Next up is attaching the weight distribution rope, the process of attaching this rope needs to be done carefully and properly.
The last step would be hanging the punching bag, while this is an easy step, be sure to secure the stand's feet so it does not fall while punching the bag.
2. DIY Wooden Punching Bag Stand
Are you looking for a free-standing punching bag stand? You should check this one out. The creator used two 4x4s for this build. Based on this tutorial, the first thing you would want to consider is building a stand that would fit your height, trust me, you do not want your DIY punching bag to stand too long or too short.
The video goes in-depth explaining how to make all the individual parts of the punching bag stand, after cutting all the wood needed, then comes the fun part, putting it all together. For this process, you will need some nails, glue, and a drill. You can use a hammer if you do not have a drill.
The final step is building the base for the DIY punching bag stand, while making a base, make sure it is crafted well, otherwise, your stand might fall off after hanging the punching bag. I would highly recommend this build for people who are looking at having an indoor punching bag stand.
3. How To Make An Outdoor Punching Bag Stand
While researching for the best punching bag stands I could find, I came across one made of metal. Unfortunately, the tutorial might not be ideal for beginners due to the fact that the creator does not explain everything in detail. You will need some metalworking experience to make this.
The creator used a 2x2 in*2mm thick Black Iron, here are a few things you will need for this project; 6013 welding rod, grinder cutter, welding machine, and a 2x2 steel tubing. The making process starts off with cutting the iron into specific sizes, you will need about 5 different cut-out parts of iron.
Next up, you will need to piece the cut parts together, this starts with cutting and welding the base of the DIY punching bag stand, you will also need to weld the top section of the stand where the punching bag will be hanging from. If you are into metalworking, this guide should be enough to show to make an outdoor punching bag stand.
4. How To Make A Heavy Bag Stand For $15
I was amazed when I found out that this bag stand was made for less than $15, I mean this isn't something you see every day. This punching bag stand is ideal for indoor use, but it can also be used outdoors.
The creator used wood to piece this together, you will also notice that the stand does not have a base, all the creator did was nail it to the wall, and I think this idea is great for people who do not have a lot of space in their house for an overly large punching bag stand.
The materials used for the making process are; 2x4s, screws, an eye bolt, and a couple of tools. The creator will show you the wood cutting process, he cuts wood in different sizes for the heavy bag stand and finally the mounting process.
I would recommend this tutorial for people who are looking at building a low-cost DIY punching bag in their garage or room.
5. How to Make a Punch Bag Wall Bracket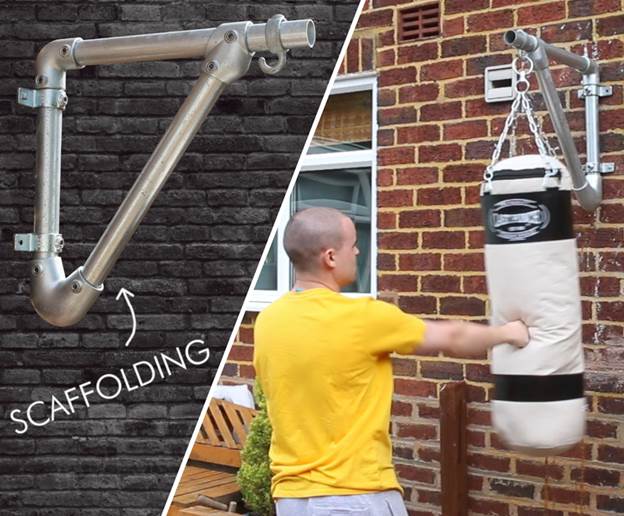 This DIY Punching bag stand is ideal for outdoor use, you can use it inside your garage, but I think it would look better off inside. This punching bag stand is made of scaffolding and I think the creator did a great job putting this together. If made rightly it can withstand the weight from any punching bag.
For this DIY punching bag stand you will need a Hook Tube Clamp, Fixing Bracket Double Sided Tube Clamps, 50mm M8 Coach Screws, 8mm Wall Plugs, Adjustable Tee Tube Clamp, and a couple of other materials and tools.
Step one in the making process starts off with cutting the metal tube pieces to length, for this you would need saws with more power as regular saws are not able to cut through. After cutting all your pieces, the next thing would be putting them together, while this seems easy, you need to be careful because a silly mistake can ruin the whole stand.
The final and most satisfying step is mounting the bracket to the wall, for this you will need to drill 4 8mm holes, and then add 8mm wall plugs. The process is pretty much basic. Hang the punchbag to the hook and you're good to go. You can check out the full tutorial for more details on how to make this punching bag stand.
6. DIY Punching Bag Stand
Due to the size of this punching bag stand, I would only recommend that you use it in your garage or a place that would have enough space. This is a standalone DIY punching bag stand that uses a lot of wood. You would agree with me that making this is very easy unless you are a total beginner in the woodworking universe.
Unfortunately, you don't get to see the making process from scratch, but you'll surely get value from it. The video tutorial starts off with the creator giving all the measurements that he used for the base of this DIY punching bag stand. In order for the stand to be firm, he put together a couple of 2x4s.
His measurements are probably based on his height, feel free to make minor adjustments here and there. Also, for the punching bag, he uses a tire which is quite cost-saving. If you are looking for a cheap punching bag stand project, here's one to consider.
7. DIY Outdoor Punching Bag Stand
Here's an outdoor punching bag stand with a difference, this one has a pull-up station installed which is great for people who want to take their fitness game to the next level. Due to the size of this punching bag stand, it is not ideal for indoor use, unless you have a very large space indoors.
The making process is pretty much basic and can be done by any determined person. It starts off with connecting two 4x2 wooden beams at about ⅘ of their length, do this with an eye bolt, next up, you need to drill a hole at the top of each beam and connect the tops of the beams using a rope.
Here's the tricky part, using the rope you connected to the tops and cross point of the beams, you need to bring the complete structure to a 70 degree upright angle. After this is done, then comes the easy part, tie off the ropes that are holding the structure at an anchor point, your anchor point can be the base of a tree if you are outdoors. The final step is hanging your punching bag from the cross point of both beams.
For well-detailed instruction on how this is done, you can check out the video tutorial.
Conclusion
And that brings us to the end of this guide on the best DIY punching bag stand projects. Most of them are very easy to make. If you have never handled wood or metalworking projects before you can ask for assistance from a professional to avoid hurting yourself in the process. Thanks for stopping by.