This article is strictly about DIY privacy screen ideas. A modern stylish screen is just so much better than seeing whatever unsightly outdoor appliance plagues you. Such as air conditioning units, outdoor meters, garbage cans, bicycles, or nosey neighbors, Lol.
Whether you want to add some privacy to your deck, would like to create a secret garden in your yard, or are just looking for a creative way to add art to your garden, the simple steps here will help define your choices. So let's get started!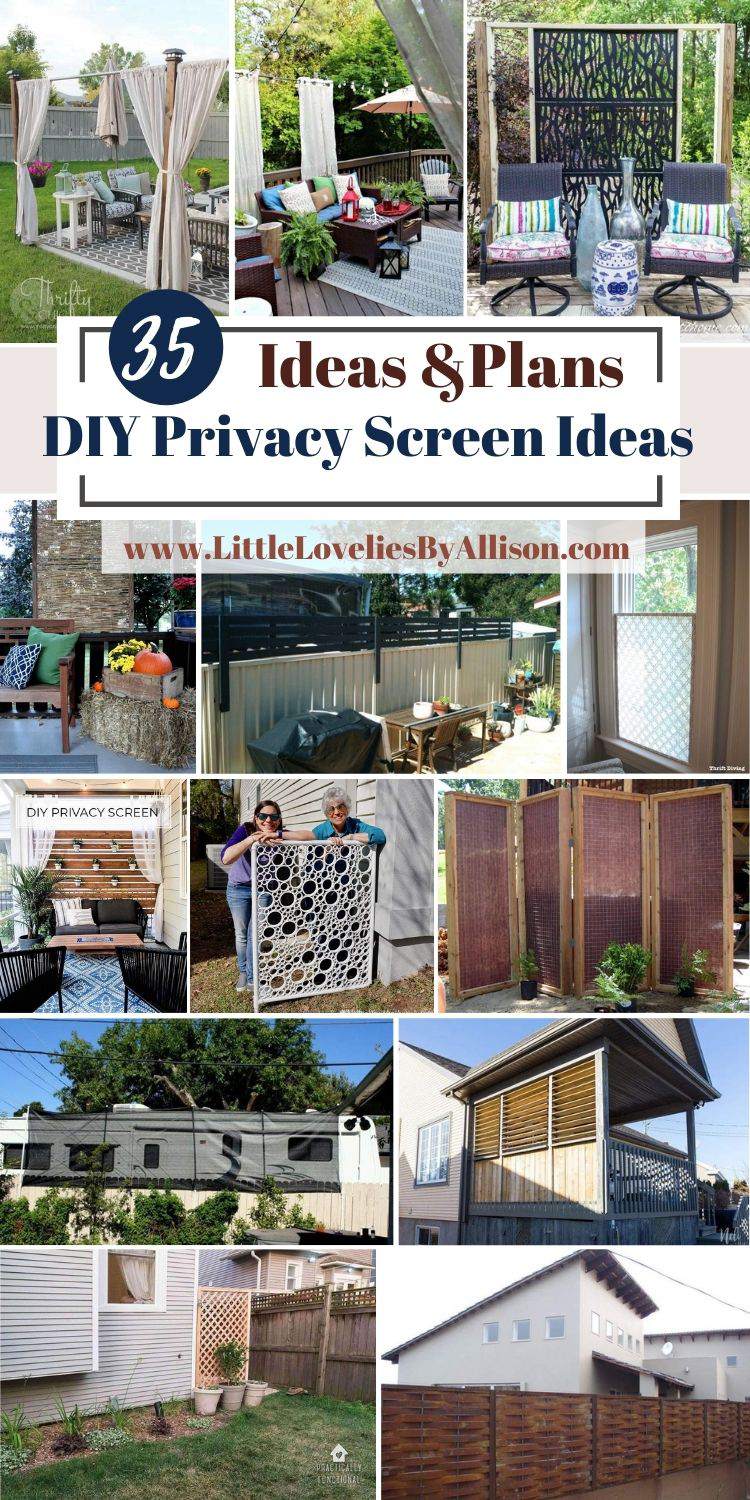 1. How To Build A Slatted Outdoor Privacy Screen
Oftentimes people don't like going to their back patio mainly because of the lack of privacy. This DIY slatted outdoor privacy screen will create more seclusion and a little bit more privacy in the area. You'd appreciate your back patio more after this.
2. How To Create A Faux Boxwood Privacy Screen
Are you looking for more privacy in your outdoor space? Then search no further, we've got you all covered. This video will guide you on the step-by-step process towards making this faux boxwood privacy screen. You'd be amazed at the results.
3. DIY Outdoor Privacy Screens
This is a wooden outdoor privacy screen made out of pressure-treated lumber and cedar fence pickets. This quick video walkthrough will engage you in the steps to creating yours.
4. How To Build An Outdoor Privacy Wall
This easy-to-make outdoor privacy wall will turn your outdoor space into a private oasis and you'd love it. You'll see all the tools and materials needed to get this project done along with step-by-step instructions, construction, and staining.
5. DIY Garbage Can Privacy Screen
This Privacy Screen is a super easy build, a great project for beginner builders, although staining may take a little longer. So if you're like me who hates ugly exposed trash cans and recycling bins, you may consider giving this a try.
6. DIY Wooden Gate Window Screens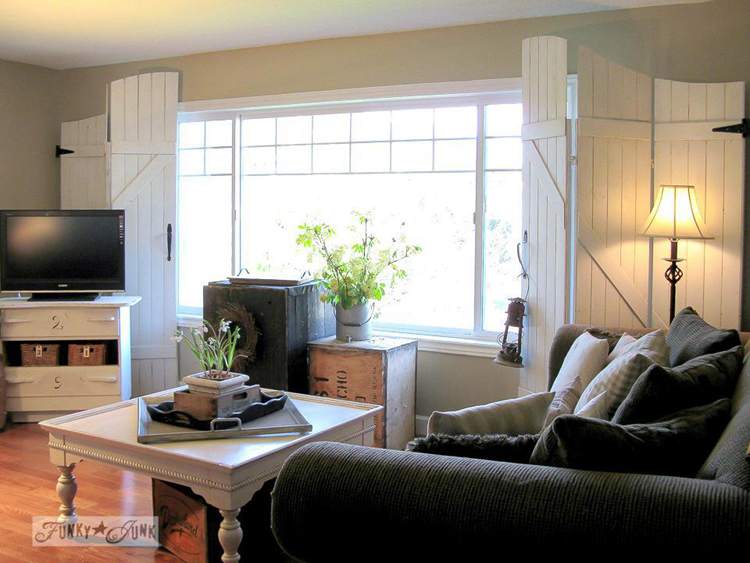 If you love window treatments then you can create your own wooden gate window screens as shown here. Before you begin building just ensure the height works with your room. You can now get these materials available; A room divider, Knotty pine interior plank paneling, Air nailer, White paint, Jigsaw, Palm sander, thin, bendable tape of some kind, gate hardware.
7. DIY Steel Privacy Screen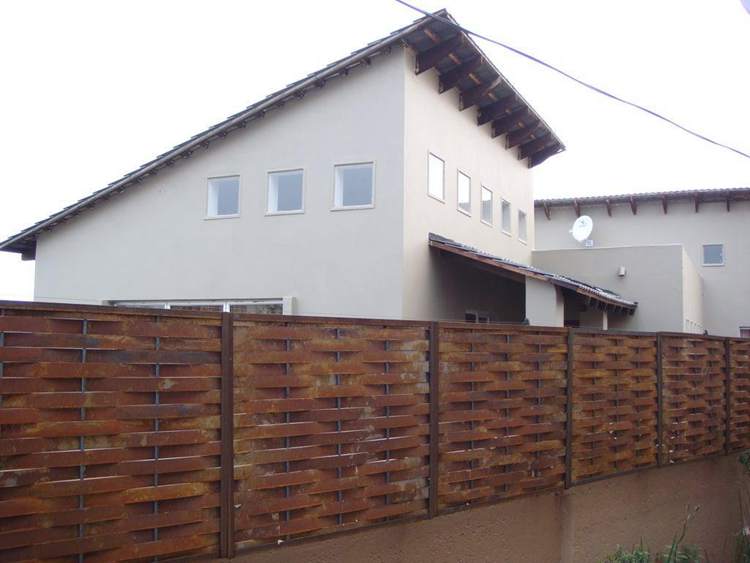 This is a steel privacy screening surrounding your home just like a gate to keep you out of your weird neighbors probably or from any nuisance out there. so I'm pretty thrilled with this project and its outcome. You'll love it too.
8. DIY PVC Pipe Privacy Screen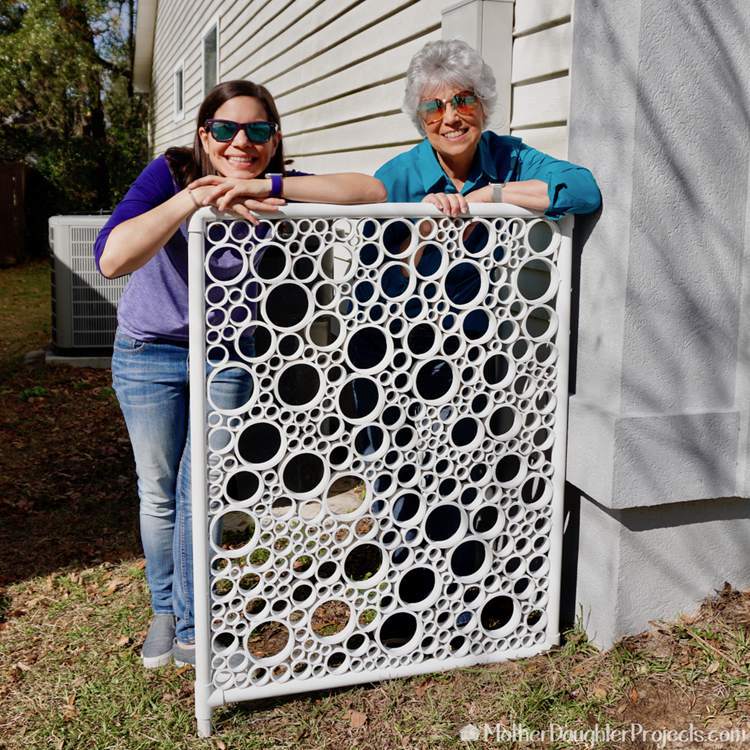 Permit me to say this is creativity at its peak. Not your regular Wooden or steel screen, this is uniquely made using PVC and it's really lovely. This may seem strenuous, but with an extra hand, you'll deal with this.
9. DIY Home Privacy Screen Tutorial
Privacy screens are beautiful indoor and outdoor additions to any home. But combining it with a living wall adds more life to your privacy screens and this video is here just for you. It will help you navigate through.
10. DIY Privacy Fence
If you're uncomfortable with the fact that neighbors always have to look into your patio and you think you deserve some privacy, well I bring you good news. You can build your privacy screen within a short period and your worries will be over.
11. Building An Outdoor Timber Privacy Screen
This is a hardwood timber privacy screen. As the name implies, you most definitely need timber and other tools/materials to create this simple DIY project.
12. DIY Privacy Screen
If you desire a privacy screen on your backyard balcony, I'm absolutely here for you. You're in the right place sweetheart. This video walkthrough is an easy guide towards building your own privacy screen at a cost-friendly rate.
13. DIY Trellis Screen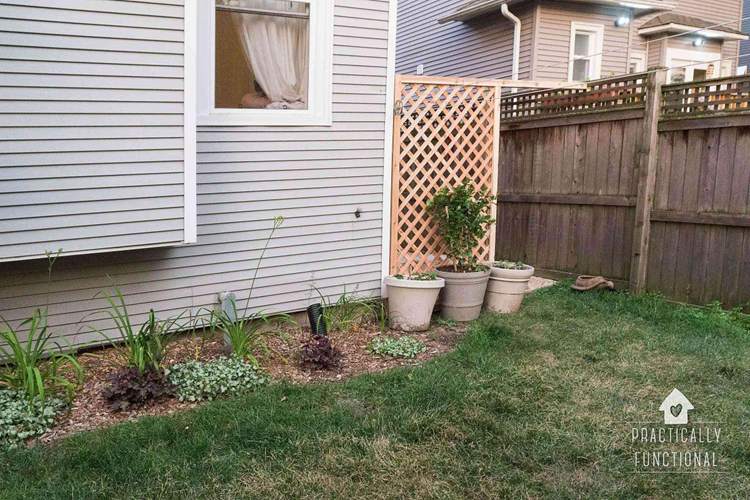 Is your backyard messy and filled with junk which is a terrible eyesore? It is ideal to build a super simple DIY trellis screen to hide the mess and it works perfectly to make the whole backyard look pretty and "on purpose"!. You can decide to create your trellis to fit your space or get a prefab or pre framed trellis but then you'll be limited to size, shape, and color.
14. DIY Outdoor Privacy Screen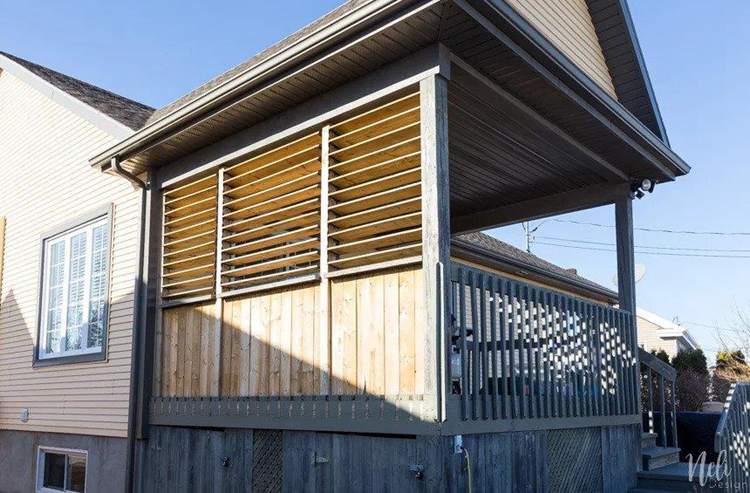 While looking for a privacy screen you may want to consider one that would not completely block the sun. This is a project that allows you to make louvers yourself. These were the materials used to create this; Hardware kit, treated wooden fence boards (1 x 6), 3 – 4 x 4 treated wood, screw for treated wood, miter saw.
15. How To Build A Privacy Screen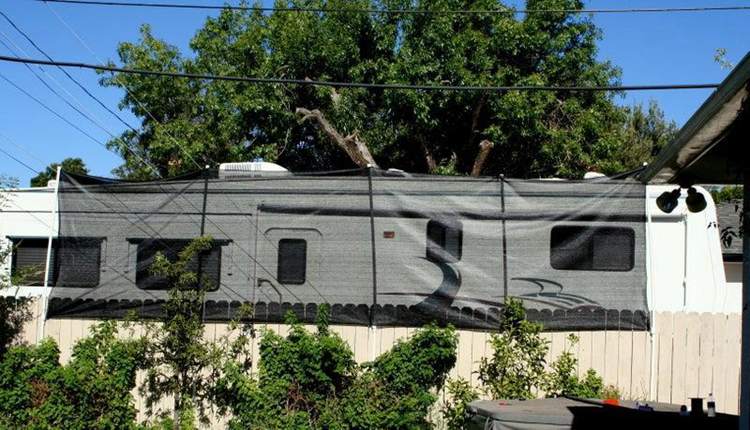 This project is made with PVC and sunshade or screen material if you're avoiding the use of woodwork. So here's what you will need: 1.5" PVC pipe cut to length, 1.5"PVC Slip x Slip connectors, 2" PVC Slip x Slip connectors, 1.5" PVC Slip Cap, Screw Eye Hangers, Sun Screen Fabric or Window Screening, Wire/550 Cord/Twine/etc., Wood Screws.
16. DIY Privacy Screen For Outdoor Hot Tub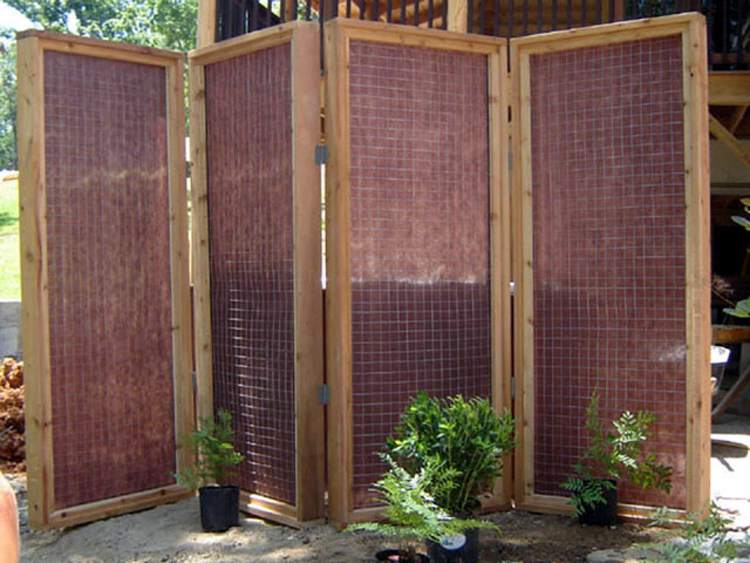 All by yourself, you can create a privacy screen for your outdoor hot tub using these tools and materials; pencil, staple gun, table saw, pneumatic stapler, nail gun, miter saw, air compressor, tape measure, 2x4 boards, staples, screws, 2x6 boards, chain link fencing, fabric, hinges.
17. DIY Lattice Privacy Wall
Do you have an open backyard space? I'm pretty sure you'd love to entertain your friends or family there but there's a privacy issue with your neighbors. I'm glad to announce that your worries are over, as this beautifully made privacy screen will settle your issues amicably.
18. Privacy Screen DIY
This DIY privacy screen project will help sustain your budgets. It is made out of used deck boards. But you can get a new one if you can. The outcome is really great and lovely. Follow through and you'll love it.
19. Easy Privacy Screen DIY
You can try out this easy backyard woodwork project if you don't mind. It is made using pressure treated posts, horizontal slats, stain, lag bolt, and washer. Explore this video and share the story of how you made yours.
20. DIY Privacy Fence
This step-by-step tutorial will help you build a horizontal privacy fence with a DIY gate attached. With your cedar plank, pressure-treated cedar, wood preservative, exterior screws, spray paint, carriage bolt, and some tools, this ultimate privacy fence can be yours.
21. DIY Window Privacy Screen
If you have an odd-shaped window or can't hang curtains, or would love to let light flow in during the day and replace your screen at night, then making this simple DIY privacy window screen is the perfect window treatment.
22. DIY Wooden Privacy Screen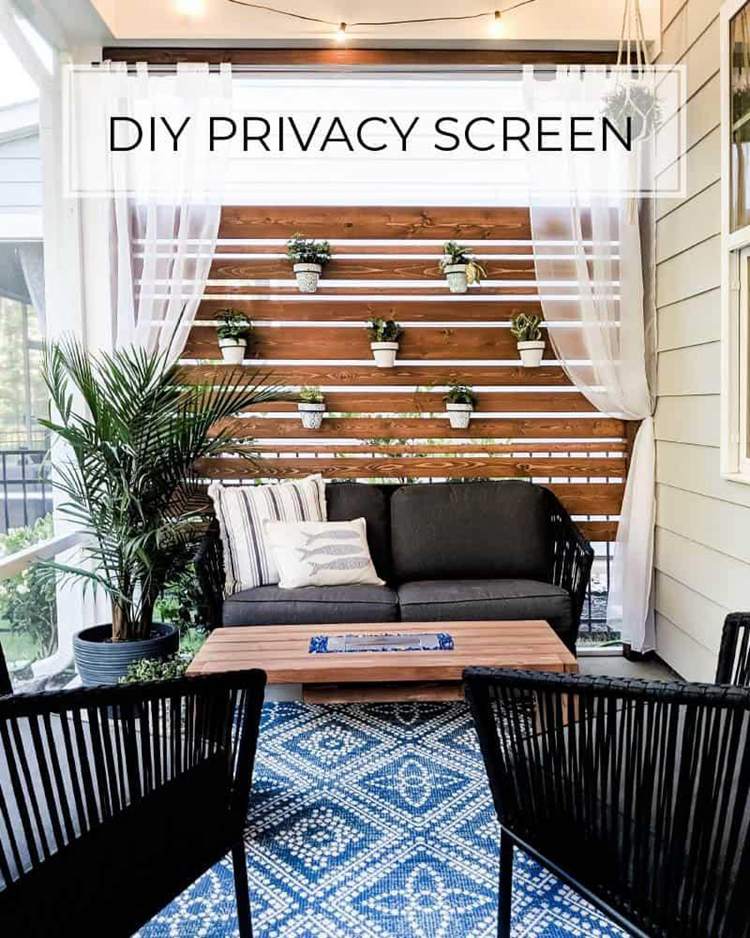 Do you want to enjoy your outdoor space in privacy while the sun is shining? Then you need to step up this quick and easy DIY privacy screen. Use these materials and you're good to go; 3-1x6x8 common boards, 6-1x4x8 common boards, 3-1x2x8 common boards, 3-4x4x8 pressure-treated boards, 8- ⅝″ x 4.5″ hex lag screw, 8-washers, 1.5″ outdoor Kreg screws, Stain, 7-plant holders, 14-1.5″ machine screws, 14-nuts.
23. DIY Wood Privacy Screen Attachment To Fence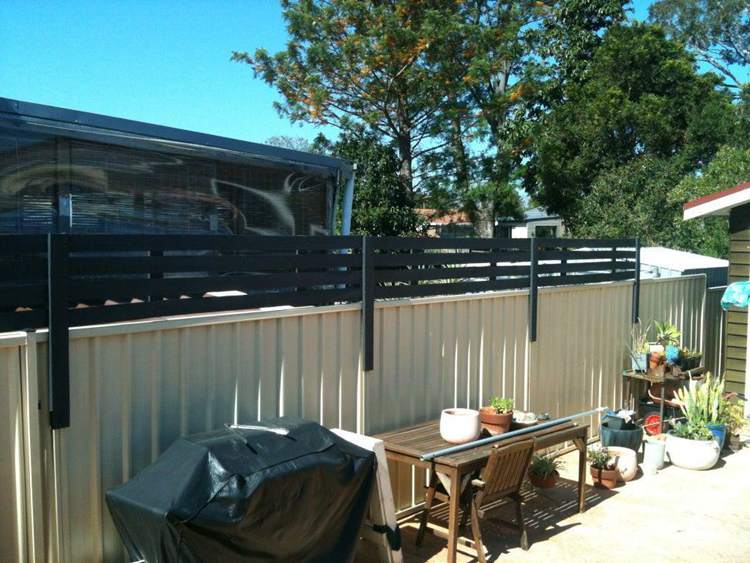 This DIY project will help you make this privacy screen extension to attach to your colourbond fence. By following through the right steps and doing it this exact way you will get a pleasing result with an option to incorporate further modification later on the exact color and size you want.
24. DIY Bamboo Privacy Screen
Just right there in your backyard, you can set up this super privacy screen made with bamboo. With the simple steps provided, you can make your own DIY bamboo privacy screen. It's simple, thrifty, and makes a very stylish impact on an outdoor space and a small budget.
25. How To Build A Privacy Screen
Do you wish your outdoor space was more private? Maybe away from nosy neighbors probably. This privacy screen is an easy way to create a little extra solitude or to hide unsightly things in your yard. Explore this video and enjoy your build.
26. How To Make Cedar Fence Panels
In this video, you'll be tutored on how to make cedarwood screens with built-in lights. With these materials you can get building anytime and anywhere; cedar battens, brass screws, oil, combi drill, chop saw, table saw, and silva timber.
27. How To Install A Horizontal Timber Screen
Right here you'll learn how to install your own horizontal timber screen. It's a seamless process, it's beginner-friendly and cost-effective.
28. DIY Deck Privacy Wall
A privacy screen is a great source of shade and wind protection for your deck. This simple DIY project can be achieved on a weekend. The privacy screen here is built with treated fence boards and metal posts. Enjoy your weekend build.
29. DIY Decorative Outdoor Privacy Screen
This aesthetic and decorative DIY outdoor privacy lattice screen is exactly what you need to shade you from excess sunlight and give you the privacy you need. It's interestingly easy to build and creates a beautiful backdrop for your outdoor space. Get building with these;  2 – 10′ x 4″ x 4″ posts, 6–8′ x 2″ x 4″ boards, 2-8′ x 1″ x 2″ boards, 3 decorative privacy screen panels, 1 package of ¾″ black screws, 1 package of 2 ½″ deck screws, gravel, cement.
30. DIY Outdoor Privacy Curtains
Curtains help cozy up space and provide some additional privacy. So what we have here are "floating" outdoor curtain rods to hang outdoor curtains on this roofless porch. Surprisingly this outdoor curtain is very inexpensive to create. These were the materials used; 2″ x 2″ x 8″ wood lumber, 1 in x 3.5in Screw Eye, 1 in. x 10 ft. Electrical Metallic Tube Conduit, Paint or Stain to Match Existing Decking, inexpensive Outdoor Curtains.
31. Under $100 DIY Privacy Screen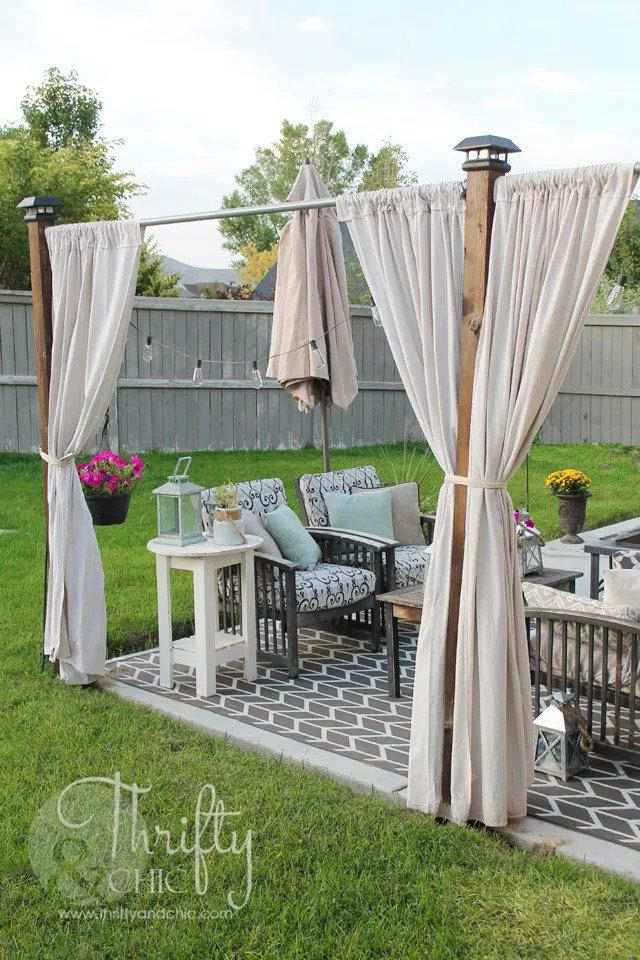 Do you feel a lack of privacy when hanging out on your porch? You can set up this cute little privacy screen that resembles the look of a pergola. It's a really simple DIY project which can be done in a day! The supplies used were; 3 4x4 posts (8'), Stain, Drop clothes, 2 curtain rods, Post caps.
32. Trash Can Privacy Wall DIY
Hide your trash can or garbage can from view. You can easily set up this easy-to-make privacy screen using scrap wood. It won't cost you a fortune but you'll appreciate the result greatly.
33. How To Build A Stylish Privacy Screen
This stylish privacy screen adds seclusion and style to your outdoor living space. It's an awesome project and this video walkthrough will be your ultimate guide, trust me. You won't have any regrets of any sort.
34. Building An Outdoor Privacy Screen
Adding privacy to your backyard can be as easy as building simple screens. That's why we're here. Interestingly, this is a versatile design that can be built in various heights to have that stylish and beautiful view you've always wanted.
35. DIY Mini Screen For Privacy
So right here is a great little DIY project that'll help you create simple screens for shade, privacy, or hiding undesirable items or views. Follow these steps in this video and you'll be proud of your results.
Conclusion
Privacy screens are just the perfect build for privacy and you can have them indoor or outdoor, whatever suits your preference is acceptable. Build and enjoy your space once more! Thanks for stopping by, if this article was helpful to you, please share it with your friends and family that might be interested in building a DIY privacy screen.