A power bank is one of the most useful things to have in your backpack especially when you are going on a long trip with no power source. There are a lot of power banks available for purchase online, however, you can build yours and make it have a higher capacity.
We included guides that show you how to build power banks as much as 50,000 mAh. The building process isn't as complicated as you might think. In no time, you should be done building one with the right tools handy.
1. How To Make A 50,000 mAh Power Bank
Here is a quick guide on how to make this 50,000 mAh power bank. It's super easy and cheap. You need to scrape laptop batteries and lots of battery holders. Firstly, Open the scrape laptop battery and remove the small battery cells inside, you also need to check the voltage of the batteries to confirm that they are still good for use and then place them into the battery holder and use a soldering iron to connect all of the terminals.
You also need a 3S3.3V lithium battery protection board with a balanced circuit for 3 String. Locate the positive and negative points of the battery board, attach and connect the protection board with a soldering iron. Then finally a DC 4.5 - 40V to 5V 2A USB charger, DC-DC step down buck converter voltmeter module. This power bank is super strong and durable.
2. DIY 18650 mAH Power Bank
Have you ever thought about having the ability to power anything on the go, your smartphone, tablet devices, even laptops? You can power up to 7 devices at the same time with this 18650 mah power bank and they will both reach full charge within a short period with this amazing guide. The steps are easy and fun. The power also allows you to easily remove the battery cells from inside the power bank compartment. With this feature you can easily change the battery cells if they get weak and need replacement, this will help keep your power bank going for a long time.
3. DIY Laptop Power Bank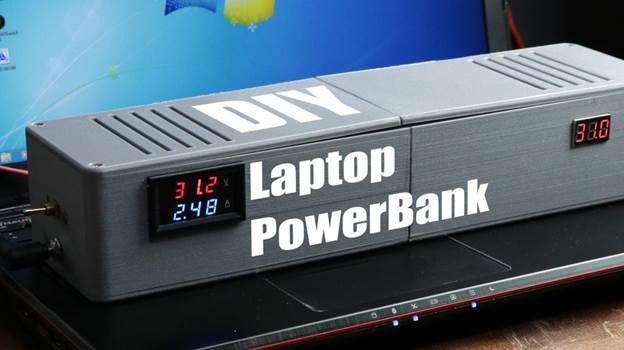 This power bank is designed for laptops, but you can as well use it for your smartphones and tablets. The power bank mainly consists of a Li-Ion battery pack, and a buck and boost converter with this converter the power bank can be charged with a laptop's power supply and later charge the laptop for about 3 hours when the electricity goes off in your area.
All the components were ordered from Aliexpress, you can order from your favorite online store if that's more comfortable for you. Check the link of this guide and see more about the video attachment that will guide you through the making process.
4. How To Make A Mobile Power Bank
Here is another amazing power bank that is just designed for charging Android phones. You need a boost converter, soldering iron, Li-ion battery, switch, charging module, solder tabs, and a few other materials. You'll be using scrap laptop batteries to make this power bank. It's a lightweight power bank, and very easy to make.
5. How To Make A Rechargeable Power Bank
Are you in need of a small, portable, and rechargeable power bank? Then you should try this guide. This power bank is up to 1000mah, and it's super easy to make. Here are a few components you'll need, a DC battery, connecting wires, soldering iron, a charging circuit board with a DC converter module. The downside of this power bank is that the battery might become bad quickly and you'll need a replacement afterward.
6. DIY 60,000 mAh Power Bank
To make this amazing 60000 mah power bank you need to spend up to $95 and you'll need a few materials needed for this task. This power bank is portable and can charge an iPhone 18 times over, charge an ultrabook laptop, and also charge a mini-fridge for 15 hours. The materials are a 3s lipo protection board that comes with balance, DC Step down with the constant current, a 150W 12V car investor, and other few supplies.
7. DIY 10,000 mAh Power Bank
With this time-lapse video tutorial, you can make a great 10,000 mAh power bank that looks like a commercial power bank that you could buy from an electrical store. You need four battery cells, sandpaper, electrical tape, soldering iron, and a few other materials. The power bank also has a flashlight, so you need to get that and install it as you build the power bank from scratch. The making process Is super easy and the power bank turns out to be amazing.
8. DIY 210v Powerbank Outlet
This is an amazing power bank outlet that is designed for charging laptops, fans, and other electrical devices, as long as the power bank can carry the load of the devices it's charging. It has a socket plug, not a USB port. You can also charge your smartphones but not with USB but with the phone's power cable. This is not a time-lapse video, the creator took time to narrate how this was done and it's easy and minor to build. It's also portable, it can't fit into your pocket but you can easily carry it around, even fit it inside your duffel bag.
9. DIY Fast Charging Power Bank
Here is a fast-charging power bank of over 70Wh. It's easy to make and very durable. Most phones nowadays are made with a fast charge feature and owners of the said phone are very skeptical about charging their phone with a kind or charger. You don't have to worry about that, you can use this power bank to charge it and it will reach fast charge immediately.
10. Ultimate 40AH Powerbank For Camping
This is a unique power bank made for camping trips. Having a wonderful alone time with family and friends is an amazing experience filled with magical moments, it's always cool to capture and save those moments, but they can get ruined with low battery. So, with this power bank, you can charge several devices on the go. It's easy to carry around and it's fun to build.
Conclusion
Did you know that you can build a power bank strong enough to power your Laptop? A 50,000 mAh power bank should be able to power up your laptop and other little things around. The build process isn't complicated at all. You can build a high-end power bank in less than a day.
Be sure to follow the guide till the end, a silly mistake could result in circuit errors that could cause damage to your device. Thanks for stopping by, feel free to share this article with your friends and family if it was helpful to you.