The normal thing to do would be to purchase a pool vacuum from online stores or ones near you. However, if you are like me who is keen on saving money and DIY projects you should check out the content of this article.
After intense research, I and a group of professional writers were able to come up with a compiled list of the best DIY pool vacuum homemade plans.
1. How To Make A Handheld Pool Vacuum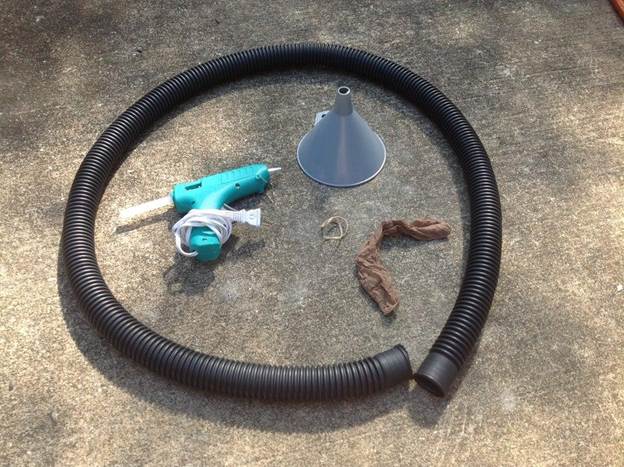 Are you having fun with your inflatable swimming pool? You need a vacuum that can easily clean up the dirt from the pool and keep your water clean and healthy to swim in. You need a few materials to make this vacuum, things like knee-high pantyhose, a rubber band, a plastic funnel, a hot glue gun, and plastic tubing.
This plastic tubing's size depends on how large your pool is. For this guide, you'll be using a 1" diameter length tubing. The next step is to attach the plastic tubing to the plastic funnel with the hot glue gun. Take the pantyhose and stretch it over the open funnel mouth and tie the end with a runner band. The pantyhose is used as a filter to capture the dirt as you suck it up from the pool. This is a simple handheld pool vacuum.
2. DIY Pool Vacuum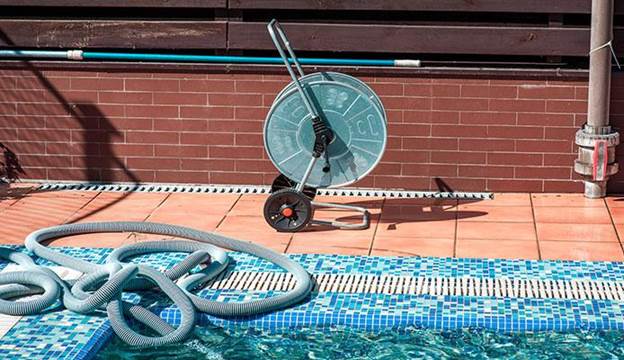 Here are a few things you will need to make this pool vacuum with ease. You need a 1" wide plastic tubing, knee-high pantyhose, runner band, plastic funnel, and a hot glue gun. The upside to this project is that it's super cheap, easy to make, easy to carry around, you can be flexible with the making process and use different kinds of funnel and plastic tubing till you get the one that works for you. The downside is that the parts are not of good quality and at a point, you will need to change some parts and those parts cannot be replaced, you will need to build a new pool vacuum all over again.
3. Homemade Pool Vacuum
The supplies needed for this task are different from the first two methods on my list. You will need a PVC pipe, PVC pipe caps, PVC male adapter, a connecting adapter, and PVC glue. There is one part of this building supply that might cost you a little over your budget, a water transfer electric sump utility pump. With this pump, you can clean your pool any time, any day. The good thing about this pool vacuum is that it's durable and easy to build. Once you make this, you don't need to worry about getting a pool vacuum for a long time.
4. How To Build A Pool Vacuum Out Of Junk
Instead of buying pool vacuums yearly, you can make one at home for just $5 and it will last more than a year. You can get this for cheap at the dollar tree or any other dollar store near you. You will need a plastic bucket cap or cover, a protective hatch, pipes, brush, pipe connector, and a few more items. This project is easy to make and also quite fast. All you have to do is follow this video tutorial carefully and you will build an amazing pool vacuum that will keep your pool shining all through the summer.
5. How To Make A Pool Vacuum Using Garden Hose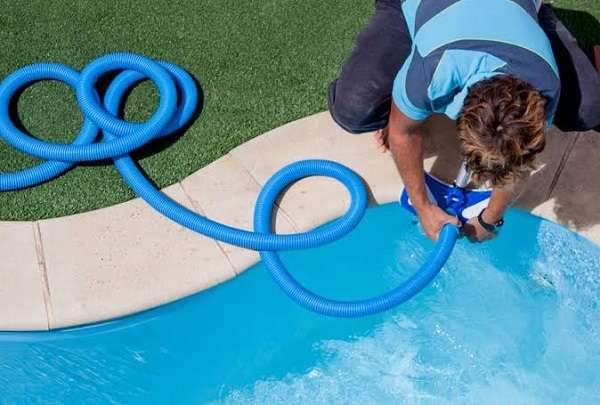 Once you're making this pool vacuum, you will wonder if you bought it from the store or you made it yourself. It's so unique and durable. All you need is your garden hose. If you don't have a garden hose, you can easily buy that at any hardware store for a cheap price. There are just 4 materials you need to work with. A garden hose, a plastic funnel, a telescoping pool pole, and a vacuum bag. The vacuum bag will store all the dirt when you start sucking the dirty water from the pool. This is easy to build and can be done within minutes.
6. DIY Pool Vacuum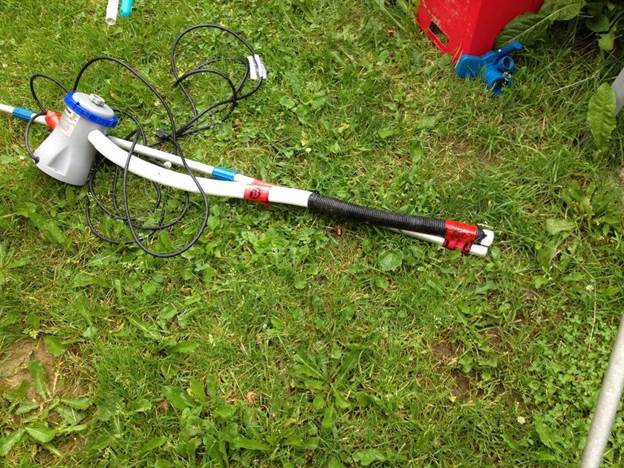 This is the simplest pool vacuum ever made. If you have a pole from a broken or ruined skimmer, and a small old but functional pump from a smaller pool, you can make this pool vacuum effortlessly. All you will need to do is to attach a pool house to the end of the small pump that sucks water, using duct tape to hold them firmly in place. The pump should have a filter, If not try and buy a pump with a filter. Then, submerged the pump into the water and plugged it in. The good thing about the pump used as a guide is that you can't run out of power.
7. DIY Pool Vacuum From Water Pump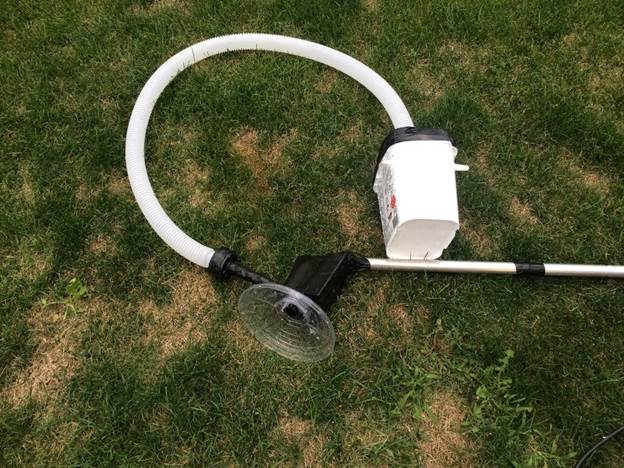 If you want to buy a pool vacuum it's always expensive and the cheap ones are practically useless and a waste of money, because they will get worse after some time. You can make this pool vacuum for just $50 or less. Also, note that you will need an electrified water pump that can be submerged in water. Here are a few materials to need, a small canister, long pole, filter material, a pond water pump, a shallow container lid, a hose, and a few other materials. For the tools, you need a hot glue gun, silicone sealant, duct tape, and knife.
8. DIY Homemade Pool Vacuum
Here's a perfect homemade pool. the vacuum that is easy to make, cheap, and a time saver. The pool vacuum used in this video was made for an INTEX pool but you can use this method. any other pool you have at home. The materials used in this video tutorial are easy to find. Check the video to see more about the supplies but keep in mind that you might spend a little if you are a beginner and don't have some of the tools used.
9. How To Vacuum A Pool
This video tutorial is one of the best, I recommend you try it out because this guide won't only show you how to make a pool vacuum but will also teach you how to vacuum your pool if you are a beginner and you just installed your pool for the first time. For making the pool vacuum you need a pool vacuum hose, telescoping vacuum pole, pool brush, Gunite or fiberglass vacuum head, and a vinyl vacuum head. Once these materials are ready, check the video to see more about the building instructions.