A pool ladder is an important feature in a pool that allows swimmers to have easy access to the pool without having to jump from an above-ground pool. It looks like a normal ladder but with a different fear as it pertains to pools alone.
To make a pool ladder depends on the size of the pool you have and how high it is from the ground level. The list of DIY pool ladder projects below will enable you to build the best pool ladders that you have ever seen, and you can do that with less spending, time, and a few simple materials and tools.
So, with that being said, let's dive in and see the pool ladder that you can use for your pool today.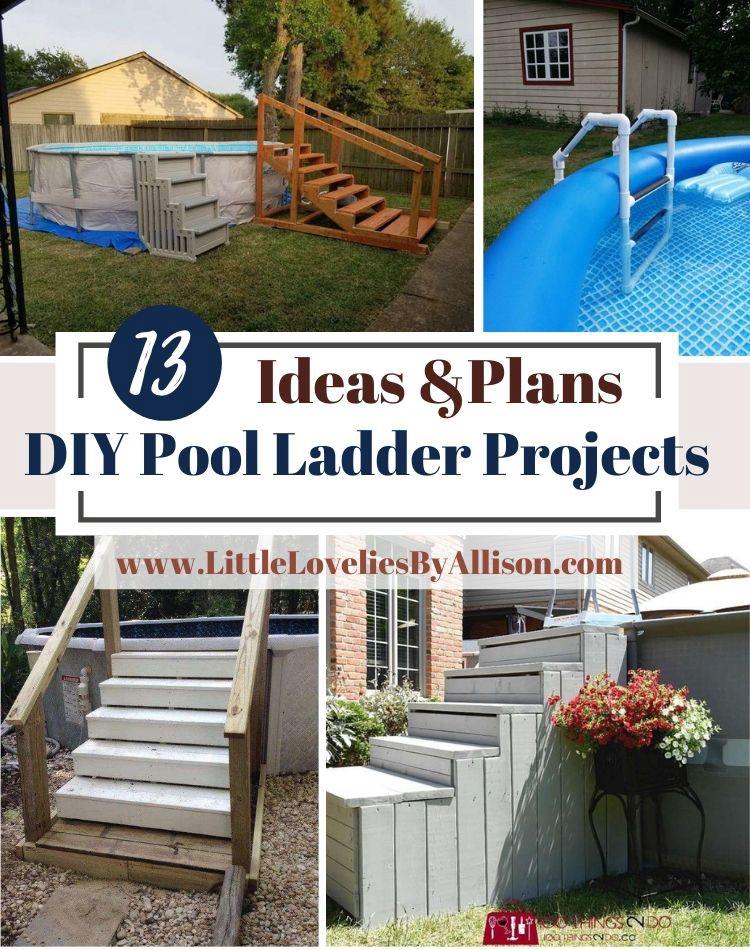 1. DIY PVC Pool Ladder
This is the first video tutorial guide on this list that is tasked with giving you detailed instructions on how to make a pool ladder using PVC. The making process is pretty easy and simple to follow. The creator got a few materials to get his Intex pool ready for the PVC coupling. He used some PVC T fittings, 60-degree elbows, and a few other PVC parts that make up the pool ladder. Once you have the PVC parts ready, the assembling is super easy, and within a few minutes you'll be done assembling and be ready to mount the ladder on your pool and see if it works, but it works alright.
2. DIY Above Ground Pool Wooden Ladder
This is an above-ground pool ladder made with wood. Unlike some pool ladders, this one won't be submerged in water, but rather made and attached to the outside wall of the pool. Note that if you don't have a sturdy pool, this wooden pool ladder will not work for you. It's a heavy-duty pool ladder and it might not rest well on a small soft side pool.
This pool ladder was also made with steps making it easy for the swimmers to climb up and jump off with ease. Besides, there are a lot of calculations, and measurements that were made for the wooden ladder and steps, ensure to follow them carefully, as that is the only way you can get the perfect design shown in the video. The making process is pretty much basic and not so complicated. You should be able to do this.
See also: 9 DIY Pool Vacuum Ideas
3. DIY PVC Pool Ladder
Here is another video guide that the creator used PVC as his major material for the pool ladder. PVC is easy to cut, join, and assemble, so you can't blame the creators for using them, the only difference is that this was made to be more sturdy with a different kind of PVC material that seems to be superior to others. The making process was quick and easy for anyone, including a beginner, building a pool ladder on a first attempt.
4. DIY Above Ground Pool Steps
This is a creative, and innovative way of making a pool ladder that will last long, the build was made with steps, and a deck, making it a modern and unique pool ladder. The making process is easy to follow, and with a few woodworking tools, you can complete the project effortlessly.
5. DIY PVC Pool Ladder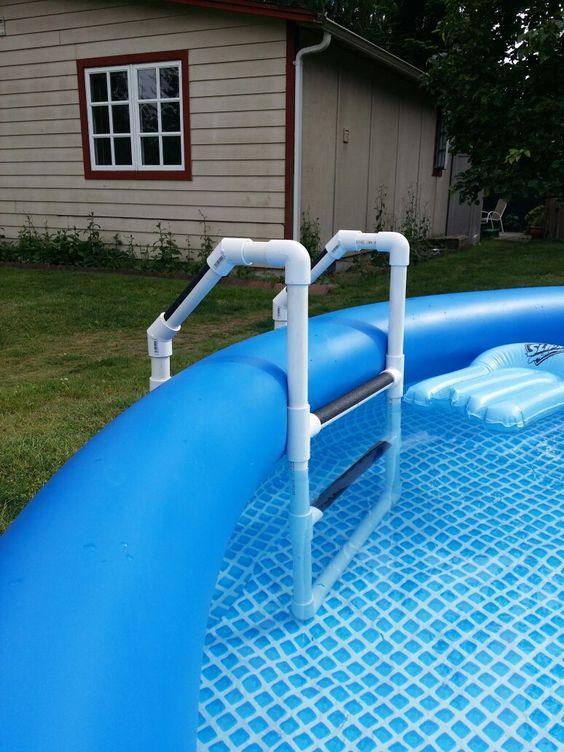 This is a great PVC pool ladder, it's sturdy, simple, and easy to build. Although it's not so durable, the swimmers have to handle it with care. Another important piece of information is that this PVC pool ladder can fit into any size of the pool that you may have at home. The first thing you need to consider before building the pool ladder with PVC is to check to measure the height of the pool. Then, get a few materials ready like PVC primer, PVC elbows, PVC T connectors, and other PVC properties.
6. How To Build A Swimming Pool Ladder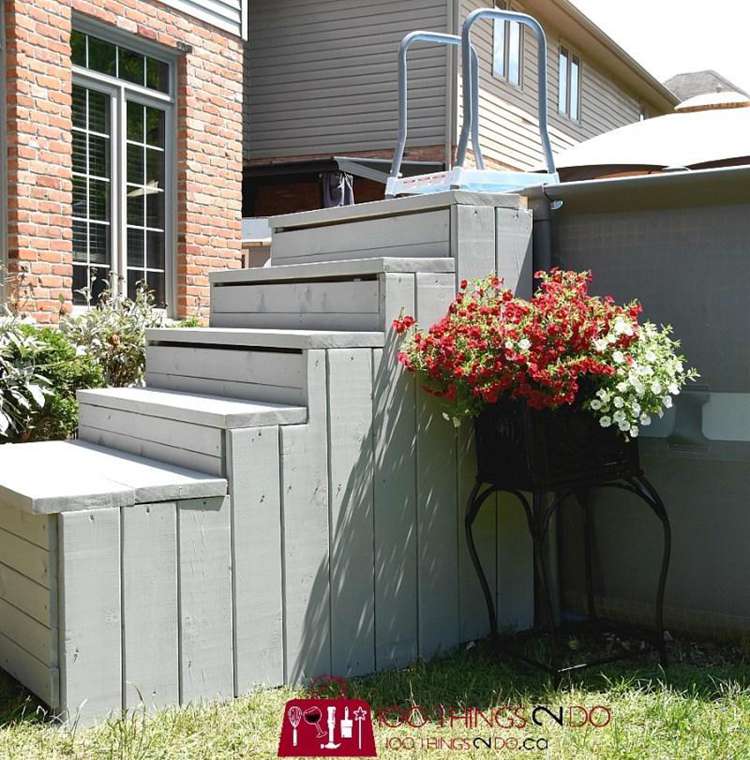 This should be the biggest pool ladder and steps you might have seen so far, so here are a few materials that you'll need to make the design you see reality. You need construction screws, anti-slip ape, deck stringers, deck screws, Arborcoat premium exterior stain, and wood. The wood has a cut list in the guide, you can check it out and learn more.
7. DIY Pool Ladder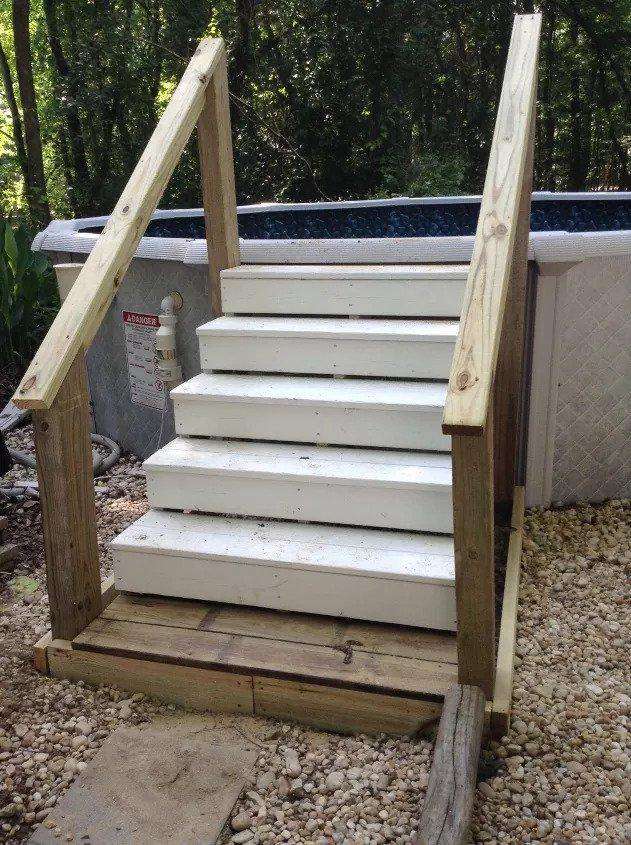 This looks like a simple pool ladder but takes a lot of work to build and construct. Although it's not so hard to make, you don't need an expert skill level to build this. You will also spend just about $20 to build this and it will take just 3 hours for the entire job to be done. So, with just 9 simple materials this project will be a walk in the park.
8. DIY Above Ground Pool Stairs And Deck
First, the creator started by making this pool stairs and deck with some sturdy wood boards, and planks. He started by screwing some pieces to form the deck base. Then attached some wooden legs, and then moved over to finally making the stairs. The stair build is a bit more complex and needs careful cutting.
9. DIY Dog Pool Ladder
This is an amazing pool ladder and platform for your dog. It's always a good feeling to have your dogs around our pool if you love dogs and have any at home. Although this video tutorial guide did not show how it was made from scratch, you can always use the idea from the video and make ours with ease.
10. DIY Pool Deck
A simple pool ladder was not going to cut it for this pool, so the creator made a pool deck to add to it and make it more sturdy and reliable. Now, your kids can jump off with ease and have an amazing time in the pool. It's super easy to make and all you need is a few bags of cement for the reinforcing of the wood frame base for the deck, some wood planks, and lots more.
See also: 14 DIY Pool Filter Ideas
11. DIY Pool Ladder Assembly
This video tutorial guide will show you how to assemble and not build or cut your way to a finished pool ladder. The creator started by laying the metal pipe fittings that he had laying around. Then, he systematically assembled the metal pipe frame to form the pool ladder. This is a simple and easy project to build, if you don't want to get involved in PVC or wood, you can use this method and make a pool ladder right away. Also, the creator gave step-by-step instructions as he was assembling the frame in the video, which makes your job a lot easier.
12. How To Install In-Ground Pool Ladders
His video guide will show you how to install an in-ground pool ladder. This is quick and easy. It took only 30 minutes for the creator to finish the making process. This time-lapse video guide is easy to follow because the creator recorded all the steps he had to go through to make this pool ladder work. If you decide to purchase a pool ladder rather than building one you can use this guide to install it properly and effortlessly.
13. DIY Pool Ladder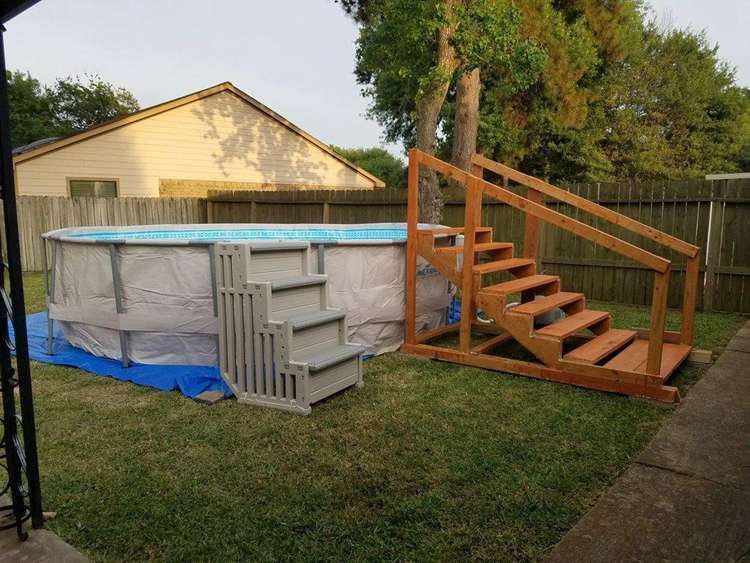 This is a gigantic pool ladder that will require a few materials. You'll need some wood in several dimensions, wood screws, Arborcoat premium exterior stain, deck stringers, and a 3M anti-slip tape. For the wood dimensions, here is the brief cut list you should have in mind. You need three 2x10x10, seven, 1x4x8, nine 1x6x8, and finally six 2x4x8. The pool ladder is quite large, as you start our building from the base and work your way to the top.
Conclusion
That is all we have, for now, the list you see above is the best list of pool ladders that you'll
find. So, I believe that you have found the perfect pool ladder idea that will work for you, and that you can use it to build an amazing pool ladder for your family. It doesn't get better than this.
Thanks for stopping by to view this post. If this article has been helpful to you, please do us a quick favor by sharing it with your family and friends that might be interested in building a DIY pool ladder.