Creating a raised garden is easier to garden or nurse. Having the beds raised makes it easier to get to the plants. Another reason why garden boxes are ideal is that it's an easy way to garden in any size yard. You can learn how to build one of these planters quickly and with little damage to your wallet.
In this article, we have put together 35 DIY planter box ideas that you can make from the comfort of your home, you will need a few tools and materials to make one. Are you ready? Let's begin!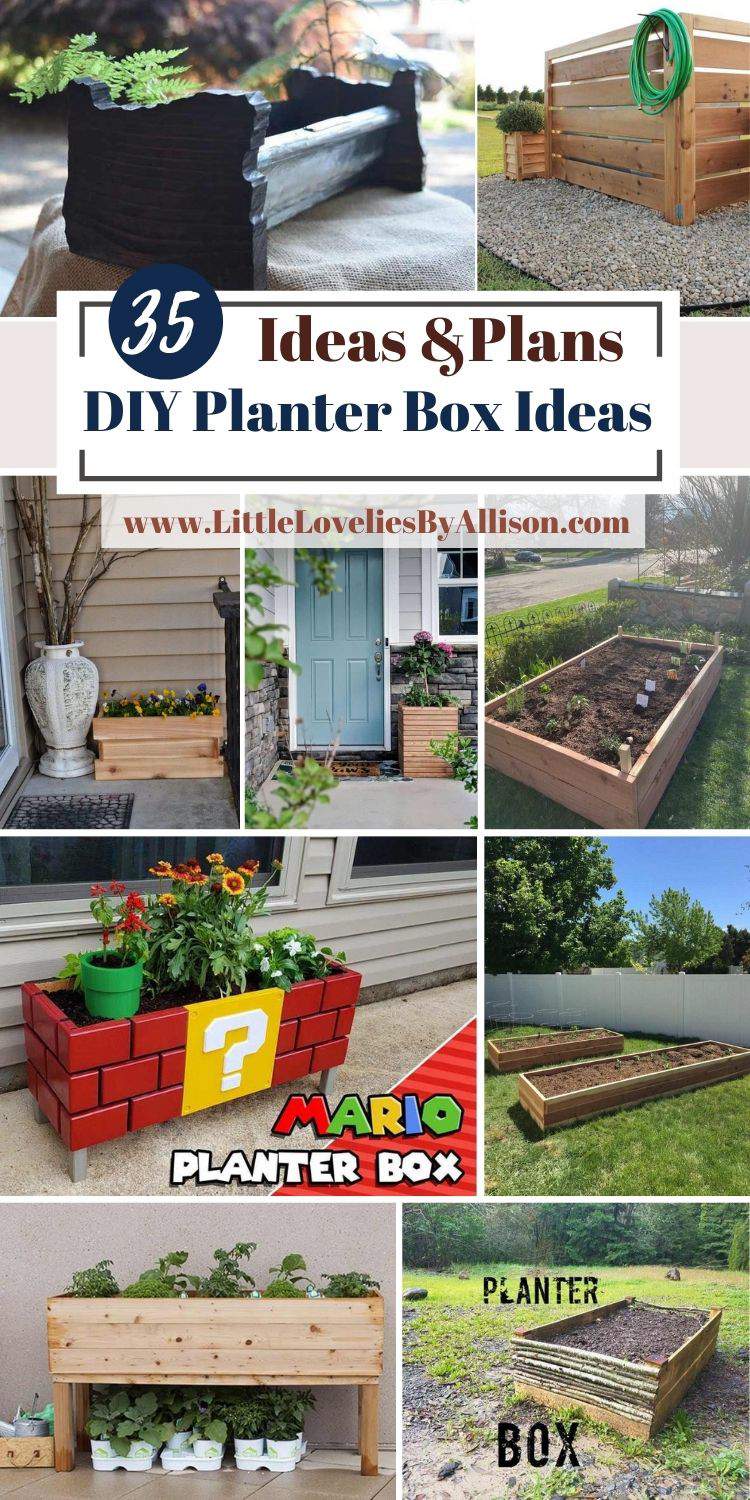 1. $23 DIY Planter Box
Here's how to make a good-looking and good-sized planter box. This sturdy planter box is great for adding fruits and vegetables to your garden and also to add color to your porch. With your basic tools, you can build. Circular saw miter saw, brad nailer, and a handful of screws.
2. How To Build A DIY Planter Box
In this video, you're going to learn how to make a cedar planter box that won't definitely cost you a fortune. It is inexpensive and you'll catch your fun in the process.
3. DIY Modern Raised Planter Box
A modern raised planter box made using wood and steel together. This is a beginner-friendly DIY project and trusts me with the right materials in place, you can achieve this. Materials like waterproof wood glue, plastic sheet, 2½" exterior rated screws, steel mesh, 1¼" exterior rated screw, enamel spray paint, and 2" exterior rated screw will help you achieve this.
4. DIY Raised Planter Box
The DIY project provided here will help solve your gardening problem. Why is that so? It is a raised planter box where you don't need to stress your waist, you can design it to the height you're most comfortable with.
5. How To Make A Simple Garden Planter Box
There are several different materials that work best to create raised planter boxes, but for the purpose of this project the following materials were obtained; Lumber (or vinyl) 8 boards (4 for length, 4 for height), Wood Screws, Weed barrier, Square stakes, Dirt (we mixed half garden soil and half garden prep mixture), Any materials for trellis or pergola.
6. How To Make A Rolling Planter Box
This DIY rolling planter box is quite cool and It's large enough to have a tomato plant with roots that will grow nice and deep.  So this article will show you how to build a 2'x2'x2' rolling box planter. This can be worked to create any size you need.
7. DIY Planter Boxes
These quick and easy planter boxes are 4 feet apart, both 3 feet wide, one 8 feet long and the other 12 feet long. They are about 16" tall. With your wood cut to size, build the frame and position boxes. Install drip line and sprinkler tie in and then prep the ground. Fill boxes with soil and your planting season has begun.
8. DIY Planter Box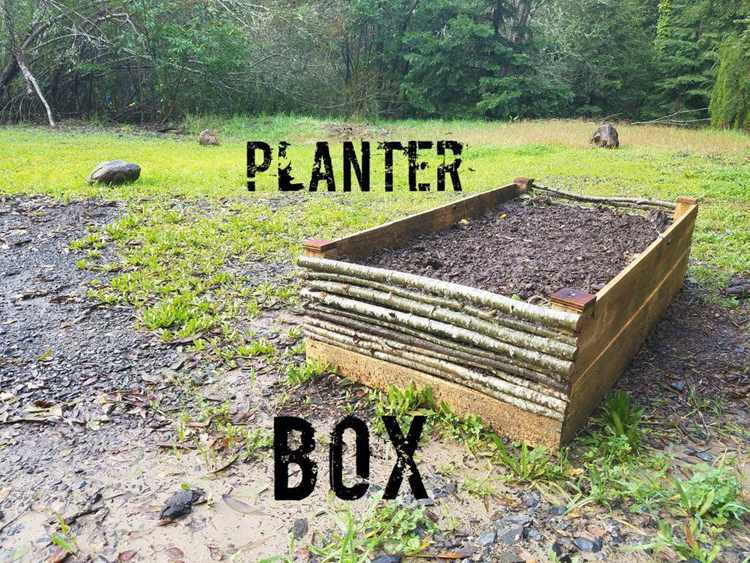 You may not have good ground or soil to grow your veggies or plants around your home. But you can set up this simple DIY planter box to help you grow a healthier plant. With these basic supplies you too can create this; Crowbar, Hammer, Handsaw, Chop Saw, Pallet, Sticks, Nails. Begin by Cutting the pallet to size, assemble wood and sticks, fill in dirt or soil and that's it.
9. DIY Planter Box With 2x4's
Here's an awesome, portable, and beautiful planter box made from framing lumber and pocket screws. This DIY woodworking project is super easy to make. Get it done, watch your plant and be happy with the yield.
10. How To Build A Wooden Planter Box
You may have a son, daughter, friend, or spouse who is interested in growing vegetables. You can easily set up this wooden planter box for them. This is a perfect build that you can easily build in a single day with easy-to-find materials and tools.
11. $5 DIY Cedar Planter Box
Using cedar fence slats, you will see how to make a cedar planter box. You can use any wood of your choice but cedar is great at resisting rot so it's good for this use. Ensure to make available the needed materials and get building.
12. How To Build Tall Wood Planters
To get a tall wood planter like this is expensive and may be above your budget. But at a lower rate, you can make this tapered, modern design that is fast and inexpensive.
13. DIY Wooden Planter Box
This wooden planter box is a cheap, easy, and effective way to have healthier plant growth. It can be made into any shape and size, and out of a variety of materials. With the available materials and tools in place, size and cut your wood accordingly. Attach the board by making pilot holes and inserting screws. You can add finishing touches.
14. DIY Elevated Wooden Planter Box
This project may seem to be complex but I assure you it's not rocket science. It's an easy elevated wooden planter box designed to hold upward of 400 lbs, which should be more than enough for wet soil and plants. I advise you to make these available before building; Saw, chisel, drill + bits,  screwdriver, staple gun,  clamps, (1) 4x4 x 8' cedar,  (10) 1x6 x 8' cedar,  (4) 2x4 x 8' cedar, 1-⅝" deck screws (1 box), 3" deck screws, landscape fabric,  staples.
15. How To Build A Planter Box On Wheels
Buying a planter or garden box may seem so much of a big deal as they tend to be expensive and sometimes not the size you want. So to save money, why not build your DIY Planter Box on wheels that's easy to relocate at choice.
16. Easy Planter Box DIY
If you need to grow plants that can last for a very long period, planter boxes are ideal because along the line you may need to relocate. Of course, if it's planted on the ground you will lose those long planting years. On the other hand, you can just take your box with you to your new location.
17. DIY Raised Planter Box With Hidden Drainage
This video walkthrough will guide you on how to make a cool, awesome planter box with hidden drainage to divert water. This wooden raised planter box is great for flowers and veggies.
18. How To Build A Massive Planter Box
Some woodworking may not require so much carpentry skills while others may require your skillset to be intact. Whichever way, just know that impossible is nothing. This huge raised garden box is made from cedar and lumber. It is approximately 8ft by 3ft by 1 foot deep and stands off the ground 32" high.
19. DIY Wooden Planter Boxes
Planter boxes in one way or the other are equivalent to flower pots. They add beauty while sitting outside around your home. This is a farmhouse-style DIY wooden planter box and looks great on your front porch.
20. DIY Simple Elevated Planter Box
This video will show you how to make a simple elevated planter box all by yourself. Yes, I said all by yourself and the most interesting thing is that it's cost-friendly, you don't need to break the bank or exceed your budget.
21. DIY Planter Box
This portable planter box is made from recycled wood. Ensure to cut your wood to its right dimensions. This article provided you with five simple, basic steps towards achieving this box.
22. DIY Mario Planter Box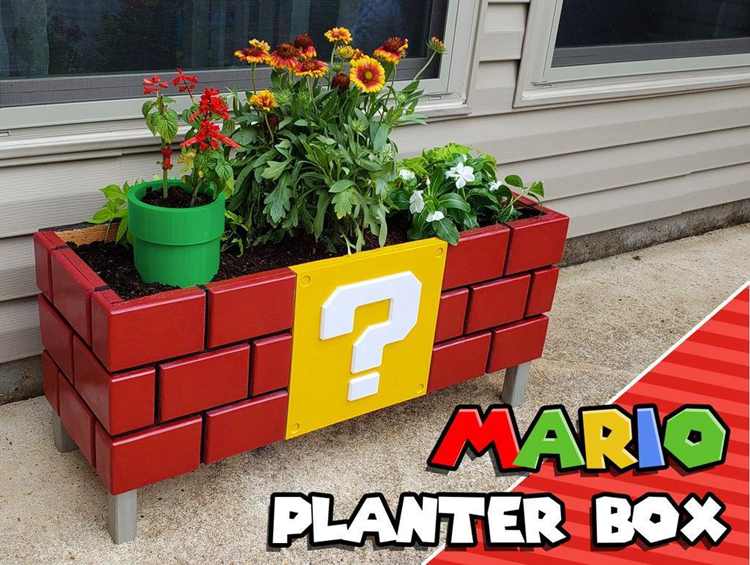 Looking for something more catchy and attractive? This Mario planter box is a great idea. Because like it or not, planter boxes can also act as beautifying elements around your home. Gather your needed materials and get the building immediately.
23. DIY Vertical Planter Box
This creative idea is different from the regular horizontal planter box placed on the ground or the elevated boxes. This is a vertical picture frame type planter, a mini succulent garden in a frame with plastic baffles used to hold dirt in place.  Using a spray bottle you can feed water to it since the succulents don't require much water.
24. DIY Louvered Planter Boxes
These cedar planter boxes will look good on any front porch. The good thing is they're simple enough to create within a few hours. I'll advise you to purchase the required materials to get this done quickly; (2) 2x2x8 boards, (2) 1x4x8 boards, (2) 1x2x8 boards, 2″ exterior wood screws, 2 ½″ exterior wood screws, Drill, Miter Saw, Exterior Grade Poly.
25. DIY Self-Watering Raised Planter Bed
This Video is an explicit lead or guide to how you can make this modern self-watering raised garden bed with a self-contained, sub-irrigation system just in case you're the type who forgets to water their plants. It is perfect for small backyards and balconies and also the front porch.
26. How To Make A Simple Planter Box
Right here is how to make a small, simple wooden planter box that you can build to grow a few veggies that you'd love to use often. The good thing is you can take your planter box with you when you decide to relocate or change its position.
27. How To Make DIY Pallet Planters
Are you tired of having that boring look around your home? I mean just your porch staring blankly at you. This DIY project made with a pallet will decorate your home or balcony and make it more beautiful.
28. DIY Modern Planter Box
This modern planter box is really basic and simple. No special skill set is needed to get this done. Follow through with rapt attention and you'll achieve this. The making process is pretty much basic and can be finished in no time.
29. DIY Oregon Planter Box
This article will take you through the step-by-step process of creating your planter. Do you know what else is interesting? The fact that upcycled or recycled parts of your planter will bring life and conversation to every tabletop, desk, or garden wall.  We will be incorporating metal craft and woodcraft with some tool work.
30. DIY Cedar Planter Box
Just in case you want to build something a little different from the regular planter boxes, this great work is here to help you do that. It is a simple DIY project to build especially if you have a Kreg Jig.
31. DIY Planter Box With Plans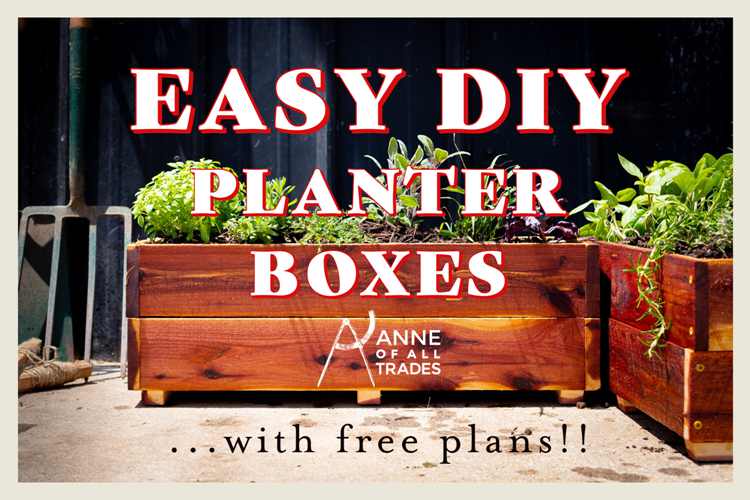 With an easy guide, you can make yourself a small planter box that won't break your wallet.
This DIY planter is a perfect and easy build project for those who can't have large raised bed gardens.
32. DIY Wood Planter Box Plans
For those who can't have large raised bed gardens, are living in rented apartments, have no yard, or just looking to spruce up their porches or window sills. This nice wood planter box will be suitable for you. It makes your front porch more inviting and adds livelihood to the plants.
33. How To Make Modern Garden Planters
With this video, you'll be tutored on how to make a modern garden planter that is cheaper and substantial. It is a Small lined wood planter that isn't time-consuming.
34. How To Make A Brick Raised Garden Planter
So much has been said of wooden planters. But I bring you a more unique planter built out of reclaimed bricks. The making process of this project is easy to follow, you will need only but a few materials and tools.
35. DIY Planter Box
Identify the position where you want to have your raised beds. This video grants a step-by-step tutorial on how to build a deep planter box. I think this planter box is beautiful and would look even better in your home.
Conclusion
In all these, you'll discover that none of this is difficult to make nor the cost to get them done overwhelmingly high. Having built any of these, you can watch your plant or veggies grow and enjoy the yield. Thanks for stopping by.