Writing materials are very little and easy to misplace. It is important to keep them in a place where they can be preserved easily. I have put together a list of 25 DIY pencil holder projects that are easy to make.
With the required materials handy, you shouldn't have a hard time making any of the pencil organizers listed in this article.
You May Also Like:25 DIY Sunglasses Holder - How To Make A Sunglass Organizer
1. Simple DIY Pencil Holder
Writing and reading culture can always get easier when the materials used to enhance it are colorful enough or appealing enough for children. At least they can pick out a pencil from their favorite DIY pencil holder. Remember that cup of parfait you took last week, that's the best place to start from. Take a designed paper and wrap around it, glue it, and add a magnet for yourself. You are done! Surprised?
2. DIY Pencil Holder From A Jar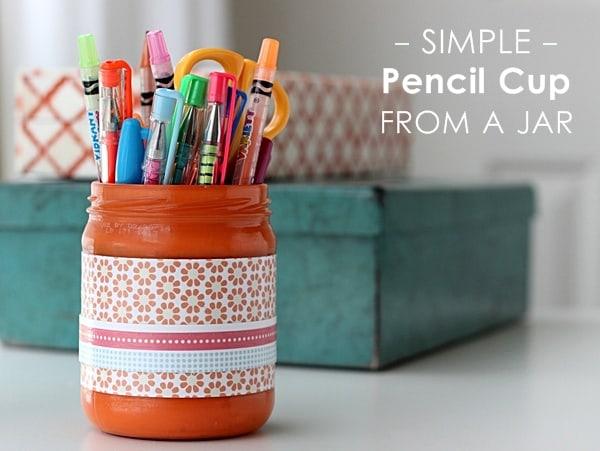 There are a lot of fun, easy and stressful ways to make a DIY pencil holder for yourself. This beautiful pencil case is made from an old jam jar. Now you have reasons not to throw empty containers and cans away. They can be reused to make something really useful. You will need to paint the inside of the jar so wash and dry completely so the paint can stick well. When the wallpaper is fixed, you can also leave it to dry. When you are done with fixing, you can spray it.
3. DIY Cork Pencil Holder
You can choose to make your workstation beautiful and colorful enough. A good working environment produces good results. This beautiful cork DIY pencil holder is pretty easy to make and allows for a fabulous work experience. Just carve your stencil on the cork and cut out. Glue the parts and you are good to go.
4. DIY Pencil Holder With Cork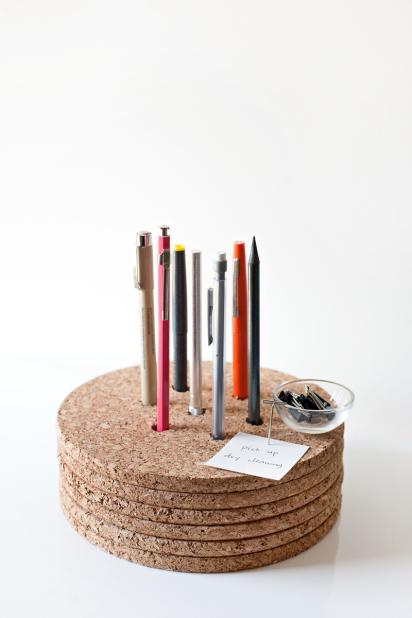 There are a lot of seeming weird patterns that you can use for your DIY pencil holder. It may look archaic but trust me, they are most times the most durable. You can use cork to make something different and stronger. Make detailed circles of the cork material with the same sizes. Glue each back to back to form a stack. Drill some holes in it and you are done.
5. DIY Pencil Holder
Children will want to learn to write when there is a motivation to write. You can start by creating one of the best DIY pencil holders for them. This TinkerCAD is made to look like a cartoon mole. This model is created for printing then you can fit in as many holes as you are comfortable with.
6. DIY Knex Pencil Holder
Getting yourself ready and fully kitted for the new school year is paramount and you can get this done with really easy steps. Remember that childhood play tool? K'nex is used to come up with this beautiful piece. Arrange the base, then come up with distinctive sides. Attach the two together and try fitting in your pencil.
7. DIY Desktop Pencil Holder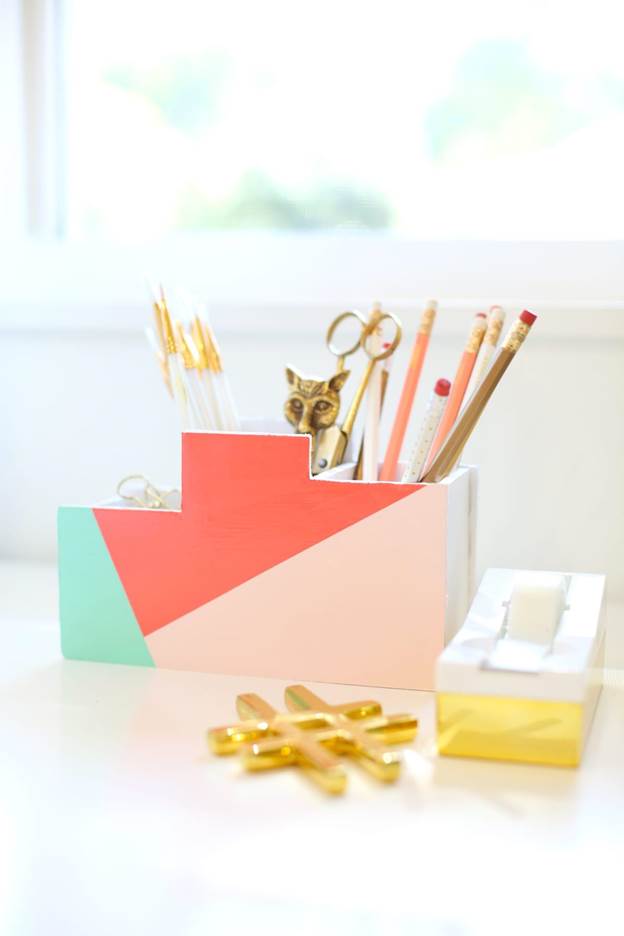 If you are a college student and you need a cheap accessory for your dormitory room then look no further? You are just at the right spot. This DIY pencil holder is very easy to make and very beautiful to have. It has little sections in between so you can choose what you want to fit in each. You will always need to measure and cut out your pieces first.
8. DIY Simple Pencil Organizer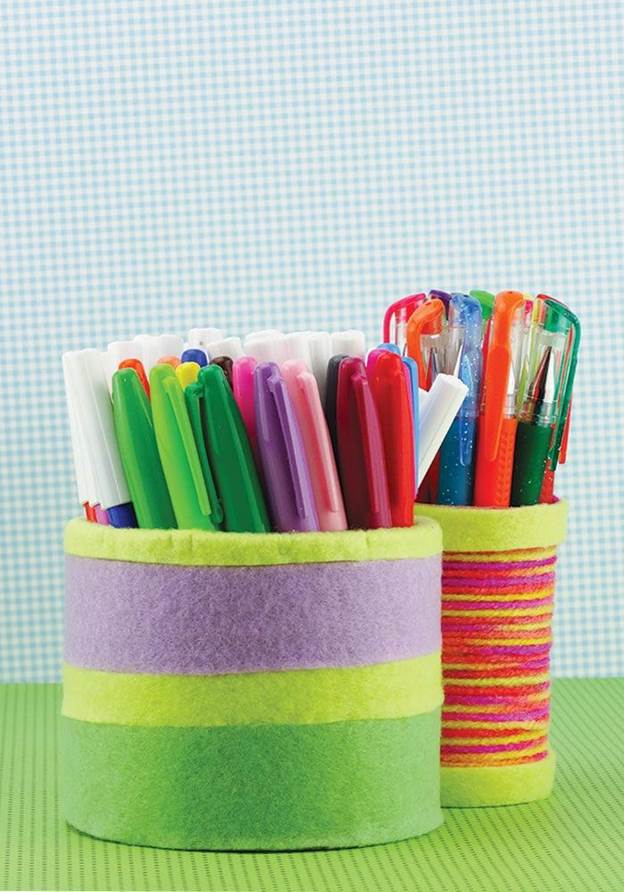 The perfect idea for your back to school teacher gift just arrived. You would not need a saw and a hammer to get this done. Just a few simple materials that you can find around. Don't forget, the colors should be able to match her taste. You can pick up about 5 different colors of wool for this project. Take an old jar or tin and attach it.
9. Concrete Style Pencil Holder
If you need to customize one for yourself, you can. Also, you can decide to call it a particular name you wish. When I make mine, I will call it topaz. This is made using bricks and you will need to let the wooden base dry before you start fixing your pencils in them so they don't have to stick to the DIY pencil holder.
10. Simple Concrete Pencil Holder
Your workstation at home, you can always spike it up a little. Guess what? With very easy to reach materials. Here, you will make the concrete from the scratch with a concrete mix. This can be all messy but you will love the end product.
11. How To Make A Paper Pen Stand
You should not let your writing materials litter everywhere. You can just make a simple and creative stand for it. This is made from hard paper and a little bit of folding. The patterns are explicit so if you can follow through you won't make any mistakes. You can make 4 or 6 boxes depending on your need then attach them together and form a base.
12. How To Make A Pencil Stand From Plastic Bottle
There are a lot of ways you can use to make this the best fit for you. This time, you will recognize that your plastic bottles are very important. Cut off the top because you won't be needing it. Attach a plain paper to the body. Carve any design you would love to be seeing for the next few days.
13. DIY Pencil Holder From Toilet Paper Rolls
Help your kids organize their homework desks so it will be easy for them to do their homework there. You can divide the toilet paper rolls to get different shapes. Design them as you wish, get a base, and stick all of them together again so there are sections.
14. DIY Porcupine Pencil Holder
This porcupine DIY pencil holder will surely keep your kids glued to the table. This will surely take a lot of time because you will need to work with clay and an oven to heat up the clay. Mold to shape, attach holes, bake, and assemble.
15. How To Make A Pencil Holder
This is one of the easiest DIY pencil holders you can come across. You can either use an empty tin, jar, glass, or paper roll. Whichever you choose, you can clean, paint, add embellishments, and use.
16. Heart DIY Pencil Holder
Fabric can also do justice to your DIY pencil holder. You will need to measure, cut, and sew. Attaching a zip may not be too easy as you will have to align well but with your measuring tape, you can never go wrong.
17. DIY Pencil Holder
You can choose to be creative from any angle and be unapologetic about it. Cans from processed food that are meant to go to the trash can should be easily used for this project. If you are using a clean jar, don't forget to remove the labels from it. Attach your embellishments with glue.
18. DIY Pencil Pouch
There are amazing fabrics that can be used to house your pencil crayons comfortably. This can easily distinguish it from the normal writing pencils. For this, you will need a sewing machine. To make the intersections, kindly fold and sew the tip in a straight line.
19. How To Make Newspaper Pen Stand
You don't need to throw away your old newspapers anymore. There is a perfect way to get them useful again. They are sometimes fragile so you may need to add more than one leaf together while folding. Fold and attach the base and glue the pieces together.
20. DIY Origami Pen Stand
These are just too gorgeous to behold. You will need different colors of paper to get this done. First, fold them to look like a straw then turn them into a triangular shape. The intertwined sections may look complicated but they are just DIY pencil holder steps anyone can do if you try.
21. DIY Pencil Holder
Your old Pringles can surely become useful here. Clean off the crumbs and cut the paper to size. Attach the paper and glue.
22. DIY Wooden Pencil Holder
This is unusual and it is made of wooden discs. The slices for the bottom should not be drilled. Clamp and attach. Use wood glue to attach the bark. It gives it that rugged feel. Assemble and dye.
23. Knit And Crochet Pencil Holder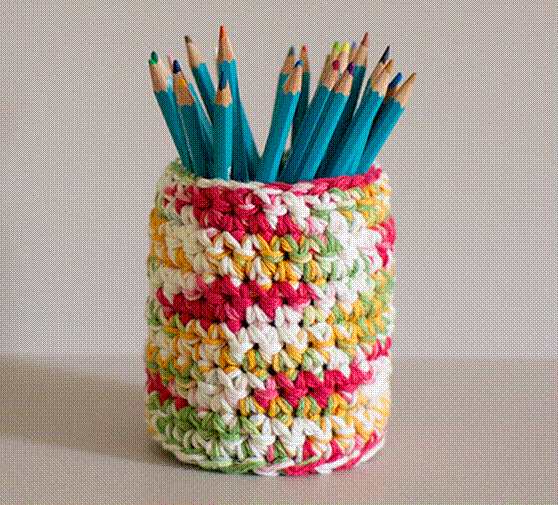 This knitted piece of DIY pencil holder will surely give your pencils some warmth. All you need to do is to rinse out a can or jar and lay the knitted piece over it.
24. Pencil Holder
There are so many beautiful pencil cases that can be gotten in the store. This is one of them. You don't need to break your waist with construction anyway.
25. Pencil Holder With Wireless Charging
No products found.
This is two-sided and it can easily be gotten at the store. It can be used to store pencils and it can also be used to charge your phone wirelessly.