As a builder, you often may feel like creating or building new and exciting projects, but you're not exactly sure what you want to build. We understand that this can be quite a challenge for DIYers, so let's help out.
The good thing about being a DIYer is that you can make new things from old and scrap items. Before you get rid of your wood pallets, did you know some cool furniture can still be made out of them?
With your old wood pallets, you can create different types of household furniture, including a pallet bed. It's not difficult to build, and with these tutorials, would soon get the inspiration you need to make magic.
1.DIY Double Queen Pallet Bed
Pallets are good wooden materials for storing, packing and carrying items. They have a strong, rustic, and traditional look and are simple to recreate. In this written tutorial, you would find various tips on how to build your pallet bed.
It first teaches you what you need to know about pallets; then it also teaches you how to choose the safest types of pallets for your bed and how to choose the right pallet size. Lastly, it shows you how to build a double queen pallet bed.
For this build, you would need the following: bolts, washers and nuts, sanding tool, drill and screwdriver, wood glue, a vacuum cleaner, screws and irons and a few other items listed in the tutorial.
Inside this tutorial, you would find step by step instructions that will show you how to make your pallet bed. There are also pictures within and more DIY ideas that will inspire you to make other designs.
2.DIY Pallet Bed on a Budget
This pallet bed can be made using about 12 pallets, LED strip lights, cable ties, plywood and carpet tiles. It is so simple to build that even the clumsiest person can make it without a hitch. You may wish to use sandpaper to give it a smooth finish, but it is not necessary.
In 2 simple steps, you can make this pallet bed. It is cheap but sturdy and great for use. In the first step, you make the bed by tying pallets together with cable ties. But, this is only an efficient alternative if you don't have drills, screws and nails to make a firmer method.
After building a good bed pallet frame, you attach the carpet tiles on top to give it a better finish, covering up the ordinary plywood frame. You can then turn on the LED lights which you have attached inside the pallet frame, to give the room an appealing look.
3.Swinging DIY Pallet Bed
This design was created to provide the builder with a sweet relaxation spot for summer. There are many ways you can make a swinging pallet bed. Using just a pallet and rope, you can make yourself a beautiful pallet bed. This DIY tutorial is suited to fit a twin size mattress.
The builder created this bed under a short time, and it was straightforward to build. For this project, prepare some pallets, 2 x 4 lumber, drill, screws, saw, measuring tape, rope, vinyl covers and a twin-sized mattress.
In less than ten steps, the builder gave detailed information on how to get this job done. Start by measuring the size of your cushion or mattress and figure out how many pallets you would need to fit your mattress.
Subsequent steps involve accurately constructing the frame and fitting in the rope for the swing. Once the structure has been built, you may tie the ropes securely to a tree or sturdy iron bar. Remember to cover the mattress and cushion in vinyl to prevent bugs and wetness.
4.DIY Toddler Pallet Bed
Moving your toddler from cradle to their own bedroom does not necessarily have to be a daunting task. You can make the process a fun and interesting one for both you and your toddler. A cute but protective toddler bed would do the trick.
Many of these toddler bed designs were built with guard rails to protect the child from falling or toppling over since they tend to be quite the explorers. In this guide, you would find different designs for toddler bed, and it's really up to you to choose which one works for you.
You would find low toddler pallet bed designs as well as high pallet beds. You would also find platform pallet toddler beds and a couple of other models you may wish to work with. However, one beautiful pallet bed design for your toddler, you can find in this tutorial.
5.Elegant DIY Pallet Bed
This pallet bed is made from 6 standard European pallets of 120cm x 80 cm. You would also need a 160cm wide mattress, paint for headboards, circular saw or jigsaw, belt sander, screw gun and screws, adhesive felt or rubber feet.
This bed frame is made in 6 simple steps; first, cut four pallets from 120 to 80cm long. Next, prepare the headboard pallets, sand the faces and edges of the bed frame pallets, put rubber or felts at the bottom of the bed pallets, and then assemble the bed.
It would be a good idea to assemble the bed in your bedroom because moving an already assembled bed may prove difficult to pass through the door. In the last step of the tutorial, you would install the mattress and begin use of the bed.
6.DIY Pallet Platform Bed
The pallet platform bed offers a sturdy place to rest, an exquisite headboard, built-in storage space and other interesting bits and things that give you a pleasant sleeping experience. It's made up of 2 single-layered pallets that you could add a few extra layers to, to add some height to the bed.
The written tutorial is made up of 6 steps, easy and simple to build. Use 2 sets of pallets that you find, and then sand them to add a little rustic effect, and also prevent splinters. Next, paint primer on the pallet's surface using any colour you prefer.
Join the two pallets together by cutting a small plank and joining the sides of the two pallets. Add some wheels to the corner of the pallets, and then top it with your mattress and sheets to complete the build.
7.Beautiful DIY Pallet Bed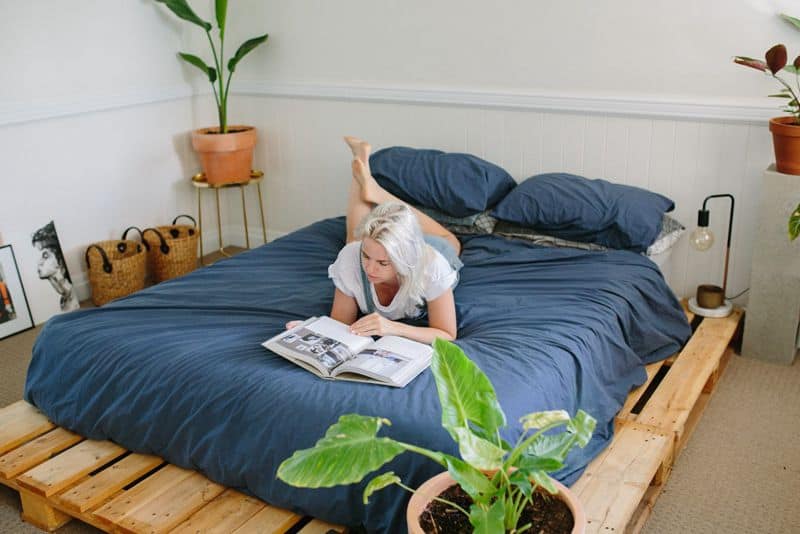 In this written tutorial, you would find a few tips and tricks on how to source for and choose the right type of pallets for your bed. You would also see how to prepare your pallets before you begin to use them.
For this bed, you would need four pallets. This would be enough to make a queen-sized bed and add storage compartments around the edges. The tutorial is made up of four simple steps, with pictures to give you a glimpse of how your finished frame should like.
Prepare your pallets, drills, screws, nails, circular saws, and other tools you would need for the build.
8.Easy DIY Wood Pallet Frame
If you have been looking to do some light bedroom decoration, this pallet bed would be great for you. First, you would need some decent wood pallets that would fit well for a double-sized mattress which is about 53" x 74".
He started by cutting each pallet in half alongside the second brace, using a jigsaw. The builder made cuts by cutting the rails individually on the side, and then flipping it over and doing the same.
After cutting the pallets, the builder moved them into the bedroom and did the assembling there. You would find more instructions on how to make this pallet platform bed within the written tutorial.
9.Cheap DIY Platform Pallet Bed
This is a video tutorial that lasts for about twelve minutes. It's a tutorial for a large-sized bed, and it has links to a free plan embedded in the description box. Some of the tools required for this project are ruler, Jig Saw, Precision laser, mitre saw, level bar, tape measure, etc.
He made use of 8 pieces of quality pallets that were still in good condition. The tutorial has free 3D plans within the description box, but you would also find that it is an instructional video with dimensions as the builder works.
10.Easy DIY Floating Pallet Bed Frame
This pallet bed design was not made to rest on the floor but float by hanging on the wall. It's a luxury pallet bed, for this build, she used Euro pallets, in good condition, not cracked or about to give way. She used 6 pallets for this bed frame, four for the base and two for the head.
She began the project by sanding her pallet boards before she got to work using them. She sanded both top and bottom, as well as in between each plank.
In this very instructional video tutorial, the designer would walk you through each process with dimensions, measurements as well as the estimated amount of time you would need for each of the building steps.
11.Super Easy DIY Pallet Bed (With LED Light)
You may first wish to note that there's a link to an updated version of this tutorial within the description box. Before you start to build, you may check it out to decide which of the designs you prefer.
It took about two days for this design to get completed, and the designer used only about $55 to purchase everything she needed. These include spray paint, 6 pallets, eight screws, gorilla glue, LED light and sandpaper.
The 13-minute long video tutorial has all the building information you need.
12.Super Short DIY Bed from Pallets
This is a concise 2-minute tutorial that holds a lot of information on how to build your pallet bed. It's not very instructional, but it is easy to follow without instructions. There are also no sizes nor measurements in this video tutorial.
For this tutorial, you would need pallets, of course, a sander, some nails, screws, drills and paint if you wish. For an accurate result, watch the tutorial carefully and make notes to create this unique double-sized pallet bed.
13.Fun and Easy DIY Pallet
This is a step-by-step video tutorial, and it is great because it is not too lengthy. It is also interesting and was a fun build by the designers. Their first step was to source for tools and materials they would be needing.
This is an instructional video; it has both written and spoken instructions so you should pay attention as you watch. The finished product was lovely and definitely would make a long-lasting bed frame.
14.1 minute DIY Pallet Bed + Plan
This designer is generous enough to give a free plan for his design. The link to the design is inside the description box, just below the video. In this project, the designer teaches how to create a modern pallet bed platform.
It is not an instructional video, but the details are pretty clear and easy to grasp. There is a written version of this tutorial in the description box. If you would prefer that, you can use that for your work.
15.Pinterest Inspired DIY Pallet Bed
Using crates that she found at a garage sale, this designer whipped up this pallet bed. Unlike other pallet beds, this one has no middle support because the cross-beam was quite sturdy, she wanted some space in the middle to be used as storage space and also for easy cleaning access when she needed to.
In a later update, the designer confirms that even after a year, the bed was still sturdy without cracks, wear or tear. If you're looking to create a long-lasting bed frame, this video tutorial will help you achieve that.
Conclusion
Pallets are very versatile scrap material that still proves useful even after they've been through a lot of use. With these tutorials, you can create some fanciful yet traditional looking sleeping pads that look fit for a magazine cover; these tutorials will guide you. They have all the information you need.