Storage space in a house is very important. Most of us can attest to the chaos of shoes, books, and leashes that can build up at the entrance of your house. Getting into a house only to find a whirlwind of shoes and dog collars at the door can be enough to ruin your mood.
A great solution is a good mudroom at the door to help keep everything in order. Thankfully there is a wide variety, giving people a good range of choices for what best fits them.
Today, you are going to learn how to diy makeup brush holder easily at home.
1. Use lockers
You can get affordable used lockers from online stores or used from other people. You can easily modify these lockers to create from compartments.
These compartments could be as small or as big as you need them to be. You can have them in any color you wish. Since they are magnetic, they can double up as message boards by using magnets to stick papers on them.
2. A rustic mudroom
Having a house is a rustic charm that turns it into a home.  When this charms, starts at the door, it affects allowing the inhabitant to leave the world behind as they enter their house.
It is relatively easy to do, and cheap because most of the things needed can be salvaged. You need crate boxes and hooks above them to hang coats and pet leases.
It also adds so much style to your home.
3. An Old Dresser
You can reclaim the old furniture in the storage rooms or basement and use it to create a great mudroom.
You can take it out, have it fixed it broken, and painted to match the décor of the rest of the house. All members can be assigned their own drawer. You should also consider having hooks to hang coats, leashes, and bags.
4. The Cozy Mudroom
You could use a corner to place a small bench. This makes the place feel very inviting. It allows people to have a sense of reprieve whenever they leave the outside world and get into the new.
You can use a salvaged bench and have it upholstered. Place this in the corner at the entrance. You could decide to have a small basket that could use to keep your keys, leases, and wallets.
5. An indoor porch
This might be a tad more complex than just having a bench inside a house. In this, you can enclose the porch indoors and create a sort of designated mudroom entry way.
This offers all the benefits of a regular mudroom but adds a lot more style. It helps hide the mess that can accumulate in the doorway.  You can repurpose old wood to give it more of a rustic look overall.
6. Mudrooms for small spaces
People living in metropolitans will appreciate this solution. These people need more storage but they dread the idea of having to add another piece of furniture.
You can have a door tree solution. This allows you to squeeze books, and other pieces in between other items. You could also have crates above for extra space and pockets to keep your things.
7. Hook based solution
This can also be a great alternative to those people without tons of space. The idea is to incorporate a lot of hooks to hold any bags, keys, and leashes you have. This helps as it does not take up too much space.
This solution can be merged with a shelf at the bottom to store things like books and perhaps even shoes.
8. Family command point
The mudroom does not have to just be a point to alleviate a lot of the mess that accumulates at the door. Due to its strategic point. at the entrance, it can help families accommodate the entire family schedules.
It can have hooks for all the bags, it can have a board to pin exam cards and extra-curricular schedules. From here lunches can be easily packed as they leave the house.
9. Reversible Mudrooms
These are great for renters. A lot of rental spaces do not account for the mudrooms. Thankful there are modular solutions that can be put together using screws that can easily be taken apart.
As much as it has the functionality, it brings in a lot of style along with it. The beauty of this is that it is reversible meaning that you get to keep your deposit after you left the building if you were renting.
10. A Traditional Approach
Tradition materials can be incorporated into a modern design and in the process create a very stylish look.
You can have a lattice board in the back and have hooks attached to it for a large space to hang your things. This option is easy, stylish, and very affordable.
11. A pallet solution
Pallets are a staple of a lot of wood-based DIY projects for the price and versatility. This also applies to the mudrooms, you can have a bench that is affordable and stills stylish enough to give your entry a bit of flair.
You could also add a top shelf for much needed extra space. Hooks can be a convenient and cheap way to get extra space for storage.
12. Small Space solution
Through utilizing the wall and a lot of hooks, you can get the most out of your mudroom. You can have a small cabinet on top of the walkway that offers storage for all your needs.
Directly below them, you can incorporate hooks that offer extra space without being that intrusive.
13. Using Ikea
Despite being mass-produced Ikea does produce very stylish pieces and at an affordable price.
Pick up an IKEA catalog and look for the piece you like best. Have them delivered and follow the instructions on how to put them together. These pieces will be very easy to clean and repair as it is just as easy to get replacement parts.
14. A small mudroom solution
In small rooms, you can repurpose a small nightstand to a mudroom, for convenient storage space.
This can be painted it match your home's décor, on top of that, it should have hooks for extra storage of coats, leashes, and bags. The key is to customize it to meet your specific needs.
15. A PVC Pipe Solution
A great mudroom should be able to accommodate all the resident shoes neatly. They can be painted to add to the style and match the décor of the entire house.
Using PVC pipes can help give a solution that is not only stylish but also affordable. With these PVC pipes, they are made into compartments for specific members of the household allowing them to be even neater.
16. Mudroom Bench Solution
17. A built-in solution
This is most applicable to homeowners. Having to put in a permanent mudroom is convenient for you and adds to the overall value of the property.
The key here is to have one that complements the feel and the look of the overall house. Since the mudroom is inbuilt, the expectation is that it will last for a long time, as such you should strive to get the highest quality materials.
;
18. The corner solution
This plan helps utilize the unused corner as a mudroom. The natural enclosed nature of the corner helps people zone out the outside world as they get in their homes.
Using the corner, you can have built a bench that incorporates all three walls. The space underneath it would be used as a storage space. You can have extra storage space that can be divided among all the family members.
19. The underneath staircase solution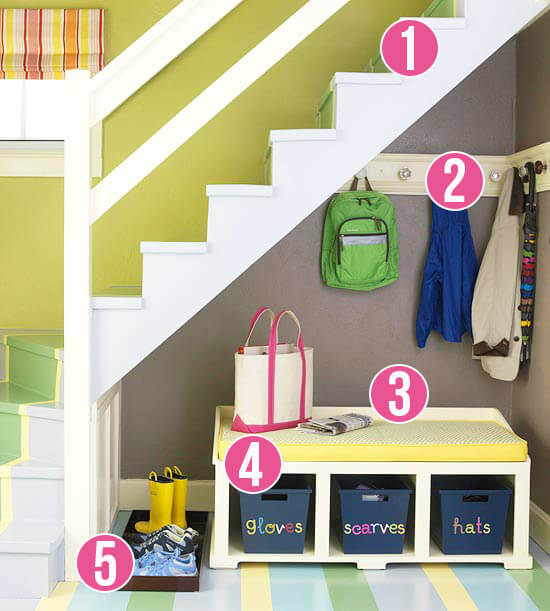 The space under the stairs is often overlooked, but it as good real estate as any other. You can easily have proper storage and hooks there to organize your life.
The key is to make sure that it is well light and clean. Have some baskets, hooks, and a bench to increase storage space and make it even homier.
20. Mudroom at the bottom of the stairs
Alternatively, a mudroom can be placed at the bottom of the stairs. This allows you to shed off your work clothes before proceeding to the inner atrium of your house.
The key here is to make sure all the requirements you use. Ensure there is enough storage for the shoes and clothes to avoid mix-ups with the rest of the users.
21. Mudroom in the garage
This fairly convenient for people that drive. Since their first contact with their house is through their garage, it makes sense that they would have a mudroom in the garage.
You should ensure that the garage is well secure and lit to avoid any discomfort. Ensure that is also as dry as can be to avoid any damage to papers placed there.
22. Mudroom Before the Kitchen
Some people choose to have their mudrooms near the kitchen. The kitchen is the heart of the home. Being in contact with it, allows people to feel at home as they get in.
The key here is to ensure that the outside does not contaminate the kitchen. Ensure that the kitchen is as clean as can be.
23. Mudroom Laundry Room
If hygiene is the most important aspect you consider, consider having it in the laundry room. This allows all the dirt from outside to remain there, and keep away from the rest of the home.
You should make sure that the laundry room is not too damp as to damage any of the documents that may be placed in the mudroom.
24. Mudroom Basement
This is secure and private, should you have sensitive things you'd like to leave before proceeding to the main house. A basement mudroom is a thing to have.
Most basements are prone to flooding when raining, ensure that you do not have valuables there before a rainstorm.
25. Mudroom alongside the stairs
This is not only very stylistic but opens up a lot more space for use than most other designs.
Space can be divided among all the residents to prevent any mix-ups, with the family. As each family member has their compartment, things getting lost will be rare.
Conclusion
The entrance to your home is important as it acts as an interface between the outside world and the family. It should allow people to unwind as they take off their shoes, bags, and coats.
For this reason, the functionality should not only be the object style and the blend to the décor should also be considered. There are many solutions at different price ranges and materials of construction, all that can meet your specific needs.
Permanence should also be considered. For those that live in their own houses, considering a long-lasting solution could be the way to go. For renters, the solution should be able to come off easily to avoid losing the deposit on the house.