A ladder shelf is a great way to add beauty and organize your stuff in your room, living room, office, garage, or anywhere at all. The concept behind a ladder shelf is not far from a normal shelf, just the design and a few other details that make the shelf unique.
In here, you will find 25 DIY ladder shelf plans that you can DIY easily. You might need some woodworking skills for this project. If you do not have the required skills, you can ask for professional help.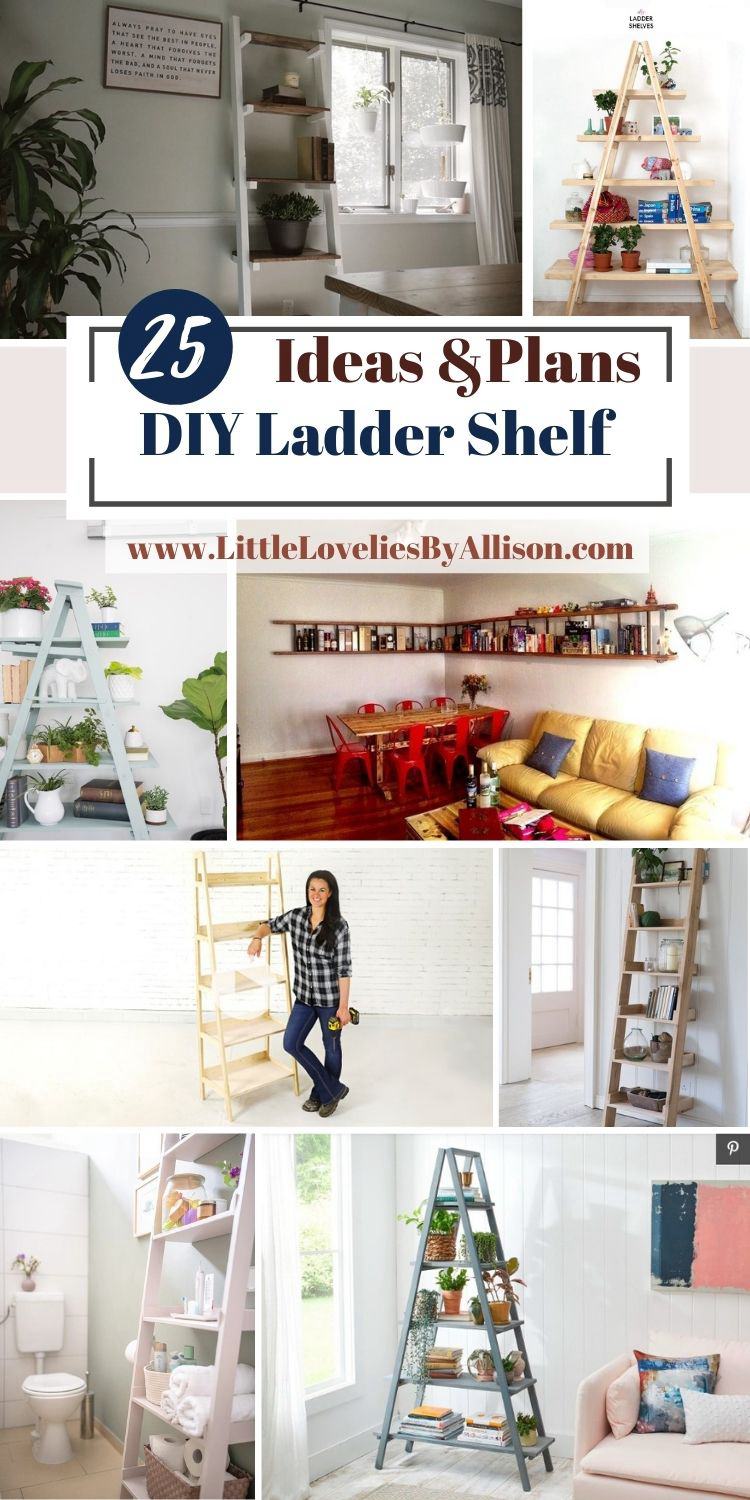 1. DIY Ladder Shelf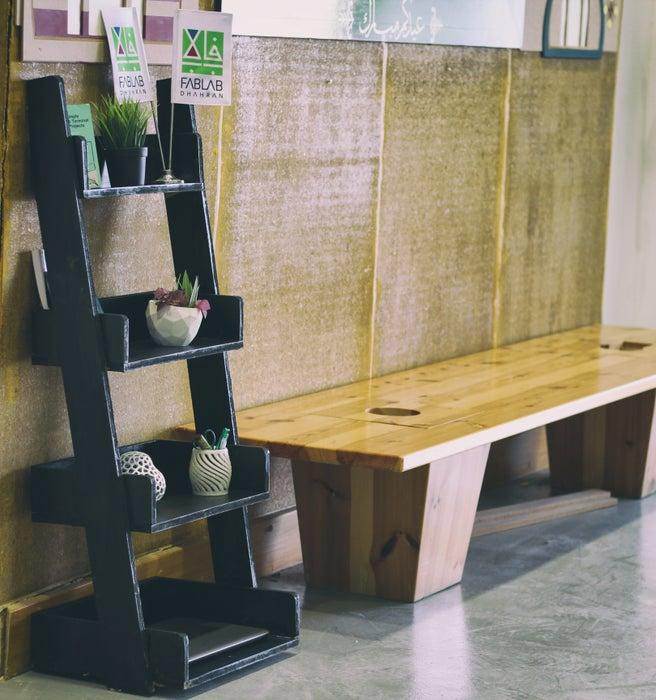 So, starting with this guide you'll need MDF boards with 18mm thickness, wood paint, screws, sanding papers, clamps, and a few other items necessary for the woodworking process. Just 4 simple steps and the build is finished.
2. DIY Modern Ladder Shelf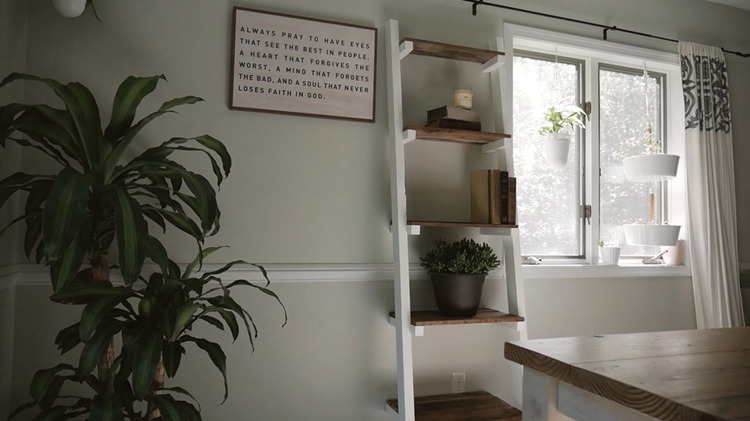 This modern ladder shelf is a unique and new way to make a shelf that's that high and space-saving. The making process is super quick and easy. This modern ladder shelf costs less than $15 making it also super cheap.
3. DIY Wall-Mounted Horizontal Ladder Shelf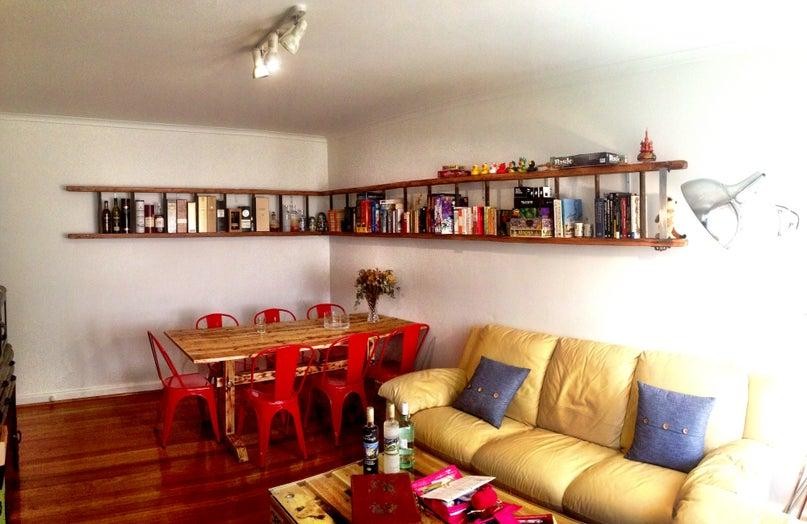 Unlike an ordinary ladder shelf, this one hangs on the wall, it's a horizontally wall-mounted ladder shelf that's quite easy to build. It's also a corner shelf, based on the way the creator made it.
4. DIY Leaning Ladder Shelf
This ladder shelf looks like an actual ladder, it's super easy to make and you can do it with just 7 simple steps. This ladder shelf leans on the wall which makes it easy for you to adjust and change positions whenever you want.
5. How To Build A Leaning Ladder Bookcase
Here is an easy DIY ladder bookshelf, it's a leaning ladder shelf, and it takes only 4 hours to finish the making process. It also costs $55 which is quite high but fair enough for a strong and durable bookshelf like this.
6. How To Build A Ladder Shelving Unit
This is a great leaning ladder shelving unit that was made by the creator in the video, using wooden planks and MDF boards. The guide was super easy to make, a great guide for beginners.
7. Ladder Shelf DIY
This ladder shelf looks like a real ladder but is a nice shelf to organize flower planters, art sculptural designs, and other important items you wish to display.
8. How To Make A Ladder Shelf
This guide will teach you how to make a ladder shelf for just $25. It's a simple and adorable modern-style ladder shelf that doesn't require power tools to perform.
9. How To Create A DIY Ladder Shelf
So for this guide, you'll need a lot of wood planks, check the guide to learn more about the dimensions for the wood. You can place virtually anything on this ladder shelf because it's spacious.
10. How To Build A Leaning Ladder Bookcase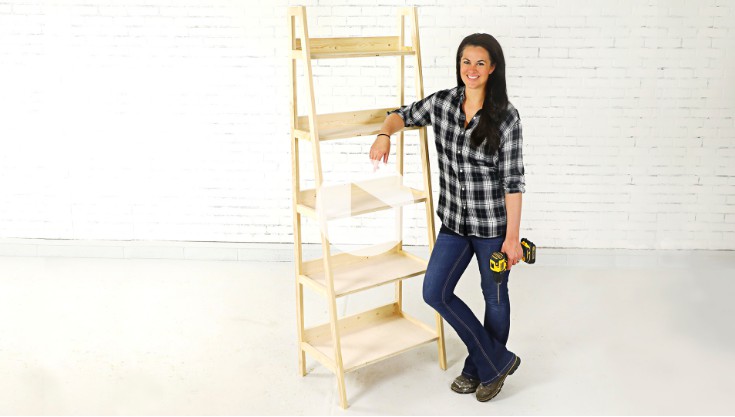 Do you want a ladder shelf that leans In the wall, making it easy for easy movement and adjustment? Here is a sweet guide that will help you make your dreams come true.
11. DIY Ladder Shelf For Bathroom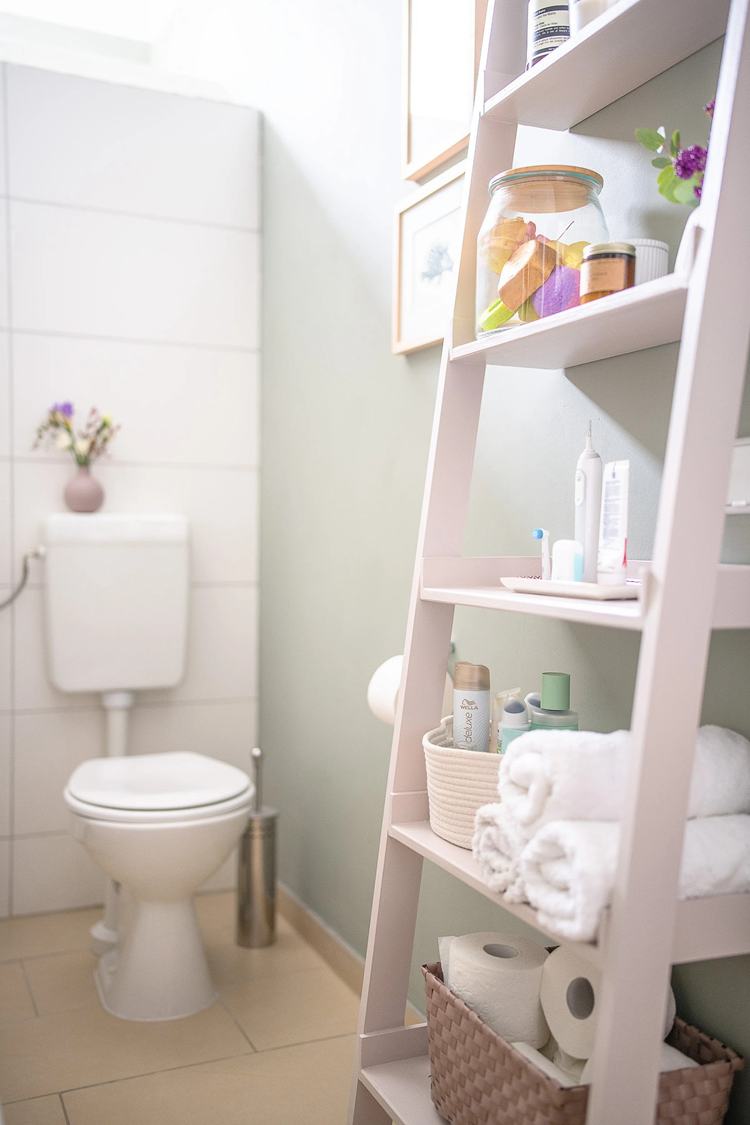 Do you have a spacious bathroom and you need a shelf? Then you should try this guide, the creator made a stunning leaning ladder shelf for a large bathroom space. The steps are super easy and inexpensive.
12. DIY Ladder Shelves
Here is an elegant ladder shelf, made out of pinewood and when finished mounted on a wall with L-brackets. The cost was about $10 and it's super easy to build.
13. DIY A-Frame Ladder Shelf
This is an A-frame ladder shelf the creator made with some 2x4 Douglas fir, then he cut them into the desired dimensions. The making process is super easy and simple to follow. A lot of power tools were used so be prepared.
14. DIY Modern Ladder Bookcase Build
This is a modern-style ladder bookshelf. It has a great finish look and because of the kind of wood finish the creator used. You can check the link description to see where he got it. The rest of the steps are easy to follow
15. DIY Modern Ladder Shelf
This is a modern ladder shelf build. Made with MDF plywood board, wood screws, rubber brackets, metal brackets, and a few other supplies. The price was calculated in Nigerian naira, you might need to convert it to your country's currency to know how much you want to spend in total.
16. DIY Ladder Bookcase For Beginners
Here is a great guide for beginners, if you want to make a ladder bookcase that won't involve a lot of complicated woodwork, try this guide and it will work for you effortlessly.
17. DIY A-Frame Ladder Shelf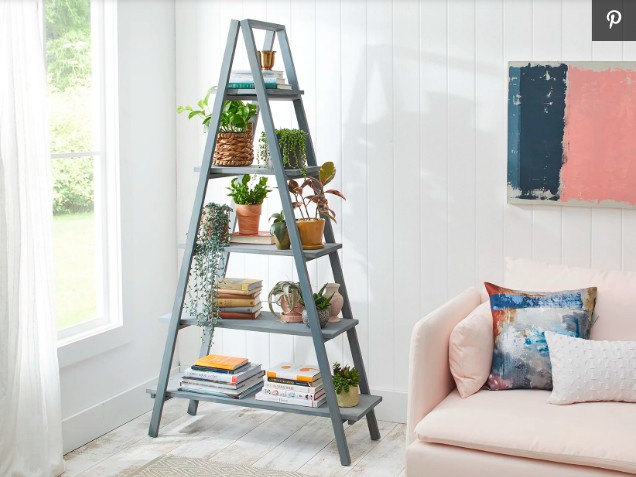 If you're looking for a sturdy A-frame ladder, you should consider using this guide to make one for your living room. The process takes only 2 hours, and it's kind of hard, from start to finish.
18. DIY Movable Shop Tool Ladder
If you are looking for a movable ladder shelf for your garage or to use and store shop tools, then this guide Is perfect for you. The shelf moves on caster wheels, which makes it easier to move from one place to another.
19. DIY Wooden Ladder Shelf
This guide is quite easy to use to learn how to make a large shelf effortlessly. This woodwork Project costs about $20 and you can check the guide to see the building plans to make your job easier.
20. DIY Ladder Shelf
Here is a great ladder shelf you can make at home with ease. This project will take quite a long time, but if you're a skilled woodworker, you can build this in less time. It's also. almost a leaning shelf and it doesn't need you to drill holes and screw things to the wall to mount it.
21. DIY Floating Ladder Shelf
The creator used a normal ladder shelf idea and made it into a floating ladder shelf. It's super easy to build and it's also pretty strong and durable. The building plans are present in the link description video guide.
22. Fast DIY Ladder Shelf
Are you super busy, and you don't want to buy a ladder shelf because it might be too expensive, but you will like to make a shelf at home ASAP? Sure you can, with this video guide you can make a simple and easy-going modern style ladder shelf that anyone can build. You just need plywood, wood, and screws.
23. DIY Leaning Ladder Shelf For Bathroom
For this leaning ladder shelf, you'll need lumber wood cut into its desired dimensions, brand nails, wood screws, wood glue, and a few other items. There were no serious power tools used.
24. How To Build A Leaning Wall Shelf
You might not fancy the normal corner or floating shelf designs, and you need something new and efficient, this video tutorial guide has got you covered. You are going to learn how to make a leaning wall shelf with a few easy steps to follow. If you need detailed plans on how to build this shelf you should consider checking the link in the video description to learn more and build this shelf to the precise instructions. Quite a lot of power tools were used, and a link to where you can get them at a fair price.
25. DIY Ladder Bookshelf
Here is the final guide in this list of DIY ladder shelves, if you haven't found the right ladder shelf for your needs, then this guide should be your knight and shiny armor. It's a ladder shelf that Is meant to be a bookshelf but can still accommodate other antiques, Art cultural displays, and flower planters. It can also be used to decorate your house during the Easter or  Christmas season.
This ladder shelf was made with cardboard boxes, isn't that great? Although the frame was made with wood and attached firmly with wood screws, the platform that You will place your items for display and easy access Is made from cardboard boxes that you can easily find at home. It's super easy and cheap to build.
Conclusion
After all is said and done, you'll have to pick one guide to make a great ladder shelf design that will suit your room, office, or garage. Thanks for stopping by. If you have any questions or contributions regarding this article, feel free to use the comments section below.