It's somewhat difficult to figure out your personal favorites for soaps. Everyday soaps seem okay, not exactly perfect. And you can craft your soap right at home using everyday ingredients.
There are too many recipes available online, covering a wide range of appeal & fragrance. Therefore, stick with our narrowed down list of some simple, quick & easy homemade soap recipes.
1. Peppermint Soap Recipe
Ingredients

2 lbs Shea butter melt and pour soap
Peppermint Oil
1 box Crushed Candy Canes
Rubbing Alcohol (in a spray bottle)
Soap Mold or silicone cupcake pan
Peppermint features a refreshing, cool & soothing scent to fresh your body. And you don't need a lot of purchases or effort to shape a usable homemade peppermint soap.
There is a total of five ingredients to cover the task – shea butter, peppermint oil, candy cane, alcohol & soap mold. Simple five steps seem to cover the entire implementation.
2. Bar Soap from Scrap
Ingredients

20 oz. coconut oil
10 oz. olive oil
9 oz. distilled water
4.78 oz. 100 percent pure lye
essential oils
colorants (optional)
dried herbs or flowers (optional)
It's more like a complete guide on the bar soap to get produced at home. From the processes to types, you'll get to almost everything on the task.
The soap primarily originates from coconut & olive oil with sure others. And you are ready to implement eleven steps upon collecting other components.
3. DIY Soap on Rope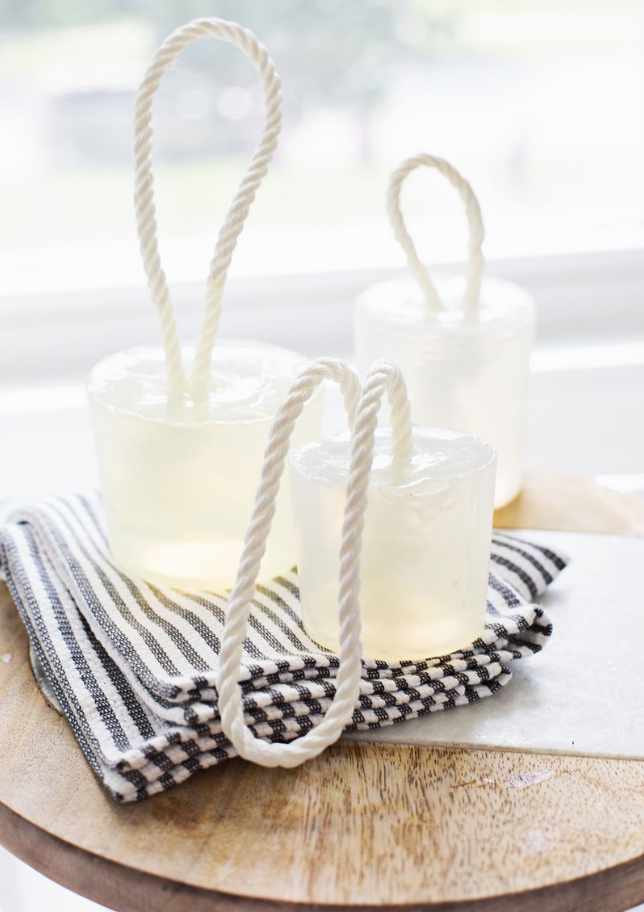 Ingredients

glycerin melt and pour soap base (also available at most craft stores)
essential oils
rope
household containers in any shape or size you'd like
essential oils
Shape a beautiful soap out of essential oils along with glycerin melt. Connecting an overhead rope is likely to impart exceptional elegance for indoor uses.
And the article comes pretty rich in words to cover the project with plausible details. A good number of integrated pictures seem to continue explaining the job at every step.
4. Simple Herbal Soap
Ingredients

62 g Sodium hydroxide 2.19 oz
124 g Distilled water 4.37 oz
136 g Coconut oil (refined) 4.8 oz
23 g Shea butter 0.8 oz
204 g Olive oil 7.2 oz
91 g Sunflower oil 3.2 oz
1 tsp Finely chopped herbs* rosemary, thyme, lemon balm, peppermint, lavender
5 g Rosemary essential oil 5.59ml / ~ 1 tsp
5 g Lavender essential oil 5.5ml / ~ 1 tsp
4 g Peppermint essential oil 4.5ml / ~ 1+¼ tsp
Handmade soap using some essential herbal oils can induce a stimulating effect for sure. Despite a long 28-day curing time, it takes only 30 minutes to prep the recipe.
And the explanation comes pretty direct, covering the instruction in bullet point. Neither any picture nor additional info seems necessary to understand the covered steps.
5. 10-Min Mile & Honey Soap
Ingredients

Goat's Milk Soap Base
Silicone Honeycomb Mold
Organic Raw Honey
4-Cup Pyrex Glass Measuring Cup (or similar)
Yellow & Red Soap Colorant (optional)
Boast the overall skin benefits through a supportive blend of goat milk with honey. And it takes a mere 10-minute preparation to complete its production in the house.
Everything comes in a smooth order to reveal the benefits, necessary items & steps. You can use the included pictures with associated FAQs to discover everything on the topic.
6. Natural Face & Body Soap
Ingredients

cup unrefined coconut oil (to produce good lather)
cup olive oil (which makes a hard and mild bar)
cup almond oil (grapeseed, sunflower, or safflower oil will also work, just make sure it's a liquid oil)
cup lye (100% sodium hydroxide … you can also find at local hardware stores)
cup cool water
Start implementing a successful, versatile & simple project towards maximum health benefits. Complete lye formula gets you one usable formula for treating your face & body.
Blending herbs & essential oils with some coloring ingredients can cover the task pretty well. There are six detailed instructions right after the prepping checks to explain everything.
7. Precious Stone Soaps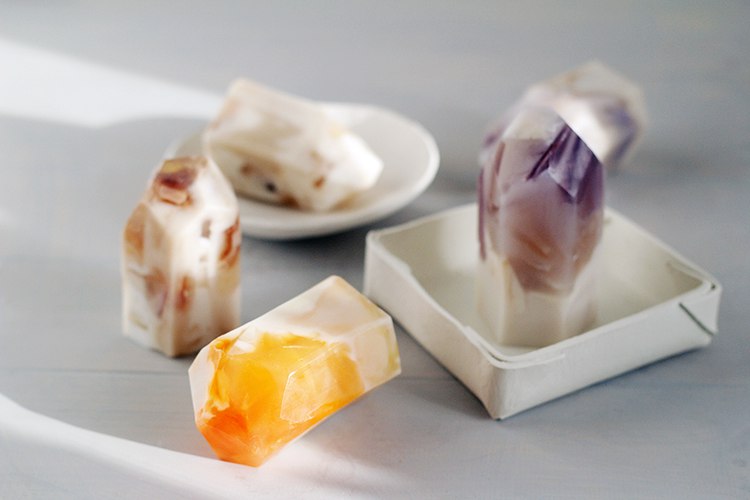 Ingredients

Stephenson Crystal Soap Base Clear and Opaque
Food colouring
Glass microwave safe measuring jug
Silicone Caulk (for mould making) x 2
Range of tupperware pots
Stirrer
Retractable Blade Knife
Masking Tape
Scissors
Surprise everyone to use your precious stone soap made right at home. Apart from a unique appeal, each soap features a noticeable distortion of beauty in shape.
There are 12 different steps with comprehensive details associated with depicting pictures. And every segment discusses certain facts to keep the process simple.
8. Beginner Soap with Lye
Ingredients

Digital Scale
Thermometer
Small Measuring Container
Heatproof Pitcher
Soap Pot or Large Bowl
Rubber Gloves, Long Sleeves, and Safety Goggles
Stick or Immersion Blender
Heatproof Mixing Utensils
Soap Molds
Parchment Paper or Plastic
Enjoy absolute pleasure in mastering DIY soaps at home all by yourself. And the article comes pretty long, describing the whole mechanism to keep you occupied at once.
It's more like a simplified professional implementation through six distinctive steps. And the reaming task concerns your post-preparation of bar soaps with or without changes.
9. Holiday Glycerin Soap
Ingredients

Block of glycerin soap base
Essential oils
Dried flowers, herbs, spices, and leaves
Soap molds – small cups or trays in various sizes (silicone works best)
Impose a stunning look for your soap dish with some decoratively transparent soaps. The recipe explicitly uses glycerin to shape the bar, along with extra mix-ins.
There are distinctive info points against three steps to let you understand the product closely. Likewise, the pictures should let you catch the process in a better way.
10. Milk & Coffee Exfoliating Soap
Ingredients

Goats Milk Soap Base (2 lbs of soap base will yield eight large 4 oz. bars of soap)
Soap Mold
Coffee Grounds (can be used or unused)
Coffee Essential Oil
Microwave Safe Measuring Cup w/ Spout
Let the skin glow with a toning touch of useful antioxidants, certain minerals & vitamins. Goat milk with coffee ground imparts an exfoliating soap through essential oils.
The process comes pretty easy, requiring no special attachment on implementation. Only a limited number of pictures with no defined bullet points hold the task simple.
11. Simple Flower Soap
Ingredients

64 g Sodium hydroxide 2.27 oz
128 g Distilled water 4.52 oz
145 g Coconut oil (refined) 5.11 oz
49 g Shea butter 1.73 oz
120 g Olive oil 4.23 oz
120 g Sunflower oil 4.23 oz
20 g Castor oil 0.71 oz
¼ tsp Colored clay* (mixed with 1 Tbsp distilled water) (optional)
14 g Essential oil**
Dried flower petals***
Time to customize your bathing soap with a colorful appeal featuring flower petals. A 30-min preparation time requires another 30 minutes on cooking.
Every necessary item makes a list with the required amount of liquid for the recipe. And completion of the four explained sequential steps is likely to suffice.
12. Homemade Soap without Lye
Skip the essential lye to make your favorite bathing cosmetics using a scientific approach. And the article consists of six different segments to explain the action.
Apart from the in-depth discussion, you get to use the included pictures for a better understanding. Additional pro tips should help you to avoid hassling mistakes.
13. Pumpkin Spice Soap
Ingredients

Shea Butter Soap Base (2 lbs of soap base will yield eight large 4 oz. bars of soap)
Red and Yellow Soap Colorant
Soap Mold
Pumpkin Pie Spice
Microwave Safe Measuring Cup w/ Spout
Whether you're planning to surprise loved ones, it seems a good idea. In fact, the intended soap fragrance is sure to induce an immediate impression.
Pumpkin pie spice with shea butter & colorant will give a decent look from inside. And you won't require anything more than some mere words for completion.
14. Castile Soap for Beginners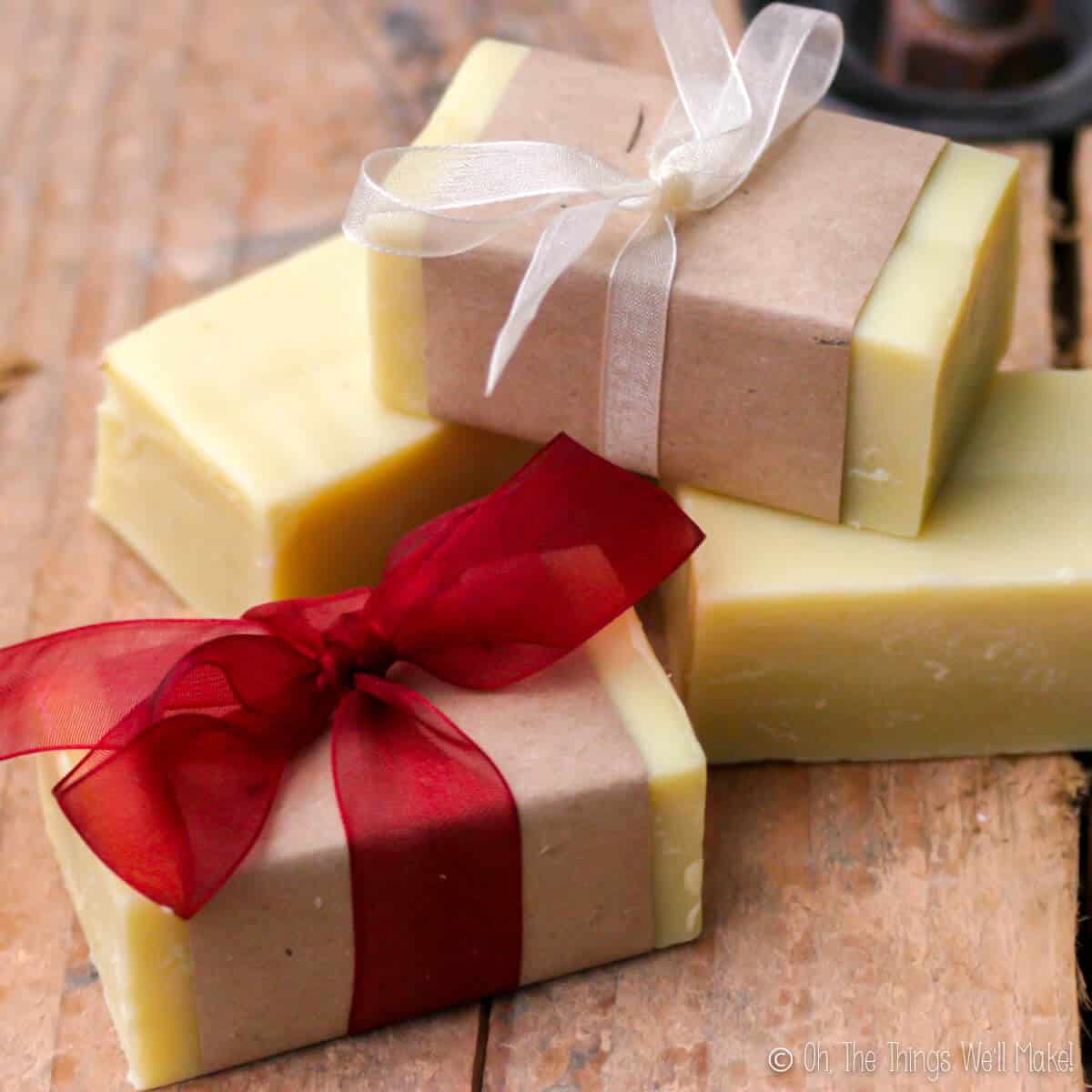 Ingredients

Olive oil
Coconut oil
Lye
Water
Sharp your indoor DIY skills appear somewhat intimating at first for many beginners. But you can definitely try a simple method to shape your recipe in reality.
It's indeed a pretty long article with arranged points regarding the whole process. Spending the time on every word is sure to enlighten your mind with a brace.
15. DIY Cream Soap
Ingredients

1 bar soap
4-6 cups water
1 tsp. Glycerin
2 cups vegetable shortening
1 cup coconut oil
10-15 drops essential oils (optional)
If you're willing to try something different or exhilarating, you get to choose cream soap. Despite the presence of several pictures, the words appear minimal for its completion.
Everything to make the cream comes in a list right after the introductory details. And the following recipe direction should accommodate yours through its appropriate guidance.
16. Giftable Soap Recipe
Ingredients

Glycerine Soap
Tissue Paper
Scissors
Molds
Microwaveable Container
Though the outcome seems designed for kids, you ought to please the grownups. The imposed decoration makes the outlook pretty good from the inside.
And you need nothing but glycerin with some everyday mechanical ingredients.
In fact, you'll need scissors, tissue paper, molds & a microwaveable container. The rest comes easy with pictorial details, explaining the task in simple words.
17. Homemade Salt Bar Soap
Ingredients

32 oz. Shea Melt & Pour
16 oz. Medium Pink Himalayan Sea Salt
Super Pearly White Color Block
12-Bar Round Silicone Mold
1.3 oz. of Spring Meadow Fragrance or Essential Oil Blend
Make a difference for everyday bathing with a Himalayan Sea Salt soap. It teams with shea melt & pours to introduce a skin-loving touch on uses.
Five consecutive steps cover the job, coming after the necessary items. Apart from the included pics, you can use the links for a dependable purchase.
18. Aloe Vera Herbal Soap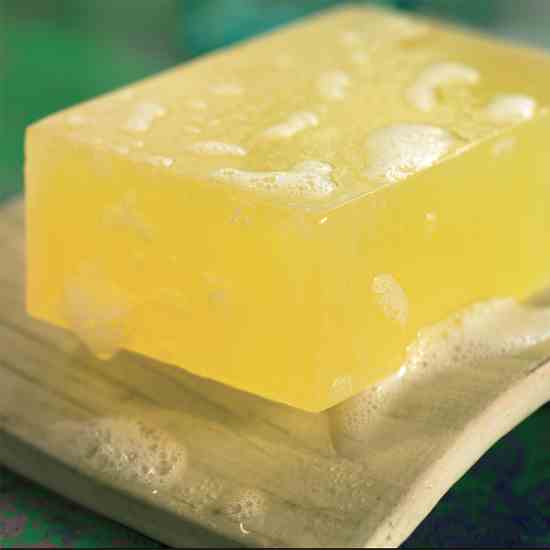 Healing quality makes aloe vera popular among herbal enthusiasts on different occasions. And you obviously don't want to miss its soap recipe ahead of leading a healthy life.
A total of six ingredients need to get processed in ten different steps for completion. Apart from the detailed info on start, you'll get to know some additional facts on aloe vera.
19. Orange Zest Lemon Soap
Capture the summer breeze with a matching soap fragrance coming from orange. The citrus zest includes an exclusive lemon scent to accompany your shower session.
It's sure to deliver an extreme outlook to make an everlasting impression.
Likewise, the process appears in different paragraphed segments instead of exact points. And you can definitely utilize the pictures for a complete closeup understanding.
20. Sea Mud Soap Recipe
Ingredients

20 oz. olive oil
10 oz. coconut oil (where to buy coconut oil) *
11.4 oz water (preferably distilled)
4.2 oz lye (where to buy lye) **
2-4 level tablespoons sea mud, also known as French green clay. Use two for a more moisturizing bar and and four for a more deep cleansing/detoxifying bar. (where to buy french green clay)
½ ounce essential oils (I like rosemary for this recipe, but cedarwood, lavender and tea tree are also good options)
French green clay or sea mud possesses many invigorating qualities to help your skin. Apart from six explicit ingredients, you'll have to settle for the necessary tools.
But its reasonable investment should seem worth, concerning the outcome.
And the pictorial guide features twelve different steps to finish the implementation. Likewise, standstill pictures right on every step should justify your immediate understanding.
21. Lavender Oatmeal Soap
Combination of natural grain with a flowery lavender enables a superior bathing experience. The process remains incredibly simple with no troublesome complexity.
Individual step remains short with some mere words following an included picture. And the completion will result in a superior product, costing you worthy time.
22. Charcoal Facial Soap
Speaking of charcoal, you know certain benefits have to make the ingredient extremely popular. And the addition of tea tree oil is likely to give you the perfect blend at once.
Aside from the necessary components, you ought to accomplish the seven steps. Integration of a video with associated details, making the implementation incredibly simple.
23. Grapefruit Mint Poppyseed Bar
Ingredients

10 oz goat's milk melt-and-pour soap base
-1 grapefruit (only zest half the grapefruit)
-1 tbsp poppy seeds
-10 drops of grapefruit essential oil
-4 drops of peppermint essential oil
Choose your preference for homemade soap to enjoy a mind-blowing scent. And the tutorial manages to ensure a sweet fragrance along with its decent appeal.
Grapefruit with poppy seed impart excellence through goat milked mixture. Implementation of six steps will get the soap ready, associated with meaningful images.
Conclusion
Each method allows you to customize the shape, color & scent without difficulty. Of course, you should proceed accordingly to understand the basic process. Then, it's all about fun with homemade soaps.