Hanging shelves serve the same purpose and are just like any other ordinary shelf you might buy or have made before, the only outstanding difference is that it hangs, with no ground floor base. It could either be hanging on a wall or from a ceiling or any other feature entirely.
You also don't need to be worried, DIY hanging shelves are quite easy to make, you just need to understand the build and steps involved for every guide that you will see on the list below.
Let's take a drive-in and see what kind of hanging shelf you can make today.
1. How To Make A Hanging Shelf
Here is a peculiar hanging shelf made with wood and the design is unlike something you have ever seen. This guide will show you how to make a hanging shelf out of embroidery hoops. This is also not a hanging shelf for the garage or clothes pile, it's meant for a flower planter.
2. DIY Round Hanging Shelf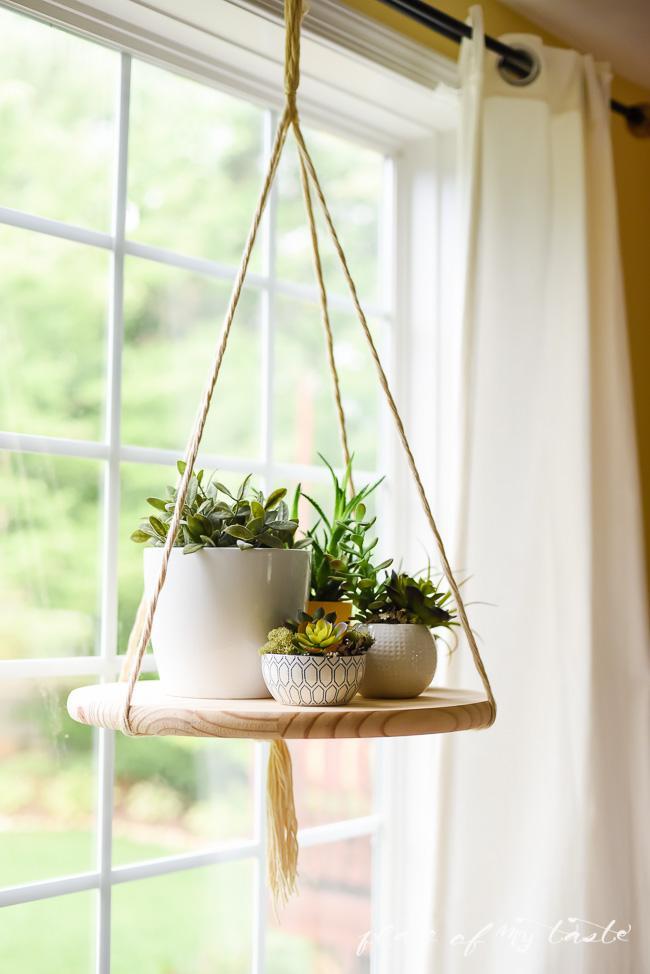 Here is another hanging shelf that is almost similar to the previous and first hanging shelf on this list. This hanging shelf can take 4 - 5 small flower planters at once. It's super easy to build and it can be done with a few easy-to-find materials.
3. Lightweight DIY Easy Hanging Rope Shelf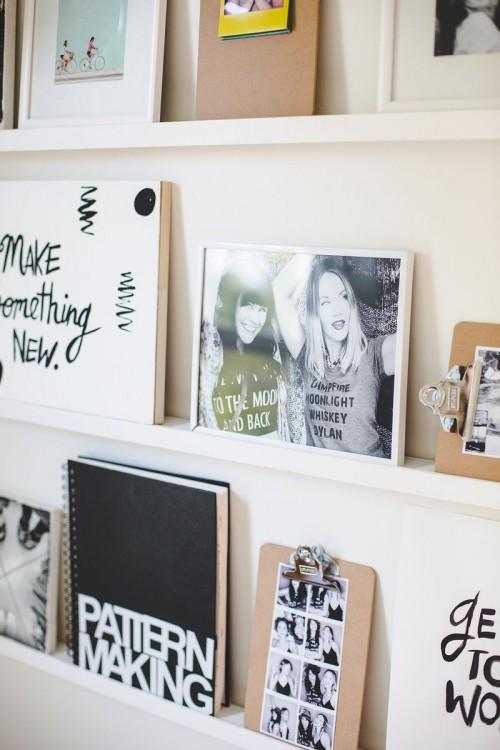 This hanging shelf is quite small, it's a lightweight rope shelf, the wood stripes used are 1 inch long from the wall. You obviously cannot place something large and wide on this shelf, only books can take up space on this shelf because of the space on it.
4. DIY Hanging Shelves
Here is a unique hanging shelf that takes a geometric form. The triangular style is a unique design that won't only be functional, but aesthetically pleasing to anyone who steps into your living room or anywhere this hanging shelf is installed.
5. DIY Hanging Rope Shelves
The first step is to make some markings on the wall, this will guide you on where to place the hanging shelf. After that, prepare your rope and wood and start building and assembling. Most importantly, you need to have some weight-bearing hooks that can take up to 90 Ibs when inserted into the wood which makes your hanging shelf super strong to carry a lot of weight under that weight range.
6. DIY Macrame Hanging Shelf
So the creator stepped into home depot and got some 1x5 pieces of common board which is 8 feet long. If you don't have access to home depot, you can try any of the local hardware stores near you. The making process is way too easy to be stressful, and this project is far too affordable to stress your pocket as well.
7. DIY Hanging Rope Shelf
Here is another hanging rope shelf that you can make with a few pieces of dollar tree materials. It's affordable and super easy to work with. You just need to understand the steps involved and you're good to go.
8. Dollar Tree DIY Hanging Rope Shelf
Here is another dollar tree guide that requires you to use some dollar tree materials. The dollar tree materials feature real wood, which means the hanging rope shelf will be quite strong and durable. You'll also have to paint the wood to make it look presentable.
9. DIY Easy Hanging Shelf
This is a simple elegant hanging shelf that will look great on a room wall painted with warm colors. You can place stuff inside the box-like portion and also on top of the shelf. You just need a screw gun, a chip bag clip, a pair of scissors, and 5 easy steps.
10. How To Make A Decorative Hanging Shelf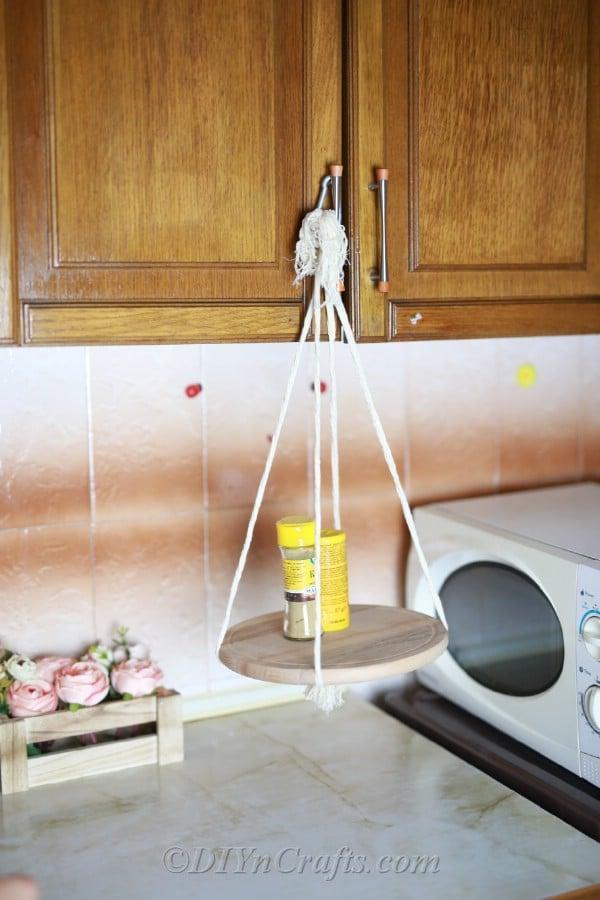 This shelf is totally for decorative purposes, although still quite functional. It's perfect for a kitchen area, maybe close to your kitchen cabinet. You can decide to place things that you always use when cooking, special recipes and ingredients that you must use any time you want to whip up something for dinner.
11. DIY Hanging Microwave Shelf
To build this microwave hanging shelf you need to ensure that the weight of the microwave is proportional to the amount of weight this shelf can carry. The total cost for the material was about $25, and yet the shelf is super strong and durable. You need lock nuts, heavy-duty screw hooks, and other heavy-duty washers, and the rest of the supplies.
12. DIY Hanging Acrylic Shelf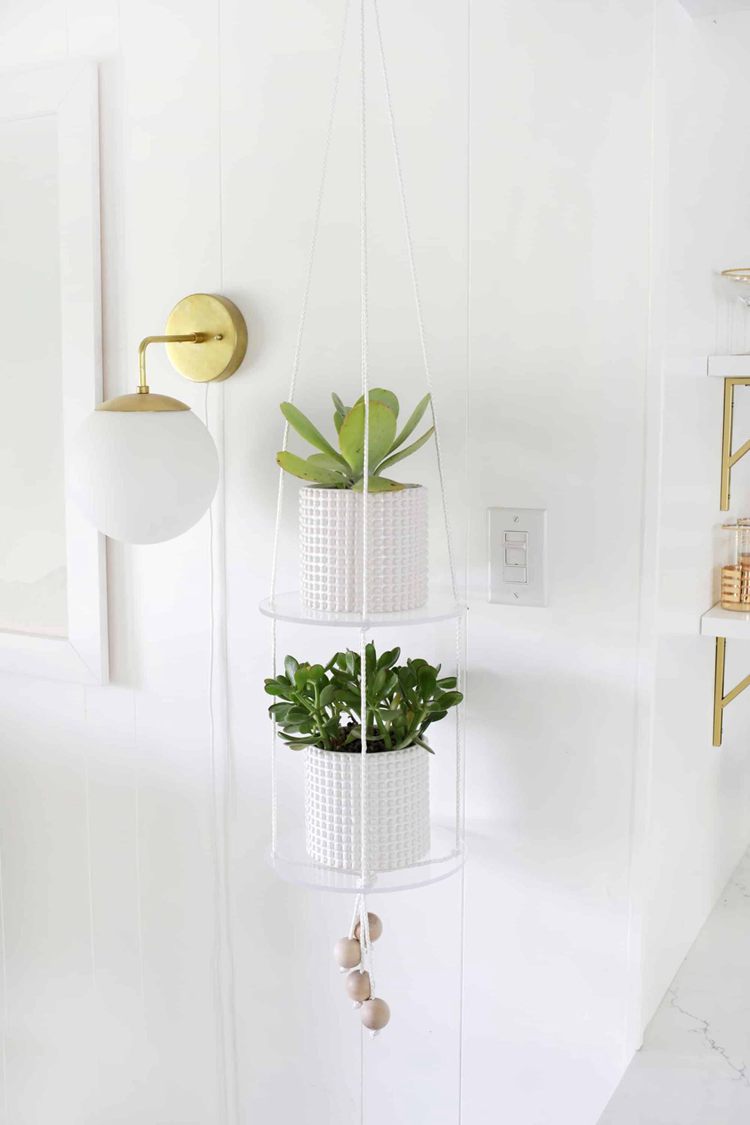 This is super easy to build, don't let the name get you worked up. You just need 10 acrylic disks, wooden beads, ceiling hooks, thin nylon rope, and drill and drill bits. The assembling is quick and easy, or you could say 'a walk in the park'.
13. DIY Rope Shelf
So, here are the items used for this guide, the creator used a rope she got from Amazon, wood boards, and hooks. Just those 3 simple materials that make this hanging shelf look like something that you would buy online, aren't that great!
14. DIY Affordable Hanging Shelves
The creator of this video guide put up amazing hanging shelves with no power tools, no screwdriver, no serious tool at all. It was quite an inexpensive project that didn't take long to finish.
15. DIY Hanging Rope Shelf
Check out this simple hanging rope shelf, it's a great way to display your favorite decor, books, and other kinds of stuff. It is budget-friendly and pretty easy to make.
16. DIY Hanging Rope Shelves
Are you looking for a hanging rope shelf with a simple design? Anyone can make this hanging shelf, it's that quick and easy. It's also pretty cheap, which makes it a comfortable guide for anyone who isn't keen on spending much.
17. DIY Easy Leather Strap Hanging Shelf
So, what do you do if you have a leather strap at home, just lying around doing nothing? Why not make a great hanging shelf that will last ], and serve you well. It's not difficult to build, and the creator carefully explained how he made it at home all by himself.
18. DIY Hanging Rope Shelf
I don't know where the creator got such a unique piece of wood, he salvaged a magazine rack to use the wood to build this hanging shelf. If you can do the same, it will go a long way to complete this building process if you're interested to use this guide.
19. DIY Hanging Shelves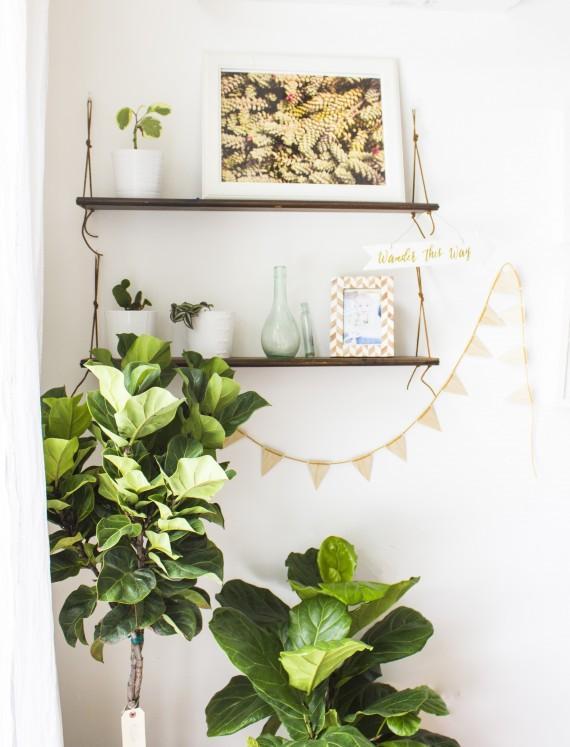 From the image above, it doesn't look like the creator used a strong rope to hole the wooden shelves hanging in place, he used a suede lace or leather strap, it was a strong strap that won't brittle or stretch. This project cost $18 for the 3 shelves that were made.
20. How To Make A Rope Shelving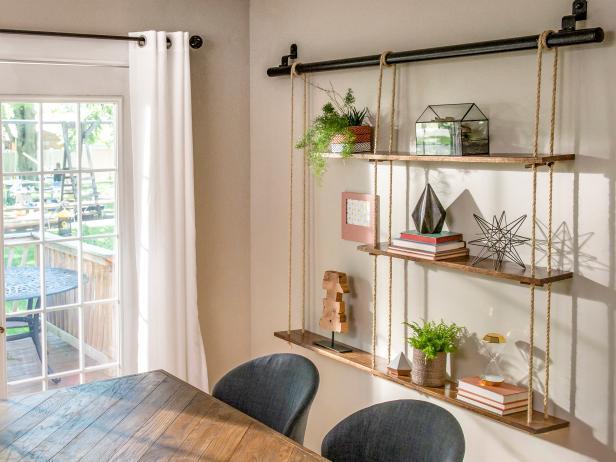 You might have seen all the guides on the list above and wondered that they are not good enough, how about this one? It costs over $250 to make, takes more than a day to finish, but doesn't require high-level expert skill to perform.
21. DIY Hanging Shelf From Cardboard
So, if you're tired of using wood, wood, and wood, all the time, here is a video guide that will show you how to use cardboard to build a hanging shelf. You are going to need metal rings to mount on the wall, then attach the rope to the rings and lay it down, and attach the cardboard to form your shelf. It's a quick and easy process.
22. Easy DIY Hanging Shelves
The creator of this cool video guide made an amazing hanging shelf for placing plants. She got tired of placing plants on her office desk and decided to make a hanging shelf to display her flower planters. If flower planters are your thing, then you should consider this guide.
23. Hanging Rope Shelves DIY
The creator of this video guide gave a detailed explanation of how this was made, built the hanging shelf from scratch, and installed it on her wall. You don't even need a building plan, as smart as you are, you can build this by just watching the creator do it herself. She used some wood boards and some strong natural fiber rope.
24. DIY Hanging Cardboard Shelf
Here is another video guide that uses cardboard to make a hanging shelf. The creator started by marking and cutting the cardboard into the desired dimensions before gluing all the cut-out pieces together and drilling holes on the four corners. He also covered the cardboard with a designed cloth to make it look beautiful so that no one will suspect it was cardboard used.
25. DIY Hanging Kitchen Shelf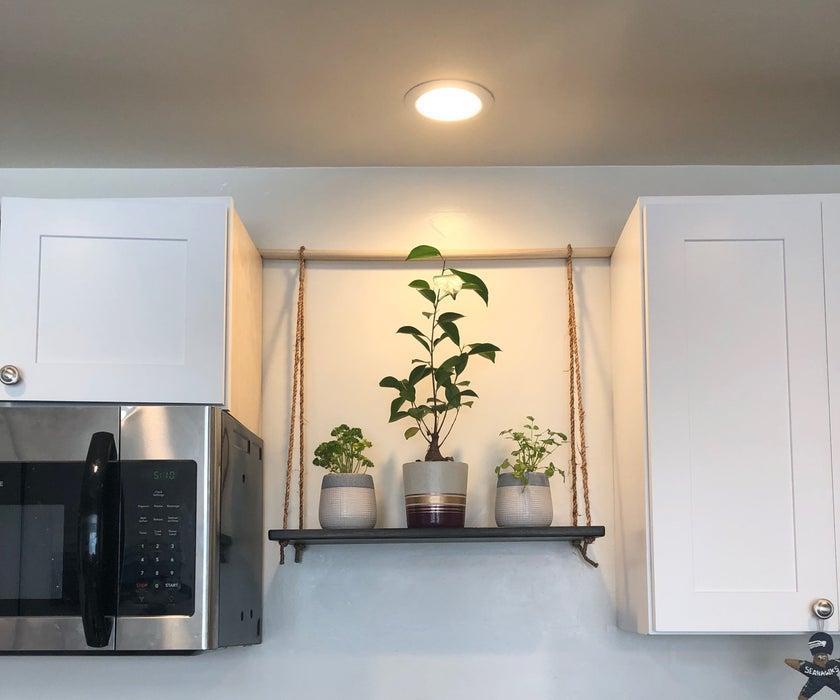 For this last and final guide, you'll need a poplar board that will make up the shelf, wood dowel, twist rope, hanging nails, twine, and Varathane espresso stain for protection and beauty to the wood. The project is quite an inexpensive one, with simple steps to guide you through to the end.
Conclusion
Now, we have come to the end of this amazing DIY, I hope you have learned easier ways to build a hanging shelf instead of spending thousands of dollars to buy one that might or might not last. Thanks for viewing, till next time, bye.