Hall tree benches are good not just for organizing items or having a fancy coat and hat hanger section, but are beautiful aesthetic pieces to spice up the ambiance of your home if used properly. So, they effectively serve both functional and decorative purposes.
In this article, I've carefully put together a list of 20 DIY Hall Tree Benches that you can create to bring an about much-needed organization or simply add a little character where things had been a bit bland for your taste. Each DIY Hall tree bench is cheap, easy to assemble, and just as effective as their $500 dollar counterparts so, enjoy!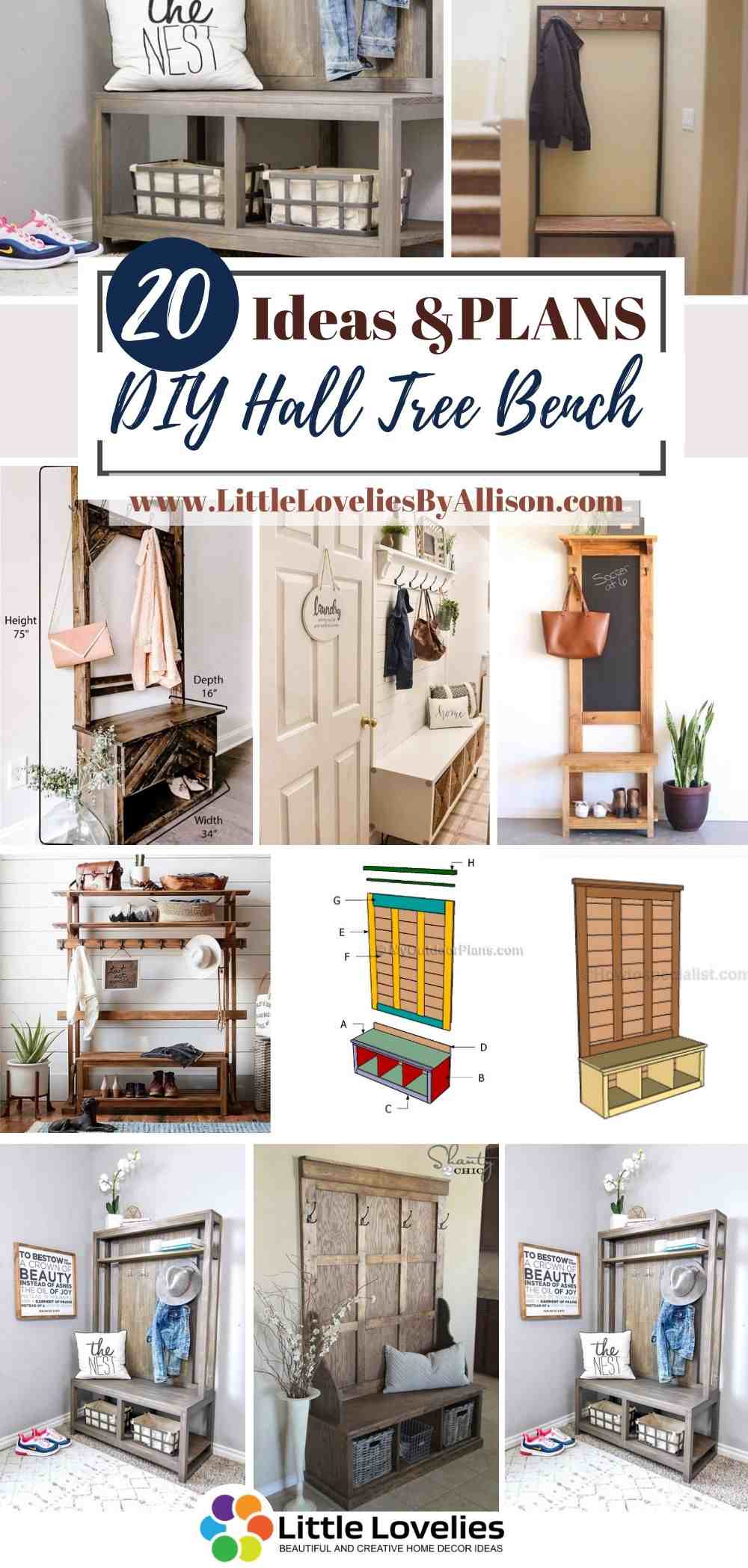 1. DIY Hall Tree Bench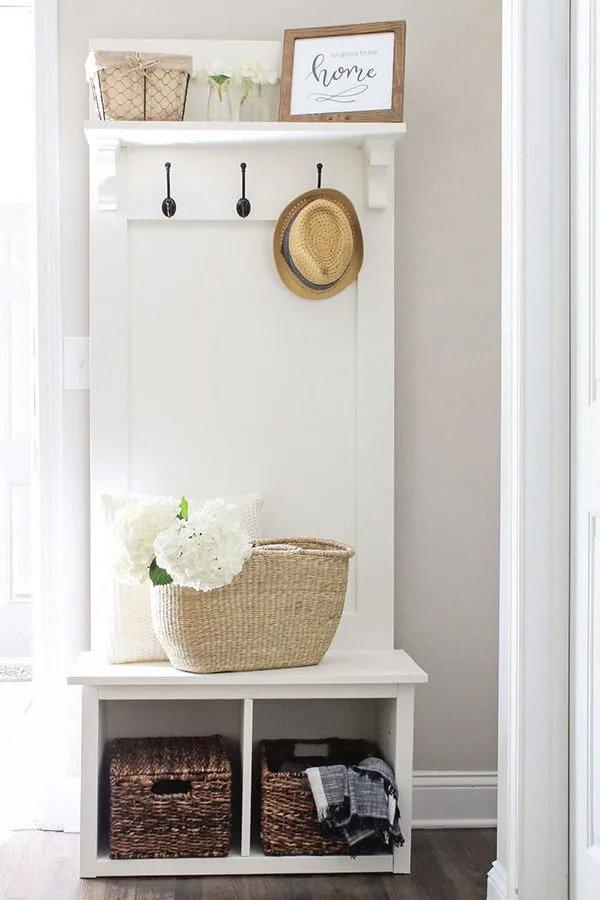 For this beauty, you'll need laminated panel boards, plywood boards, wood screws, Kreg screws, wood glue, and woodwork tools amongst others. The making of the various compartments is straight to the point and even a beginner at crafts or woodwork should not have issues assembling this. Paint it into any color of your choice to fit in with the color scheme of your interior décor when you're done.
2. DIY Farmhouse Hall Tree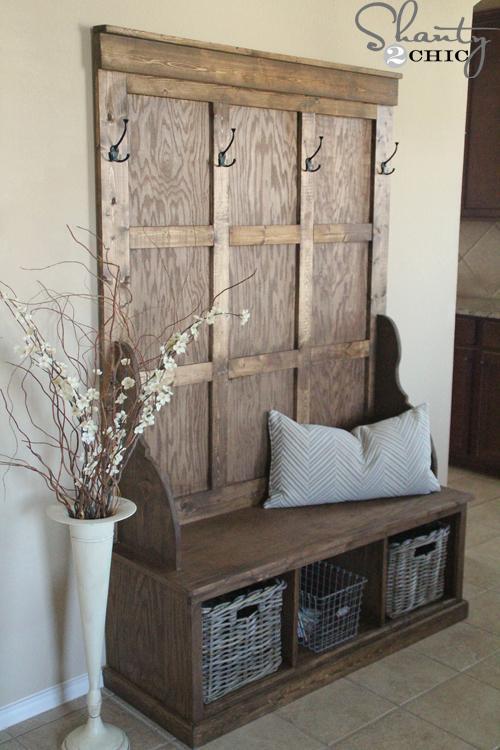 Perfect for a farmhouse, this DIY farmhouse hall tree is practical and gets the job done. Play with different wood colors and textures/grain to get a more exquisite feel. The dimensions for every aspect of the woodwork are made available in this DIY, eliminating guesswork and ensuring you get perfect results.
3. DIY Hall Tree Bench Plans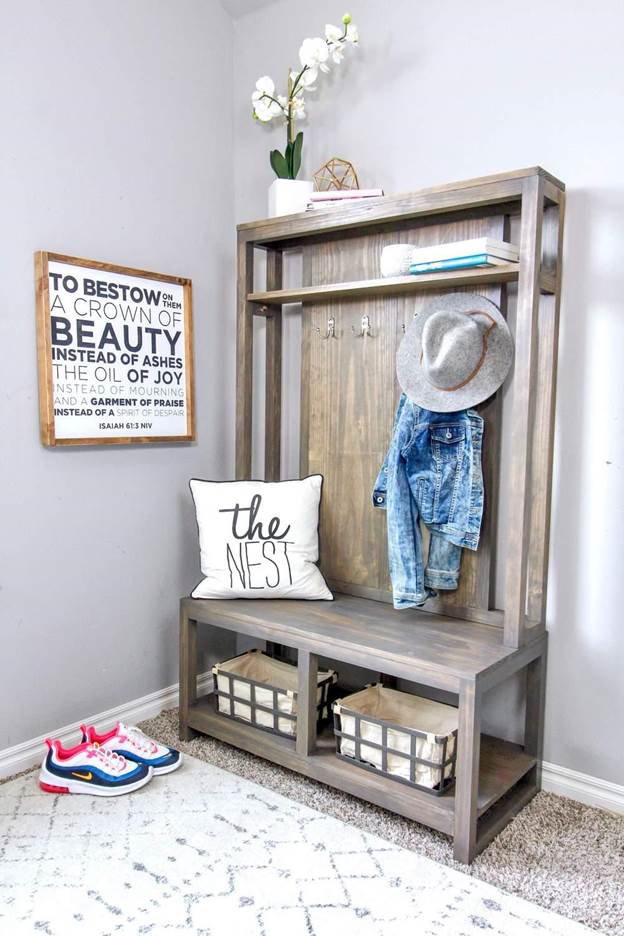 To get this modern and versatile DIY hall tree bench, you're going to need panel boards, pocket hole screws, a drill, a Kreg Jig, and other woodwork tools. It takes about 24hrs or less to assemble this, although beginners might end up using more time. Just stick to the building plans and you'll be fine.
4. DIY Hallway Tree
What I love most about this hallway tree bench is its finishing. It is an absolute beauty that deserves to grace your hallways and you can scale it down to size to suit your space, your woodwork tools and wood of choice are all you need, much like you were going to build a cupboard or a table – it's really that simple.
5. DIY Hall Coat Rack With Bench
This DIY hallway tree bench is a simple hall coat rack with a bench. It's simple to make and doesn't require you to be a professional before you can assemble everything together. Pine is used for the frames of the upper body i.e. the coat rack section, while cedar is used for the bench i.e. the storage box section. The incorporation of regular paneling into the upper body lends a nice contrast to the entire frame.
6. How To Make An Entry Bench
With easy to source materials and a beginner-friendly approach, this DIY hallway tree bench is a must-have. A beautiful finish was obtained by contrasting the baskets placed in the storage bench section against the white-colored frame of the entire hallway tree bench.
7. DIY Hall Tree Storage Bench
This DIY hall tree storage bench is an intricate piece with 6 storage box partitions across 2 layers in its storage bench. The end result is perfect for large families who might need just a little more room than the average hall tree can provide.
8. DIY Hall Tree Bench Plans
Step by step instructions makes this an easy one to follow. It's a classic hall tree bench whose dimensions can be adjusted to fit your needs. Such is the beauty of a DIY hall tree bench! You can get exactly what you need.
9. DIY Modern Hall Tree Bench
This is a modern farmhouse hall tree bench based on the popular "OG" Shiplap Hall Tree Bench. Don't be intimidated by the sheer size of it though, you need only 5 tools to fashion this out; a miter saw, drill, orbital sander, pocket jig hole, and a pin nailer!
10. Modern Hall Tree Bench DIY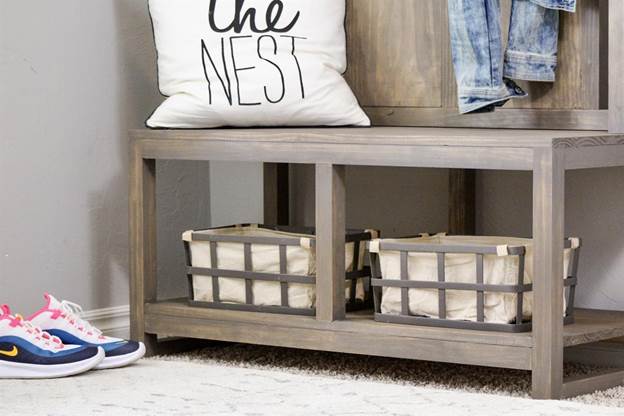 This is an easy to follow DIY hallway tree bench guide. You'll find it well listed out including pictures of dimensions for the woodwork and extras that may come in handy.
11. How To Build A Hall Tree With ChalkBoard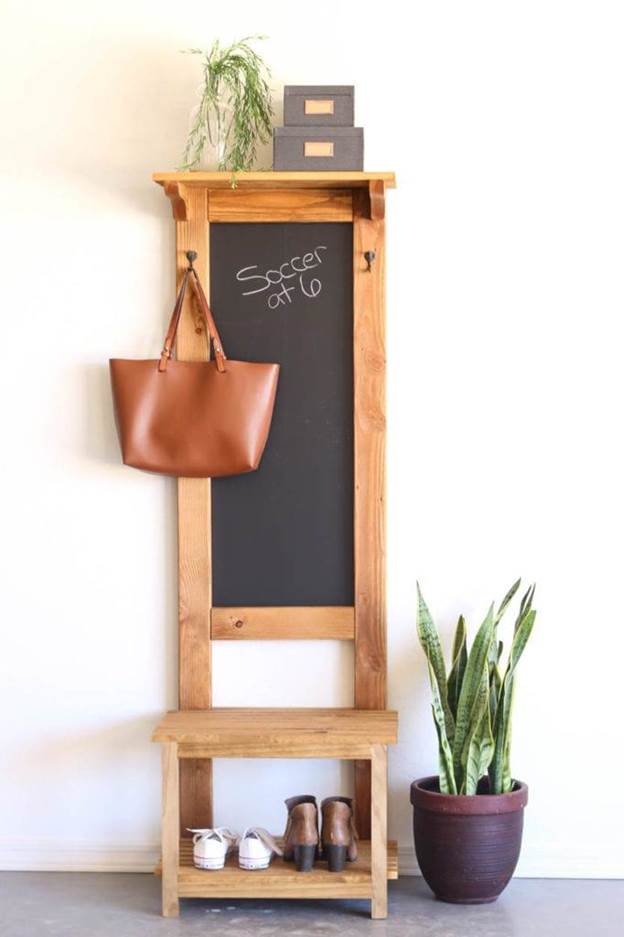 Got an old chalkboard you no longer need? Create a fashionable hall tree bench out of it instead of throwing it away; recycling is always better after all. I can also serve as a reminder board which is perfect since it's the last thing you'll see before leaving the house. The best part about this DIY hall tree with a chalkboard is that it costs less than $100 to build and is perfect for smaller entryways.
All you need to do is build the frame for the board alongside the storage bench with all their necessary supports, attach the chalkboard to the frame and that's it! Your very own chalkboard hallway tree bench.
12. DIY Pallet Entryway Bench
This DIY pallet entryway bench makes use of the wood to create a great design with lines that will stand out anywhere. It would definitely require a lot of work hours to complete but the finished product is breathtaking and worth it.
The process uses some fancy tools. Feel free to purchase what you need if you're going to be involved in such crafts more often than not, I'd advise you look at one of the plans on this list that requires fewer tools if you don't already have what you need – this way you can stick to the original intent of budget-friendly hallway tree benches.
13. DIY Hall Tree Storage Racks
Here you'll learn how to properly strip paint off reclaimed lumber and build a proper base. It's a very detailed tutorial for those who require the process of a DIY hall tree bench broken down to the basics for them. This is the first of a 2-part tutorial and you'll find the second part just beneath the video of the first when you use the link.
14. Hall Tree Bench Build DIY
It's relaxing watching the kids come and go in the background as the tutor builds the DIY hall tree bench, makes you feel like your DIY hall tree bench lessons are in safe hands. You'll need your wood of choice and regular woodwork tools to create this simple, slim hall tree. Finish up with paint of your choice and enjoy.
15. How To Make A Coat Rack Bench Hall Tree
This coat rack hall tree bench looks sensational painted black and paired with reclaimed Barnwood – a simple piece that reinforces the fact that sometimes, less is more. You can pre cut your wood while buying to make your work easier and ensure you have accurate dimensions.
16. DIY Shiplap Hall Tree With Bench
You'll be building a shiplap hall tree bench like a pro with this one. A ¼ inch underlayment plywood cut down to specified strips is part of what is required to create the shiplap effect on this one and in 10mins, you could already have them up against a wall. The shiplap was nailed to the wall but you could glue them up permanently as an alternative or fix them to the wooden frame instead if you envision switching its position or just don't want it secured to the wall.
17. DIY Hall Tree Bench Plans
Pine, redwood, and cedar come highly recommended in this DIY hall tree bench plan because of their durable nature, nice finish, and ability to survive humidity. Tool wise, you'll need safety gloves and glasses, a miter saw, jigsaw, measuring equipment (chalk line, tape measure, carpentry pencil, etc.)
18. How To Build A Hall Tree Bench
It takes about 2 days to complete this hall tree bench at an approximate cost of $150.  This project is not for the faint of hearts and is rated by the tutor on a difficulty level of 'hard'. The finished product is however beautiful and crafting it would be a nice challenge to take on.
19. DIY Hall Tree Bench
This DIY hall tree bench is a practical bench with a shoe rack underneath as opposed to storage boxes like most traditional hall tree benches, and a coat rack above. A bit of welding is required as you'll be working with metal alongside wood and you'll find the entire creation process in a detailed step guide.
20. Pottery Barn Entry Hall Tree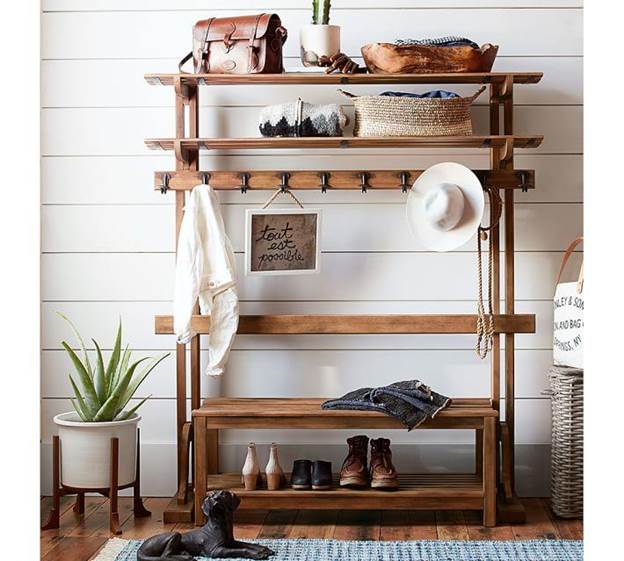 Construction for this unique design of hall tree bench is divided into 4 easy to remember parts by the tutor; feet, uprights, shelf supports, and hook boards. The process is outlined in 5 steps that may require a bit of experience or trial and error. Whatever the case, this is one DIY hallway tree bench you do not want to miss out on.
Conclusion
Before planning on building any of the projects listed in this article, know that this project is space consuming and would take a significant amount of space in your hallway. The build process might also require woodworking tools. Feel free to share plans with a woodworking expert if you are having issues building one yourself.