Tired of going to the mechanic for a new paint job after a hail storm? If you live in an area where there is hail storm often, you would agree with me that the after effect on an unprotected car can be heartbreaking! If you do not have a garage to park your car for safety, they are other options that can help protect your car from unnecessary damage.
In this article, we have put together DIY hail car cover tips and ideas that should help protect your car from the hail storm. Most of the tips shared here are based on creativity, feel free to make adjustments where necessary.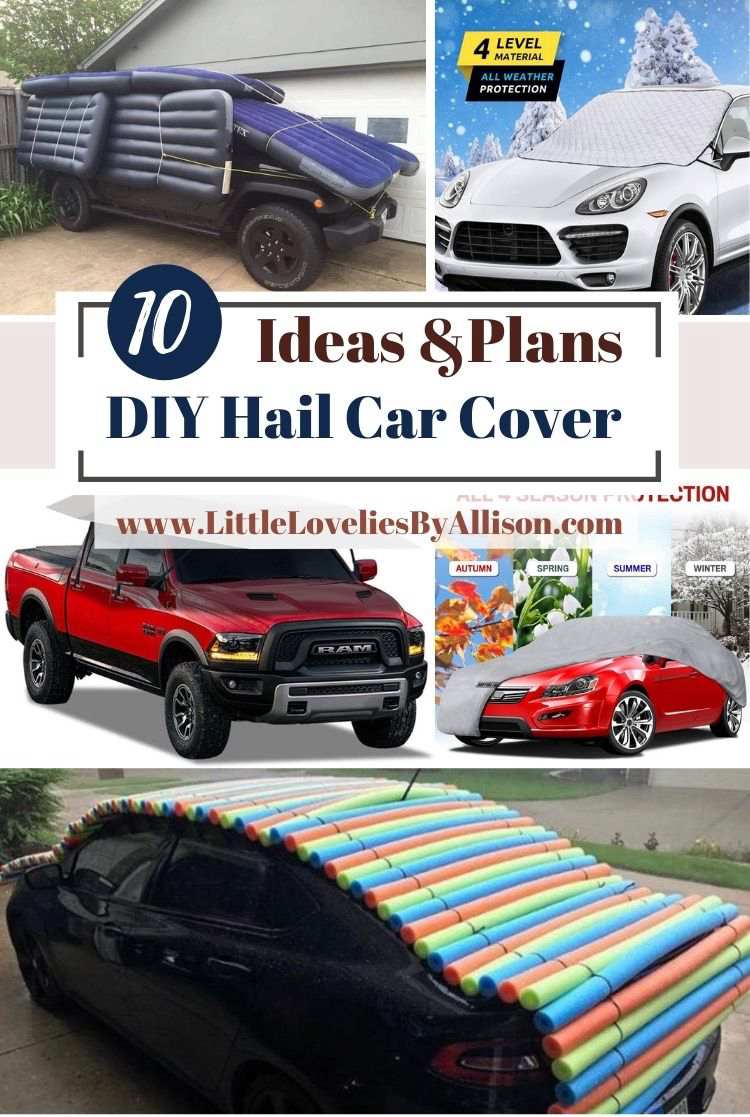 1. Hail Car Cover Idea
This is a DIY that you will have to figure out yourself. I must say, the creator did a great job coming up with this amazing idea. All he did was gather inflated beds and tie them to his car. Buying a lot of inflatable beds might seem awkward, but it's better than having a damaged car after a serious hail storm. So, how does this work? Depending on the size of your car, simply purchase a couple of inflatable beds and pump air into the beds, you will need some rope to tie the inflated bed on the car.
2. Pool Noodle Hail Car Protection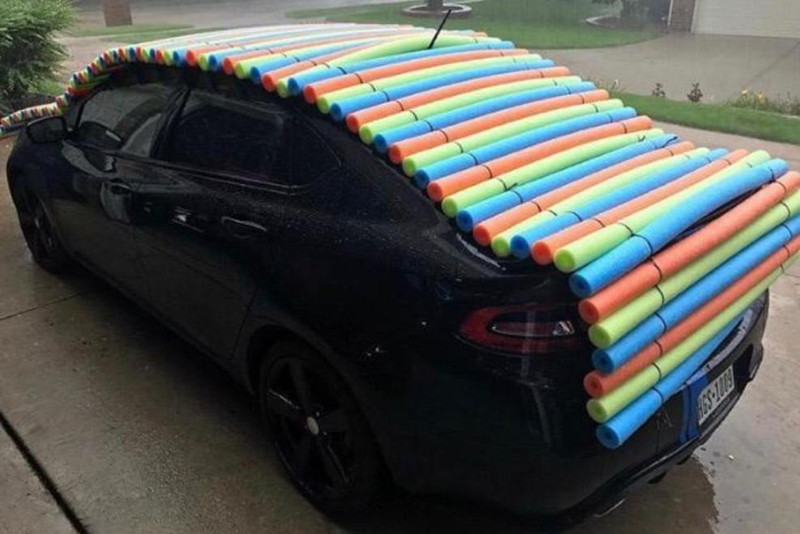 Another trick I have tried personally is using Pool noodles. You will need to purchase a lot of pool noodles and tie them up together. It will be almost impossible for a hail storm to affect your car if this is done properly. You do not even need a serious guide to build this.
3. How To Protect Tesla From Hail
Want to know how to protect your Tesla from hail? Check out this video! Just like any other car, a Tesla is prone to damage from a hailstorm. In the video, the creator uses a car tent to protect his Tesla from hail. He even puts it to the test and it works! However, you might want to consider parking your car in a garage other than keeping it outside. While this method works, it can still go horribly wrong!
4. DIY Hail Cover Using Blankets
Here's another great hack to try out. Blankets! If you have a bunch of old blankets that you are planning on discarding, think again! Unlike bedsheets, blankets are thicker and if layered rightly will protect your car from hail storm damage. You can also use duvets, trust your gut, use as many as possible to cover the car.
5. Car Windshield Hail Cover
Here's a product worthy of note. It can be used to protect your windscreen from hail damage. This car windshield hail cover is sturdy as would last for a long time before needing a replacement. It is also very cheap. You can mix this with duvets, blankets, or pool noodles to give your car all the protection it needs.
6. Truck Umbrella Hail Cover
No products found.
Here's another amazing product worthy of note. It is meant for trucks but can be used for normal cars too. With this gear, 75% of your car should be protected from hail damage. I would highly recommend buying this product for hailstorm protection. Note that if the storm is very serious, it might still cause damage to your vehicle.
7. How To Make A Hail Storm Car Cover
The first thing I noticed the creator saying was "this may protect your glass from getting cracked." This means it is not 100% effective but definitely better than nothing. For this tutorial he used cardboard. The entire making process can be seen in the video above. The first step is to measure your car windshield, this helps you to know the size of cardboard needed. Repeat the same process for the other uncovered areas of the car. I would advise doubling or tripling the cardboard for more protection.
8. Hail Storm Protector DIY
This is a walkthrough video that will show you how these creators were able to make a hail storm protector from rope and moving blankets. Simply place the moving blankets over your car and use the rope to hold them in place, you can also double the blankets for more protection. I think this is a great idea that you can try out.
9. DIY Hail Car Cover Tips
Here's another guide you should check out if you do not have a garage to protect your car from hail storm damage. Professional mechanics in this video have given tips like using tarps, blankets and even parking your car close to a wall so that damage doesn't affect both sides. Check out the video for more tips.
10. 4 Layer Car Cover
Here's an amazing product that might cover 100% of your car depending on the size of your car. It has four layers making it better than most car covers out there. Just to be on the safe side, you can cover your car with some cardboard and blankets before using this 4 layer cover, that way, your car will not have a single dent.
Conclusion
Here's a very important tip. If you check the news and it predicts that there's going to be a hail storm you should be ready before the said date. Gather your materials early enough! The storm might be earlier than expected. That's a wrap!
Thanks for stopping by, If this article has been helpful to you, please do us a favor by sharing it with your friends and family who might want to protect their cars from a hail storm. Also, if you have questions or contributions regarding this article, please use the comment section below to reach out.