Trying to constantly grab or find your guitars in tight spaces can become hectic pretty fast, hence the growing need for guitar hangers, they are the surest and most convenient ways to keep your guitars safe and sturdy on-air and insight for easy grasping when they are needed.
But, just like all things important, they are costly to get, hence the need to make one yourself.
Here are 25 DIY guitar wall mount or hanger tutorials for your learning pleasure.
Thanks to this compilation you can make a guitar hanger in all kinds of ways to display your instruments on the wall. Whether you have one instrument or a whole collection, these guitar hangers can be made from things lying around the house, or inexpensively purchased at hardware stores.
1. $3 Guitar Wall Mount
A cheap, fast, easy, and effective wall mount to keep your guitar safe and clean. It is one you should check and try out as a guitar lover. Made with cost-effective materials hence the affordability of the project as it costs only about $3 to accomplish.
2. Beginner Guitar Hanger
A not too complex guitar hanger for beginners and amateurs, done with the use of wood and small steel rods. Although it might be a beginner's project, it is also a very good project as it works perfectly well, keeping your hanger firm and in a place away from dangers like scratches and accidental breaking.
3. Wooden Guitar Hanger
You can now learn how to build a wooden guitar hanger using wood bent lamination and basic tools and materials you can get anywhere. The bent lamination is widely known for its former approach to how guitar hangers should be. Apart from wood, some of the other important tools and materials you will need are walnut two-ply veneer, wood glue, spray lacquer, leather scraps, barge cement, and a host of other materials.
4. DIY Guitar Holder From Scrap Wood
As DIY fanatics, it is always a pain in the ass, trying to waste one important thing or the other as it is believed that everything can be repurposed into serving a new role, so if you have got scrap woods lying around from old projects, you can reconvert them into a beautiful, simple and minimalistic guitar wood, just like this pallet wood was repurposed in this DIY video tutorial.
5. Quick Guitar Hanger
Here is a look at one of the simplest and yet most effective guitar hangers you will ever find and how they are made. This quick DIY tutorial would explain how to make a guitar hanger from a log of wood, a rod covered with nylon, or anything painted to add color. Some tools like a jigsaw to cut the rod, a table saw or band saw to split the rod and a welder to join metallic parts together. instructables
6. Guitar Wall Hanger
It is tiring when after a music rehearsal or festival, you have to come back and fix it in the instrument covers and when they are needed bring them out again. A handy solution to this is constructing a wall guitar hanger where you can just grab your guitar whenever you want. You can learn how to construct this from this tutorial. instructables
7. Wood And Metal Guitar Hanger
This is a pretty simple and beautiful design made from wood and metal, the metal rods used for this project measure about 20-25 inches. You can learn how to measure and cut out wood parts properly and place them with the metal, so your guitar can hang properly. instructables
8. Five Guitar Wall Hanger
If you have got more than enough guitars and do not where you can keep those fragile beauties to protect them from breakage or detuning. A wall hanger like the one shown in the picture above would serve you the role of keeping all your guitars in one steady position. They are made with hand saw lumber, of course, screws, stud, and a stud finder. instructables
9. How To Make A Guitar Hanger
This is another one of those DIY video tutorials where you do not have to spend a dime on your DIY project construction. In this DIY tutorial, you will learn how to make a cool and awesome guitar hanger with the help of a wine stave. A very easy and minimalistic design for your next DIY project.
10. 10 Minutes Guitar Hanger
If you have got spare time from your tight schedule and want something like a haven for your beautiful guitar or let's say you own a ukulele too, in about 10-20 minutes of your time you can construct something as brilliant and unique as this guitar wall hanger done in this DIY video tutorial and paint and finish with lacquer later.
11. Easiest Guitar Hanger
It is called the easiest guitar hanger DIY tutorial for a reason. Made with a view of simplicity, it is a good project for anyone seeking to keep their precious musical instrument out of harm's way. To begin, you need to take note of how many guitars you want to hang, then you will be able to cut your wood to size, and then with felt, drills and bits, and spray adhesive you can attach the dowel pieces to the wood for each instrument.
12. Floating Acoustic Guitar Mount
I like the whole idea of a guitar floating, it is weirdly funny and intelligent. You should check out this DIY tutorial if you also love the idea and want to bring it to life. You would learn how to measure and cut out the right parts from your wood and adjust them to make your guitar stand horizontally.
13. Easy Guitar Hanger DIY
Here is how to make an easy, simple and affordable DIY easy guitar holder for all your guitars. It consists of wood and nails to hook. It might be a simple and cheap guitar hanger project but it serves its purpose to perfection. It can be used for years and might only need repainting.
14. Wall Mount Guitar Holder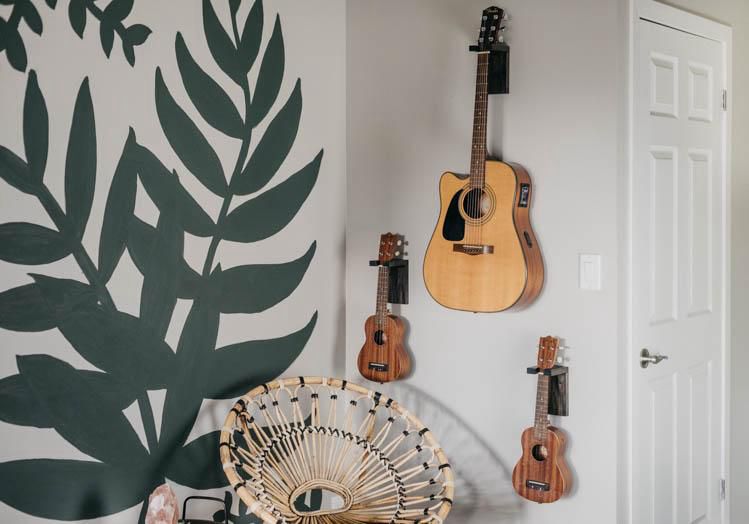 Do you love and have guitars and violins and are tired of them occupying floor space?
You can make this wall mount guitar holder to help you in keeping your guitars and violins safe, clear up floor space for other things, and easy to grasp whenever they are needed. You will need a scroll saw, drills and bits, and a miter saw for all the measuring and cutting of wood for this project. learn.kregtool
15. DIY Guitar Hooks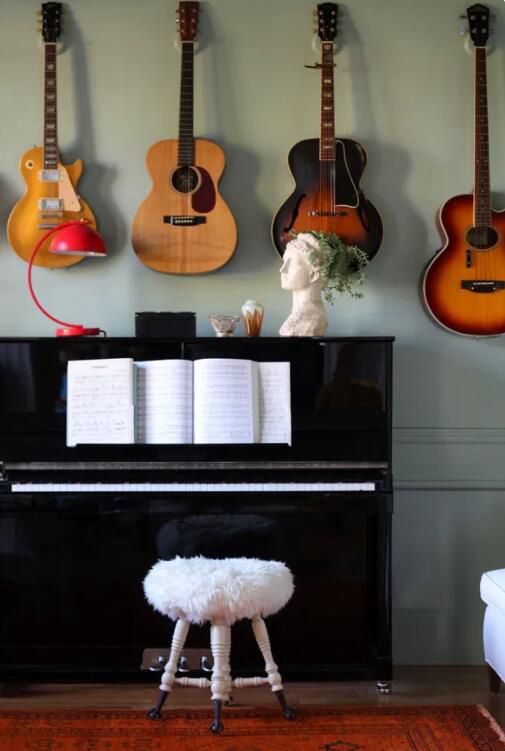 It is often said that if you continually see something, it will always be in your mind. That is the whole idea of this guitar wall hanger, the more you keep seeing them, the more you want to play them and practice and get better at your guitar artistry. With a bit of spare time, you can achieve something like this making your guitar seem like they are floating with these wooden gray-colored plaques. jennykomenda
16. Guitar Wall Hanger With Leather And Pipe
One of the main reasons why most people find it difficult practicing or playing the guitar is because they are always hidden away in stashed-up places. To help out with this you can build a guitar wall hanger like this uniquely beautiful one in this picture and mount it on your wall. They are made from wood, leather, and pipe amid some other materials like pipe nipple (¼" npt, 4" long), pipe Cap (¼" npt), wood Finish (hard wax oil) but lacquer would work great as well, spray glue, sandpaper. instructables
17. DIY Guitar Hanger For Small Spaces
Another interesting DIY guitar wall hanger is meant for small spaces. Staying in tight corners like school hostels or rented apartments and owning a musical instrument like a guitar or ukulele can be a complete sport because as humans we need space to feel comfortable and to breathe well. Hence, this DIY tutorial on how to construct a guitar hanger that can adjust well into your tight corners.
18. Guitar Wall Mount
This is a DIY guitar wall mount or hanger project that anyone can do ranging from a professional DIY craftsman to a beginner craftsman or just a random person who wants to try out this project. It is a project soft on the pocket as you do not need many tools and materials, materials like dowel rods, sandpaper 240 grit, and mahogany varnish.
19. How To Hang Guitar On The Wall
In the spirit of honesty, this is a fantastic DIY guitar wall hanger design. Use wires and strap belts to mount your guitars on the wall perfectly. It is not the least stressful and does not require many skills or techniques to achieve, and it is also a DIY project that can be done on a very low budget.
20. How To Make Cheap Guitar Hangers
Here is a DIY tutorial on how to make a guitar wall hanger affordably, these wall hangers are quite steady and sturdy enough to hold up the weight of your guitar from falling. The processes, methods, and materials used for this project are shown in the tutorial and properly explained so you can carry out the project on your own if you decide to.
21. 4-Guitar Hanger DIY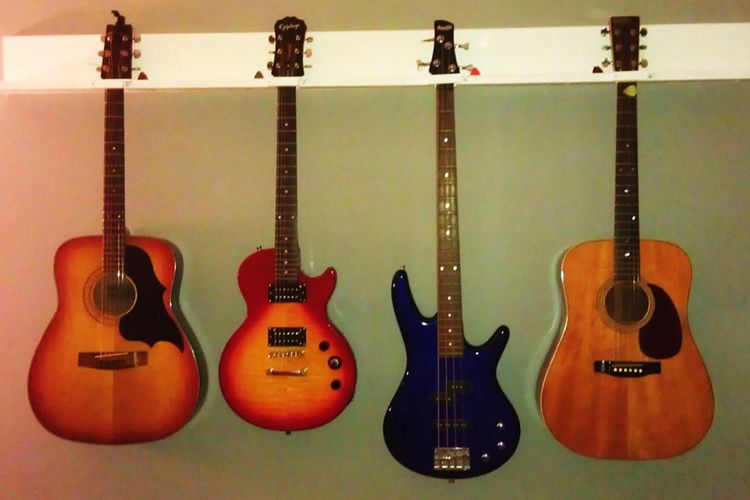 A detailed photo playlist on how to easily construct, so it becomes relatable to everyone intending to carry out the project. It is a four-piece guitar hanger for at least 4 guitars in place. This DIY tutorial is quite easy and affordable also. instructables
22. Electric Guitar Hanger Using Magnet
Electric guitars are heavier than the other types of guitars, so you need something stronger to hold them in place and act as a support base. To do this you would need neodymium magnets and stainless steel holders in addition to other materials like superglue, square fastener,  cell phone skin or protective film, stainless steel toothbrush holder, or drawer rail guide to hold up at least 4kg weight. instructables
23. Custom Guitar Hangers Out Of Wood
With the use of scrap woods, you can now make guitar hangers custom-made to your taste. Anyhow you want, any particular design you need, your choice, it adds color to your homestead and brings out the pop in your guitars. Check out this DIY tutorial to be able to make something of this sort.
24. Guitar Hanger DIY
Converting cherry wood into wall-mounted guitar hangers. You can check this out and start your project on a guitar hanger. It is a fun and educative DIY tutorial where you get to learn a lot about guitars and guitar hangers, why they are needed by every guitarist.
25. DIY Simple Guitar Holder
Your guitar's haven, this large and beautiful, simple guitar holder was made from black walnut wood. In this DIY tutorial, you would learn how to make something of this nature by yourself or with some friends. The materials needed for the project include a table saw, bandsaw, belt sander, walnut dowel for the plugs, Titebond wood glue, and once you are done you make use of a Minwax wipe for finishing.
Conclusion
Guitars and ukuleles are fun to play, but harder to store. These DIY Guitar Hanger projects are a low-cost solution that increases your at-home musical repertoire. The interlocking pieces create sturdy hooks to hold a variety of instruments while doubling as a work of art. This design is perfect for musicians looking for cool room decor or an interesting way to display their guitars.