Have you ever dreamed about the perfect bench in your garden or maybe in your home? If the answer is YES, you are in the right place. Even though you probably think the opposite, it is not too hard to build one lovely model suitable for your site.
With the right DIY garden bench plans, you can make any of these beauties without spending too much money. It's up to you to choose the material you like the most and pick out the desirable version you wish to make. Let's see your best options.
1. Diy Chesapeake bench
It is unbelievable that this inspiring and elegant, 48 inches (1.22 m) Chesapeake Banquette costs just $25. Use it alone or make a picnic table, dining room table, or farmhouse table to create a set. I hope you will find a perfect spot on your porch for this delicate piece of furniture and enjoy pure decadence.
2. Diy Deck bench with storage
There is a perfect model for you if you haven't enough free space in your home, but your terrace is large enough. It is an ideal combination of a cozy sitting area and built-in storage for the stuff you don't know where to keep inside the house. Moreover, it is a perfect solution for gathering, don't you think?
3. Diy Wine barrel garden bench
Have you ever think that you can make a bench of an old barrel? If you like to enjoy a high-quality glass of wine and often visit local vineyards, you can arrange something like this to bring that vibe in your garden, as well.
You can't find a precise DIY garden bench plan for this model, but it is not hard to create one by looking at a photo. With a little imagination and creativity, you can make this unique piece for sure.
4. Diy Simple board bench
Sometimes, you may need a simple bench for unexpected guests or a children's party. Kids will spend most of the time playing, but you should provide enough place for sitting while they eat a cake.
Therefore, this bench will be an ideal solution for these occasional events. Meanwhile, you can put it in any corner since it doesn't require too much space.
5. Diy Garden love seat
If you are a fan of modern design, this functional bench is an ideal and attractive option for two people. However, you really need to be patient and skillful to make it correctly.
6. Diy Planter box bench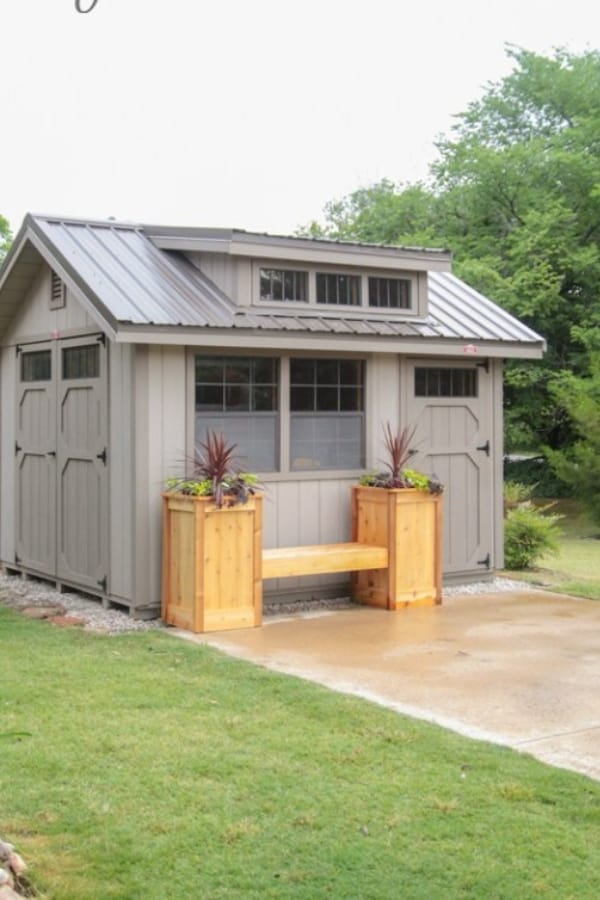 If you are one of those who like to live surrounded by flowers, this bench is the right model for you. It looks gorgeous, has enough space for your favorite bloomers, and offers a lot of privacy while sitting on it.
It is just a few planks placed between two planter boxes. With the detailed DIY garden bench plan, you won't have any trouble to create one, which is perfect for you.
7. Diy Garden bench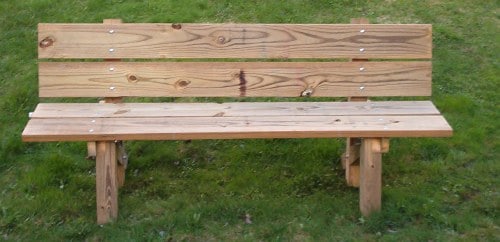 With the right material, creating such a beautiful bench will be a piece of cake. Find free instructions on the Net, and start working. If you find the process too complicated, you can always ask your friends for help.
I believe that this natural-looked piece of furniture is worth every effort! You can paint it in your favorite color, but it is lovely just as it is.
8. Diy Twin bed bench
Once you decide that it is time for a new bed, don't throw out the headboard of the old one. You can use it to make an elegant and unique bench that all your friends will love. It looks simple, it is inexpensive, and its appearance is entirely intriguing. What more could you want?
9. Diy Budget-friendly bench
If you are looking for a budget-friendly outdoor bench, you should find a DIY garden bench plan for this one on the Net. It will cost you just about $30, depending on the place you get the necessary supplies. After deciding about the color of your new bench, finish it and start enjoying it right away. You deserve it!
10. Diy 5-board bench
Look at this old-fashioned, but highly elegant bench! It will be an ideal part of your yard or a porch. However, wherever you choose to place it, this bench will bring a lot of style to the place. Build one by using just five boards and paint it in your favorite color. I am sure that your family will adore this lovely design.
11. Diy Rustic bench
Yes, as you can see, I prefer the rustic style. I would like you to see the full beauty of old decor and natural elements, especially when you have a plan to make a bench for your garden.
You can make it without high technology, precise DIY garden bench plan, ultimate skill, or expensive materials. Grab a few pieces of old wood and put them together. The result will be a simple, casual seat where two close friends can exchange their secrets. How lovely!
12. Diy Beginner wooden bench
It is an ideal project for a beginner because almost anyone can make this bench. Not to mention that it will cost you modest $20 or even less, depending on the type of wood you use. Check if you have adequate tools and start working! If you have a pet, it will probably become its favorite place for taking a nap.
13. Homemade Bench and side table
How lovely, old-fashioned wooden seating bench it is! I adore the fact that it comes with a useful side table. Make an excellent DIY garden bench plan and purchase adequate slats, screws, and glue. It is not too complicated putting all the necessary pieces together. Make one and enjoy its beauty and reliability.
14. Homemade Shoe storage bench
I like having multipurpose things, and this particular storage bench is an ideal solution for you if you are a practical person. You can make it and get a place for sitting and a lovely space for storing your shoes at the same time.
The additional advantage is a convenient design. You can place four large crates for storing everything you occasionally need inside the bench. Put there your sports equipment, shoes, or toys, for example, and enjoy free space in your home.
15. Homemade 2 x 4 bench
I am thinking about the best DIY garden bench plan to create such a beautiful piece. It is an ultimate combination of elegance and sophistication hidden behind the semblance of simplicity.
Plus, it is not complicated to make such a bench. After making the frame, you should add the 23 inches (58.5 cm) tall backrest, and your new beauty is prepared to become a part of your yard.
16. Homemade West elm bench
WOW! Look at this fantastic bench, and don't miss the opportunity to make it on your own. The original model costs over $700, but you can create it for a tiny budget of just $15. Can you believe it?
Find an appropriate DIY garden bench plan on the Net and make this 'something special' piece for you and your family within 6 hours.
17. Homemade Rock bench
If you have a lot of time or skill for making complicated constructions, you can choose to build this model of the bench. Pick out a few rocks, line them up on top of each other, and add a piece of wood over them. With this model, you will get two benefits in one. It is a simple idea, and it looks rustical and lovely.
18. Homemade Outdoor bench
What classical beauty! What a first-class bench! Don't you think the same? It is a highly practical, sturdy, and long-term piece of furniture you deserve. Find a free DIY garden bench plan online and start with construction.
It's up to you which color of this lovely model suits best to your yard, but I highly recommend the green solution. That way, it will become a beautiful part of your exterior.
19. Homemade Covered sitting area
It is what I call a bench worthy of royals! Even if you use recycled materials to make the covered neat sitting area, the entire construction will look fantastic. Not to mention that using this type of stuff will cost less than you may expect. Pick out this design and enjoy the opportunity to sit protected from curious eyes.
20. Homemade Cherry Bench Seat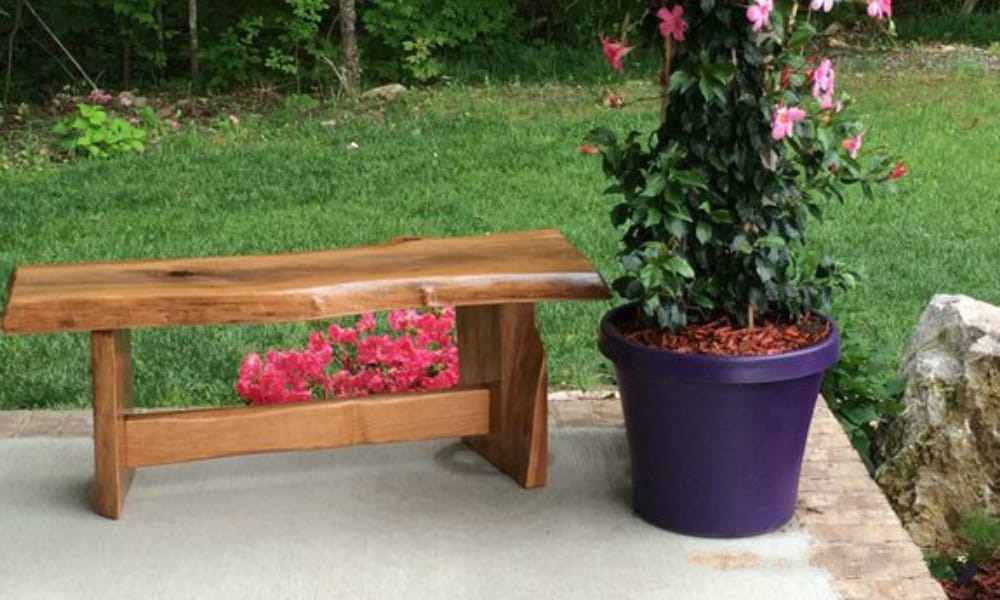 I like this style of furniture because you can show all your creativity through manual work. The natural look of this particular decor is a big plus, as well. Choose pieces of raw wood, put them together, and create a beautiful sitting area for you and your family. Even novices can finish this job successfully and without much effort.
21. Homemade Easy-to-build bench
There is one more easy-to-build DIY garden bench plan, ideal for your family. You will need a 58 inches (1.47 m) long seat and a few slats of various lengths for the legs.
With adequate tools and a little skill, you can make this simple but beautiful model for your garden or a porch. Once you finish it, you can enjoy the beauty you created on your own. WOW!
22. Homemade Old house garden bench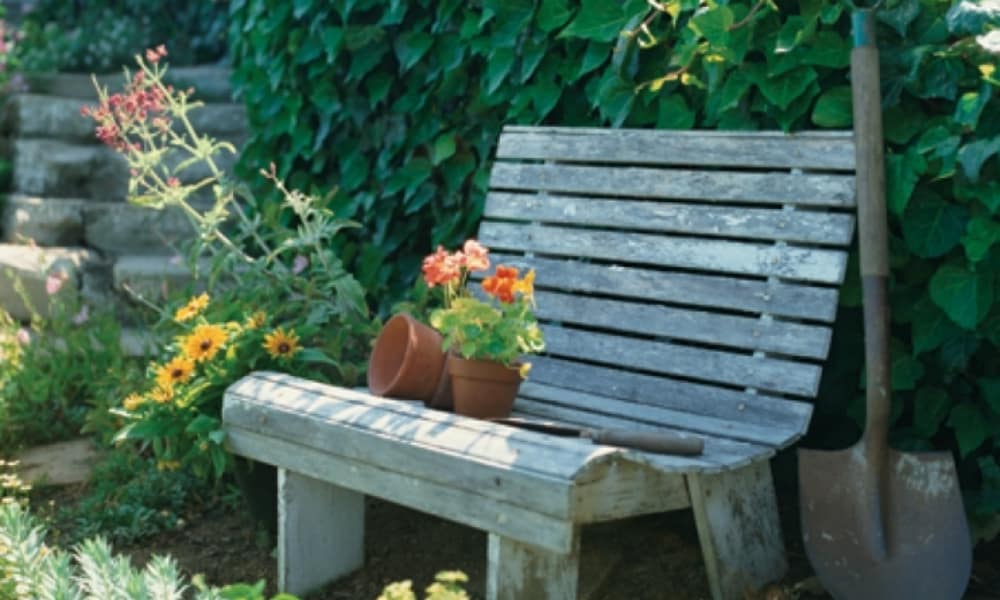 I have seen this type of bench in European parks, but you can make this rustic piece in your home without much effort. It will enrich your home decor, and remind you of good old days you may dream of. I can tell you one thing for sure; this sturdy model will fit perfectly in any garden.
23. Homemade Old-fashioned bench
Can you believe that my grandparents have the same model on their porch? Even though it is a classical design, it will probably be a fashionable piece forever. Since the shape of the sides of this particular bench is a bit unique, you may need more time to finish this project. However, it is worth of effort!
24. Diy Planter bench with lattice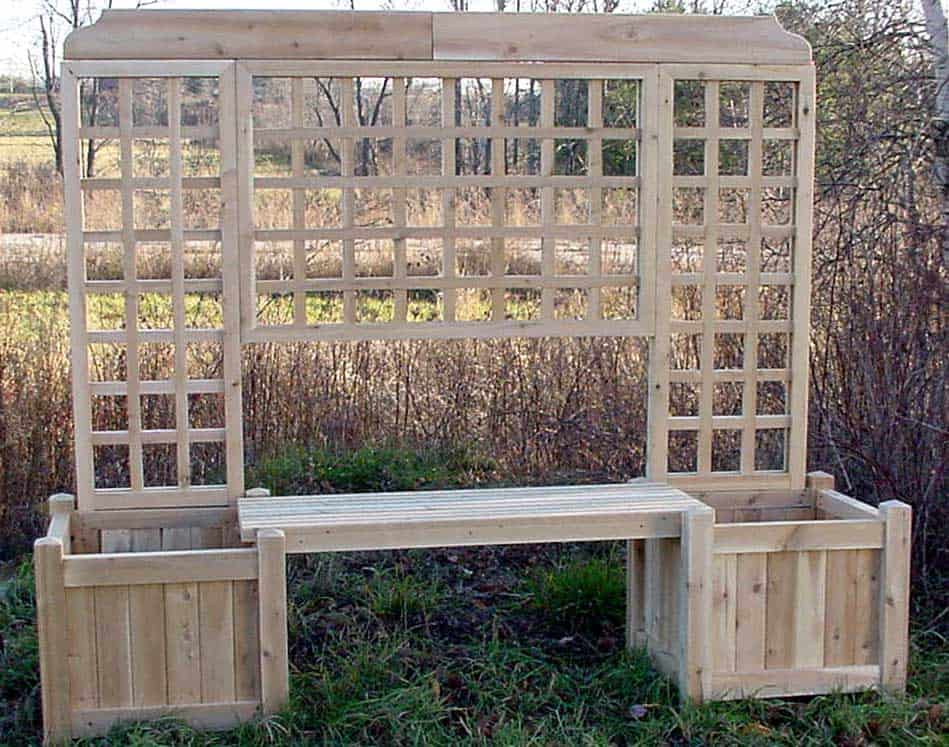 How convenient bench for the plant lovers! Look for an excellent DIY garden bench plan and make this piece of furniture for your yard. Plant flowers around it and enjoy the fragrant surroundings while sitting and enjoying the view. I find this lattice an excellent place for growing rambler roses.
25. Diy Picnic table bench
What a cute idea for your porch if you need an eating area in a natural surrounding. To bring this excellent idea into life, you should make two benches, which you can transform into the picnic table when needed. Unfortunately, it is not an easy project for novices. To make something like this, you need to be skillful and to have appropriate tools.
26. Diy One slat bench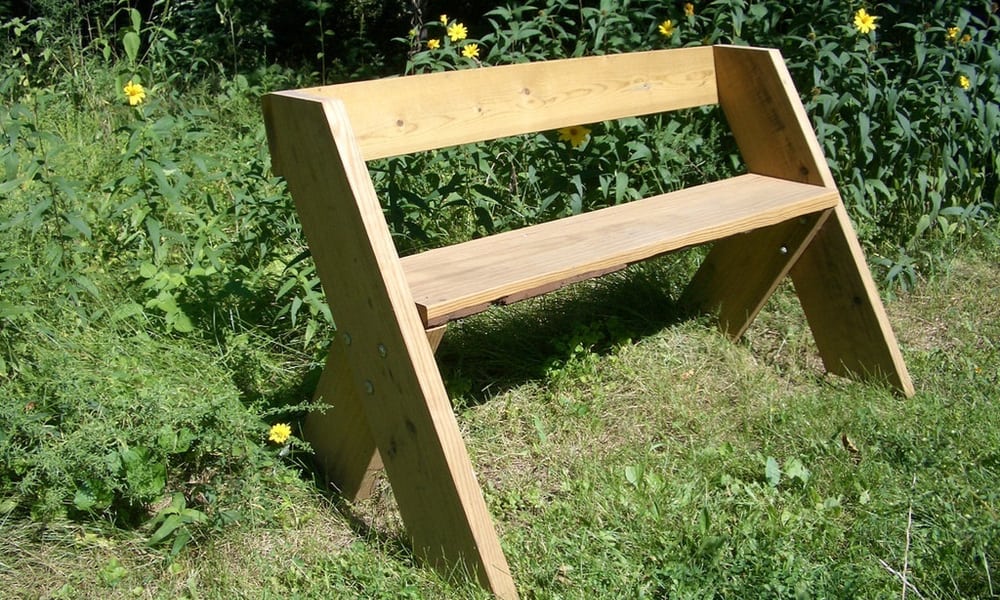 The design of this particular bench is simple, but it is sturdy, reliable, and practical for most purposes. Even though you are not much skillful, you will be able to make this piece with a detailed DIY garden bench plan. Basically, it is a bench made of two crossed parts of the wooden frames.
27. Diy Door bench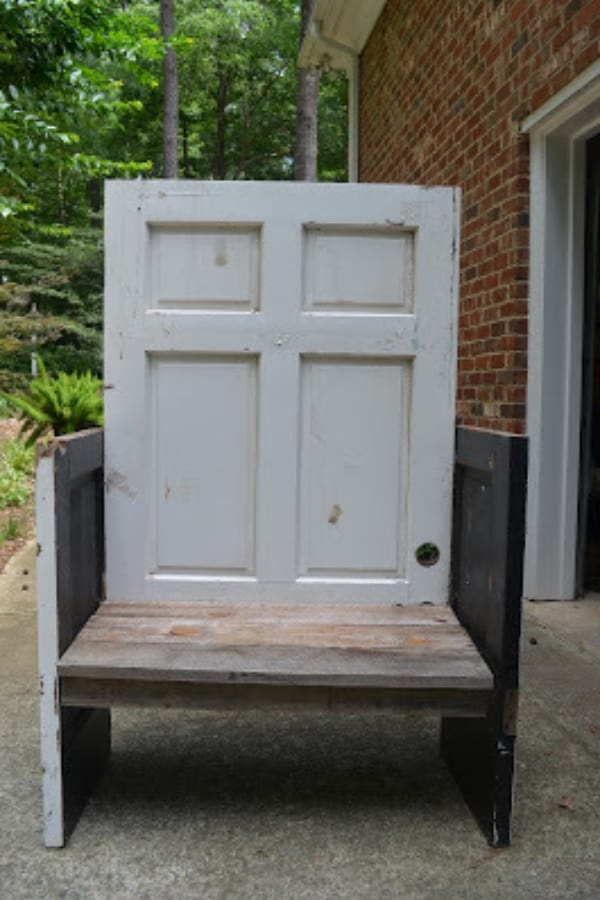 I hope you like recycling, as I do. If it is a case, you will adore this cool idea. Use an old door, cut it in half, and make this unique and convenient model as a gorgeous part of your decor. Consider to use the shabby chic style for your new bench and enjoy it.
28. Diy Toadstool bench
If you are not a traditional type, you can make something entirely different. Use old stumps and create a bunch of stylish toadstool-liked benches, which will transform your yard into a fairytale place. Just imagine how enjoyable it can be to eat some tasty dishes made of mushrooms while sitting on them.
29. Diy Brick Bench
You probably believe that there is no plan for your ideal bench if you despise contemporary construction. However, you can get something special for your garden without much effort and modern DIY garden bench plans.
Pick out old enough, imperfect bricks, and make legs for your future bench. Then place the old piece of wood between the two stacks, and use it as the seat.
30. Diy Arbor bench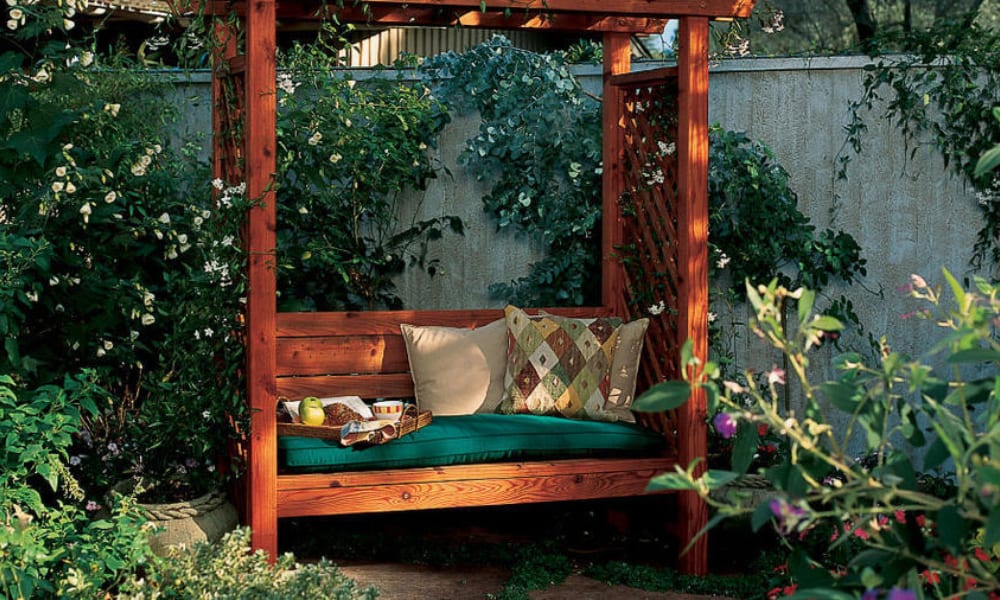 I have saved the best idea for the end. Can you imagine a more romantic bench than this model is? It is an ideal solution for a smaller yard and includes an arbor and enough space for your favorite plants growing around.
I am not sure if it is a more convenient option for children, young people in love, or an older married couple. Probably, it is beautiful enough for everyone.