This is an amazing DIY project that allows you to build a futon frame without stress, it's way better than buying one from any online or local store. A futon frame is meant to improve and not replace.
With this guide, you can make as many futon frames as you want with a few easy-going materials and tools. Most of the futon frames in the guides on the list below are quite inexpensive. Without further ado, Let's dive in and see the list of DIY futon frames available.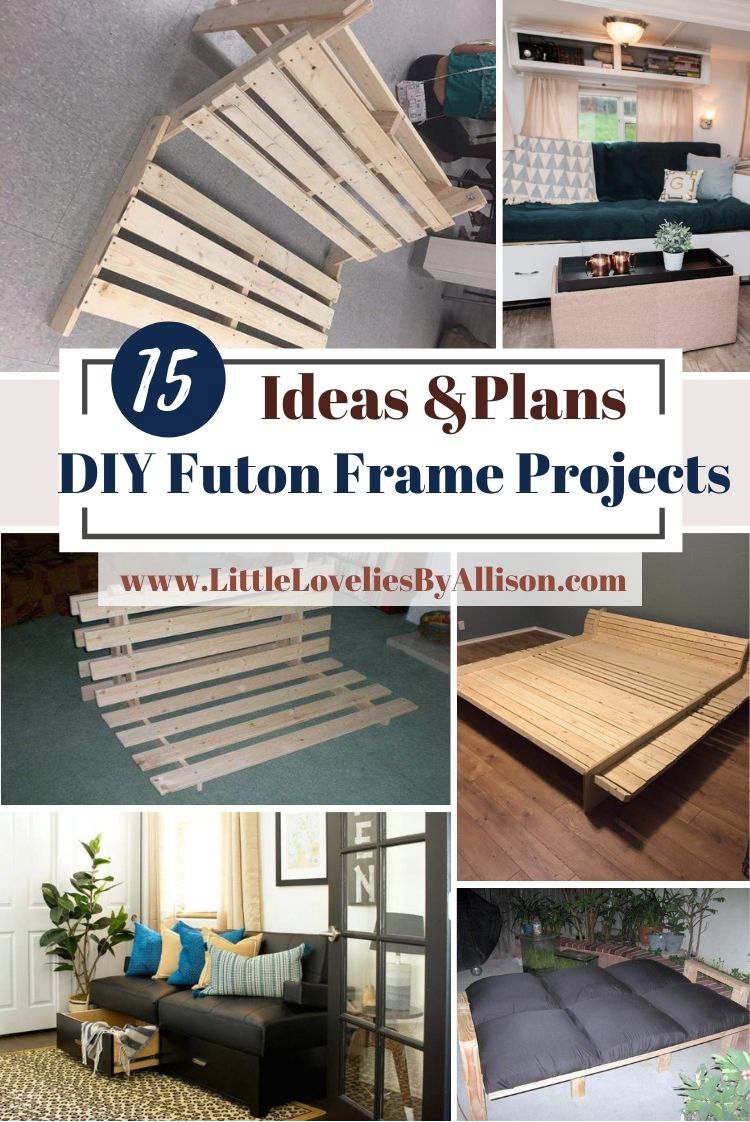 1. DIY Futon
This is an amazing futon frame for your bed idea. It's quite easy to make and requires basic woodworking tools, and good expert woodworking skills. This futon frame was made to house an amazing futon that is made to be a bed. The creator had some building plans that will help you build with ease.
2. DIY Solid Wood Bed Frame
This video guide does not require expert woodworking knowledge to be able to build with, just a simple fair woodworking skill is enough. The steps are super easy to follow and the creator at the beginning of the video explained everything. This solid futon bed frame cost about $50, and that is quite cheap so far.
3. DIY Camper Van Futon Plans
Here is another amazing futon frame idea that you can use for your camper van. This only applies if you have the camper van, but if you don't have one and you're willing to bet one right away, even better. The link to the building plans that will make your job a lot easier is in the description below the video. You will also need to start this guide with a sketch and finish with boiled Linseed oil.
4. DIY Sofa Bed
A sofa bed is not easy to make, but the creator of this video guild made it look pretty easy. The creator also made this sofa in a way that you can easily convert it to a bed or a chaise lounge. The creator used a circular saw and a speed square to take all the woodcuts, and he also documented and made a cut list. Check the guide description link to learn more.
5. DIY Storage Futon Tutorial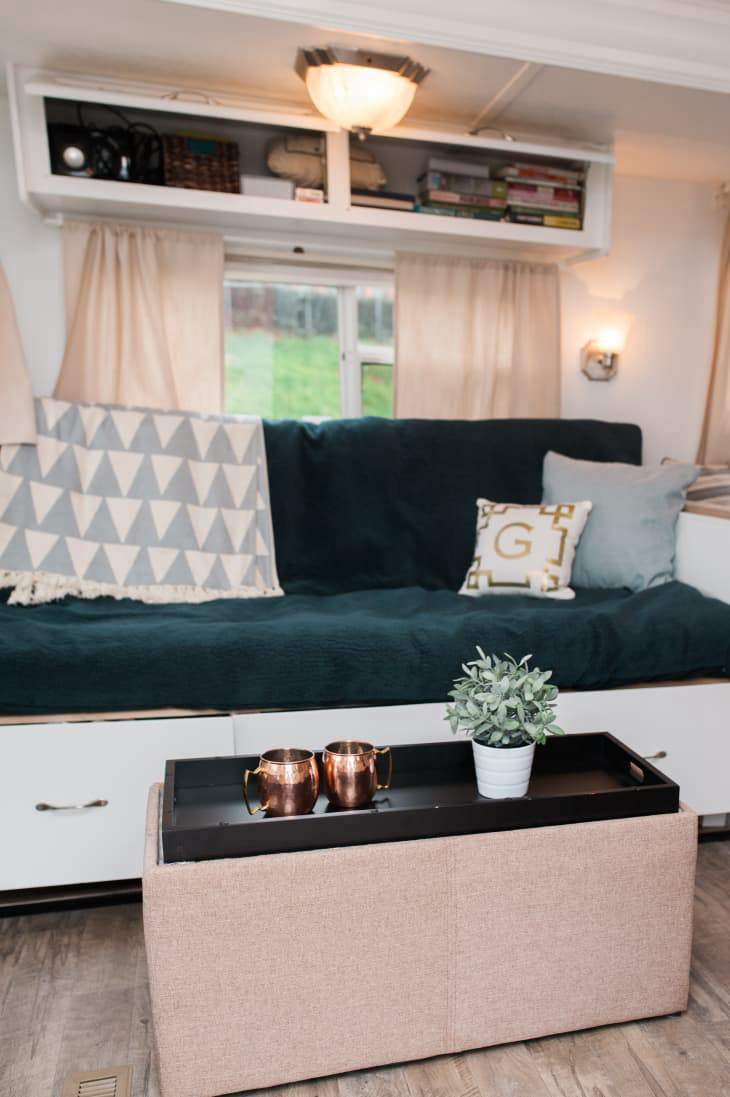 Here is an amazing futon that the creator made with some storage spaces, it's quite easy to build, you just need a few materials like some furring strips, drawer tracks, screws, fabric, paneling, futon cushion, and lots more. It's a simple woodworking process that requires the use of basic woodworking tools.
6. DIY $125 Futon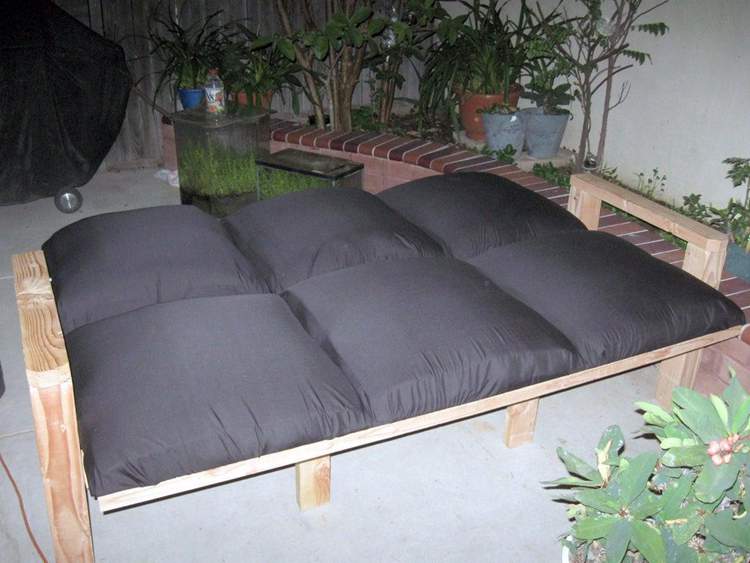 This is a great futon project that requires time, patience, and an expert skill woodworking level to execute. It's a simple futon frame for a bed and although the creator was an expert woodworker, he believed that if you followed his steps properly you could build this frame the same way he did with ease.
7. How To Build A Fold Out Sofa Frame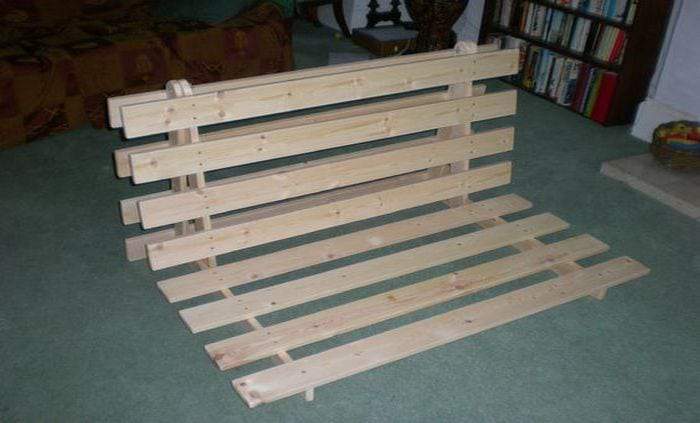 This fold-out sofa futon frame is super easy to build, perfect for a beginner. First, you will need a lot of wood planks but that is not a problem, it might only cost you about $100 for the materials. This fold-out sofa frame is perfect for an empty corner or space that you might have in your house.
8. DIY Futon Frame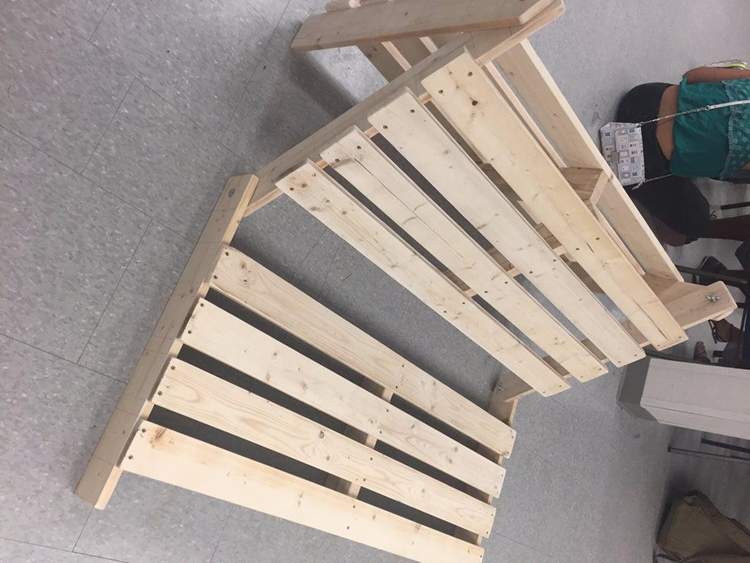 Here is another amazing futon frame that is quite similar to the previous one. This project is super simple, it's. Simple wood construction, the creator spent $10 on the wood, and $15 on the wing nuts, and bolts which in total amounts to $25. There are other things that you might need to get if you're a beginner woodworker, so you can budget about $25 -$30.
9. DIY Sofa Bed
This is an amazing video guide that will help you build a sofa bed frame super fast. The sofa frame folds out in 5 seconds and that's a new and improved feature. The sofa frame also has storage for books and beddings, it's a super cool sofa frame that doesn't just look good, but according to the creator, it feels good too. It's pretty easy to build, as the creator made a small model of the bed out of cardboard to have an idea of what she will use to build the entire real masterpiece.
10. How To Make A Sofa Bed
So, this is the kind of sofa futon frame you should think of making. It's the best and it's quite easy to build. This sofa can turn into a bed, a chaise lounge, a storage unit underneath, and finally a coffee table. So no matter what you are looking for, this futon sofa bed frame idea has it all.
11. How To Make A Wall Sofa Bed
So, here is another video guide that will require you to dig up that expert woodworker personality in you and make a great futon wall sofa bed frame. The frame is attached to a vertical wall, and you can easily pull out the bed from the wall frame and use it, and you can also use the sofa. So this futon frame offers a sofa and a bed, the sofa starts first while the bed is attached to a structure in the wall that can easily be pulled down to form the bed.
12. DIY Sofa Bed
You can check the description link below the video to go directly to where the building plan was obtained, or you can follow this creator's idea and make a simple but sturdy futon sofa bed frame. You'll need a lot of wood boards, and wood planks cut to their various dimensions, wood screws, sandpaper, sander, a screw drill, a jigsaw, clamps, and a few more. The making process is quite simple to follow regardless of if you're a skilled or unskilled woodworker.
13. How To Build A Futon Base With Drawers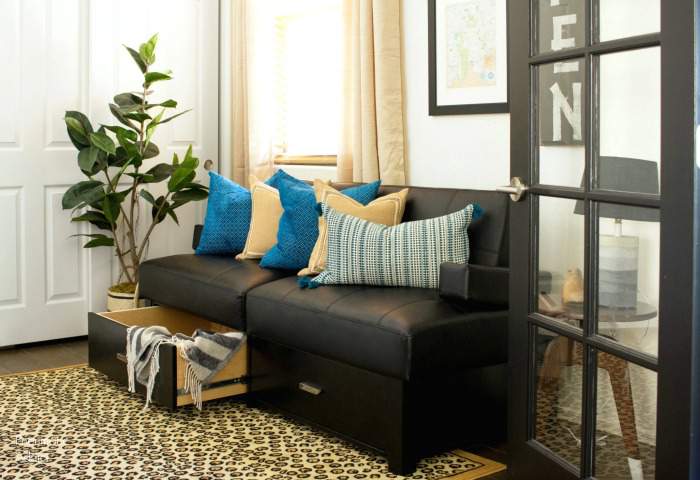 So, practically the creator didn't make the futon sofa from scratch in this guide, he already had a futon sofa, he just needed to add storage space underneath it. So, with a few cutting, measuring, and screening she got a unique base with drawers. It was quite easy to build and if you have a futon sofa already, no need to stress yourself building a sofa from scratch, simply follow this guide and add a simple base with drawers now.
14. DIY Plywood Sofa Bed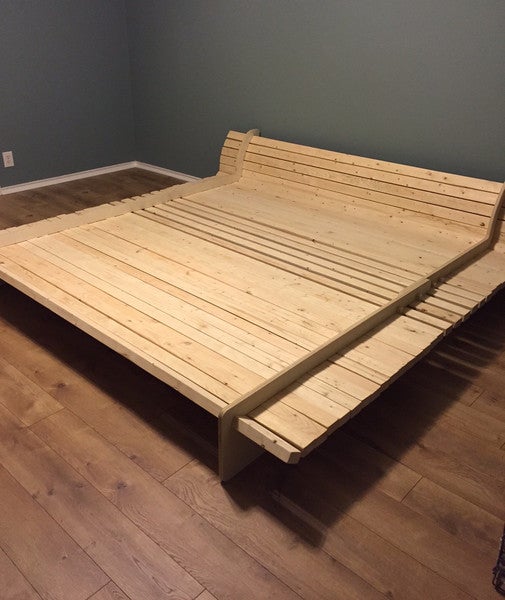 This sofa bed frame was made from some inexpensive materials yet it's so sturdy and durable. The creator used some furniture-grade plywood and made this large sofa bed frame. The frame is pretty big and is super simple to build. It's good to have a sketch of the entire build before you begin cutting and constructing. If you don't have a sketch ready, you can use the creator's sketch in the guide. So, with just 5 simple well explained steps you can build this amazing sofa bed frame for your futon and it will.be the best thing you have ever done for your living room.
15. DIY Space-Saving Sofa Bed
If you are looking for a simple, straightforward and aesthetically pleasing sofa bed frame idea that will save space in your living room or your small bedroom, or wherever you put it, then you should probably try out this video guide. Although, this sofa bed was made for a small bedroom space to prove how space-saving it is.
With that, you can use this idea and make one too. It's quite simple to build, you will just need to get the appropriate tools for this job and follow the making process carefully. If the video guide is not enough to give you a full insight on how to go about building this space-saving sofa bed, then you can try the building plan, there is a link in the description below the video, that will be of greater help to assist you to build the sofa bed effortlessly.
Conclusion
That's all we got for you today, all the guides on the list of Day futon frames above are working perfectly and if you follow the steps and construction instructions carefully, you would also build the same amazing masterpiece that is seen in the guides you choose.
Most of the futon sofa bed frames are inexpensive, so this makes your job a lot easier, as you can build any futon frame you want with just a few dollars to spare. Thank you for your time viewing this DIY, I believe you have found a guide that will be of uttermost help to you in building your dream sofa bed effortlessly. Till next time, bye.