Foldable tables are great, not just for the convenience of putting them away easily, but also for the aesthetic value. Little wonder they are a tad pricey to get but not to worry, we've curated a list of beautiful and easy DIY for foldable tables that you can make use of.
The best part of a DIY folding table is how you can add your own twists to designs and at pocket-friendly rates too! This list has it all from DIY small folding tables to much larger ones and everything in-between, meaning they can double as side tables or carry-ons for road trips and camping.
While this list of DIYs is not exhaustive, it's a given that you'll find something you desire here and how to make it happen. Take your time to go through the list of DIY folding tables, feel free to pick more than one if you so desire, and happy crafting.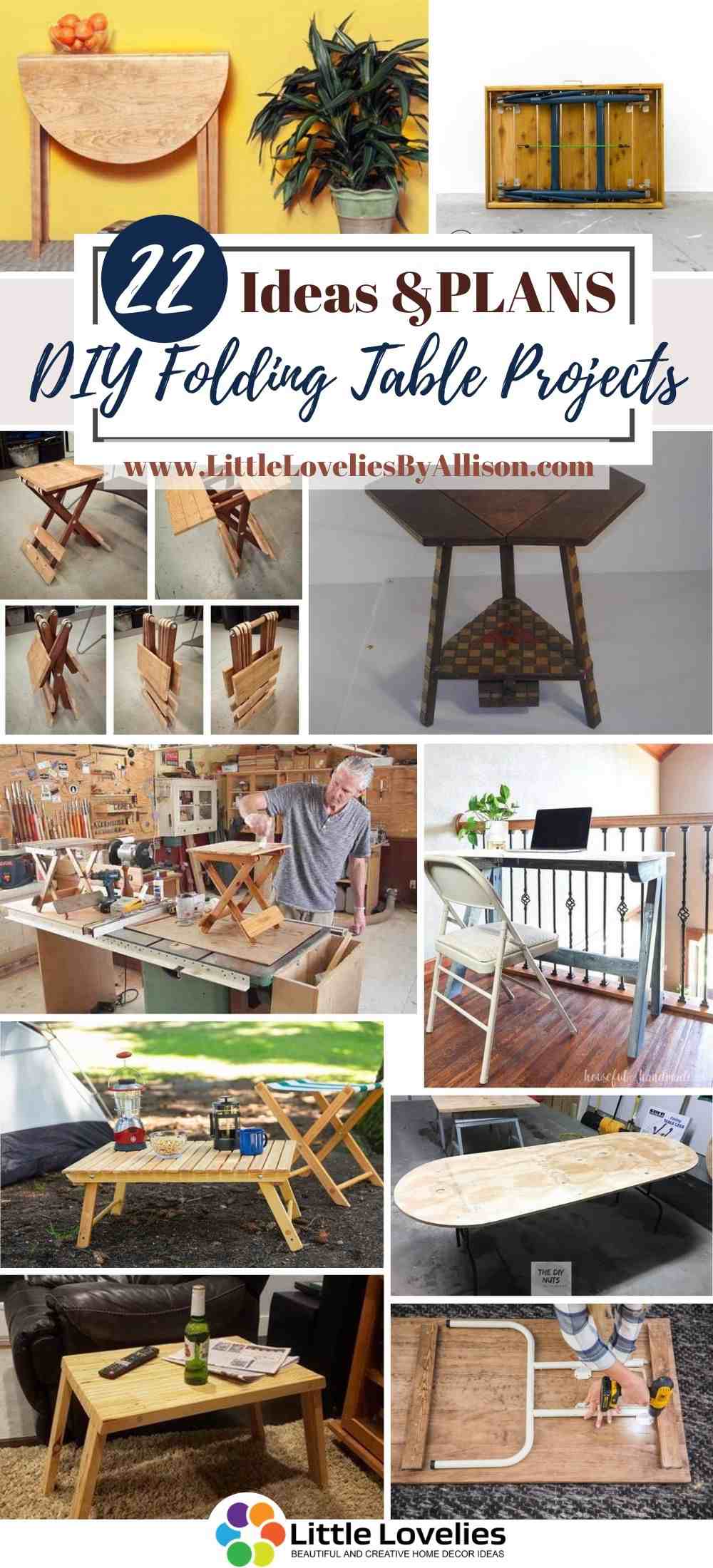 1. DIY Folding Table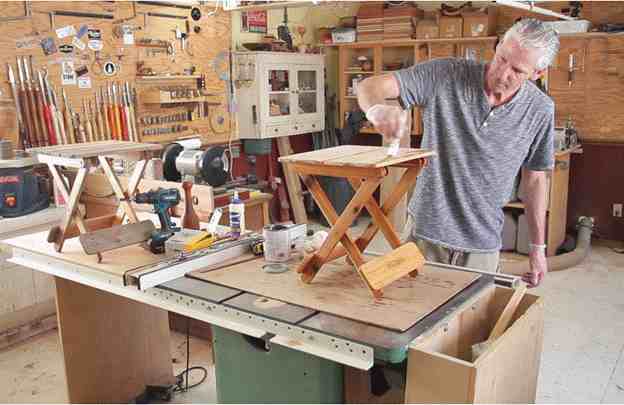 This DIY folding table is really as simple as it looks and the very detailed instructions mean you don't have to be a wiz at woodwork to get this done. Cedarwood is the wood of choice for this piece but you can use any suitable wood of your choice.
2. DIY Folding Umbrella Table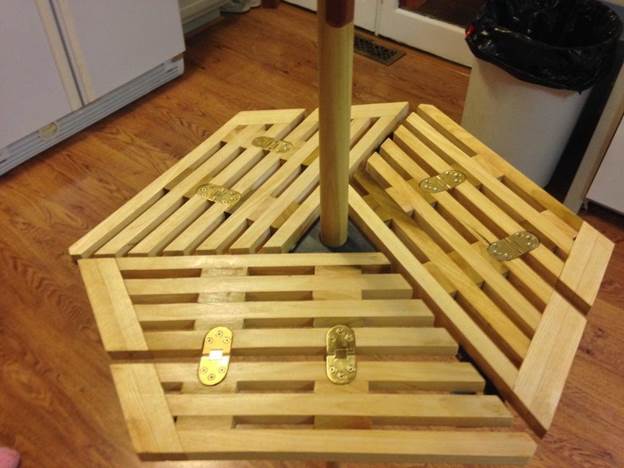 Perfect for the beach, patios, and lazy days spent in the sun. This DIY folding table comes with a slot for an umbrella in its center and because it's foldable, it's easy to carry around to wherever you need it to be. No more worries about where to keep all your stuff while getting that perfect suntan at the beach.
3. DIY Folding Table for Kids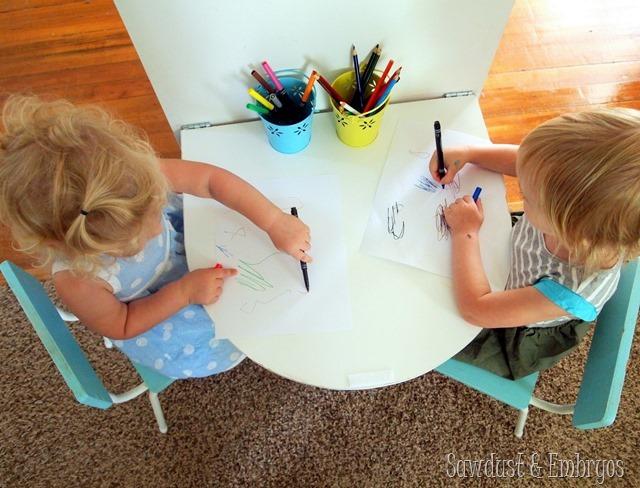 This is a perfect table for arts and crafts for the little ones without having to use up too much room. It's set up in such a way that you can fold it up against the wall when you're done and it's a straightforward DIY so you'll be done in no time.
Bonus tip: consider making it just a bit bigger (length wise) and providing an electrical socket nearby to get yourself a foldable ironing board for adults only.
4. How to Build a Large Folding Table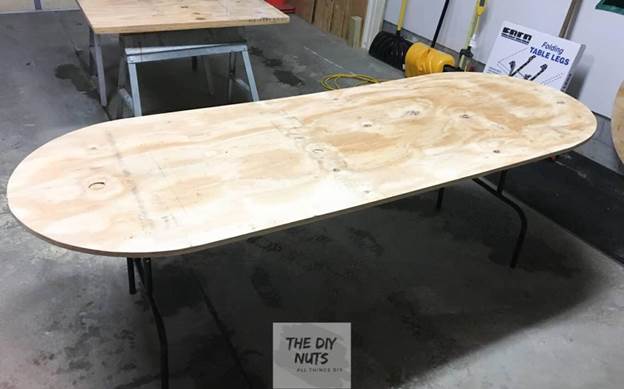 Large folding tables are perfect for once in a while gatherings like game nights, family sit-outs and dinner parties. It's a must-have if you're prone to having any of such events as it saves storage space and makes moving it around fairly easy. The tools you need include a circular saw, screw gun, plywood (the grade of plywood you choose determines whether it'll need sanding or not so choose wisely).
5. DIY Foldable Table from Scrap wood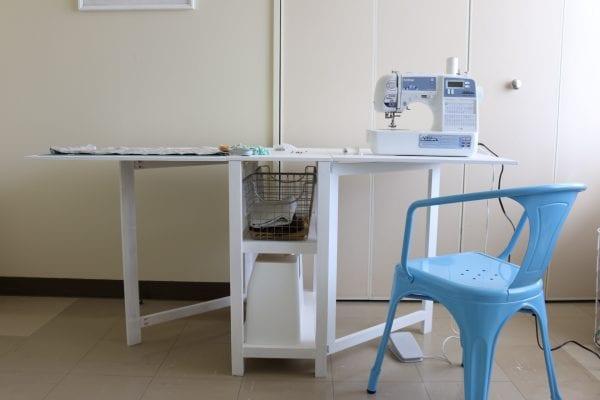 One of the pros of this DIY foldable table is that it's made from scrap wood especially if you do a lot of woodwork and already have scraps of wood lying around; this reduces your production costs significantly. It's okay to use regular wood if you don't have scraps, don't let that stop you. You'll need plywood, pine boards, door hinges, paint, tape measure, edging tape, household iron, drill, and screwdriver, etc. The work involved is a bit advanced but there are learning tools in the link for beginners that will prove awesome.
6. DIY Simple Wooden Table
This is truly a DIY simple foldable table that gives a perfect finish. Play around with colors to add extra glam. This is the perfect DIY if you don't want to spend days doing back-breaking work whilst still getting mind-blowing results. Glue is necessary for this work asides from your screws, drill, and other woodwork tools.
Bonus tip: Pre-cutting your boards make the work much even easier.
7. DIY Folding Table for Travelling
Another gem for the lovers of big tables and road trips. The best part of this DIY folding table for me is the legs folding inwards and the whole setup having a lock and handle for easy moving around. It's also super easy to make and the amount of table space it gives without being a hassle to store is pure gold.
8. How to Make a Folding Table
This DIY folding table is a wall-mounted desk and can be used as a work desk, game or DVD stand amongst others. All you need are foldable wall brackets, screws, a drill, a screwdriver, and your wood table top of choice. This is the simplest DIY foldable table that doesn't need to be moved and you can customize it with non-foldable wall brackets to make stands for flower pots or other decorations. Great right?
9. How to Build a Compact Folding Table
This table is beautiful and for those who like extra flair in their woodwork. The satisfaction you're guaranteed to get from the finished work is worth all the stress and you don't need much for this DIY compact folding table, just the regular woodworking tools and your wood of choice. Throw on some color or go all out in your choice of wood for double the elegance.
10. DIY Folding Mobile Bench
This one right here is a DIY folding mobile workbench, great for the handy person who needs workspace but doesn't want the house cluttered at all times. It's made as two separate components, with the body frame and a removable tabletop. The instructions are easy to follow, although a bit of experience might make it easier.
11. DIY Fold Away Desk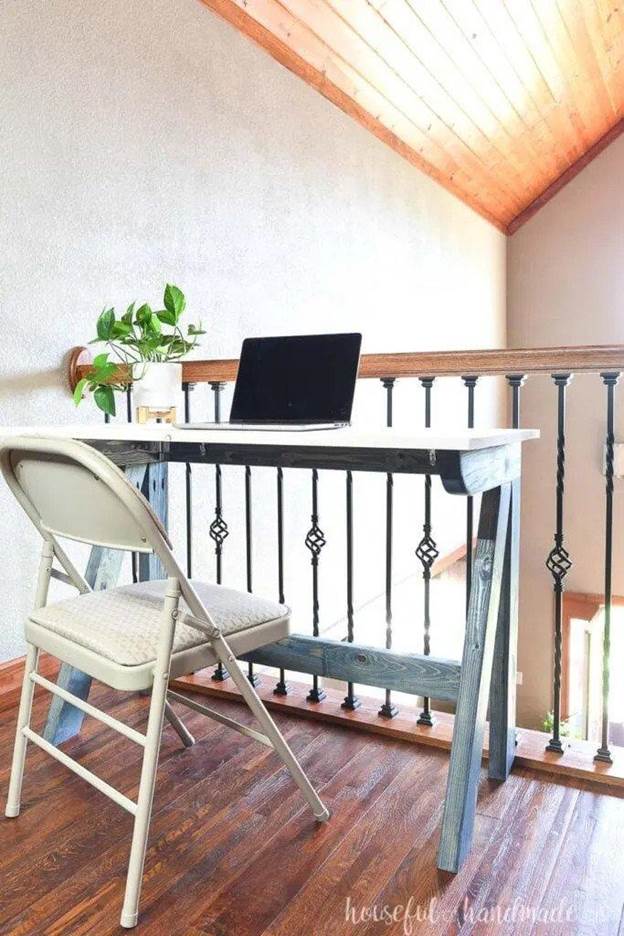 A DIY fold away desk that doubles as a work desk or craft station and requires little or no work to make it happen. The angled design not only helps with balance but gives it an extra fancy look. You'll need a miter saw, plywood, or any other wooden boards and your woodwork tools. The top of the table comes off and can be stored easily with foldable legs.
12. Handmade Folding Table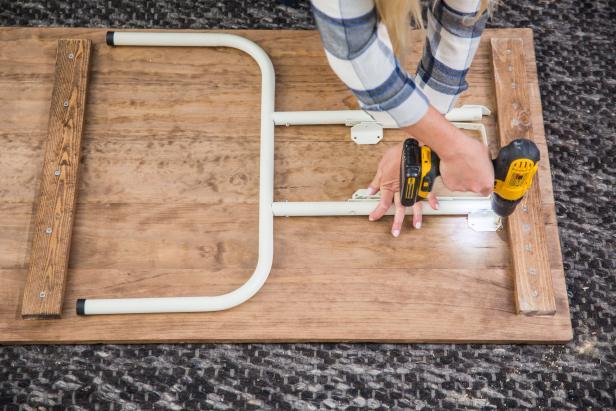 Major materials needed are pine boards in different measurements, wood screws, and foldable metal legs. This gives a certain level of finesse due to the metal legs and the contrast against the wood that it creates. This DIY folding table is definitely worth the hassle and a perfect addition necessary holiday setup.
13. How to Make a Folding Camping Table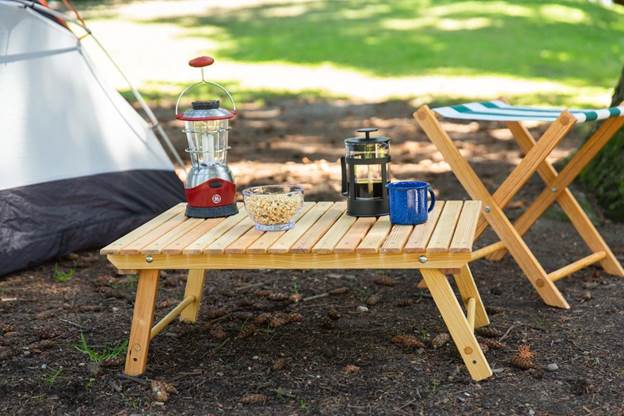 You can't help but love the design of this folding camping table, it makes using it an absolute delight. The trick to getting this beauty is in the cutting of the lumber for DIY. The straighter the cuts, the better it all is. Throw in something extra by using different color schemes of wood for the tabletop.
14. DIY Folding Side Table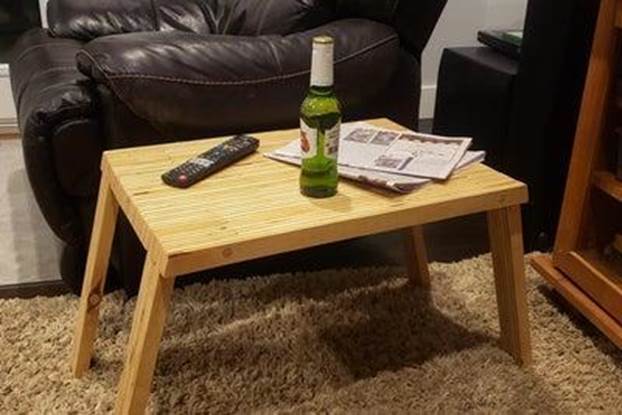 This DIY folding side table is completely metal-free, yeah you heard right! No screws or hinges or metal of any sort. All you need is your plywood sheet, wood dowel, glue, and basic woodworking tools.
15. DIY Hexagon Folding Table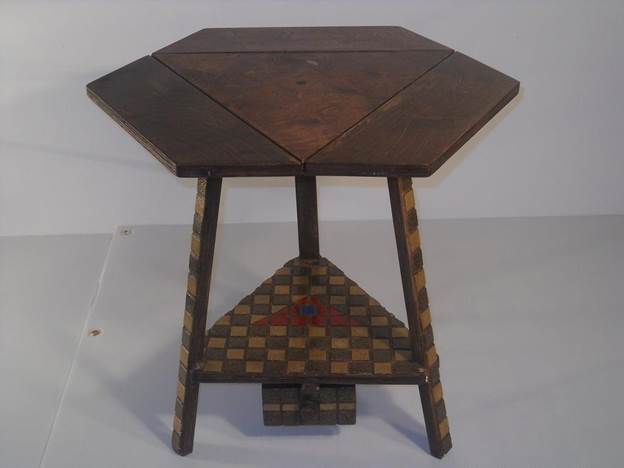 A perfect DIY foldable table as it fits easily into any car, meaning it's easy to move around and you have to admit that's just as important as space conservation. It's also rotatable and that makes it even greater! The unique hexagon shape makes it unique, alongside the little sliding drawer underneath and designed with mosaic tiles. For this DIY, a list of what was done wrongly when the author made it is also available for you to use in sidestepping any of such issues.
16. DIY Small Folding Table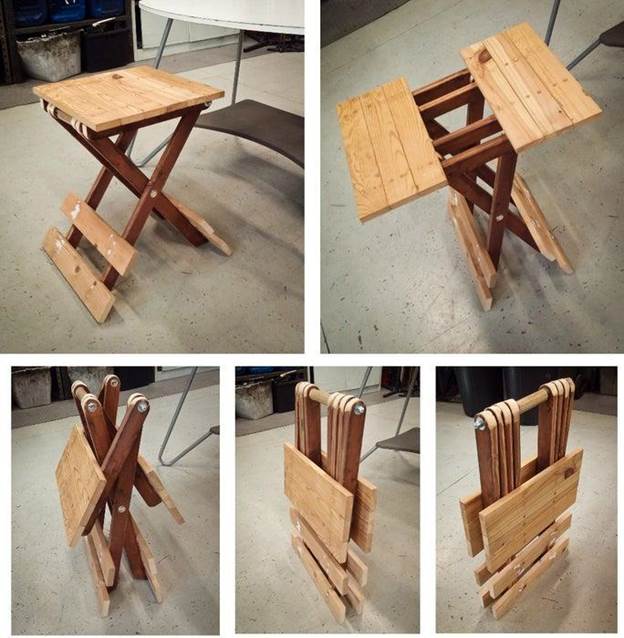 A 3D instructable model is provided for this DIY small folding table, making it easy for you to adapt the dimensions to create a bigger table if you so desire. It has lower and upper boards with the upper boards being the tabletop and the lower board forming a secure base to support the entire table. Utilize different types of wood or incorporate paint into this process an even more unique DIY foldable table.
17. How to Make an Outdoor Folding Table
This DIY outdoor folding table can be customized into a Ping-Pong table, outdoor workstation, or saved for occasions where you need some extra table space. The building process is straightforward and doesn't require expertise to handle but there are advanced plans available for a small fee if you decide to kick things up a notch. It's very important that you have a heat gun for this DIY as PVC is one of the major materials for this project and you need heat to work on some parts.
18. How To Make A Foldable Working Table
Need a pretty large table that's easy to store without taking too much space? Then this DIY foldable working table is for you. It's a perfect work station that's easy to put aside when not in use. You need to be handy with a saw but a workable alternative is getting your wood precut before you begin to work, easy peasy!
19. DIY Pallet Folding Table
A table saw makes this job relatively easy but any saw would work just fine. It is a bit time consuming to create but the beautiful finish would make you never want to fold it away.
20. DIY Portable Foldable Desk
You need just one sheet of plywood for this, don't shy away because of the heavy machinery used, you can create this with a little extra work and your regular woodwork tools. The result is a simple, superlight table with uniquely designed foldable legs.
21. DIY Folding Table
The folding mechanism incorporated into this DIY folding table makes it sturdy in a reliable way. You won't have to worry about it collapsing beneath whatever you place on it and it's a straightforward process to get it done.
22. How to Build a Folding Table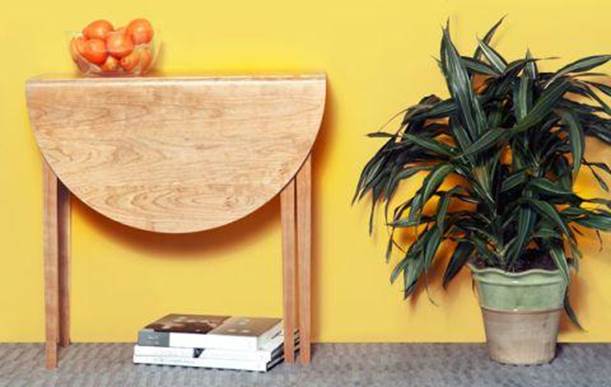 Simple, unique, and easy to make, you do not want to sleep on this design! An animated walkthrough and a full printable plan are provided to make your work easier. This table can be stored in your home without taking a whole lot of space. I would highly recommend it for people who do not have a lot of space in their homes.