Flowers brighten our world with its beauty and vibrant colours. These nature's wonderful beings not only purify the surroundings but also project a euphoric feeling of happiness and love. 
Every person deserves to cherish such satisfaction, proffered by flowers. Canada's leading florist, https://flowercompany.ca/ proposes so many styles to make that happen. One such idea is DIY flower bouquet making. 
Flowers can be compiled together magnificently to make a bouquet. It is a fascinating way of portraying love, care and gratitude.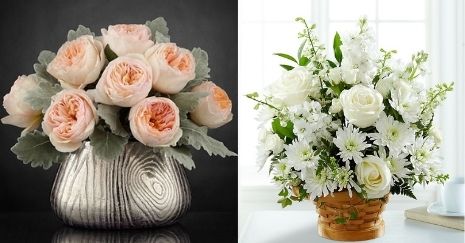 DIY Guide for Floral Bouquet
Follow your ideas and merge with flowers
Flowers do not judge. They accept you just as you are. Keep your ideas flowing and combine them for your DIY floral creation.
Steps to follow:
Pick your beauties -

Choose the flowers that fancy you, allure you and go along with any type of flowers complimenting them beautifully. It depends upon the size of a bouquet you want and the final budget. There is a very long list of options available at the Flower Company, so choose wisely.  
Open Space -

Always select a free space for these DIY projects. They tend to get messy for beginners. Your big flower buckets will cover a vast area, and you will need extra countertops for other accessories. Kitchens and patios are most preferable. 
Groom your Greens -

Flowers and greens need grooming. De-thorn the flowers and trim their stems as well. If you're going for a hand bouquet, medium size stems are most recommended. 
Begin the bouquet -

Choose the flowers you want to begin with. Start joining them at stems with floral tape, leaving a minimum of 5 inches of exposed stem at the bottom. It adds a beautiful grace to the bouquet.
Add texture -

Build your arrangement the way you envisioned it. But don't ruin it by putting everything you bought. Add greens and other ferns and wild textures to enhance the beauty of your lovely bouquet.
Creating a masterpiece -

Add floral tape with each step to keep it together and well-adjusted, just like the way you want. Tie a piece of ribbon in a bow shape as an add on. Your masterpiece is ready for you! 
DIY Flower Bouquet Arrangements
Assorted Bouquet: Flowers can be of your choice but make sure they always go well with the occasion and your personality. Add some green to it and pop the colour with texture too. Keep it wide and blooming, cut stems daily and change the water for better conditioning. Remove foliage and leaves to prevent them from bacterias.
Lush Bouquet: This type of assortment of flowers looks impressive. Combinations of different colours and patterns add a natural effect to the grasses and greenery. Contrast them in various tones of light and dark. Surround them with other sorts of props and decorative materials the best way you can. 
Wild Beauty Bouquet: This is a combination of all different colours of the same flower. The trend is uber-popular nowadays. Add greenery in layers to pop the colour of the flowers selected. The length of greens is long, to make a fall out effect. It gives a wild, untamed look, which makes it into a Wild Beauty. 
Bouquet Making Tips 
Occasion 
First and foremost is knowing the occasion for which you require a bouquet. It can be for weddings, mother's day, valentine's day, birthdays, anniversaries or funerals. Each occasion brings different types of emotions and feelings. 
Floral arranging supplies 
Collect the supplies and tools required to create an exquisite bouquet. This is an integral part of DIY. You will need floral tape rolls, wire cutters, pins, corsage bracelets, stem wires and scissors. While making bouquets at a large scale, you may need heavy buckets that can hold up to 30 large stem flowers and other small buckets for green leaves.  
Flowers that last long 
DIY projects tend to get trickier sometimes because of the choices we make. They are not as simple as they seem on Pinterest. While making the bouquet arrangements, people make certain mistakes that end in financial losses and reputation. 
For instance, they choose flowers that do not last long and deteriorate or decay very easily while assembling. Hardy flowers are the best options in such cases if you are new to this field. They can be saved by simple steps like removing foliage and leaves and keeping in cool shady areas. 
Do not refrigerate flowers 
Unless you have floral fridges, do not refrigerate the flowers at all. To keep them fresh, change the water and remove foliage. Place them in the shade and away from the direct sunlight. 
The large establishments use floral fridges for the flowers, and those are specially designed for flowers only. Standard household refrigerators will kill them instantly or will dry them out. 
How to keep flowers radiant
If you want the bouquet to look gorgeous and pretty, you must put in an effort. To help the flowers sustain for a long time and maintain their beauty, you need to take special care and use some effective grooming practices. 
There are a few steps that ensure the longer freshness of your elegant arrangement. These common household ingredients can be immensely helpful. 
Step 1:

 Warm water in the vase or jar, one quarter only.
Step 2:

Sugar helps in blooming the buds and nourishing the flowers. Add 2 tbsp of sugar in the warm water. 
Step 3:

Bacteria, dehydration are the deal breakers for flower life. White vinegar kills and ceases the growth of any bacteria. Adding 2 tbsp of vinegar will be effective. 
Step 4:

Lower leaves should be removed to avoid them withering in water.
Step 5:

Angle stem cutting of the flowers while under the water. 
Step 6:

Change the water daily and cut the stems daily too. 
Ready to make one?
The making of DIY flower bouquets is neither easy nor some rocket science. But it does require some patience, love, and effort. Follow these tips and try to avoid making some common mistakes. Because nobody wouldn't want to see these beautiful flowers thrown out without bringing a smile to a person's face. 
Prepare it with love and care so that one who is receiving it feels your love and care too. After all, flowers do bring calm, peace and positivity to all.