Here is a sweet DIY that teaches you how to build floating shelves all by yourself, instead of having someone come and build and install it for you at an outrageously high price. It's super easy and cheap to build, with a few simple, easy-to-find materials, and tools.
We have compiled a list containing 25 DIY floating shelves plans. Have a look at our list and choose your preferred DIY floating shelf.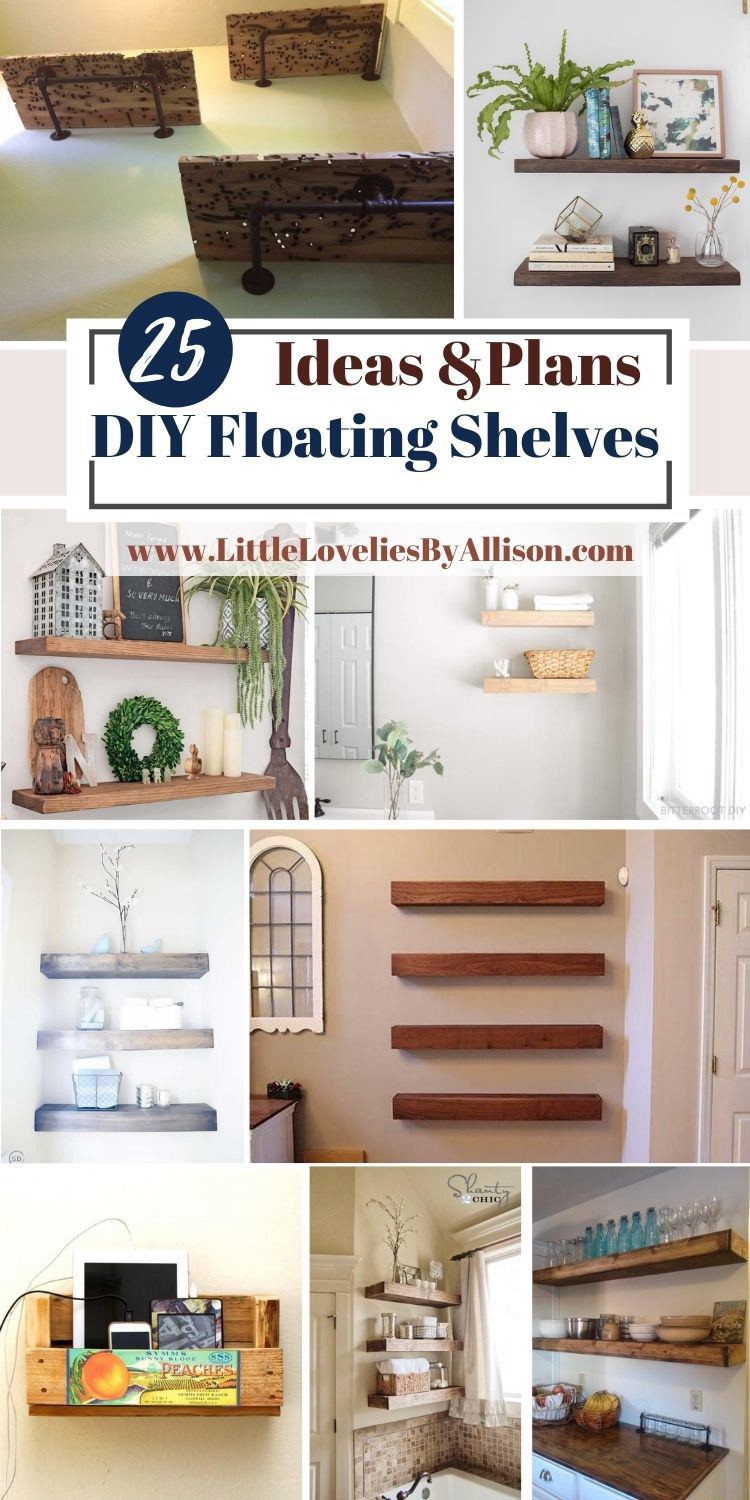 1. DIY Floating Shelves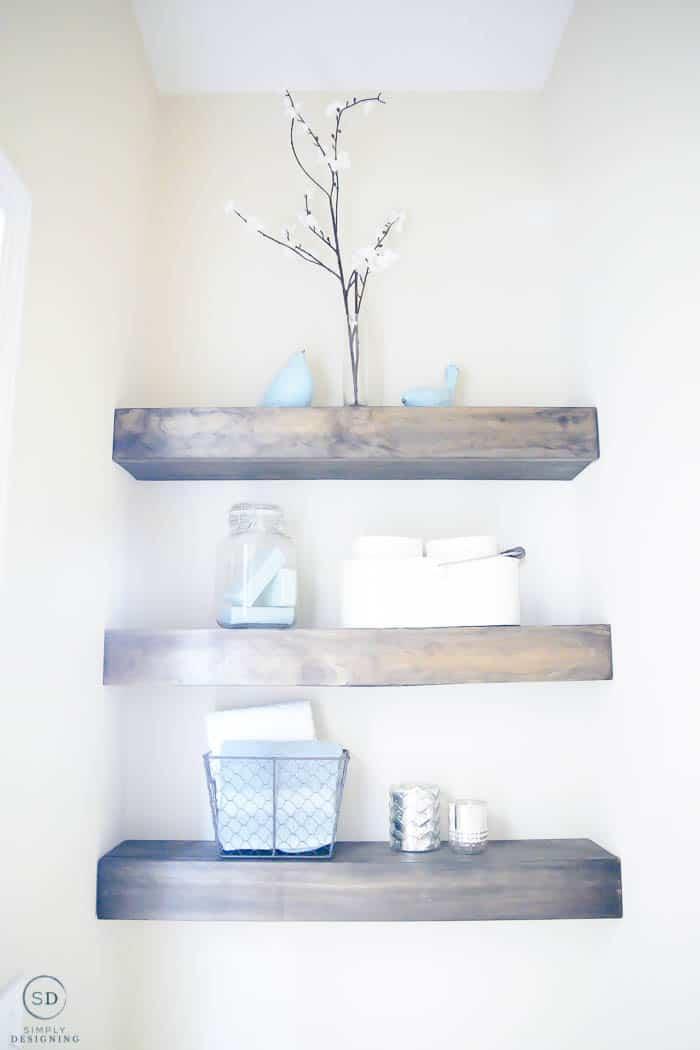 This is a smooth floating shelf that is perfect for your space if you have a small half bath. It's small, not too high, and super comfortable. It just has three steps, and it's super easy to build. You'll need wood, cut to their desired sixes, long screws, Kreg jig screws, and a few other supplies.
2. How To Build Floating Shelves
Here is what you need to start with, pine board, stain, paddle bit, bench router, sandpaper, drill, drill press, and a few other materials that you can buy or find at home. First, cut your board down to the size you'll be working with, then complete the remaining steps to finish the job.
3. DIY Floating Shelves For Decor
Do you want a floating shelf like this one here on this list? If you're building this floating shelf, then you need to know that this is meant for decor purposes only, you can also use it for other stuff like books and other items. It's super easy to build and the creator explained the making process bit by bit, from start to finish.
4. DIY Floating Shelves For Bathroom
Having a floating shelf in your bathroom is a great idea, easy to keep stuff and saves space in your bath. If you have a short bath, then this floating shelf will work perfectly for you. There are just two steps and you can build them all by yourself with ease.
5. Easy DIY Floating Shelves
This is a simple and unique guide that you can use to make a sturdy floating shelf. It can carry a good amount of weight and it has some decorations that you'll have to add to bring out the beauty. You'll have to apply a finish to the woodwork to make it come out beautiful and presentable.
6. DIY $7 Floating Shelves
Here is a floating shelf that you can make with just $7, it's super easy to make and you can make it with a few materials like a spruce-pine board for $4.75, wood dowel for $1.72, and a few keyhole hangers for $1.31.
7. How To Make Floating Shelves With No Bracket
This is a cool floating shelf that you can build without using any brackets. The creator made about 6 floating shelves and it was super easy to make. The video started with the creator drilling holes on the wall to mount the shelves. She used marine plywood.
8. DIY Strong Floating Shelves
The creator used only four screws to make two long floating shelves. It's super easy to build and you can do it with a few simple materials and tools. The floating shelves are super strong and can take a lot of weight.
9. Easy DIY Floating Shelves
This is by far the coolest and simplest floating shelf I have ever seen. It's cheap, quick, and easy to make. It will only take you three hours to build this floating shelf, and it will cost you only $20, which is quite cheap for a sturdy and elegant floating shelf like this.
10. DIY Upcycled Floating Shelves
First, look for the perfect background in your house to mount this floating shelf. It's seamlessly easy and affordable. The tools used in this guide have a link to where you can get the tools at a fair price. The creator didn't spray the wood but stained it with a danish oil natural.
11. DIY Floating Shelves With Waterfall Ends
For this project, you'll need an acid brush, plywood, wood glue, laser level, one-handed clamps, dado stack, and a few more supplies and tools. The floating shelves are just four in number and they are all the same size mounted on the wall, over one another.
12. How To Install Floating Open Shelves
This guide will require no woodworking skills, if you're not an expert woodworker, that is not a problem at all because this guide won't teach you how to make the floating shelf but show you how to install it with ease.
13. How To Install Floating Shelves
Do you need an idea and help in installing your floating shelves? This video guide has got you covered. The creator first built the shelves from scratch with wood boards, to assist those that have no idea on how to make one, for now, then a full instruction followed on how to install it effortlessly.
14. DIY Thin Floating Shelves
You probably don't need one of those floating shelves that are too bulky and occupy so much space on your wall and make your room or living room look so small. You can try this guide and make thin floating shelves instead.
15. DIY Easy Floating Shelves
Here is an easy video tutorial guide on how to make floating shelves with ease. It cost about $30 to make these floating shelves and it's durable. The creator made the floating with step-by-step instructions on how to make it with the few tools and materials he had at his disposal.
16. $20 Floating Shelves - DIY
You can make this floating shelf with just $20, that's quite cheap, and you may wonder if it will last, yes! It will. You just need a few materials like wood stain, polyurethane, sanding block, wood filler, drill, tape measure, and a few more supplies.
17. Easy DIY Floating Shelves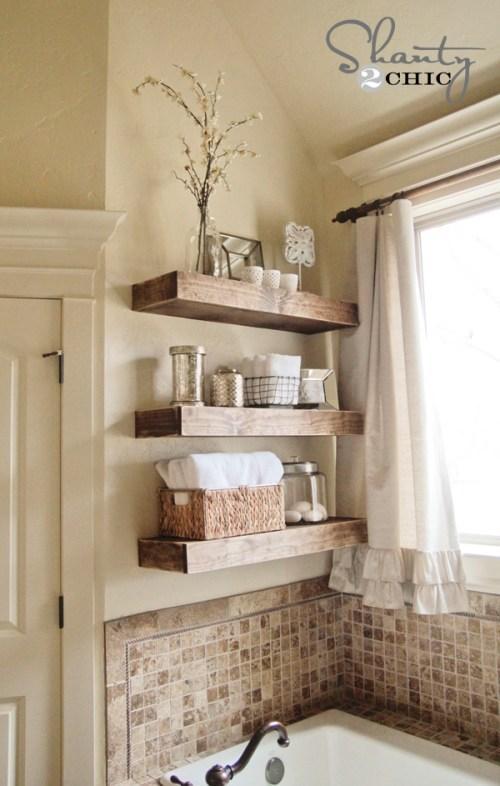 Here is a strong and durable bathroom floating shelf, for easy storing of bathing accessories, like towel, soap, sponge, and other skincare products. You choose your dimensions, but the creator didn't make it too high and too long.
18. DIY Floating Shelves For Easy Storage
SO, if you're not fond of the cheap floating shelves you are seeing on this list, you might as well try this guide because this is the most expensive floating shelf build on my list, it cost over $100 for all three floating shelves, and it took over 20 hours to finish.
19. DIY Floating Storage
This is a super cool floating storage that you should consider building for your bath or any small space you have at home that needs storage that won't occupy space and is easily accessible. Just two floating shelves were installed and it's simple to build.
20. $20 Wood Floating Shelves
So, we are back to a cheap floating shelf that you can build for your kitchen area. If you are not fond of those shelves that have a small door and are built in a cabinet form, you can use this guide to make a floating shelf to easily reach your cooking materials.
21. How To Build A DIY Floating Shelf
The creator made this floating shelf in a modern style, it's unique and very beautiful. YOu don't need to spray the wood, just a simple wood stain will do the trick. There is no building plan, so just follow the creator's instructions carefully to make the shelf to perfection. The floating shelves have a top to make them look more classy.
22. DIY Plywood Floating Shelves
So, if you have plywood just lying around at home, why not use it to make something amazing. The creator used birch plywood to make three floating shelf pieces, one long one at the top and two short ones under.
23. DIY Floating Shelf With Hidden Drawer
Here is a floating shelf that comes with a hidden compartment, it's perfect for people that like to keep things safe and away from prying eyes. This floating shelf is different and there is a free building plan that you can download to aid the project.
24. DIY Live Edge Floating Shelf
The brackets used for this floating shelf are made out of wood, no steel used, and it's super strong and you can easily remove the shelf base and leave the bracket still hanging on the wall, with only 3 strong nails to hold the wooden brackets in place.
25. DIY Pallet Floating Shelf For Charging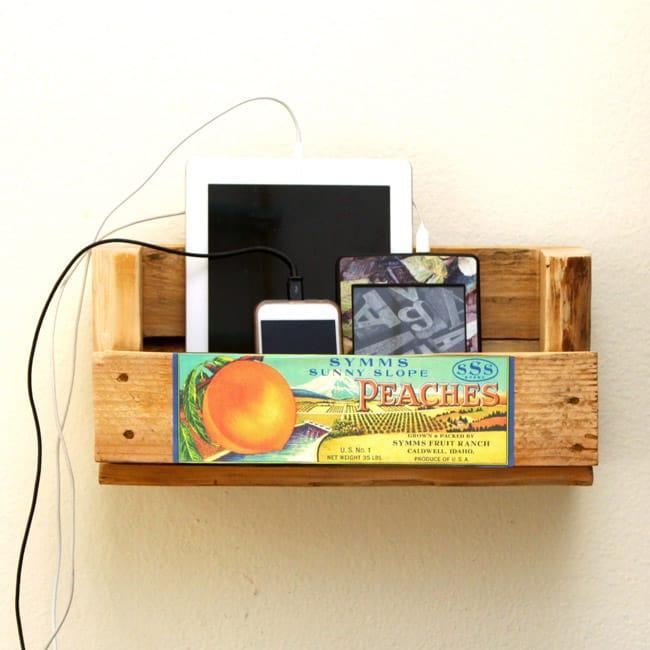 So, here is a floating shelf that I love, it's super easy to build effortlessly and is small and space-efficient. The size of the shelf indicates that it's meant for devices like phones, tabs, and other devices.
Conclusion
So that's all we have for you today, there are so many DIY videos and guides on how to build a floating shelf but the ones on the list above are the best so far, efficient, and completely easy, and less time-consuming to make. Thanks for stopping by to view this guide.