Are you interested in making a fire table? People use fire tables for different needs. Building a fire table is not as hard as it seems. After days of research, we finally compiled a list of some fantastic DIY fire pit table projects.
You'll find many unique projects here that will show you how to build a fire table.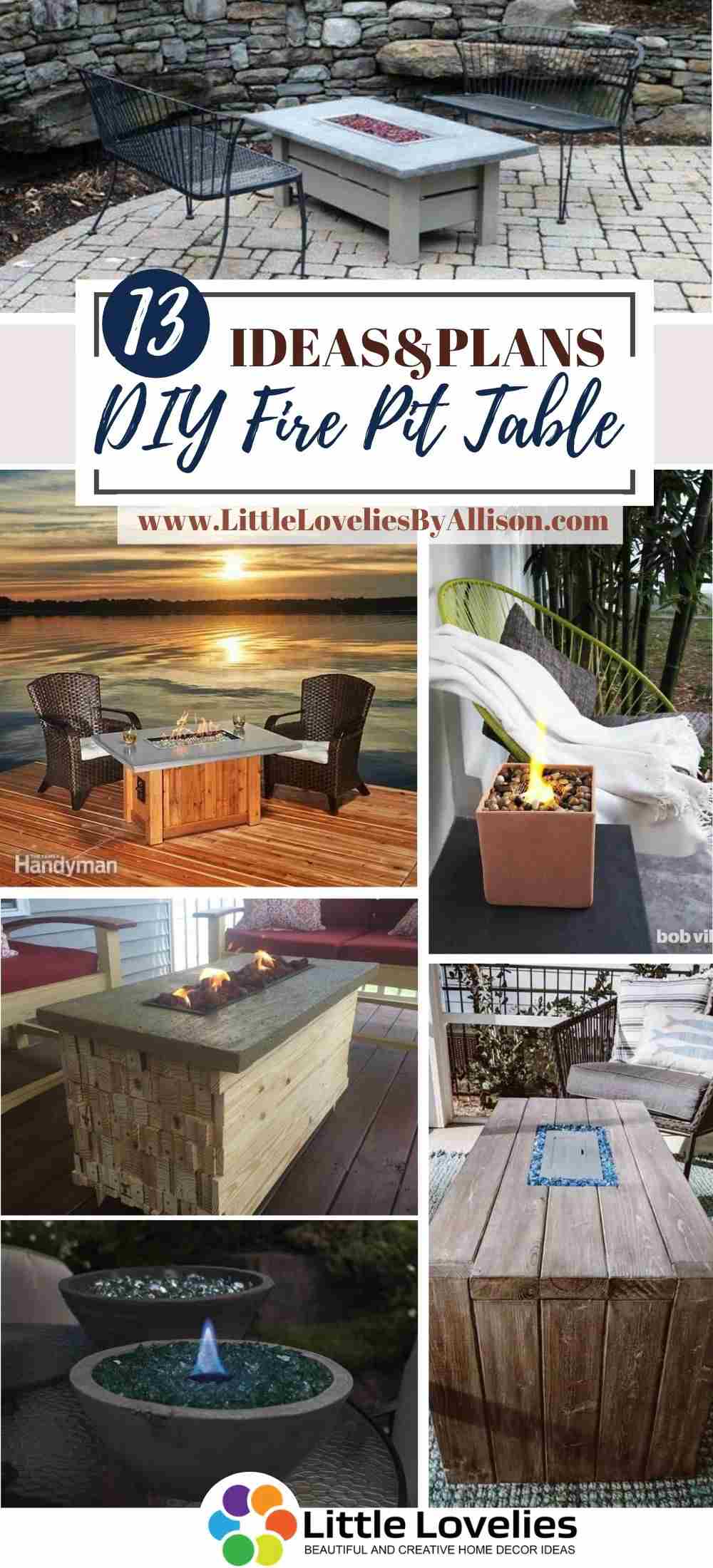 1. How To Build A Fire Pit Table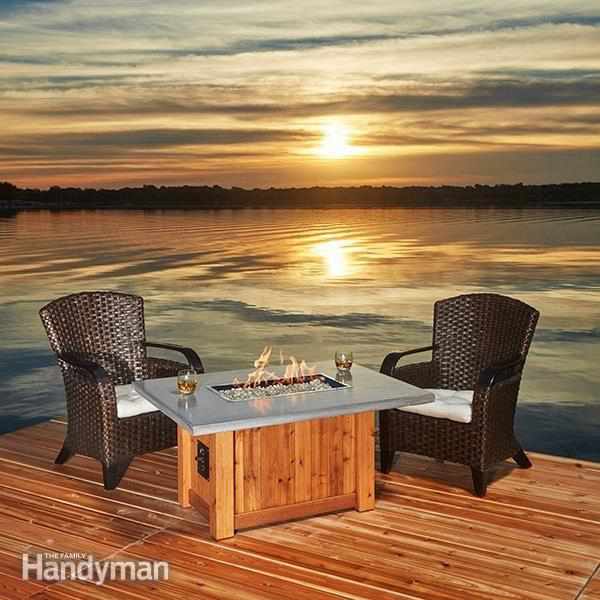 This looks like something you could buy at Walmart, but I assure you that you can make this by yourself at home and for a way lower price. The cost for this will go for over $200; this is cheaper than if you planned on buying a brand new fire pit, which will go for $700 - $1,200. You don't need many craftsman skills to build this, and it will take a few days before you finish.
Here are a few things you need, a Quikrete countertop mix, Cedar, and burner kit. Here are some essential tools a drill, miter saw, cement trowel, trim nailer, wire cutters, and many more. With this step-by-step guide, you won't miss a thing, and the building process will be easy because everything is explained correctly.
2. DIY Fire Pit Coffee Table
Once I saw this fire pit coffee table, I fell in love with it right away, and I'm sure you will too once you start building it from scratch. The total cost for this won't be anything more than $15, which is a fair price.
All you need are some scrap lumber and yellow pine wood, 20 bags of lava rock, 80 bags of Quickrete, and scrap angle iron. Some tools you need to work with are a grinder, nail gun, table saw, miter saw, and bandsaw, planer, and welder. The procedures are simple and easy to perform.
3. DIY Gas Fire Pit Table
To start this process, you need to create the top first, and this will be made out of a 2-inches thick wood and a Quikrete pro-finish 5000 concrete. This will take over a day or more to allow the concrete to set and dry off faster.
You should also use glue instead of nails for the wood to separate the concrete and create a middle where the fire pit parts will come in. The rest of the job is easy and goes smoothly with a few metal calculations 2 x 4.
4. DIY Concrete Fire Table
The whole work is made of concrete, and it has to be well mixed with quality Quikrete cement. The materials are easy to find; you can just get wood out of an old wood palette if you have one. This will take you two or more days to finish because the concrete you poured into the wooded box you created for your top will be super thick.
Some of the tools used in this guide may not be available to you, but you're free to improvise. The base will be made of wood with an opening for the gas tank to fit in.
5. Low Budget DIY Propane Fire Pit Table
Using a propane gas tank to make a propane fire pit that is inexpensive is possible. It is safe and can be easily controlled. You're going to need black iron pipes and a connector for the pipes. It is advised to have a half-inch air mixer, and it allows oxygen to mix with the gas as it comes up, putting in some extra oxygen with it to make the gas run a little bit cleaner.
You don't need concrete for this project, so it will just take a few hours to finish if you understand the process and you're fast enough.
6. DIY Fire Pit Table Top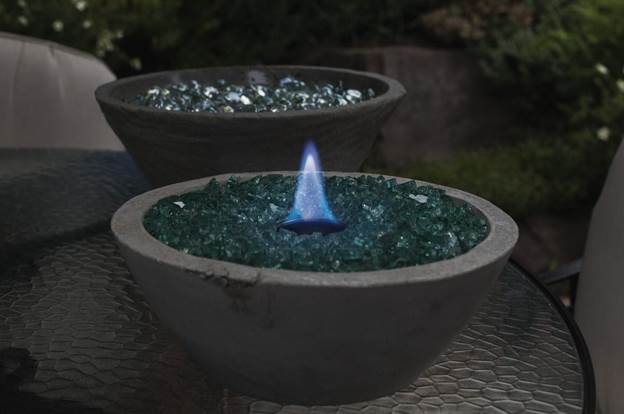 A simple and portable tabletop fire pit that won't cost you much is what your home needs. The items to procure for this project are some lava rocks, fire glass, a disposable grill topper, Shapecrete, a gel fuel can, a large plastic bowl for molds, and a bucket for mixing.
You just need grit sandpaper, cutting pliers, and disposable gloves, and your work is done. The next step is to make the tabletop fire pit, which might take you almost a day because you have to wait for the mod to dry and harden. The good thing about this fire pit is that it can be set on any table in the house, not taking up much space, and it can burn for about 2 to 3hours if it's indoor.
7. DIY Fire Pit Table For $120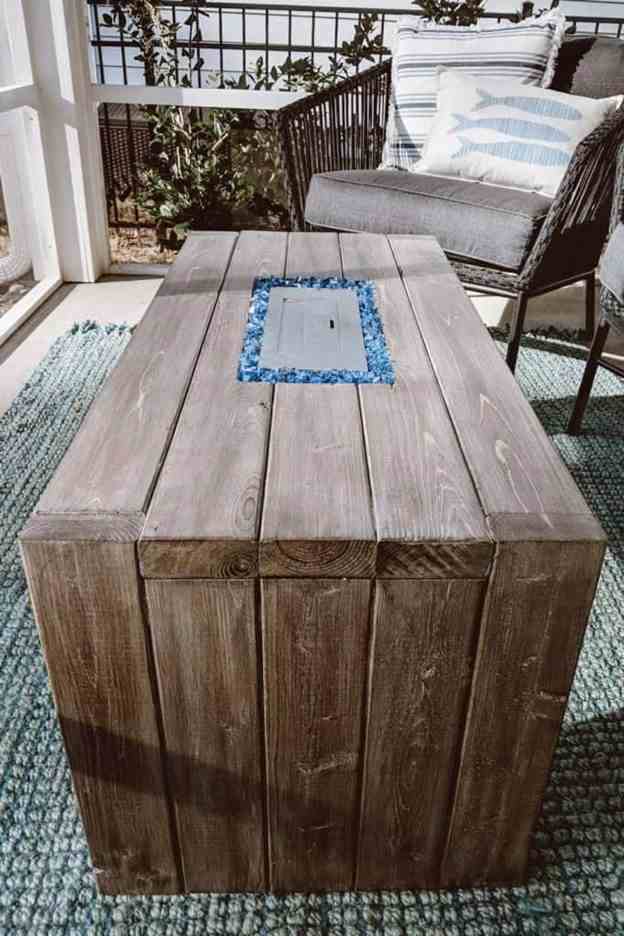 For $120, you can build this amazing fire pit. The average cost of a fire pit if you wish to buy one is about $700, so this guide's price is a budget-friendly one. Building this is not hard; I will rate its difficulty at medium and take up to 2 days to finish. Now let's see the materials and tools you will be using.
You need a cement board, Silicone caulk, bioethanol or energy source, exterior polyurethane, 80-120 grit sandpaper, standard board, and more. For the tool, an electric sander, wood glue, Kreg jig, drill miter saw, and cement board cutter are needed.
8. How To Build A TableTop Fire Pit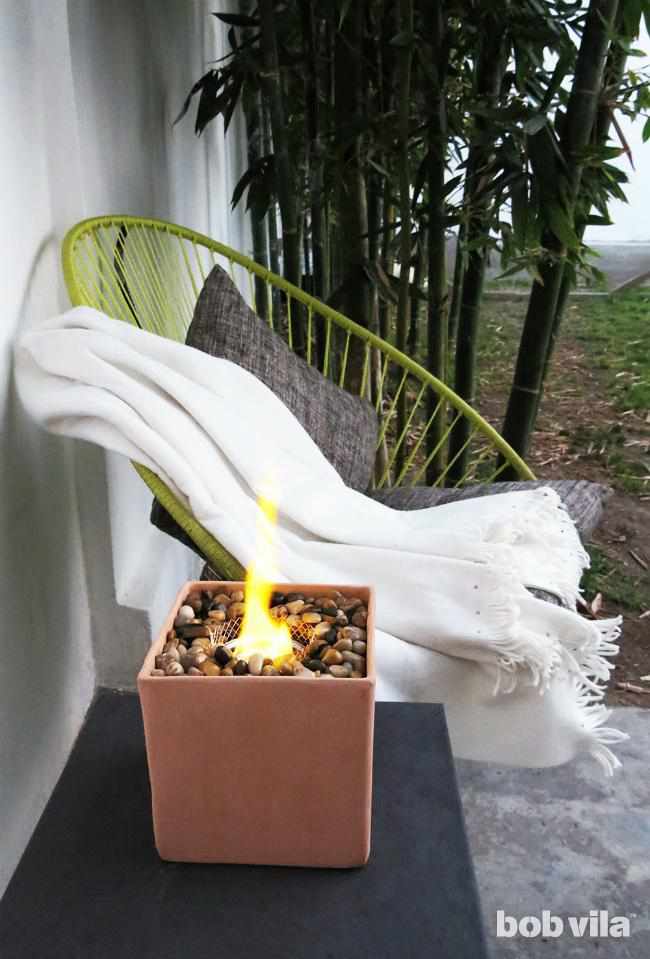 After a lot of research on safe and better ways to build a tabletop fire pit, I found this guide right here. It's not just a table fire pit. It's a beautiful, elegant tabletop fire pit. Only a few materials are needed. You can start with buying a galvanized steel hardware cloth, ceramic or terra cotta planter, chafing dish fuel can or heat fuel can, metal cutting pliers, fire pit pebbles, colored fire glass, and some lava rocks.
Under an hour plus, you can build this fine tabletop fire pit and set it anywhere in your home. The process is too easy for anyone at all to build from scratch.
9. DIY Concrete Fire Pit Table
This is an amazing portable concrete fire pit. What makes this so unique and amazing is that it is foldable and can be transported in and out of the house with ease. It is also not so heavy, and it doesn't take up much space.
Start by making your cement top with GFRC concrete that will be light because of how strong it is. This is easy, but you have to give it about 24 hours to dry off. Ten, proceed to work on the wooden legs of the fire pit. This won't be easy; the right measurement has to apply here to balance correctly on the ground, so follow the guide carefully.
10. DIY Fire Pit Picnic Table
You can decide to make a whole picnic table from scratch or just insert the fire put that you will make into any picnic table you have around. Although in this guide, you will be taught how to make the picnic table and make it with the fire pit compartment at once. It is easy to make; you just have to follow the measurements correctly.
No concrete is needed here; everything is made of wood and is very durable and movable.
11. DIY Fire Pit Coffee Table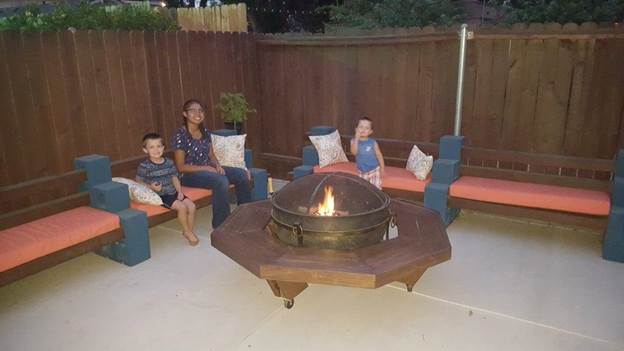 This looks like a piece of work, something that will take hours, even days to build. It will take a whole day to build this fire pit coffee table, and a lot of hard labor must be put into this to perfect the finishing. I'm just going to list a few essential materials you need to have in mind before you begin; you must have footboards, casters, deck screws, wood filler, sanding block, Forstner bit, and many others.
Before you begin, you need a white piece of paper to draw the building plans. There are several compartments that you need to draw out, or else you mix everything up.
12. DIY Fire Pit Table With Concrete
The top of this fire pit is made of concrete, but the fire pit table's legs are wood. In building the frame, you need a table saw to cut the pieces of wood you need to work with; the woods need to be thick and strong enough to carry the 175 pounds concrete slab you will put on top.
For the concrete, you need a Quikrete liquid cement color to dye the cement. The cement has to be reinforced, so if you can get fiberglass-reinforced concrete, it will be great, but if you can't, you might make the concrete 2-inch thick with any reinforcement rebar. This project will take you the whole day; while the concrete is getting hard, you can start working on the wooden legs.
13. DIY Patio Gas Fire Pit Table
You can just take a day to mix the concrete and make the top and the base. You are going to use wood to make the base round and firm. Then, use cement to cover and fill the whole circular wooden board to make it look like it was made from cement.
Then, proceed to make the top with cement. You will also need a galvanized steel net, so keep that in mind. Don't be scared to make mistakes; this project isn't easy at all, but if you draw a plan and follow this guide, everything will be simple enough for you.