Just building any kind of cage for your ferret isn't an ideal thing to do. If you do not want your ferret to escape, you will need to consider some important factors. In this article, I have put together 8 DIY ferret cage ideas that would be of help.
You landed on the right page. I assure you, you would find the perfect DIY ferret cage idea for your pet.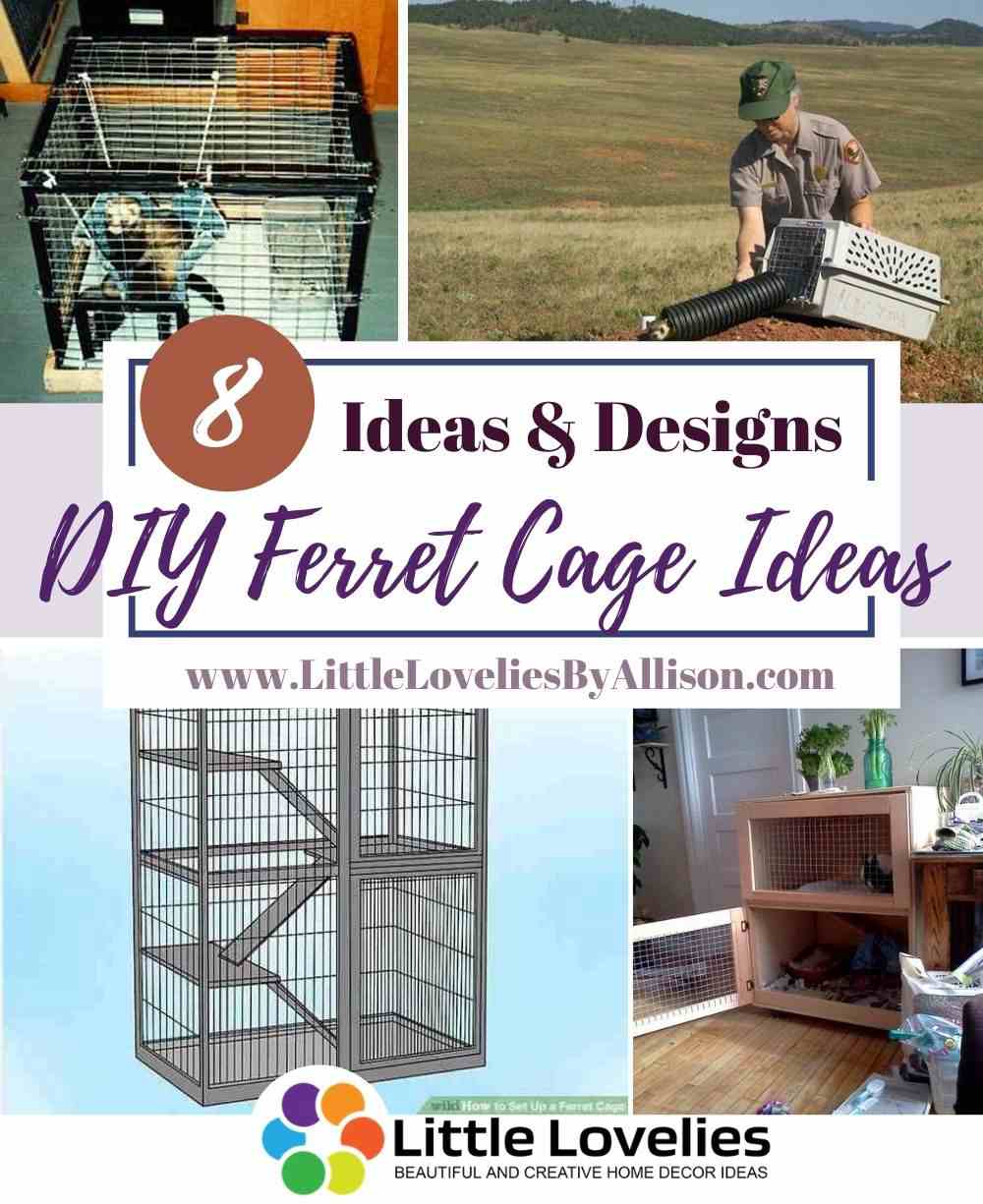 1. How To Make A Ferret Cage At Home

If you have tried buying a ferret cage online, you would agree with me that it is quite expensive, one way to save your money is by building one, and the process isn't even close to rocket science. With the right tools and materials, you would be on your way to building an amazing cage for your ferret.
This tutorial starts off by planning on the best spot to keep the cage. After you must have figured out where you want to build the cage, the next thing would be to trim corrugated plastic. An ideal measure is height 2ft, depth 2ft, and length 3ft.
You will also need to cover up the frame with wire, rabbit wires are the perfect ones to use for the task. Next up, you will need to put everything else in place and add some decorations.
In this tutorial, you will also find out materials that you are not supposed to use for your ferret cage, the complete tutorial would give you all the information you need for your DIY ferret cage.
2. How To Setup A Ferret Cage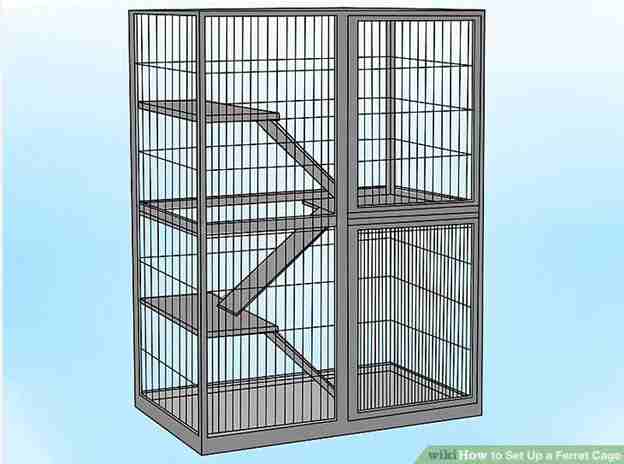 This guide doesn't show you how to build a ferret cage from the top, however, it shows you how to set up a ferret cage in the best possible way.
According to this guide, if you have 1 ferret, you will need a cage with these dimensions 3 × 2 × 2 ft (91 × 61 × 61 cm). To ensure the safety of your ferret, you will need to use the right bar spacing. If the bar spacing is too wide, your ferret could escape and probably get hurt if there are hazards around.
Basically, this tutorial consists of 4 steps, the first steps as said above guides you on how to pick the right ferret cage, the second gives you tips on choosing the right location for your ferret cage and ensuring the right temperature.
The 3rd steps involve putting accessories for the ferret cage. The final stage gives you top class tips on how to keep your ferret cage clean, cleaning the ferret cage once a month could save your ferret from getting a disease.
3. Sliding Pet Cage With Pallet Wood
One of my best kinds of wood crafts is the ones that involve using pallet wood. I could not help but notice this sliding pet cage made with pallet wood. After seeing this build, I thought to myself "this would be ideal for a pet ferret," I think you will agree with me too.
Besides needing a lot of wood for this project, you will also need to get ready some tools such as a measuring tape, a screwdriver, a pen for marking, a ruler, and a few other tools. After building the base, you will have to put together the inner walls which are quite easy to make.
This pet cage uses a wire mesh that ferrets could probably rip apart, so, I will suggest that you use a rabbit wire fence, the ferrets would have a hard time getting past it or even destroying it. Stapel the wire mesh to the wood and you're good to go.
Next up is installing the sliding mechanism, the video tutorial basically walks you through the complete process.
4. DIY Ferret Mansion
If you want to go overboard with your ferret cage, here's one to try out, however, you will need a lot of room for this. An amazing fact about this ferret mansion is that you do not need a lot of tools for the building process.
You will need to order a lot of wire cube storages, the creator used 12 cubes for this ferret mansion. You can connect them together using simple connectors or zip ties. The doors can be created with the help of binder clips.
My favorite part of this project is the tubes that lead all the way downstairs. Your ferret surely deserves a unique mansion like this. You can check out the full tutorial for a complete walkthrough of how this DIY ferret mansion was made.
5. DIY Ferret Cage
Here's another cool idea for a ferret cage, 80% of this ferret cage is made of modular wire cubes, the cool thing about using this is that you can decide to go with any color of your choice. After purchasing the white wire storage, the next step walks you through how the creator was able to convert the wire into a ferret cage.
You will need a thick bottom for the cage, the creator used thick denim which is actually a great idea. You will also need to double the wire because smaller ferrets might be able to escape through the holes.
In order to lock the wire pieces in place, cable ties were used. To lock the doors, the creator used metal clips that are ferret proof.
The next step would be filling the cage with ferret goodies, like a litter box, and water bottles, feel free to add other ferret goodies to your cage.
My favorite part of this build has to be the tube that connects both floors of the cage. Trust me, your ferret would love the cage.
6. How To Build A Ferret Travel Cage

With help from this guide, you can build a foldable cage or one that will stay set up at all times. You will be building this ferret cage from scratch, the first thing to consider would be materials for the cage, some materials used for this build are; 2' 1.5" X 3' 1.5" piece of quarter-inch plywood, 6 1-foot square pieces of vinyl floor covering, 8 1+¼-inch-long narrow wood screws and a bunch of other materials.
The main making process starts off with building a base for the cage which is not so complicated, the real deal is making the top part of the cage which has to do with cutting the fencing, adding protection from sharp wire points.
The final step will give you tips on how to build a door for your DIY ferret cage. The total cost of making this is about $70-80, this number, however, is only this low if you already have some of the needed materials at home already. If you do not have any of the materials, it would cost more than $80 to build this ferret cage.
7. DIY Ferret Cage
I found another cage actually for rats, but you can adjust the dimensions to fit your pet ferret. For the materials, you will need a bunch of screws, hinges, wired mesh, and a couple of other materials. Also, having a blueprint is necessary too as it is a rough sketch of how your ferret cage would be.
The tutorial starts off with the creator cutting the wood to the different desired sizes, the whole process mostly involves a lot of measuring and cutting, remember to adjust the dimensions so that your ferret would have enough space to explore.
This ferret cage also has two doors and this will inevitably mean you would need more wood for the build and also have to do some more cutting.
After cutting all the pieces of wood needed, then comes the fun part which is putting all the cut pieces together to create a ferret cage. Don't forget the accessories for the ferret cage. The full tutorial will give you the complete instructions for building a DIY ferret cage.
8. DIY Indoor Ferret Cage

I found this indoor rabbit cage and I think it is ideal for a ferret, it has two compartments giving your ferret more room to explore. If you have two ferrets, this cage can also be used. The materials and tools used are pretty much basic things that can be easily gotten.
After acquiring all the necessary tools and materials the real work begins, you will have to build the base of this alleged ferret cage, plywood is used for the base of this ferret cage. After the base is set, you will have to deal with the middle part of the cage, for this build, more plywood is needed.
You will know you are getting somewhere after installing the sides of the DIY ferret cage. Setting up the frame of the cage should take a while to complete, thereafter, you will need to build doors and a ramp, it is quite easy to build these.
The door making process will involve putting the fence in place, I would advise that you use rabbit fencing with wires spaced 1" apart or less.