In the heat of the 2020 pandemic. There has been a lot of priority placed on face masks since it is one of the very veritable preventers for the spread of the coronavirus.
A lot of people were able to come up with very easy ways to get a face mask done and this DIY face mask collection is surely top of the game. There are so many easy-to-do face masks that don't even cost so much. Instead of buying for a lump sum, you can do it yourself.
1. DIY Fabric Face Mask
If you sew clothes or you can comfortably use a sewing machine then this should not be difficult at all for you to do. This is basic, simple, and easy to resize to any face. You can use a tiny elastic that is less irritating. Making this should not be too difficult. Quilter's cotton is used for this. Cut your fabric then stitch around the outside edge round. Fix your elastic while keeping it in shape.
2. How To Make A Surgical Face Mask
The most popular face masks are the surgical face masks and they have a lot of medical benefits and they have been proven to be medically safe amongst other types. Trace on your fabric and cut. Before you sew, add the pleats then join with a bias tape at the side.
3. DIY Pleated Face Mask
There are so many ways to make a DIY face mask that is easy and fast to come up with. This will surely work for you. If you are looking for masks with alternatives to elastic then this is a free hands-on.
4. DIY Cloth Face Mask
Face masks are easy protective coverings from a lot of harmful substances getting into your nose and mouth. This face mask is washable and environmentally friendly. It is a curved shaped mask that rests closer to the face and has lesser gaps than rectangular surgical masks. You can use a pattern to cut out yours.
5. DIY Transparent Face Mask
Some people get irritated when certain substances get into their nose and mouth. There are some easy DIY face masks that can help stop this irritation. A transparent foil can help with your vision when using the masks. Cut the shape of the fabric you want and stitch the foil to it.
6. DIY Fabric Face Mask
There are some materials that can help you to easily wash and rotate your face masks. So instead of buying the conventional, you can stay home and make one of these DIY face masks. Make accommodations for the gender spectrum when doing this. This has two layers of tightly woven cotton that helps filter virus sized particles. Elastic hair ties are used for the hangings.
7. How To Make A No Sew Face Mask
There are some people that are not comfortable with using a machine to sew. This DIY face mask is for you. This is done with a bandana or handkerchief and a rubber band. Fold the material to shape, add some pleats then fix the rubber band to both sides and wear over your nose.
8. How To Make A No Sew Face Mask Out Of A T-SHirt
This is incredibly quick and you can finish up in about 5 to 10 minutes. Cut a square sized fabric from a shirt, create folds and add your rubber band to the edges. Make a final fold and you can use it. An alternative to a rubber band is a hair tie or wraps.
9. DIY No Sew Face Mask From T-Shirt
You can always get a generic DIY face mask color for yourself. Black is always bold and beautiful. You don't need a rubber band to do this but try to use a stretchy material. Carve to your desired size. And twist the ear loops when wearing.
10. How To Sew A Basic Face Mask
You don't need to know the basics of sewing just get your cotton fabric and elastic. Turn the fabric upside down then sew all the edges and turn it over again. Attach your elastic with a needle and thread.
11. DIY Face Mask New Pattern
There are a lot of great face mask materials and patterns that can be found around. Look for the one you find fascinating and you feel it will be easy for you to do. Use a circle material and carve out a circular shape. Fold into 4 and cut out the excess. Duplicate on a paper and sew.
12. DIY 3D Face Mask
It is normal for DIY face masks to have 3 layers: the first is the water-resistant outer layer, the filter layer in the middle, and the water-absorbent layer inside. Fold fabric into two and mark out the measurements. Sew the edges. Fold the top and bottom and sew the edge of the folds. When you are done, attach your elastic.
13. How To Make A Face Mask Out Of A Sock
This is pretty much easy to recreate. Cut off the part that covers the toe. You don't need that. Fold into two and you can get the ear loops.
14. DIY Face Mask | No Fog On Glasses
You can always use your favorite designs to get a face mask done for yourself. It is even easier to do and a lot more affordable. You will need to do a lot of measurements and folding.  When you sew the back, you can turn it inside out so the clear fabric can be on top.
15. DIY Jacket With Built-in Face Mask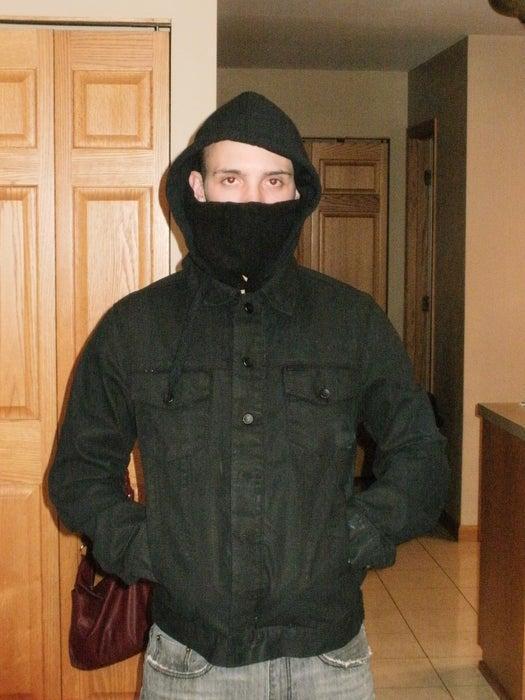 If you don't want to forget your face mask at home, you can always attach it to your hood or jacket. A single or double layer will be fine. Sew the open side of the rectangle to one side of the hood and do the same for the other side.
16. DIY Neopixel LED Face Mask
If you want a more fitted yet classy mask then you can use this to get that done. The materials used to make these can be gotten online. The mask has different LEDs which makes it look more appealing.
17. DIY Easy No-Sew Face Mask
There are a thousand and one face mask tutorials that you can use. I'm pretty sure you will find the one that is best for you. Cut out a pattern from a shirt and make holes at the edges. Get another strip from the same shirt and weave in. pull the cord and tie.
18. DIY Face Mask For Beginner Sewers
There are so many types of face masks that are pretty easy to cut and sew. You don't need to be a professional in sewing to get this done. It is basic and simple. Cut your fabric out and seam the edges. Instead of elastic, you can use ties.
19. DIY Leather Face Mask With Filter
This DIY face mask is not a replacement for the normal surgical face mask that is used in hospitals. But for professionalism, you can use this leather mask. Print a guideline and follow it. Mark out holes with punches. Stitch together and air-dye. Set the hardware and the straps.
20. Adjustable Face Mask For Beard
It is very important to wash your fabric before you decide to use them for a DIY face mask so you can keep it clean and chemical-free. Instead of cutting two pieces, you will need to cut four this time. Assemble together and use an elastic and pull for the lower part.
21. How To Make An Easy Face Mask
It has been verified by health officials that a fabric face mask can help limit the spread of the disease. Make a pattern on paper and transfer it to the fabric. You can make the edges straight so you can fit the elastic all through. Use bias on the top and bottom edge.
22. No Sewing Machine Fabric Face Mask
Draw your entire pattern on a paper including the ear loops. Transfer to a piece of fabric and cut. This is not cotton but crepe.
23. DIY Unique Stylish Face Mask
This stylish DIY face mask will need a lot of measurements and sewing. All you need to do is get the right measured pattern then cut out. The top will end up looking like the tail of a fish and the lower part like a box. Sew the pieces together and add your embellishments.
24. DIY 3D Face Mask
I found this 3D face mask that provides comfort while in use, you would be able to talk and breathe freely with this mask on. The making process is quite easy to follow.
25. Paper Towel Face Mask
There are some of the easiest things to do on the planet. This is one of them. Cut your paper towel into a rectangle shape and punch two holes by each side. Use a file foil and attach it to your glasses so you can stay safe since the paper towel can allow viruses through it.